Arriving at Stony Fork campground in the late afternoon we drove the campground loop looking for the perfect tent camping site.
Snow was lightly falling and for the hundredth time I questioned our sanity for camping in winter-like conditions.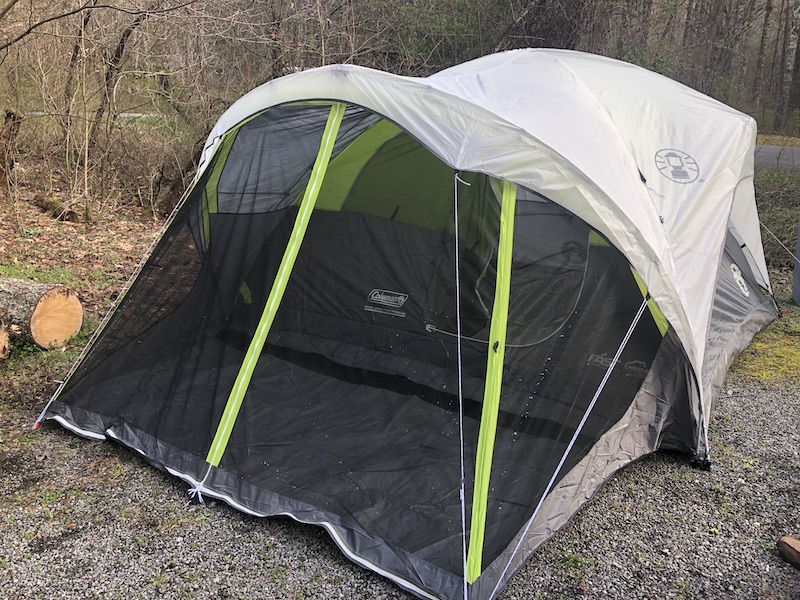 Stony Fork Federal Forest campground is located just a few miles off I-77 and north of Wytheville about 8 miles. It sits in the shadow of Big Walker mountain in a heavily forested area complete with trout creeks.
Read more to discover Quirky Wytheville!
The one-way paved road crosses Stony Creek numerous times and one area even includes a Flood Warning sign that had me grateful we were experiencing snow and not rain.
Our goal was to find a site that was sheltered from the wind and had a flat, preferably grassy, surface for our tent. About 3/4 of the way around the loop and near the bathrooms (my requirement) we found the perfect location.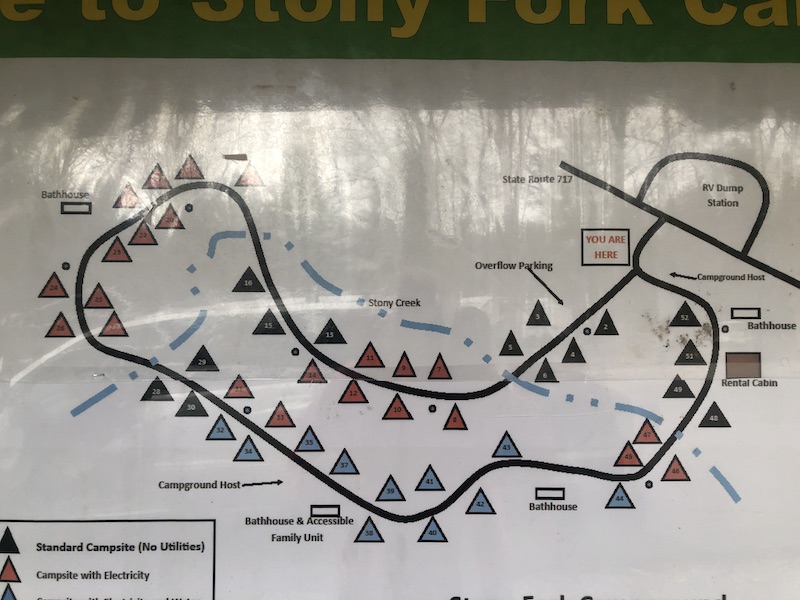 As we drove through the park we noticed 3 RV campers and the park hosts. The campground had just opened that day and it looked like not many were tempting the cold temps in a tent or an RV.
This was the first camping adventure of the year and we had a load of new camping equipment to test out including a new Coleman tent, cots (we'd always used air mattress in the past), sleeping pads, and a Mr. Heater to keep the chill out of the tent.
Did I mention snow was falling as we arrive and temps were set to dip into the single digits overnight? Plus, the wind was fierce and topping at gusts of 40mph. That kind of cold wind cuts right through you.
Thank goodness we are not strangers to cold weather.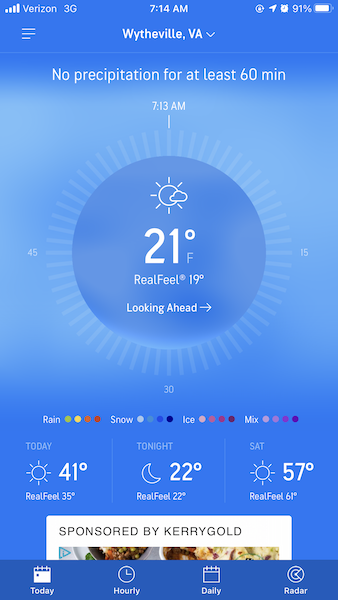 I had no idea that a federal forest campground could be so nice. We're used to pit toilets and a single source for potable water, also known as drinking water, that the entire campground shares.
Side note, I have no idea why campgrounds list it as potable water instead of drinking water but now you know that it's safe to use.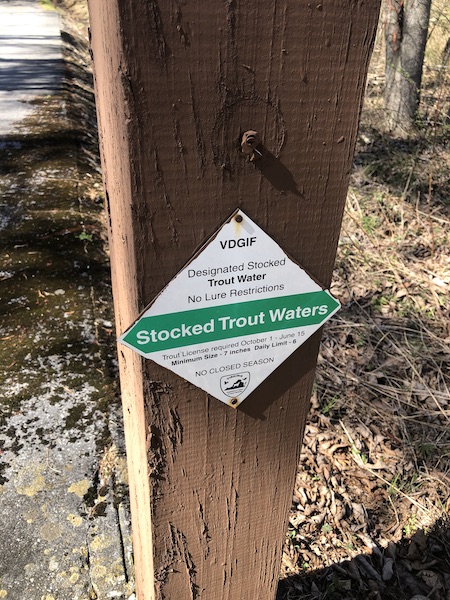 The campground has three types of sites: rustic, electric only, electric and water. We were after an electric site ($26/night) because it's nice to be able to plug in our gadgets.
We are still considering buying a Jackery Power Station, but those come with a hefty price tag and we're just not willing to splurge a $1,000 on one yet. Honestly, I'm not sure we ever will.
In addition to the three types of sites this is the first federal forest I've camped at that had flush toilets and free showers! Oh, plus that bathrooms are heated. Totally worth every penny of the nightly fee.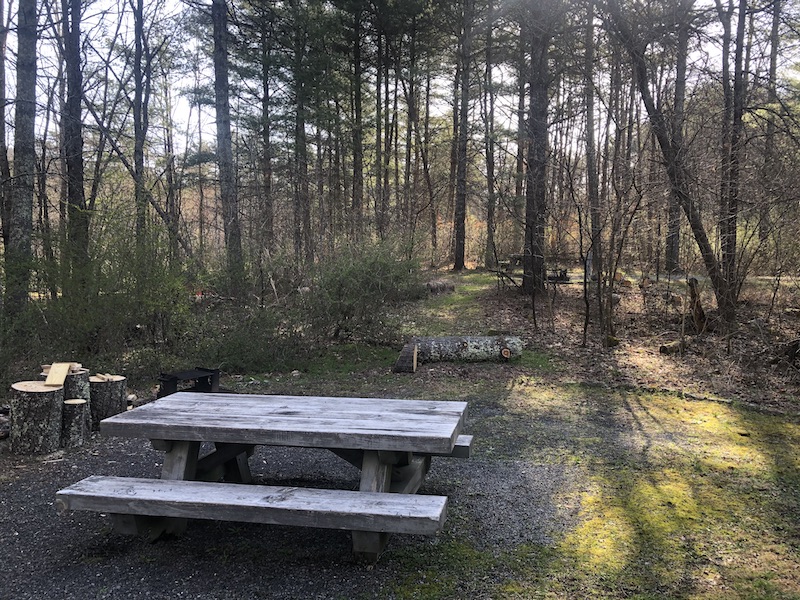 After finding the perfect site, we started the task of pitching a brand new tent.
It is marketed as a quick set up tent and honestly only took a few minutes to get the tent set up.
Adding the rainfly and staking down the tent took a bit more time.
We also added an extra tarp to the "porch" area of the tent to cut down some of the wind.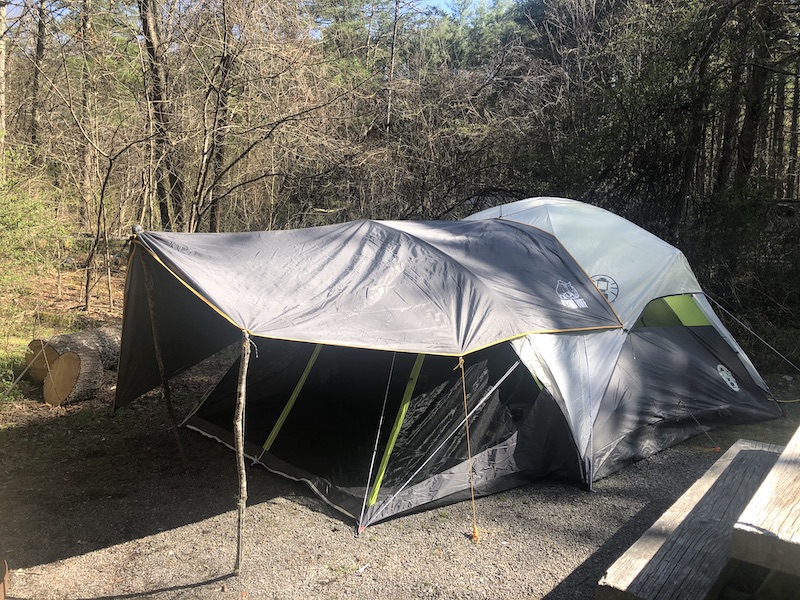 Eventually, we had the tent, cots, sleeping pads, blankets, and heater (Mr. Buddy for the win) all tucked in.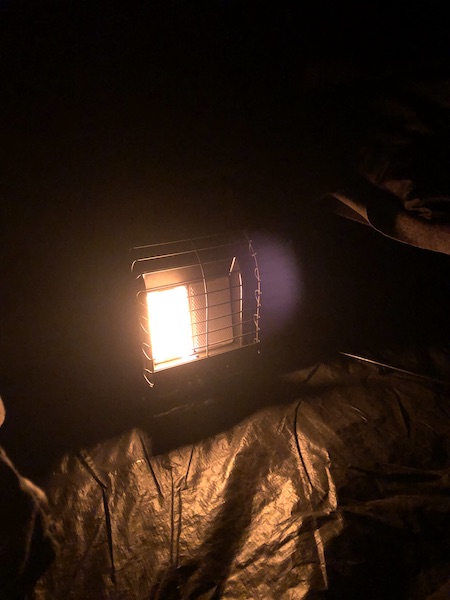 The Buddy Heater was LIFE. We brought a 20 pound propane tank with us which we kept on the tent porch and strung the hose through the tent opening.
In addition to the safety measures built into the heater we also brought a carbon monoxide detector. I'm paranoid about things like that.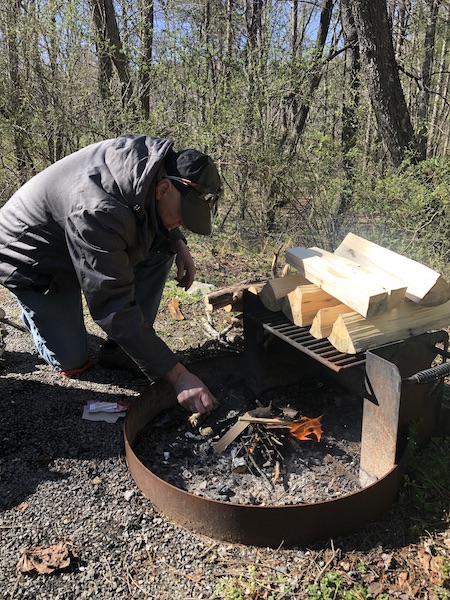 Next up, finding enough dry wood to get a fire going. We were surprised that we didn't pass any "firewood for sale" along our drive in.
In northern Michigan about every other house sells firewood on the way to campgrounds. In Virginia, nothing. Luckily, we were able to use fallen wood and found enough that was dry.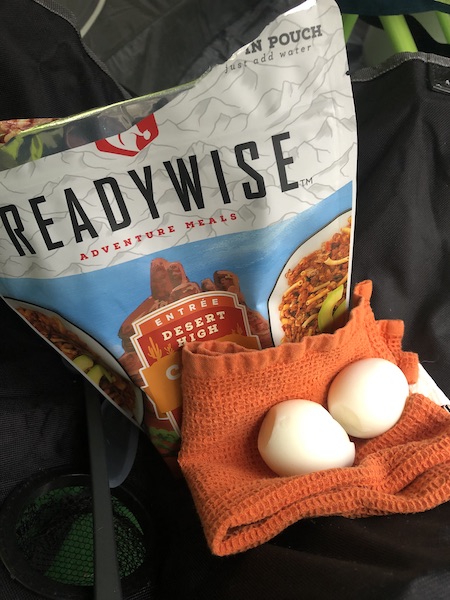 After a dinner of a backpacking meal, which wasn't too bad, we decided to get in the tent and try to warm up.
Listening to the wind howl through the trees I prayed nothing would fall on us overnight and snuggled deep under my blankets and fell asleep.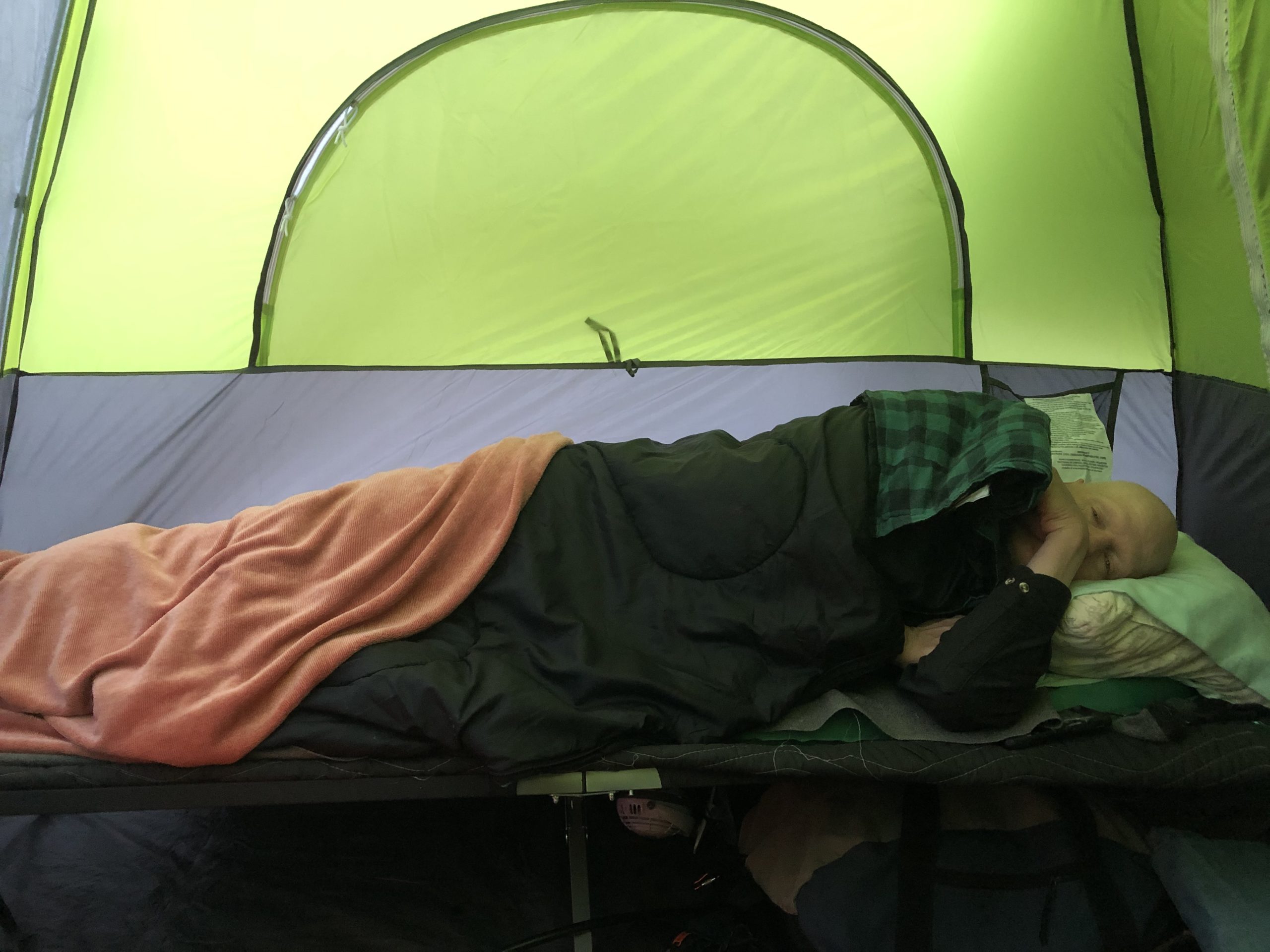 After surviving the cold night we decided to add a 3rd night onto our adventure.
Yes, it was that much fun and I'm so glad we went through with our cold weather tent camping adventure.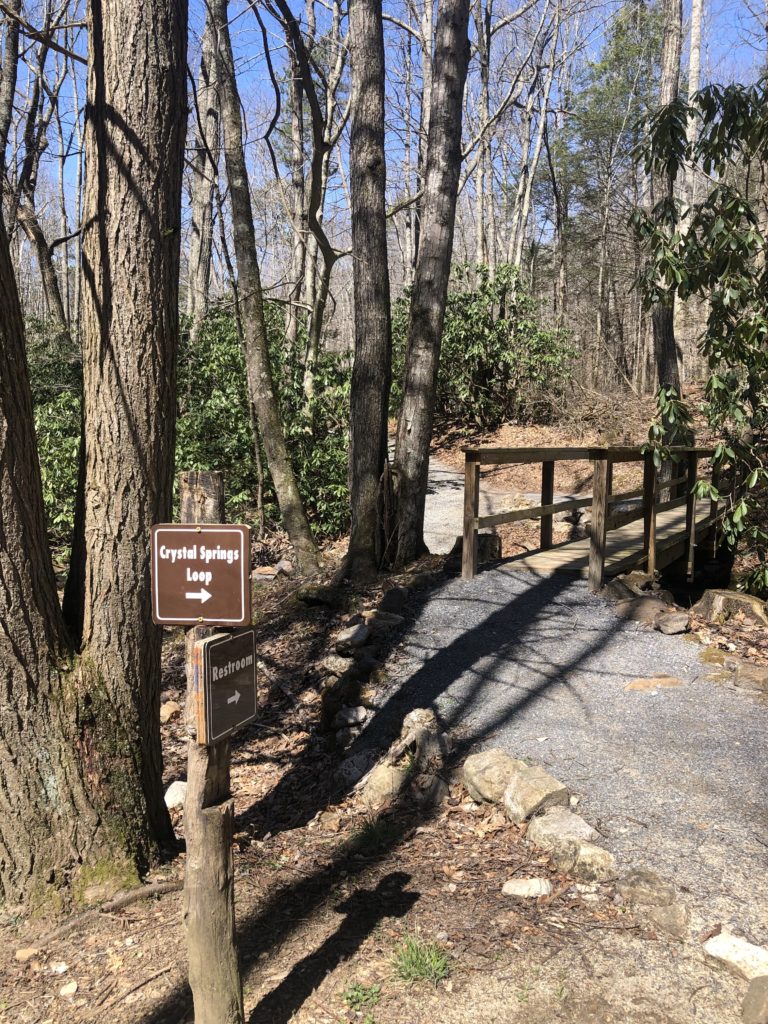 During our visit to the area we were able to take a nice hike at Crystal Springs Recreation Area, check out nearby Hungry Mother State Park, which is interesting in that it hugs a lakeshore along one entire side, and simply enjoy our time relaxing in nature.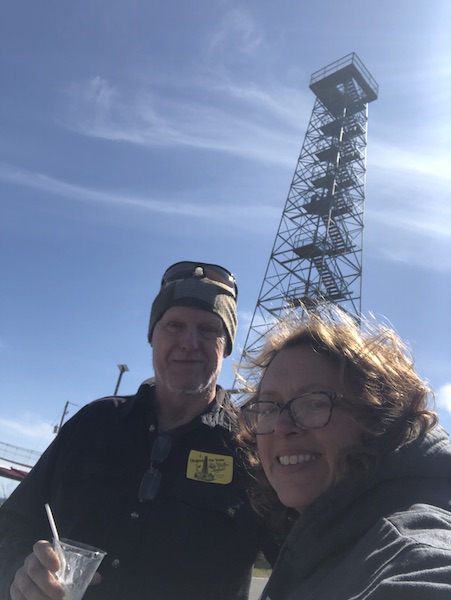 We absolutely loved the campground, the quiet and peacefulness of it and it's proximity to town and Big Walker Lookout.
Alan made it to the top of the lookout. I, however, wimped out about 3/4th of the way up. My fear of heights won again, but I'm getting closer to conquering it.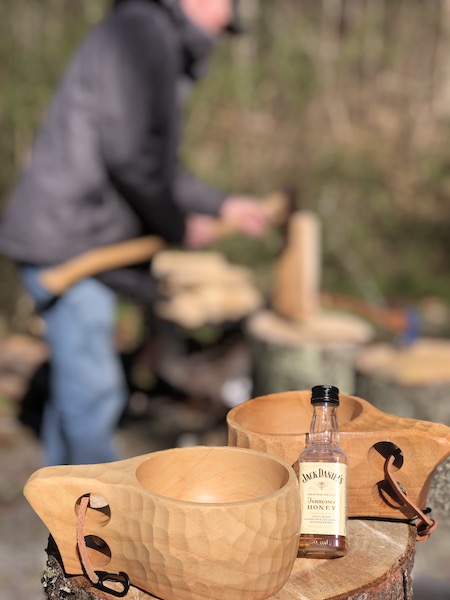 A Few Cold Weather Camping Tips
Pack warm clothes, including outer gear. Socks and a hat will be your best night time sleeping friend.
If possible, bring a heater and a carbon monoxide detector.
Plan accordingly. We packed extra blankets and an extra electric heater. I wasn't taking any chances.
Pack some whisky 😉
Have fun. Yes, it was cold, but we also had a great time!
Stony Fork Campground Tips
The campground does accept reservations. Try to make one well in advance of your visit.
The bathrooms were clean at the start of the season. I have no idea what it will look like mid-season. I'd pack extra toilet paper just in case.
Take a hike on the campground hiking trail.
Pack a fishing pole and dunk a worm. Don't forget to buy a Virginia fishing license.
Find firewood well in advance of your arrival. Maybe during the season wood will be available for sale at the campground, but plan accordingly.
Leave no trace! Clean up after yourself and leave the campsite free of any garbage. There is a dumpster on the way out of the park to dispose of any waste.
Pin Stony Fork Campground to Pinterest