This hearty and satisfying Sweet Potato Avocado Toast will get your day off to a great start.
Although it can be prepared in 30 minutes, you can save even more time on busy weekday mornings by roasting a large batch of sliced sweet potatoes ahead of time.
Simply store the pre-cooked slices in the refrigerator in an airtight container, and then pop them under the broiler or in a toaster oven to warm through before serving.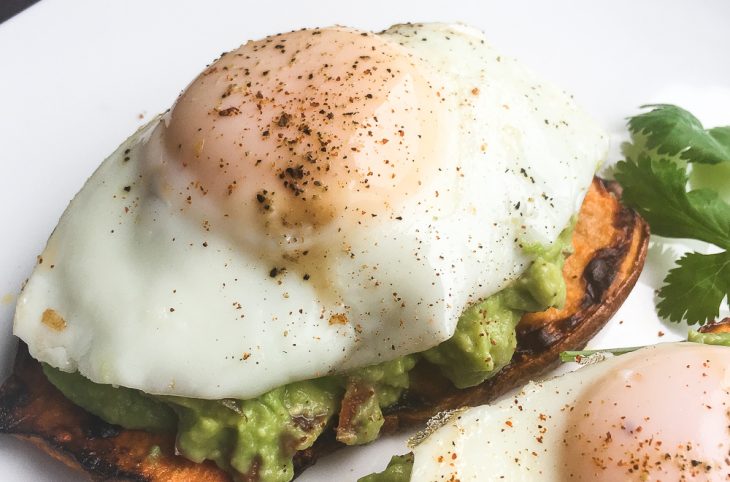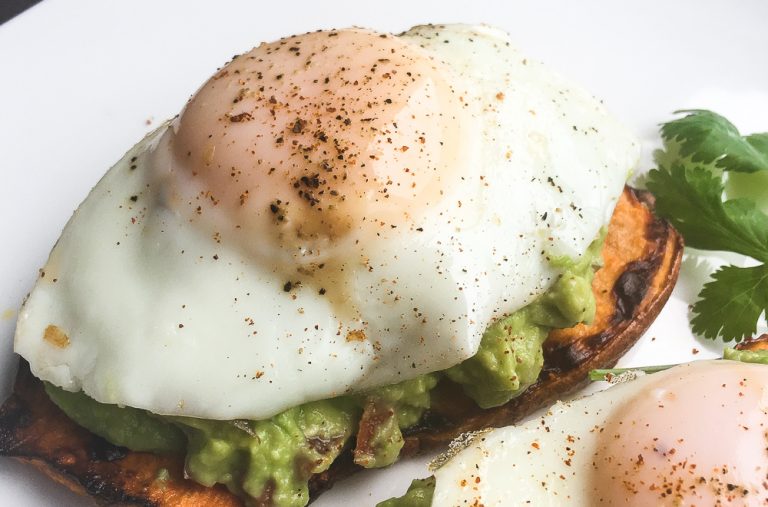 Prep time: 10 minutes
Cook time: 20 minutes
Serves: 4
This recipe is 8 WW Blue Points. However, if you need to eliminate some of the points I highly recommend skipping the "toast" part and having eggs and guacamole which brings this to 5 WW Blue Points.
Sweet Potato Avocado Toast Ingredients
1-2 medium sweet potatoes, sliced ¼" thick (8 slices total)
Cooking Spray
8 large eggs
2 ripe* Haas** avocados
1 medium tomato, seeded and diced
½ c. fresh cilantro, chopped
<<–optional
3 T. fresh lime juice
1 t. red pepper flakes
Sea salt and black pepper, to taste
Optional: Smoked paprika, for garnish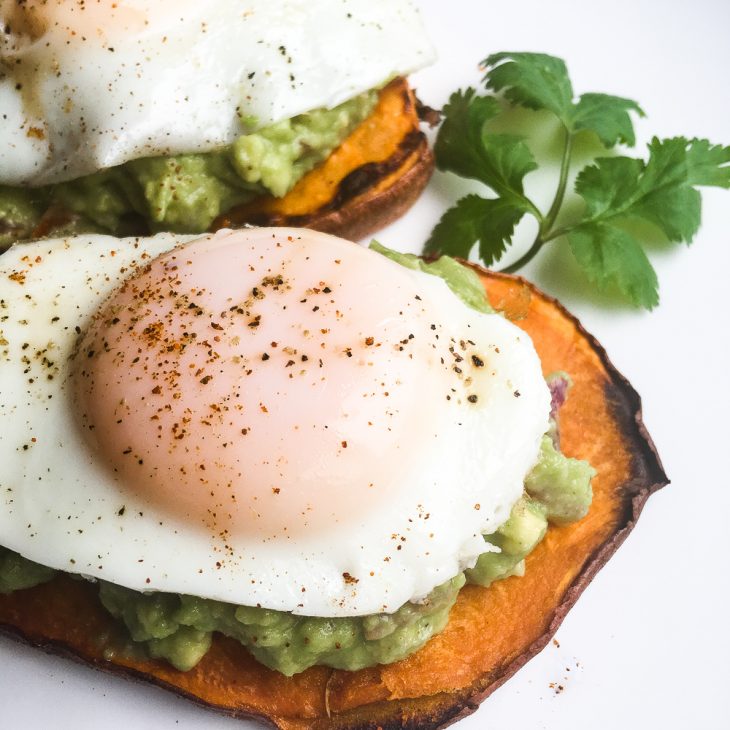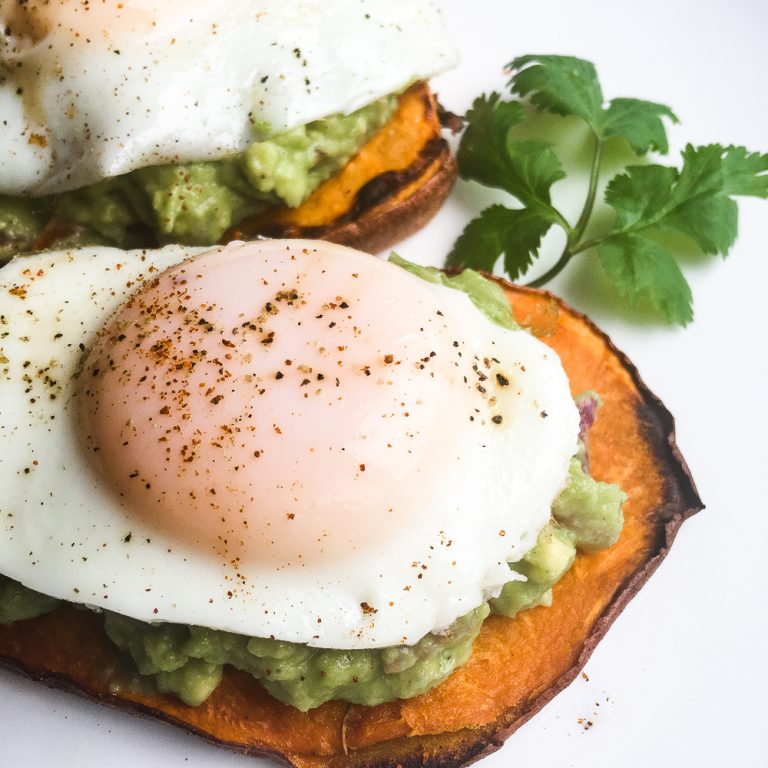 Sweet Potato Avocado Toast Directions
Preheat oven to 425°F and place a wire rack inside a large, rimmed baking sheet. Spray rack with non-stick cooking spray and set aside.
While the oven is heating, mash the avocadoes in a medium bowl with a fork. Add tomatoes, cilantro, lime juice, and red pepper flakes. Season with salt and back pepper, to taste, and stir to combine. Set aside.
Arrange the sweet potato slices on the prepared wire rack and place in the preheated oven for 15-20 minutes or until slices are fork tender, turning once halfway through cooking. Remove from oven and set aside.
While the sweet potato slices are cooking, spray a large non-stick sauté pan with cooking spray and place over medium-low heat. Add 4 eggs and season with salt and black pepper, to taste.
Cover pan and cook until the whites are set and the yolks are done to the desired consistency, around 3-5 minutes. Remove lid and transfer eggs to a plate and keep warm. Repeat with the remaining 4 eggs.
To serve, top each sweet potato slice with a spoonful of fresh guacamole and a warm sunny-side-up egg.
Sprinkle with smoked paprika, if desired.
Enjoy!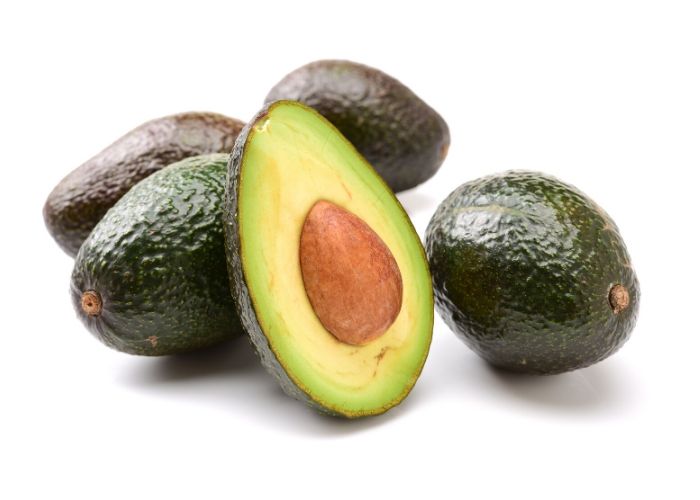 Answers to Common Avocado Questions
*How To Know If Avocados Are Ripe
So this is a skill that has taken me a while to perfect. I love avocados and making gaucamole, but finding the perfect avocados in the midwest can be challenging at best.
Here's my best tip:
This really comes down to touch. I lightly squeeze each avocado.
I'm searching for those that have just a teeny tiny bit of give when gently squeezed.
Those, in my experience, are the best ones. No other tips have ever worked for me. I can't go by the color or if the stem area is a certain color.
I always pick them up and see how squishy they feel and, after doing this for years, I finally think I have it figured out.
You'll want to use them within a couple of days of purchase so they don't spoil.
**What is the difference between a Haas avocado and a regular avocado?
Haas avocado has a dark green-colored bumpy skin.
They are higher in healthy fats, which, I prefer.
Also, in my personal opinion, Haas avocado is easier to mash and taste so much better than regular avocados.
How To Quickly Ripen Avocados
So, you bought some avocados but they are hard as rocks.
Well, that's not going to work and sometimes it can feel like FOREVER for them to ripen. A friend told me a trick that I've tried once and it was successful.
Simply place the avocado in a brown paper bag with a couple of bananas or an apple. Fold the bag closed and wait 2-3 days.
Yes, it's still a bit of a wait, but sure beats the 5-7 days it could take.
How Many WW Blue Points Are Avocados
A quarter of a medium avocado is 3 WW Blue points.
A half of a medium avocado is 5 WW Blue Points
Three-quarters of a medium avocado is 8 WW Blue Points
A whole medium avocado is 11 WW Blue Points
I do not shy away from high point, high-fat foods. I find that even though they are higher in points they keep me full longer so that its easier to go longer periods of time between meals.
More WW Breakfast Recipes
Pin Sweet Potato and Avocado Breakfast "Toast" to Pinterest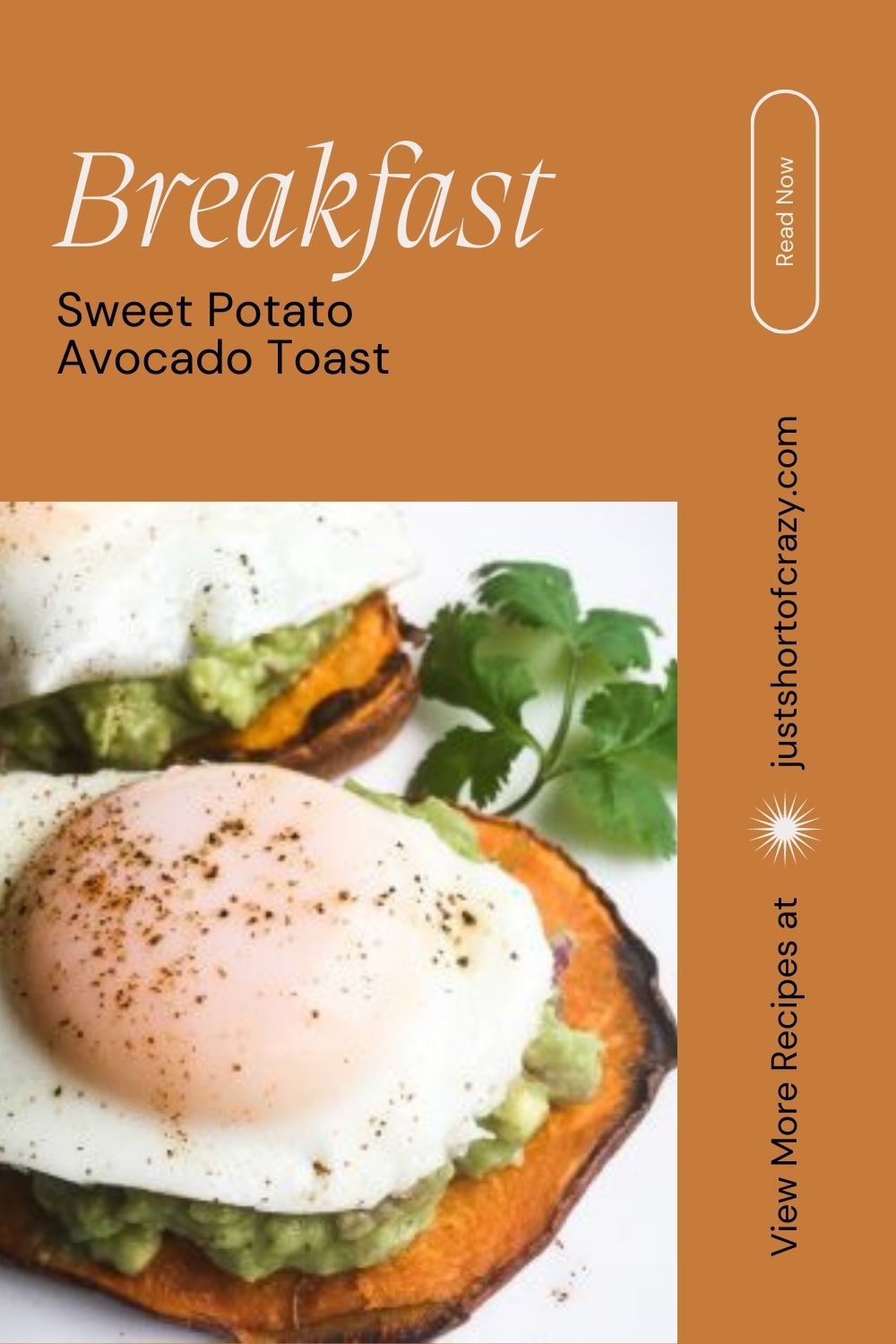 Pin Answers To Common Avocado Questions to Pinterest