Mealthy recently introduced their brand new professional-grade immersion hand blender with a whisk, chopper, and a cup.
They kindly sent me one to review. I instantly knew I would make my easy butternut squash soup recipe.
This has become a family favorite, especially over the past year as we've been working harder on eating healthier.
In previous years, there would have been cream or cream cheese added to this soup, but this soup is just as good, if not better without those additional fats.
Using the Mealthy Multi-pot and the Mealthy Immersion Blender makes this an incredibly quick and easy hearty soup to make.
Mom and I enjoyed this for a number of lunches. It reheats wonderfully and is good for a couple days as long as it's stored in an airtight container in the fridge. This is also a good summer recipe and can be served chilled.
Note for Weight Watchers Freestyle Readers: This is a ZERO POINT meal!!!
A Bit More About The Mealthy Immersion Blender
This little gadget does it all. It will puree to perfection. Use the whisk blender to whip up egg whites into meringue or heavy whipping cream into delightful whipped topping. Put the chopper attachment on and break down just about any foods (I used for chocolate and nuts for Christmas cookies).
The blender comes with 10-speed settings, but if you need more power simply hit the turbo button.
It also comes with a smoothie cup that will also make a killer milkshake. Just saying.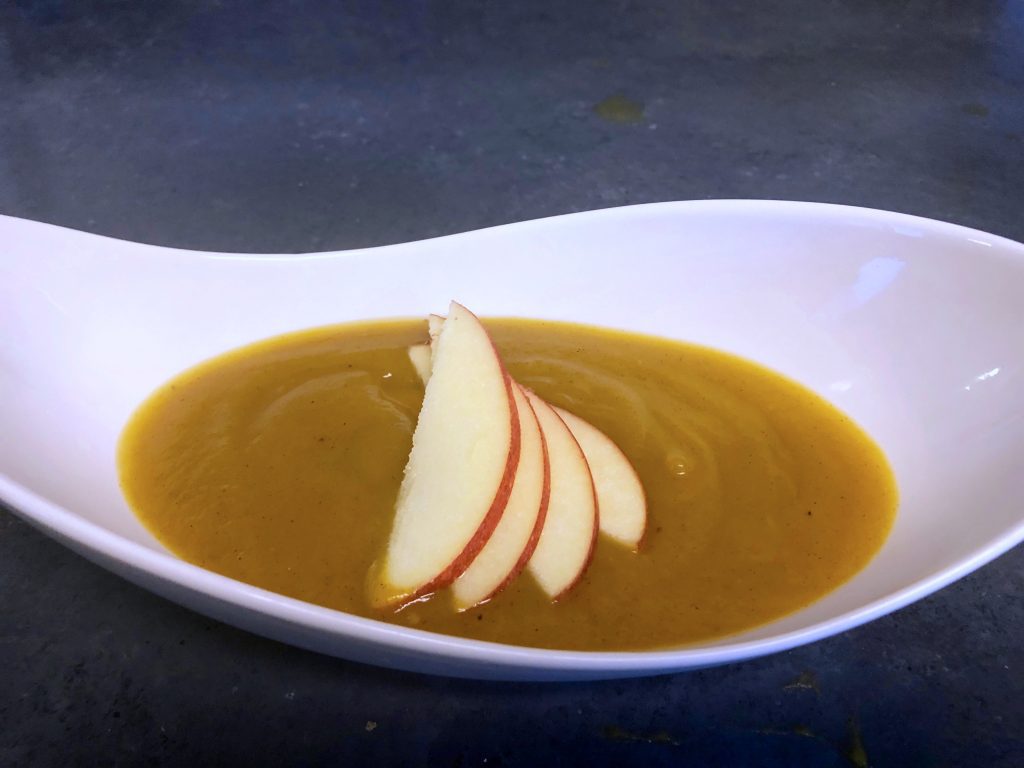 Easy Butternut Squash Soup Ingredients
1 tsp olive oil
1 small onion, diced
1 garlic clove, minced
2 apples, peeled, seeded, diced
1 medium-size butternut squash, peeled, seeded, diced
1 tsp cinnamon
1/4 tsp cumin
2 cups of vegetable or chicken broth
Easy Butternut Squash Soup Directions
Set the Mealthy multi-pot to saute and add olive oil and onion. Cook for 3-5 minutes until onion is soft.
Add garlic, saute for one more minute.
Turn off the multipot, add remaining ingredients, give it a quick stir.
Press Pressure Cook, set for 8 minutes on high, naturally vent for 10 minutes then quick release.
Remove lid, if needed remove excess liquid*, using the Mealthy Immersion Blender, blend until smooth.
Garnish with thin slices of apple, serve.
*If you watch the video you'll note that I added way too much liquid and had to remove quite a bit before blending.
Pin Easy Butternut Squash Soup Recipe to Pinterest