If you're looking for the perfect accompaniment to your morning cup of coffee, then look no further than the Triple Chocolate Biscotti.
I enjoy the Triple Chocolate biscotti with my coffee in the morning but the biscotti I was finding in the store were always so rock hard. I mean, I get that its supposed to be hard, but I don't want it to be rock hard, know what I mean?
It does not take that long to make and it tastes so much better, in my opinion.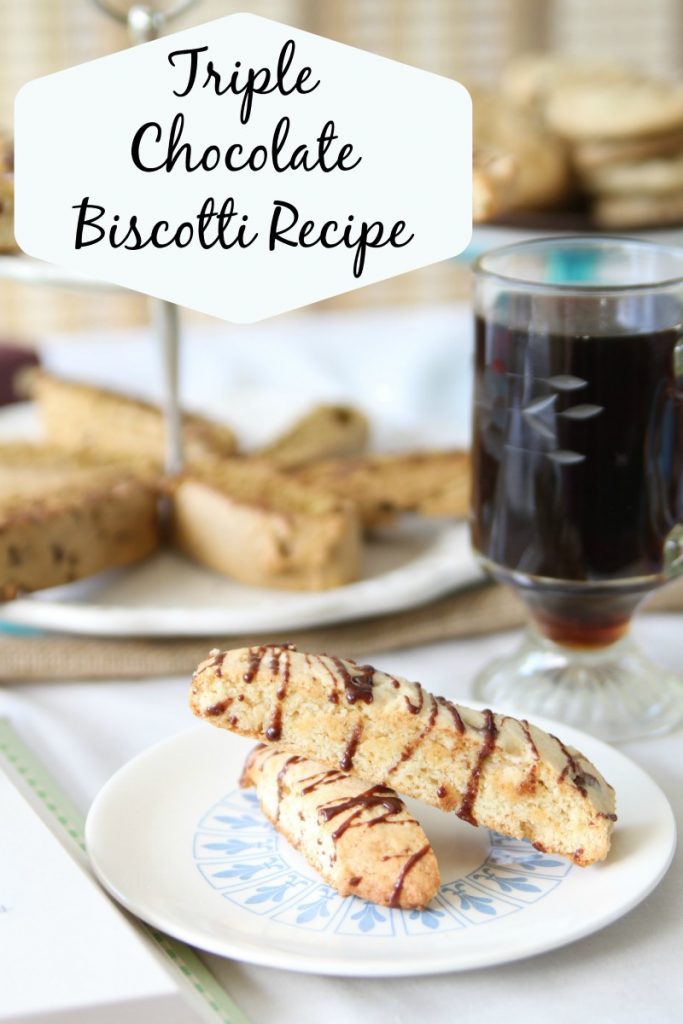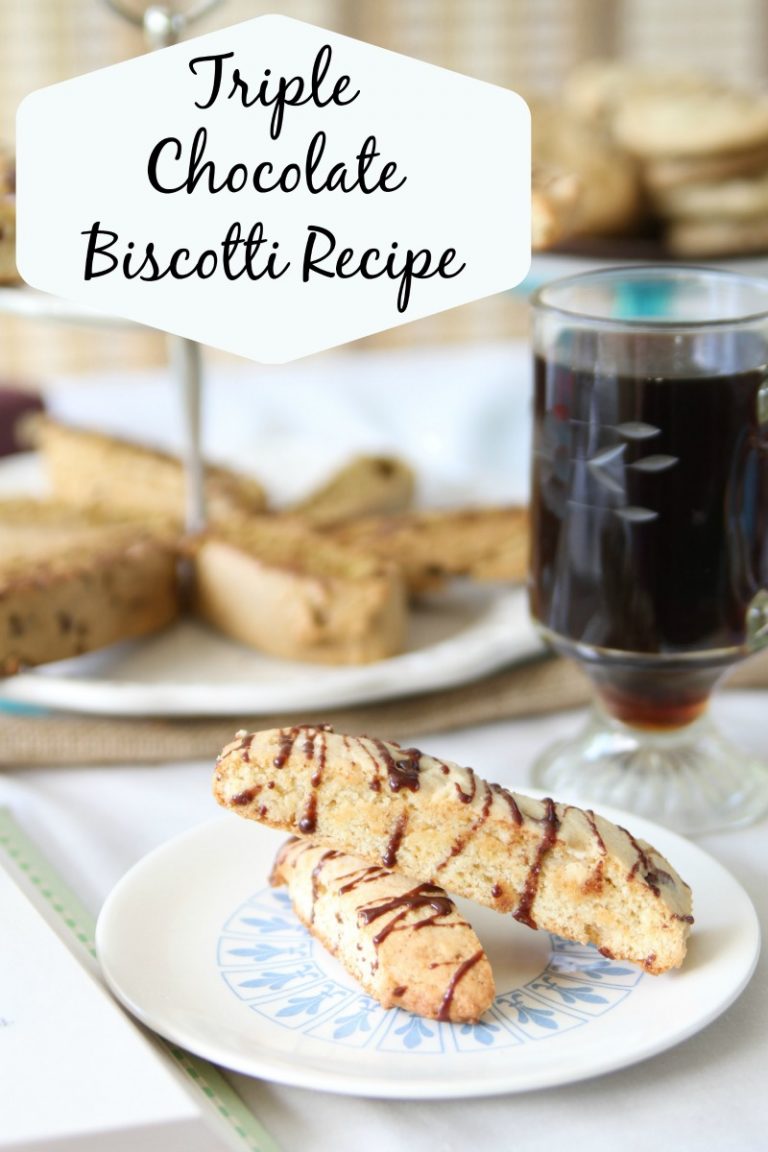 Triple Chocolate Biscotti Recipe
Gather up your supplies for this simple and delicious chocolate biscotti recipe. You likely already have all of these ingredients on hand, and that means you can whip this up at nearly any time. Be sure to print the easy to use recipe below and keep on hand for last minute baking!
Triple Chocolate Biscotti Ingredients
2 cups of unbleached flour
1 1/2 teaspoons of baking powder
1/4 teaspoon of salt
3/4 cup of sugar
1 stick of unsalted butter, softened
1 teaspoon of vanilla
2 large eggs
1 – 10oz package of Nestle Triple Chip Morsels
Triple Chocolate Biscotti Directions
In a medium bowl mix together dry ingredients (flour, baking powder and salt).
In mixer add butter and sugar and cream together until smooth. Add vanilla to the butter mixture before adding each egg one at a time.
Once eggs are completely mixed into the butter mixture slowly add 1/2 of the flour mixture to bowl and once it is completely mixed remove from mixer stand and fold in the rest of the flour and chip morsels.
Be careful to not over mix the batter as the biscotti will be dry and tough.
After chips and flour are mixed in divide batter in half and place onto 2 greased or sprayed cookies sheets.
Then form each half of the batter into 2 12inch by 3inch by 1 1/4 inch logs and bake for approximately 30-40 minutes or until lightly golden brown and a knife stuck into the center of the log comes our clean.
Be sure not to over bake as you will cut and bake them again. Allow the biscotti to cool for 30 minutes and then move to a wooden cutting board that is larger than your biscotti log.
Once it has been transferred to cutting board use a serrated knife to cut log into 1/2 slices.
After sliced you should have approximately 24 pieces of biscotti.
Take each of the pieces and arrange them cut side down on a baking sheet and return to over for another 15minutes or until biscotti is a golden brown.
Remove from over and transfer to a cooling rack to cool and harden. Very important wait until biscotti has cooled completely before storing in an airtight container as biscotti will soften.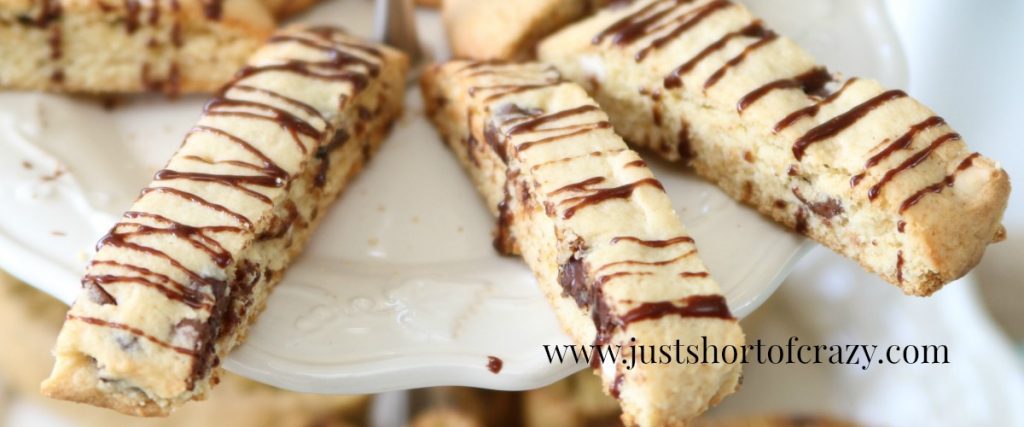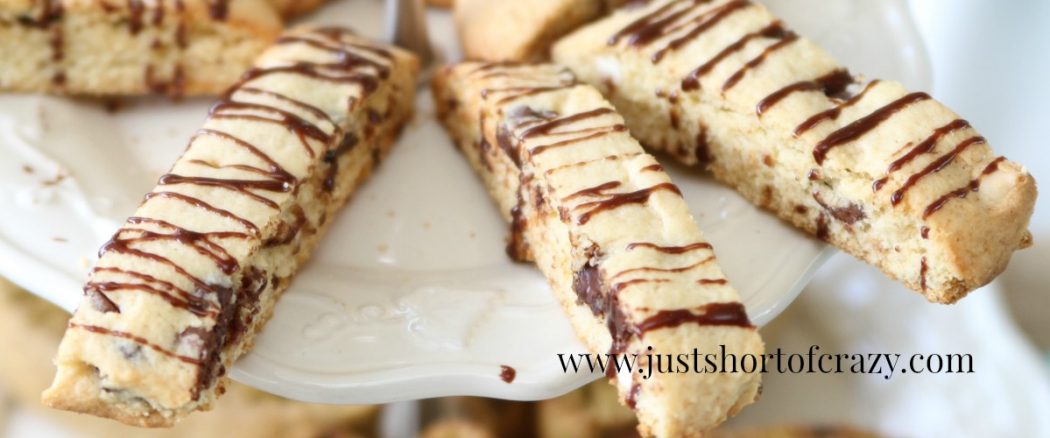 Triple Chocolate Biscotti Chocolate Drizzle
4oz package Nestle Triple Chocolate Morsels
I like to use Nestle Milk Chocolate Morsels for this part as it seems to work the best. While your Triple Chocolate Biscotti is cooling melt your chocolate. There are three ways that your can choose to do this either by microwave, double boiler, or direct heat. Each of them have their pros and cons for melting chocolate, but if your careful any of them can do the trick.
Microwave: Using a microwave safe bowl place 4oz of chocolate and melt uncovered on high for 1-2 minutes stirring every 30 seconds until chocolate is melted and smooth.
Double Boiler: Take a saucepan and fill with about an inch of water, then using a glass bowl that is larger than the saucepan so that the bottom does not touch the water. Place chocolate in the bowl and bring the water to a low boil and melt chocolate. Once chocolate is melted and smooth drizzle over biscotti
Direct Heat: This is one of the easiest methods of melting chocolate but is also the fastest ways to burn the chocolate. Place a saucepan on a low heat and add chocolate and slowly melt over heat. However, be very careful when using this method as you can easily burn the chocolate.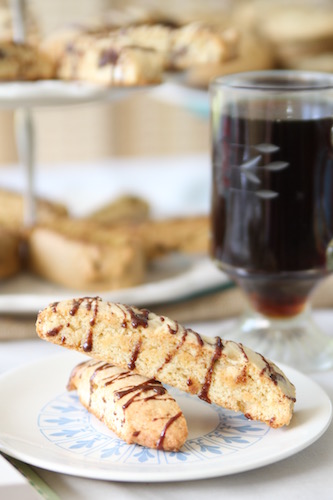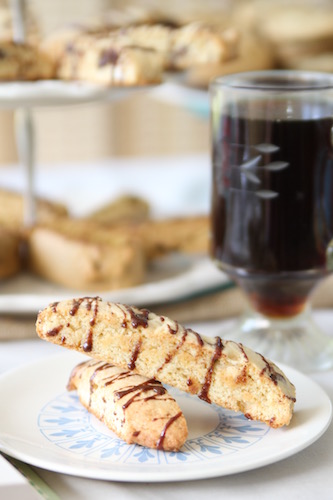 Hint:
One of my favorite cutting board to use while making biscotti is a Boos Block cutting board. This is a great board to have in your kitchen as they are made of high-quality wood and are very durable. Also cleaning this boards is very easy as it takes just a little bit of water.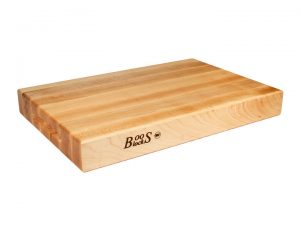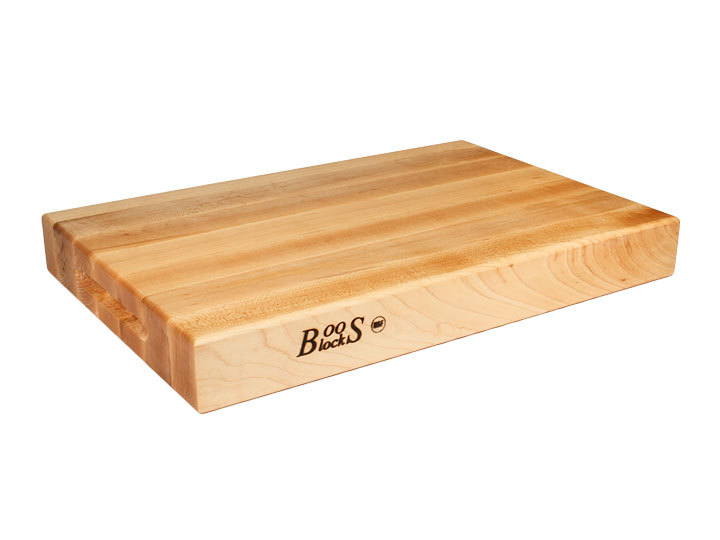 Make this triple chocolate biscotti recipe for breakfast treats, afternoon snacks, or to gift to your coffee loving friends. With such a delicious chocolate flavor, it is one that everyone will love!
More Cookie Recipes:
Pin Chocolate Biscotti Recipe