I have wanted a juicer for years, but was always overwhelmed by the amount of choices available and what one would be the best for nutrition value. When I had the opportunity to try the Bella NutriPro Cold Press Juicer I jumped at the chance.
The difference between a traditional juicer and a cold press juicer is that a traditional juicer or blender tears open cell walls of the fruits and vegetables, creating oxidation and reducing nutrients. A cold press juicer, on the other hand, uses a bladeless, cold-press technology to create juice that is full of fresh flavor and more nutrients.
The BELLA NutriPro Cold Press juicer is jam resistant and perfect for leafy greens, wheatgrass, nut milks, nut butters and, even better, it can even make delicious sorbets with frozen fruits! I love multi-purpose gadgets.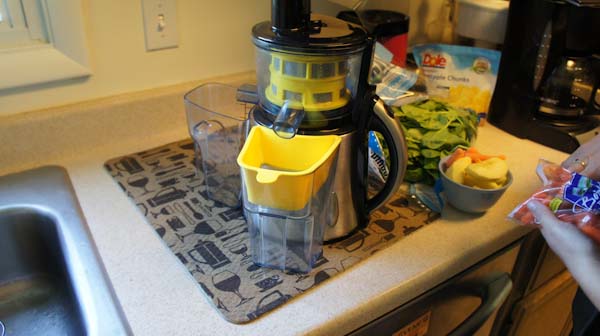 This is the juicer set up on my counter. It doesn't take up much room. Keeping it near the sink makes clean up a very easy. A good thorough rinse in hot water and its good to go for the next batch. Before I made my first juice I had my fruits and veggies cut up and ready to toss into the juicer. Yes, I'm using bagged carrots because they were readily available (ie: in my fridge). Ideally, I'd use fresh carrots with the green tops and throw the whole thing in for extra nutrients.
Here's a video I put together to show you how easy it is to make fresh, nutrient packed juice with the Bella NutriPro Cold Press juicer.
Prepping the fruits and veggies in advanced makes the juicing process go much faster.

The beginning of my delicious juice.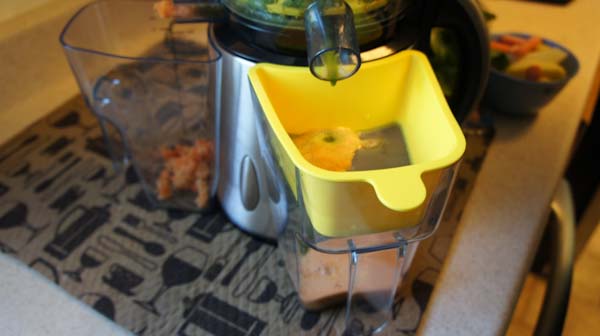 Frozen pineapple chunks help make your juice nice and icy cold.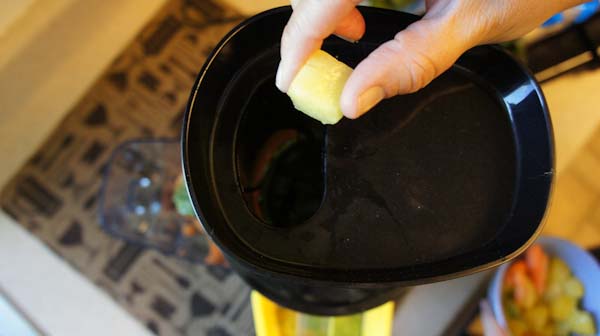 After I tossed everything in the juicer I ended up with this delicious juice. It's a combination of pineapple, carrots, apple & spinach. The green color doesn't look very appetizing, but it was so very good!
The Bella NutriPro Cold Press juicer is really easy to use and creates minimal organic waste. It was easy take apart and clean up as well as incredibly easy to use. I have a feeling this will be used a lot! I love that juicing makes it so easy to get all my fruit and veggie requirements in one glass.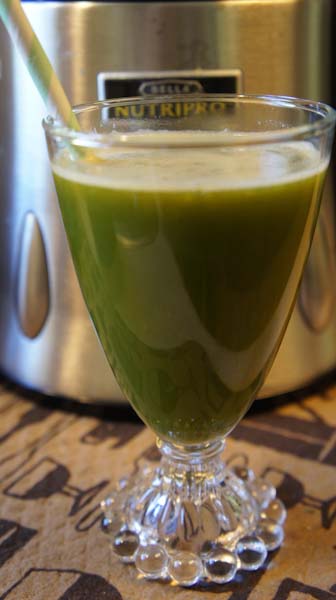 Oh, and if you are wondering how easy the Bella NutriPro juicer is to put together watch this quick video I made.
What is your favorite juicing recipe?