This Crock Pot Beef Stroganoff recipe is an incredibly simple recipe that yields delicious results.
With just a few ingredients, you can create a hearty and flavorful beef stroganoff that will become a go-to meal in your household.
Plus, the convenience of using a crockpot means you can start it in the morning and come home to a hot and comforting dinner.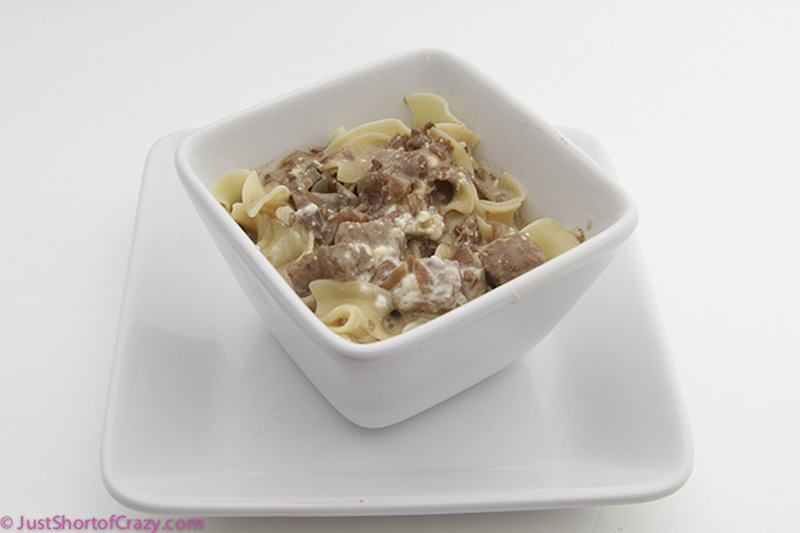 Crock Pot Beef Stroganoff Ingredients
2 cans of condensed beefy mushroom or golden mushroom soup
2 cans of condensed French onion soup
1 lb beef, cut into bite-size pieces
8 oz sour cream
8 oz cream cheese, softened
1 package of egg noodles
Crock Pot Beef Stroganoff Directions
In a crockpot, combine the beefy mushroom or golden mushroom soup, French onion soup, and beef. Stir to combine.
Set the crockpot to low and let cook for 8-10 hours, or until the beef is tender and fully cooked.
About 20 minutes before serving, cook the egg noodles according to package directions.
While the noodles are cooking, add the sour cream and cream cheese to the crockpot. Stir well to combine, making sure the cream cheese is fully melted and incorporated into the sauce.
Serve the stroganoff over the cooked egg noodles.
Recipe Tips:
For best results, use a cut of beef that's suitable for slow cooking, such as chuck roast or round steak.
If you prefer a thicker sauce, you can add a cornstarch slurry to the crockpot during the last hour of cooking.
To make this recipe even easier, you can use pre-cut stew meat instead of cutting your own beef.
Leftovers can be stored in the refrigerator for up to 3 days, or frozen for longer storage.
This is probably the easiest recipe ever beef stroganoff! Once you make this it will definitely be a staple in your house hold. If you don't have time for cooking no worries just toss this in the crock pot an go about your day.
Here Are More Crockpot Recipes To Check Out:
Tuscan Sausage & Potato Soup
 Recipe
Slow Cooker Potatoes and Ham Recipe
Slow Cooker Turkey and Chickpea Soup
Pin Beef Stroganoff Recipe To Pinterest: