AAmericus, Georgia is one of those destinations that might simply not hit people's radar. It's not flashy and fast-paced like Atlanta nor does it have a musical vibe like Macon. There's not a river bordering its city streets like Columbus or Albany.
What Americus Georgia is, is a place rich with history, the arts, some of the friendliest people I've come across, and an incredible entrepreneurial spirit.
If you love art and culture, learning about history, visiting national parks, or even hunting for ghosts, Americus is THE place to be.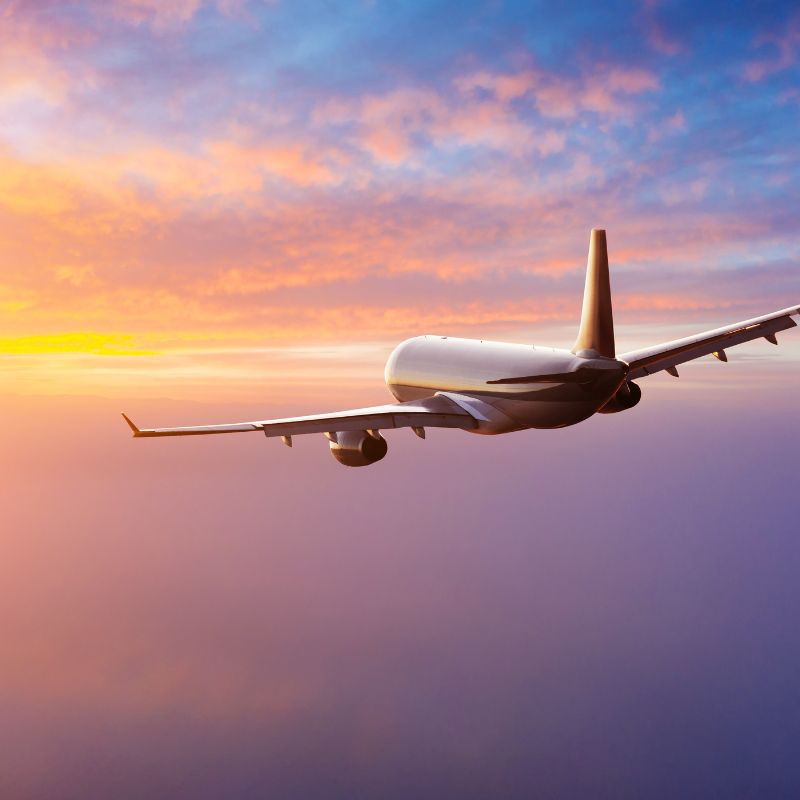 How To Get To Americus Georgia
If you're not within driving distance the cheapest way to explore Americus/Sumter County is to fly into Atlanta.
Once in Atlanta grab a rental car, which in itself, is a bit of an adventure as you'll take a train to the arrivals/luggage area, grab your luggage and then take another train to the car parking structure.
From there it's an easy drive, about 2 1/2 hours southwest, of the city.

21 Best Things To Do In and Around Americus Georgia
Run by the Americus-Sumter County Arts Council, and features the work of local, and young, artists. The Arts Council also puts on workshops, camps and events.
Americus Hot Glass Beer Fest – April
Each April Americus combes their love of craft beer with the history of glass blowing and throws one heck of a party.
This is a not to be missed festival!
Tapping Americus' rich history of artisan glass blowing and combining it with Georgia's innovative craft brewing culture, Hot Glass Craft Beer means to bring these two artisan worlds together in one epic event.
This event will feature at least 20 regional breweries with three to four different beers from each.
Americus Music Fest – October
Enjoy a wide variety of musical genres from Rock to Country, Hip Hop to Soul, Jazz to Blues, and so much more in between.
For the second year, we will welcome back the Food Truck Fest to Jackson Street, as well as craft vendors and area nonprofits. New this year?
The Americus Arts Council will host the Art Fest down Finn Street in the Americus Arts District, plus J & R Rentals are pulling out all of the stops with a MEGA Kid Zone on the green! IT'S FREE!!
SAM Shortline Excursion Train will be offering trips to and from Plains, as well as a ride from the park to Americus to enjoy the festivities! Plus, in between sets, walk the short two blocks to downtown and do a little shopping!
Bring lawn chairs and blankets but leave the coolers at home. Don't worry- wine, beer & spirits will be for sale!

Andersonville National Historic Site
Home to the Andersonville Prison, a Confederate prisoner-of-war camp during the final fourteen months of the American Civil War.
During their confinement, almost 13,000 died from disease, overcrowding (the prison was built to house 10,000 prisoners), bad sanitation, malnutrition, and exposure (yes, it gets COLD in the winter and it's blazing hot with no shade in the summer).
National Prisoner of War Museum
At the same location as the Andersonville National Historic Site giving you the opportunity to visit both places with one stop.
This museum showcases the men and women who have suffered in captivity. This is a place where their story is told. The stories are heartbreaking but important that they are not forgotten.
Andersonville National Cemetery
Located 300 yards north of the prison site it was established in 1864. The 12,920 men who died at the prison camp are buried in the cemetery.
Principal characteristics and features of the cemetery landscape include the 4-1/2 foot high brick wall that surrounds the site and is an integral part of both the aesthetic and historical scene; the regular and rhythmic rows of marble headstones; the large canopy trees; and the large monuments that are spaced around the entire site.
Located in the heart of historic downtown Americus, Art Hive Studio is a boutique process art studio offering a variety of family friendly art experiences that encourages guests to connect, create and celebrate.
This has become a popular spot for families looking for a fun activity in a whimsical environment.
Georgia Southwestern Fine Arts Building Gallery
The gallery showcases the work of students, as well as visiting artists, in the Department of Visual Arts. It contains a second gallery, as well–the James Earl Carter Gallery.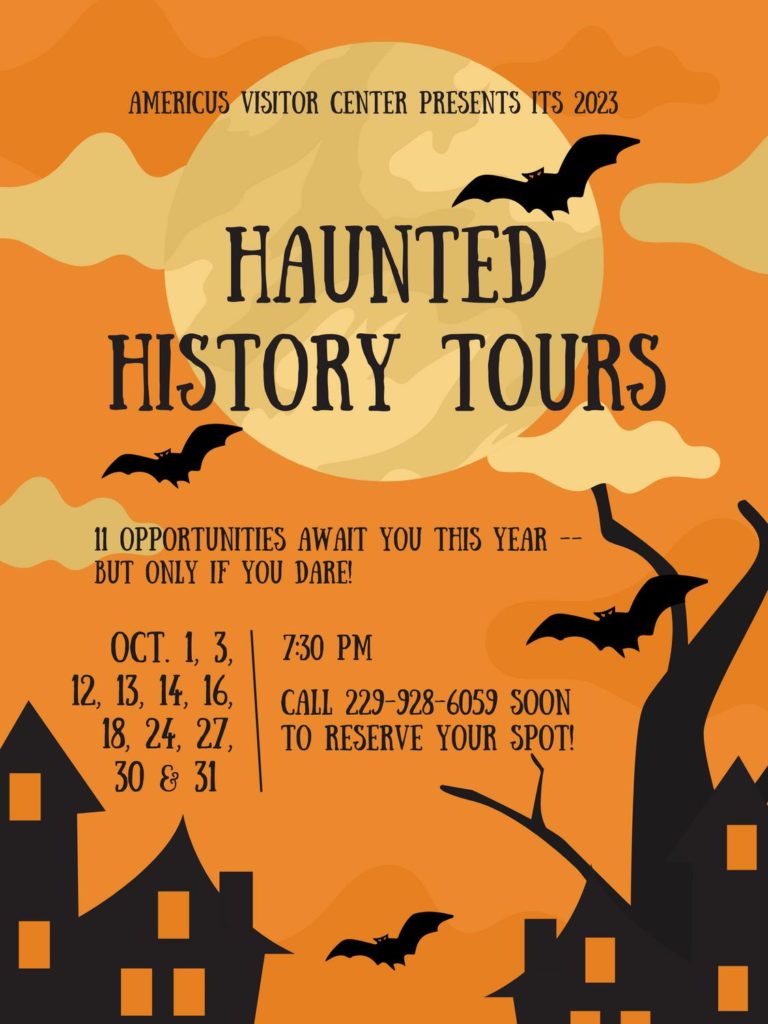 Haunted History Tour of Americus Georgia
Speaking of ghosts, during the month of October there are a number of ghost walking tours taking place.
The tour walks your around historic downtown and shares some colorful ghost stories.
Remember, you are in the south, so some of the stories might be a trigger for you, but they are all historically accurate and interesting.
Sadly, I didn't see any ghosts on my tour, but it wasn't from lack of trying.
Ghost Hunting Tips:
Turn off cell phone during investigations and tours. Your phone can interfere with the reading on a K2 meter.
When attending a group tour always try to be towards the front of the group.
Go with an open mind and just plan on having a great time!
Invest in high-quality equipment including an EVP recorder and headphones.
When asking questions, ask pertinent questions to the building/area or era.
Visit the same place multiple times. You'll undoubtedly get a different experience.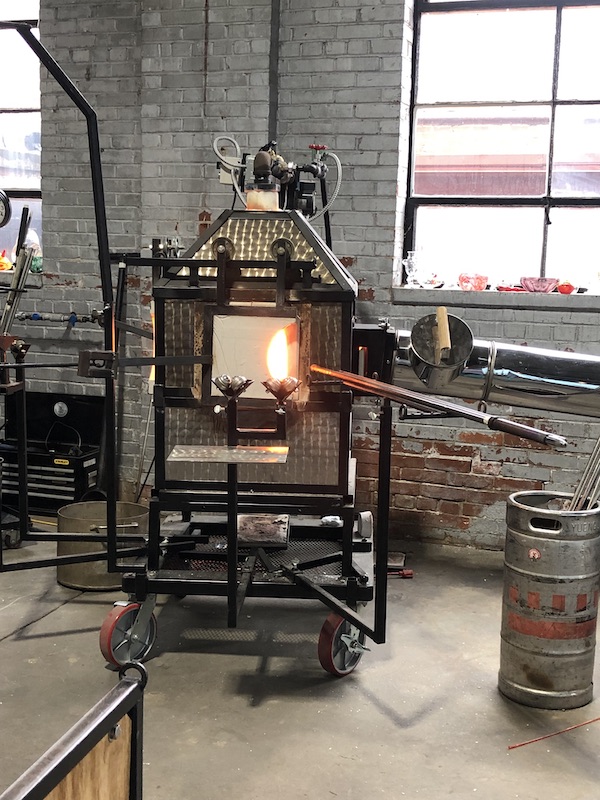 Plan a creative date and explore the artsy side of Americus. Mobile Glassblowing Studios is a one-of-a-kind business that creates portable furnaces for everyone, from the hobbyist to the professional.
The Americus location has a small gallery of pieces and offers classes to the public.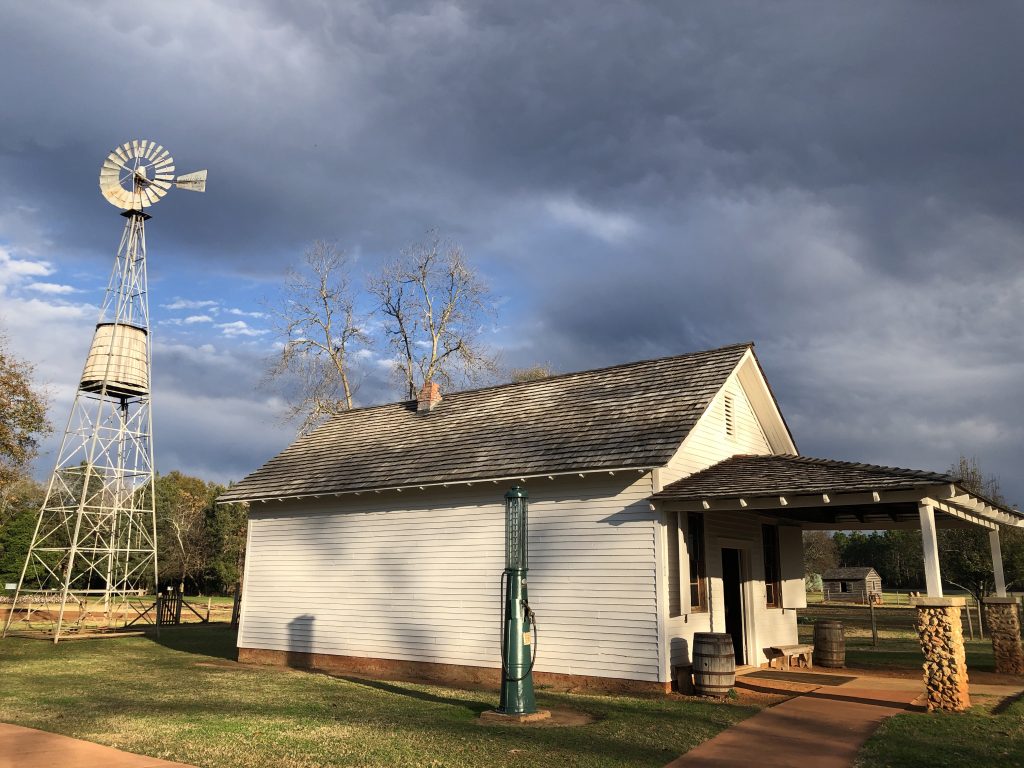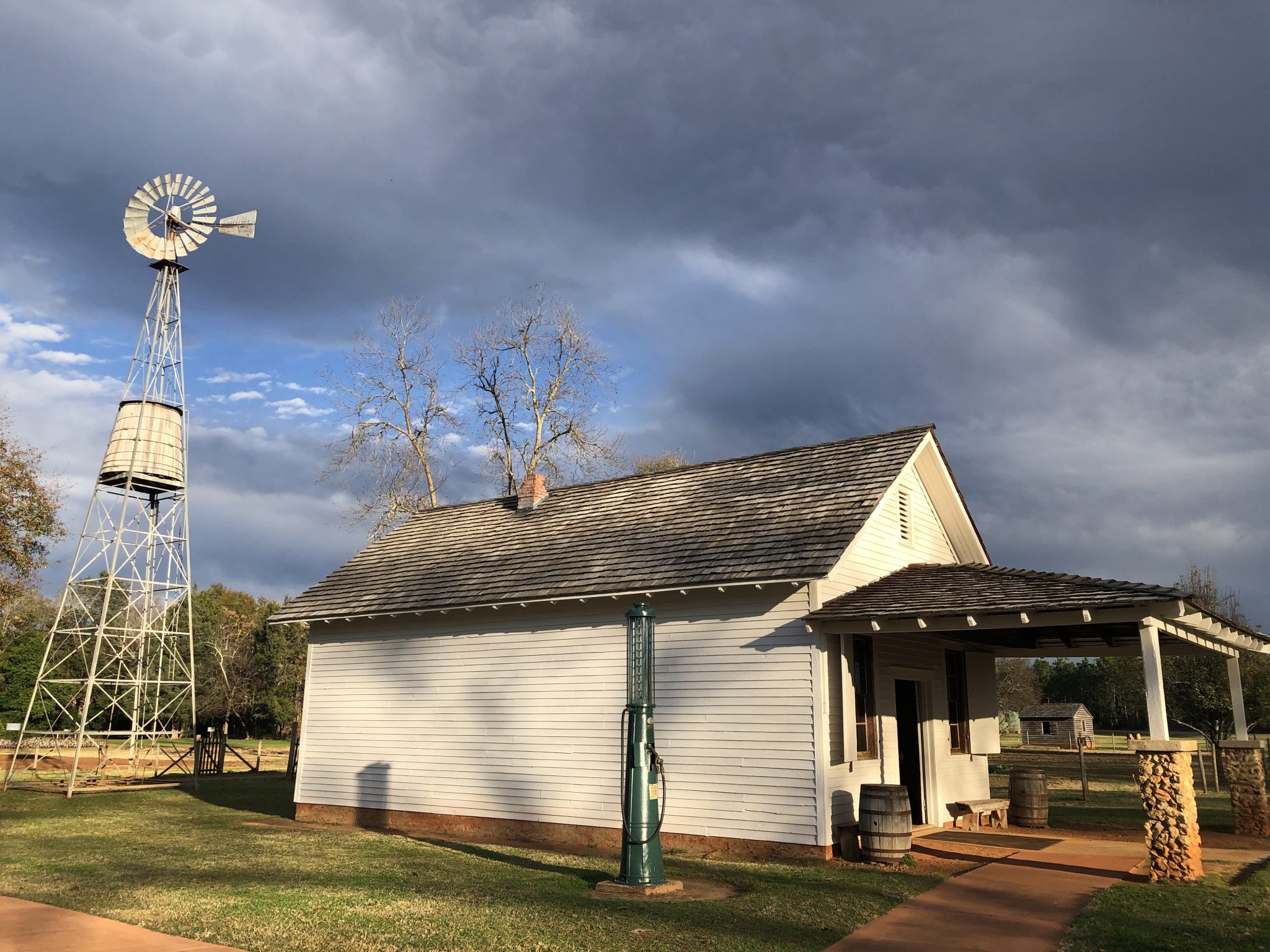 Jimmy Carter National Historic Site
You can't visit Americus without making the 20-minute trek west to the agricultural community of Plains, GA that President Carter still calls home. You'll pass his residence if you drive from Americus to Jimmy Carter's boyhood home.
Most of the town of Plains can be considered a National Historic Site. You can visit the boyhood home, his high school which is now the park museum and visitor center, the Plains train depot which served as the presidential campaign headquarters, and the Plains Historic District.
Offers workshops, a gallery space and events throughout the year. Workshops are by appointment only and require a minimum of two people.
Stop by the gallery to see many locally made glass items including cups, bowls, vases, jewelry, sculptures and more.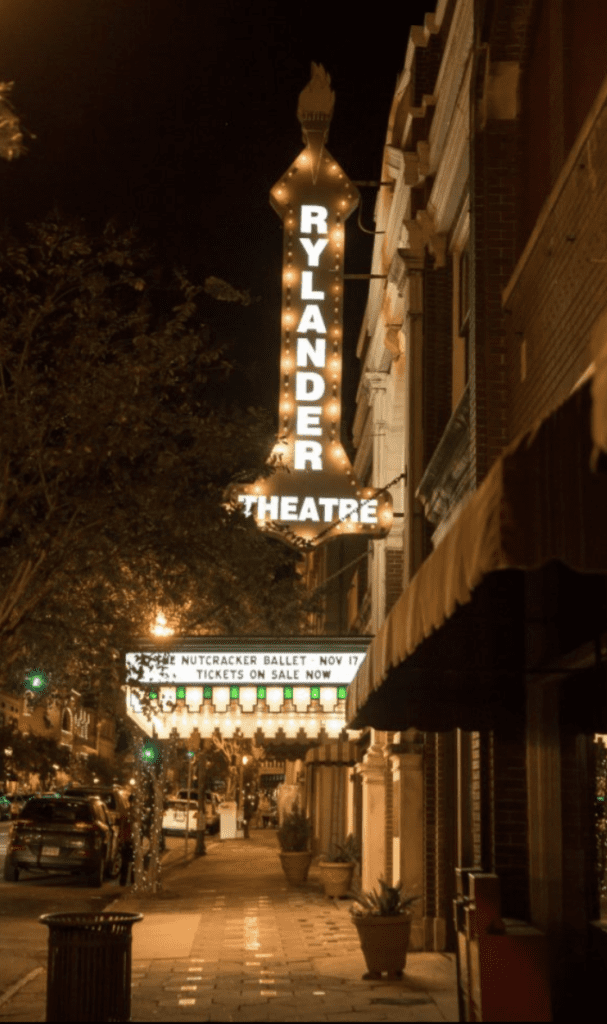 Catch a show at this hub for the performing arts, carefully restored and renovated from its early days as a vaudeville theater to a modern venue.
Reopened in 1999, the theater has their own troupe and also hosts concerts and plays. Note, there are many haunted stories from employees. Definitely worth a visit if you have the time.
The SAM Shortline Excursion Train
This is a great rail experience in 1949 vintage train cars. A great glimpse of yesteryear paired with the best of today's South visiting sweet towns brimming with attractions, shopping and eateries.
Some not to miss train excursions include:
Wine & Cheese Train:

Enjoy an hour-and-a-half long round trip train ride aboard historic air conditioned

railroad cars for a wine tasting adventure with Paulk Vineyard. Trips will depart from Americus Jackson Street Station. Wine and cheese tray will be served onboard the train as you relax and enjoy the scenery.

The Presidential Flyer: Riding in air-conditioned, 1949 vintage train cars, you will travel from Georgia Veterans State Park, across Lake Blackshear to Plains, GA and Archery. Explore President Jimmy Carter's hometown, go shopping and sample peanut butter treats. They you will travel to President Carters Boyhood home farm at Archery, GA.
Murder Mystery Dinner Train: Depart from the Americus train station for a two and half hour round trip train ride to Plains. Ride aboard historic air conditioned railroad cars for an exciting, interactive Murder Mystery Dinner Train and try to solve the murder.
Hot Glass Brewdest:

Enjoy a relaxing train ride to the Hot Glass Craft Beer Festival in Americus.

Let

the

SAM

Shortline do the driving for you. Book fast as seats are limited!
Thirteenth Colony Distilleries
Try their lineup of award-winning whiskeys, bourbons, vodkas and gins in the form of a craft cocktail from one of the local bars. The company's name is a nod to the state of Georgia, which was the last, or thirteenth, of the American colonies.
Places To Eat & Drink in Americus, Georgia
Gladys Kitchen
If you only have time to eat at one place during your visit you need to take your happy self right on over to Gladys Kitchen for some cafeteria-style southern soul food.
The only thing you need to know is to order the butter roll dessert.
This is definitely a case where you want dessert.
The recipe is top secret (I asked), but it reminds me of bread pudding, but better.
Even when I try to eat healthily when I travel I still indulge and this was definitely worth the indulgence.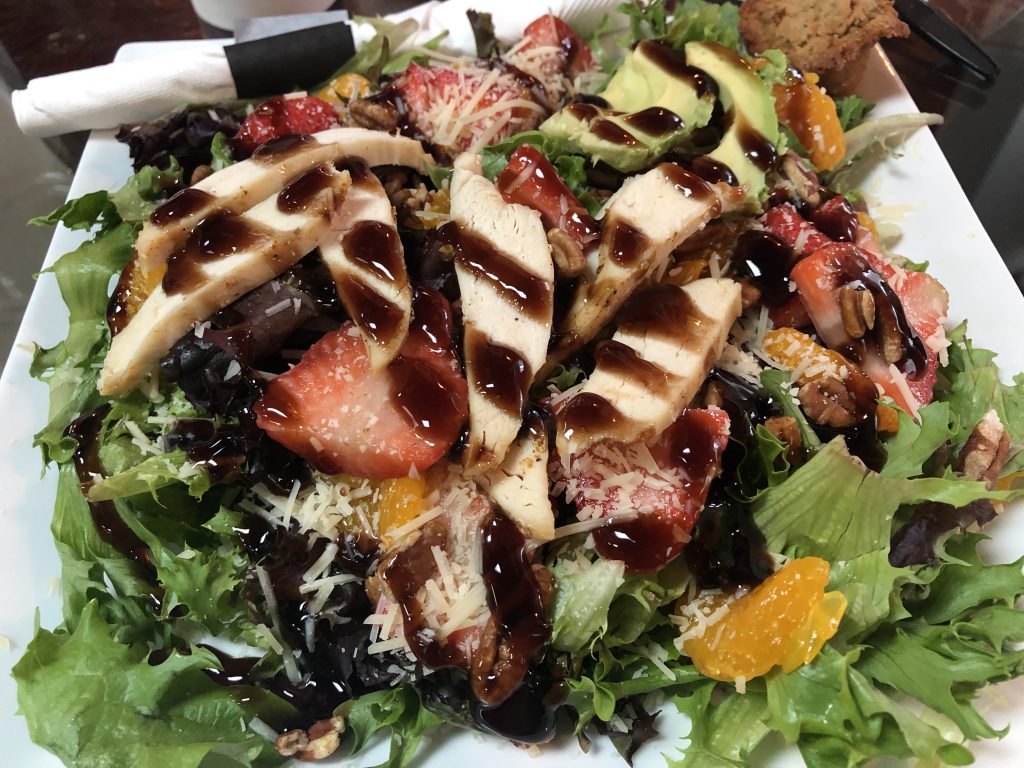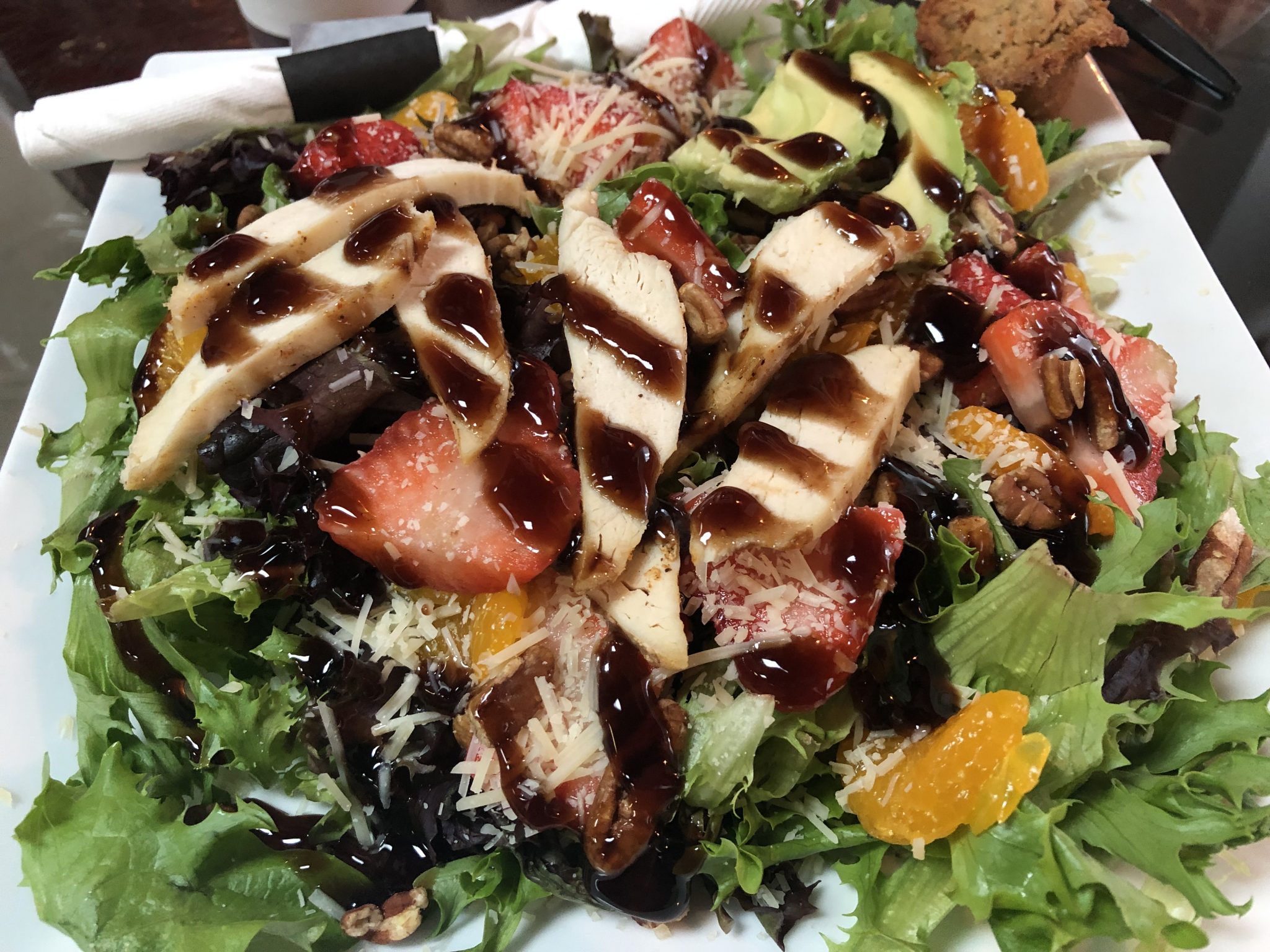 Little Brother's Bistro & Cafe
Little Brother's Bistro has been serving unique, fresh and delicious soups, salads, sandwiches and more since 2009.
Located in the Historic Windsor Hotel and open just for lunch they served up one of the best salads I'd had in ages.
Order at the counter and they'll bring your food to your table.
Make sure you look at the daily specials. There were many but I'm glad I went with the salad.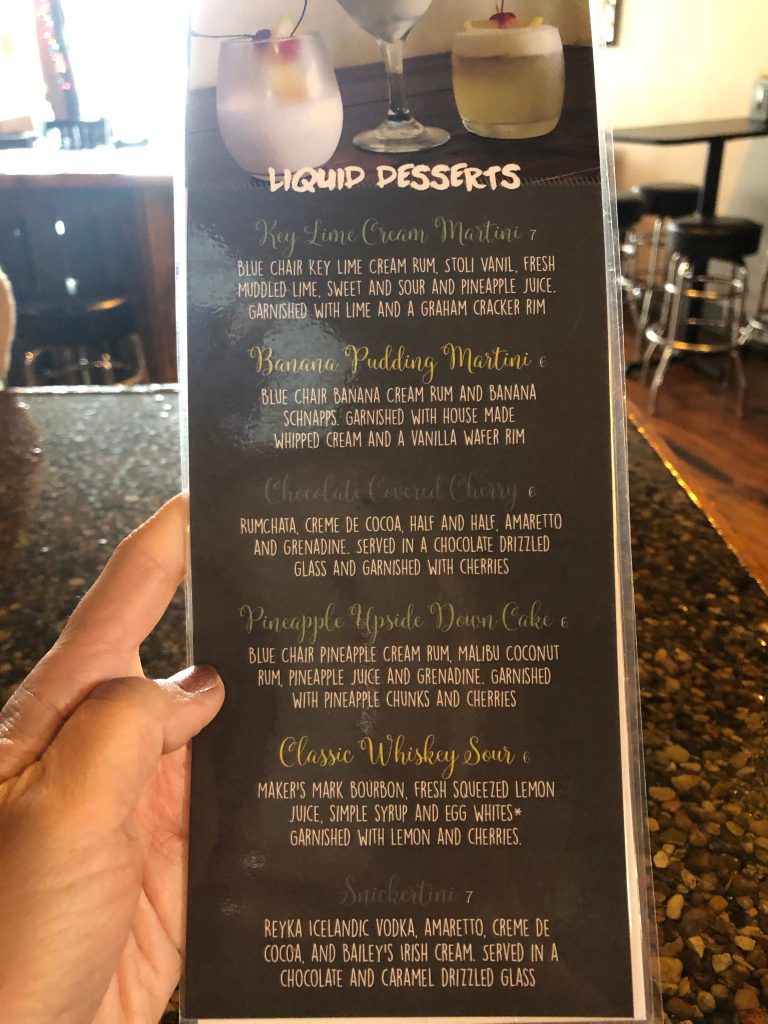 Toboggan Steve's
Well, you know I had to check this one out. I never did solve the puzzle of why a place in southern Georgia has the word Toboggan in the name.
However, it didn't take long to discover why this pub-style spot is frequented by the locals.
Wings, burgers, wraps, craft beer, cocktails, and even dessert martinis! Live music throughout the week.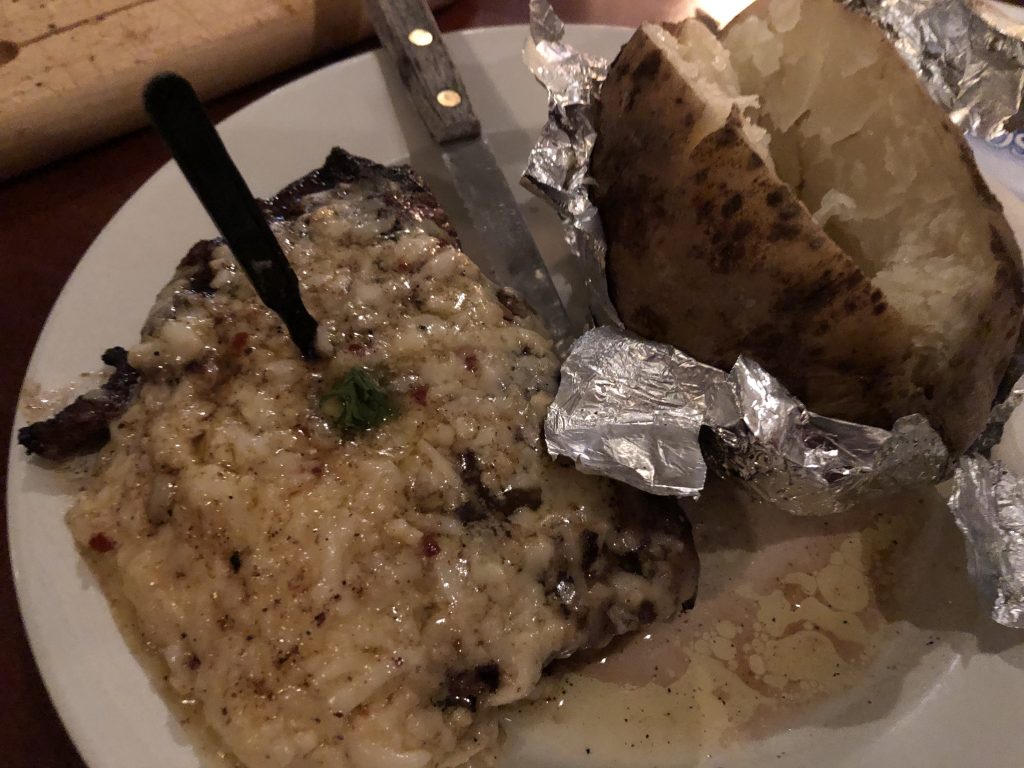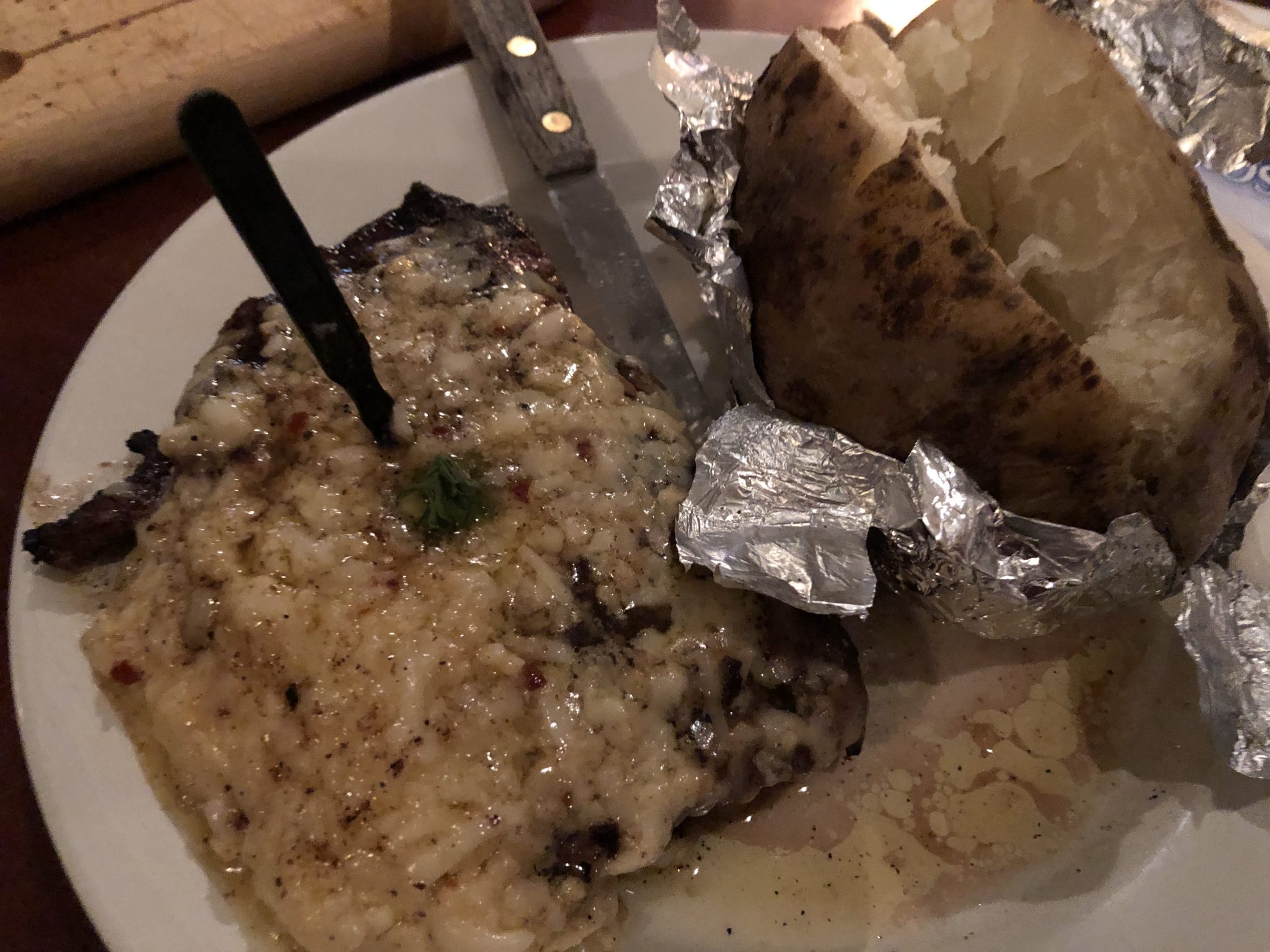 The Station
Located in downtown Americus and offering up everything from soups and sandwiches to steaks and seafood. There is also a full bar.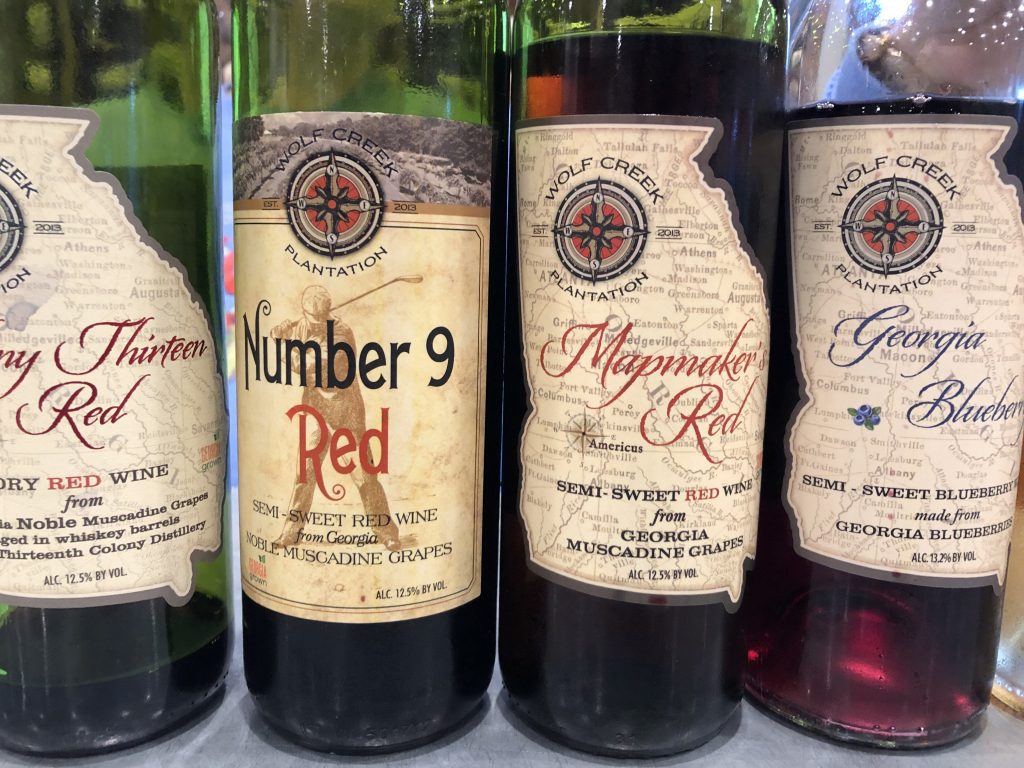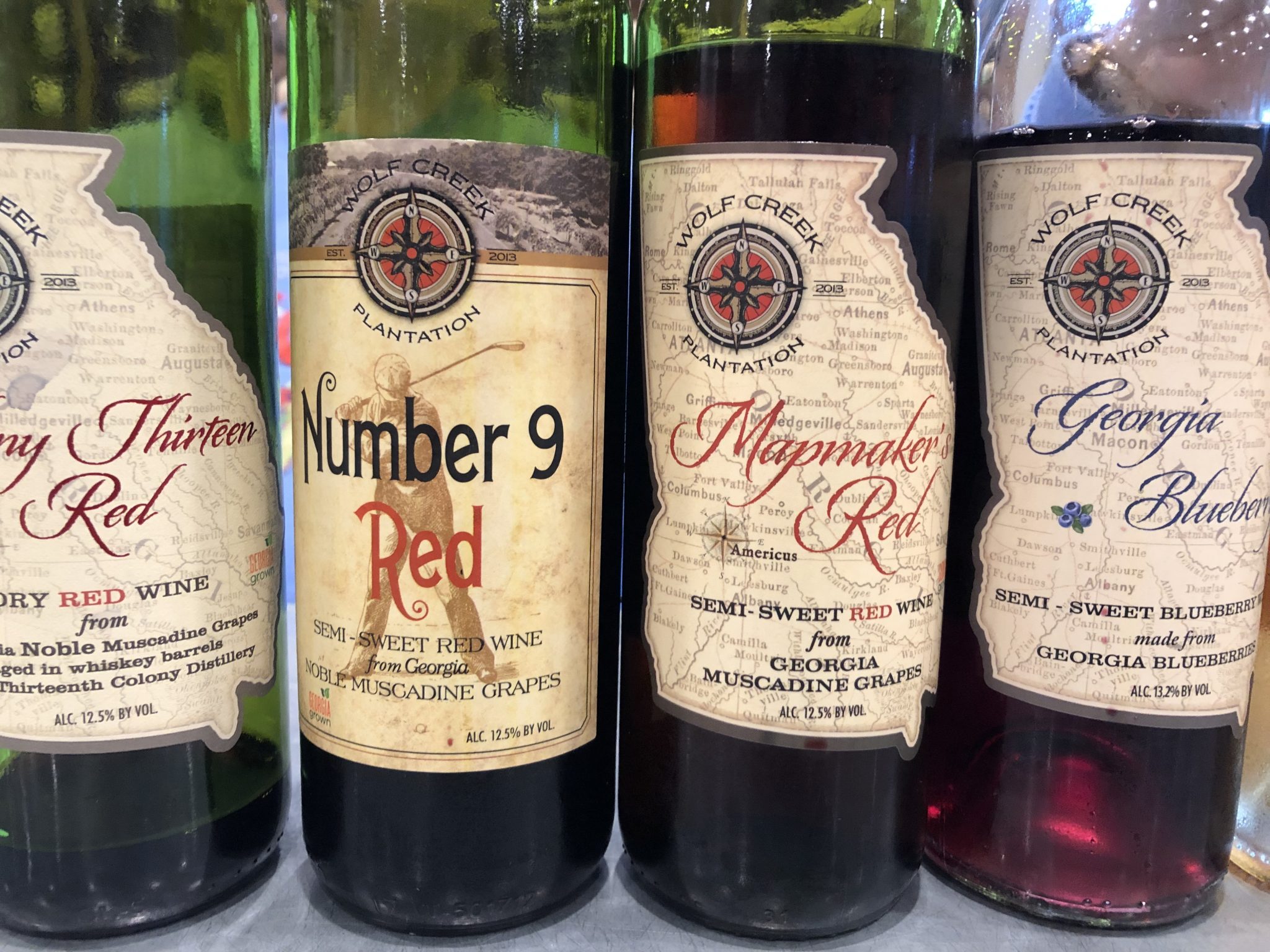 Wolf Creek Plantation
Sumter Counties only winery Wolf Creek Plantation features more than 2500 muscadine vines covering more than 20 acres.
A tasting room and winery tours are available. Sample their signature award-winning muscadine wines.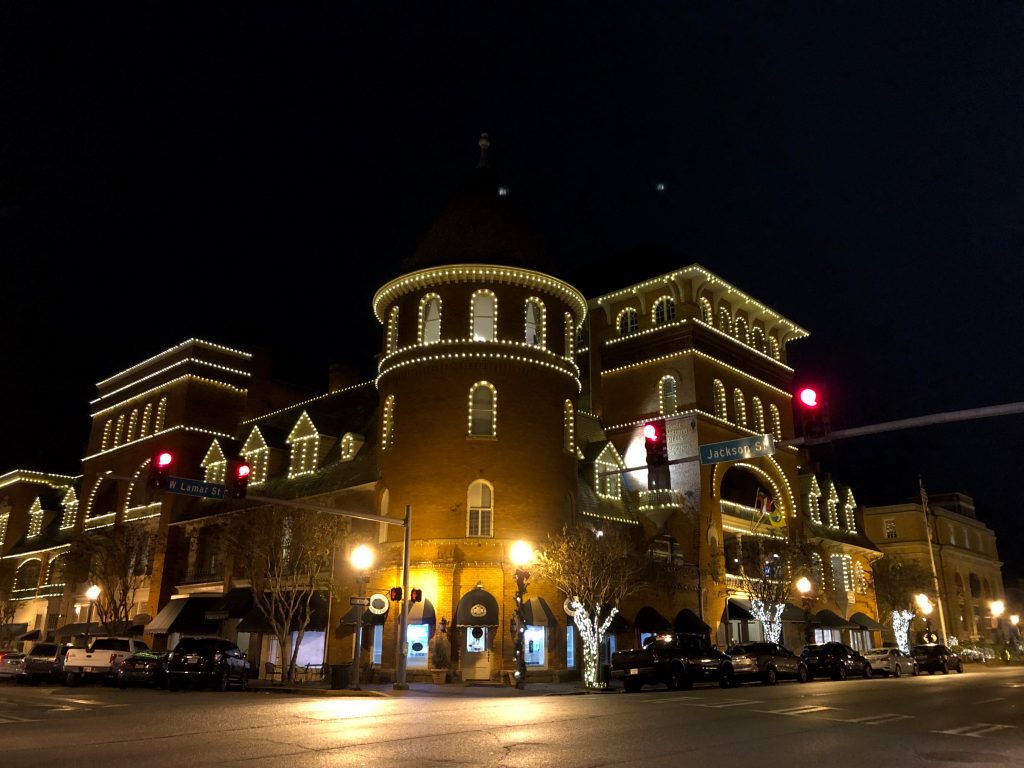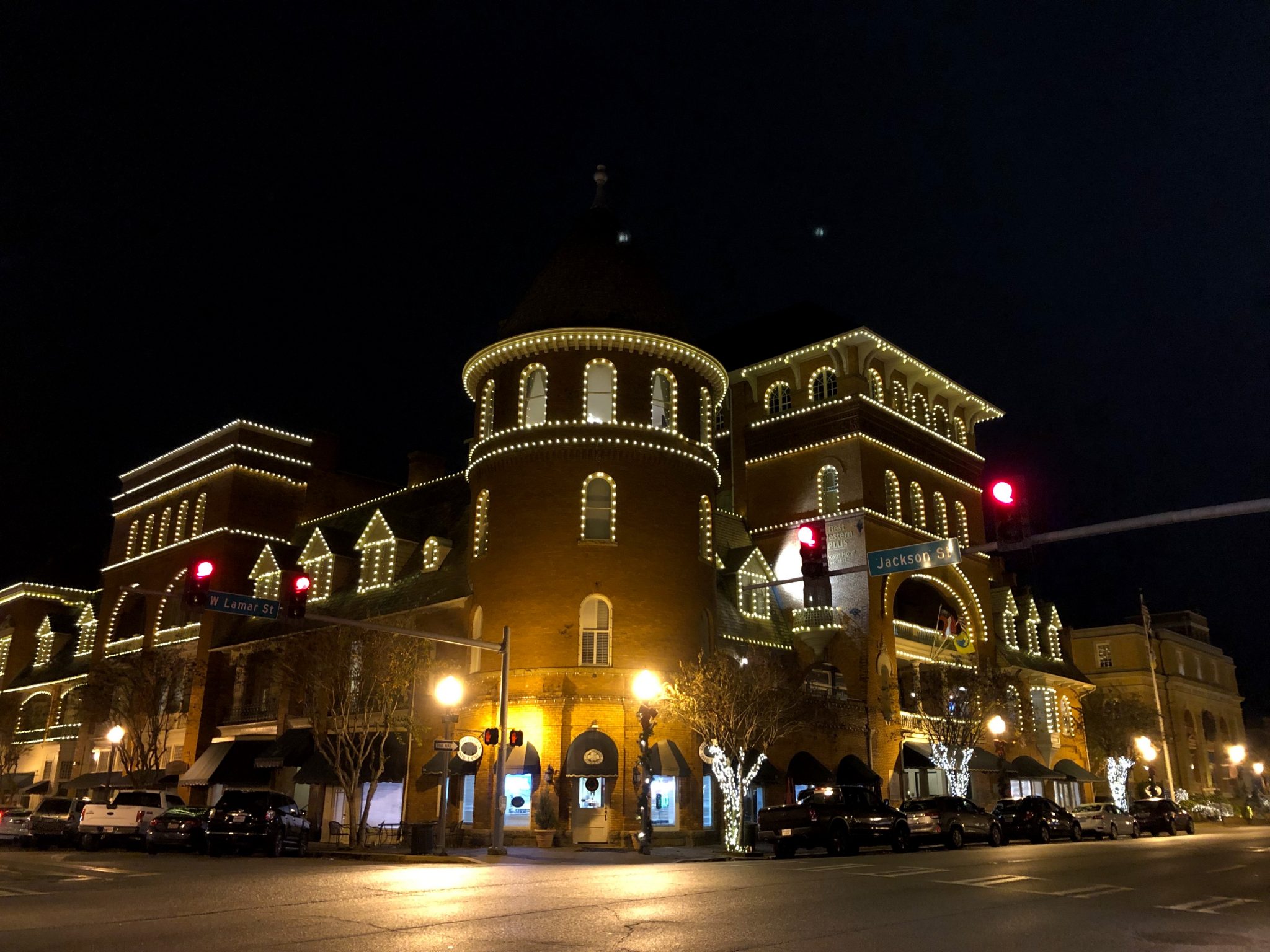 Where To Stay in Americus, Georgia – Historic Windsor Hotel
When the offer arrives to stay at one of the most haunted hotels in Georgia this ghost hunter jumps at the chance!
The Historic Windsor Hotel in historic downtown Americus has so many haunted stories that the front desk has a paranormal book that records the happenings.
Built in 1892 the Windsor was a 100-room, five-story Victorian structure complete with towers, balconies, and a three-story open atrium lobby.
The hotel is now comprised of 53 period-style rooms all with modern amenities instead of the original 100 rooms.
The lobby, which is a gorgeous welcome, is one of my favorite features. I love the open atrium-style in hotels and even though it's open it still feels warm and inviting.
Windsor Hotel Restaurants
There are two restaurants on-site. We dined at Rosemary & Thyme and really enjoyed it. Be sure to check out the tile flooring that is original to the building.
Floyd's Pub has outdoor seating on the verandah when the weather is cooperative.
Rosemary & Thyme Restaurant is a modern, upscale American restaurant located in the Historic Windsor Hotel. White linen tablecloths, candlelight and quiet ambiance welcome diners.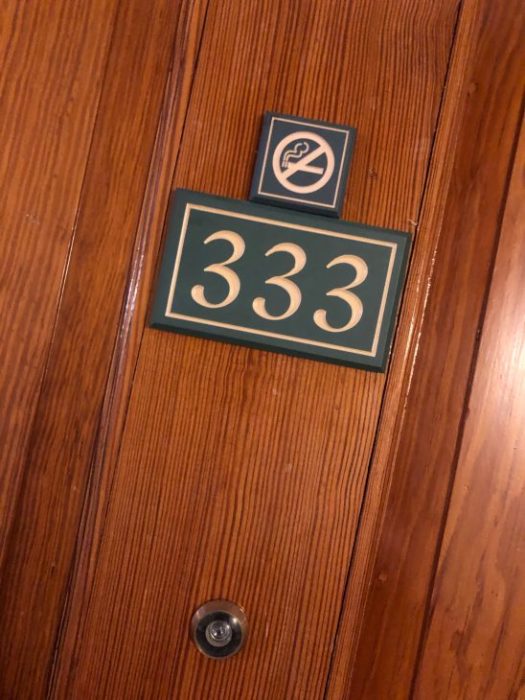 What Is The Most Haunted Room at the Windsor Hotel?
I asked to be in the most haunted room at the hotel and the clerk handed over keys to room 333 with a "are you sure?" look on her face.
Game on! I'm so excited to be here I'm like a kid before Christmas. I have two nights to find and record evidence of ghosts.
My room is stylish with 12-foot ceilings, a full bath and loads of space. As soon as I can I unpack my luggage while getting a feel for the room.
Honestly, nothing feels amiss, but I'm hopeful that I'll have an encounter during my stay.
The first night I stayed awake as long as possible, wandered the halls, and absolutely nothing happened. When I finally slept it was soundly and without dreams.
The second night I woke numerous times but never figured out why. There were no noises, no weird movement in the room, nothing that led me to believe anything other than I was having another restless night.
Even though I never encountered a ghost I still loved my stay at the beautiful historic Windsor Hotel.
Learn more about Americus here.
More Things to Do Nearby:
Romantic Weekend Getaway to Albany, Georgia
7 Amazing Places to Visit in Georgia This Year
Discovering the Quirky and Colorful Land of Pasaquan in Georgia
Top Things to Do in Columbus, GA: From Delicious Eats to Cultural Attractions
Pin To Pinterest