Updated: 7/10/2019
Creating more vegetarian options for the family and decided to try my hand at quinoa stuffed peppers.
These are still full of protein even without the meat.
Whether these are your main dish or a favorite quinoa side dish, you'll love the flavors this recipe brings to the table.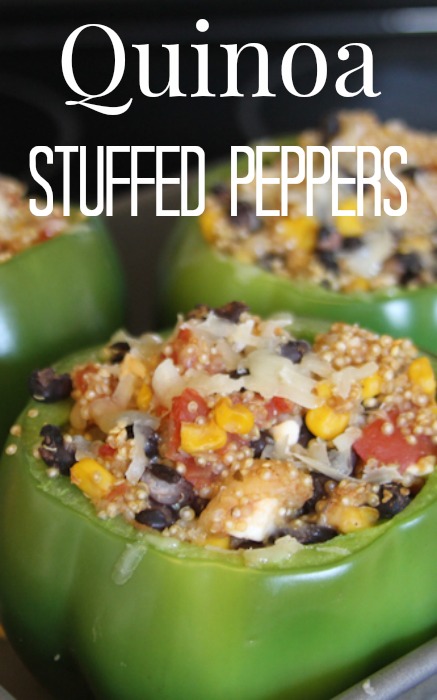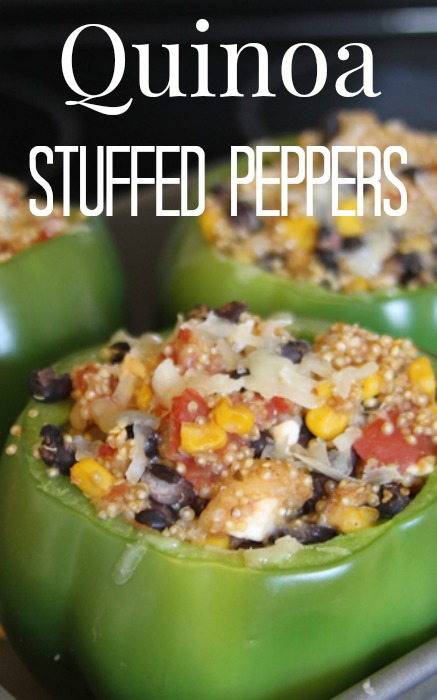 Roth sent me a selection of cheeses to try in a recipe. I received three different varieties. I tasted each and found them all to be very good.
Of course, I knew they would be since Roth Cheese comes straight from the cheese capital of the U.S., Wisconsin.
It was easy to figure out that a quinoa stuffed peppers recipe was ideal for these cheeses.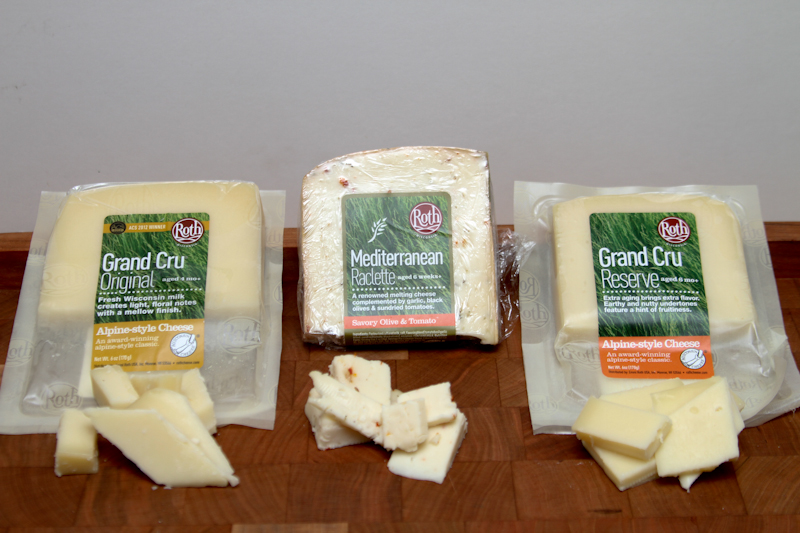 The Grand Cru® Original is their signature cheese. Made with the freshest milk in imported copper vats and aged in our cellars for at least 4 months.
It's robust and full-bodied, plus it melts perfectly which makes it a great cheese to have in the kitchen. Shredded on top of the stuffed peppers it melted beautifully and is a delicious compliment to the other flavors.
The Grand Cru® Reserve is handcrafted in some of the finest, and largest copper vats in the country.
They hand-select wheels of Grand Cru® Original for additional aging in our cellars. After aging for an additional 6 to 9 months the bold and savory cheese is finally available to consumers.
Both the Grand Cru® Original and Grand Cru® Reserve cheese are very good. However, when I tried the Mediterranean Raclette I found my favorite.
The Raclette is a perfect melting cheese and is complemented by garlic, black olives & sundried tomatoes. I also like eating it as an afternoon snack on crackers.
I plan on making a tasty dip for my next wine night (aka book club) with this cheese.
Quinoa Stuffed Peppers with Roth Cheese Recipe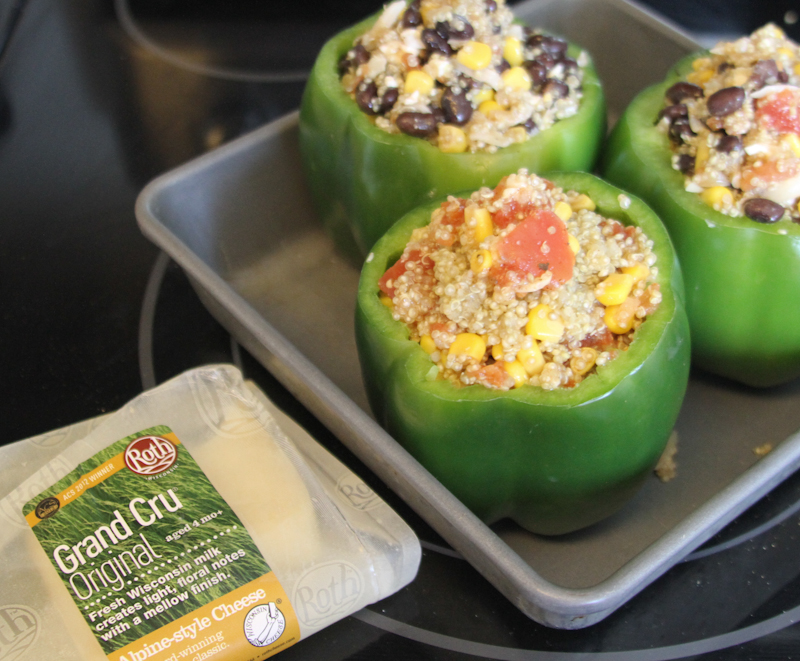 I chose the Grand Cru for this quinoa stuffed peppers recipe, but any of these flavors would be delicious.  Choose the one that best suits your tastebuds and flavor preferences.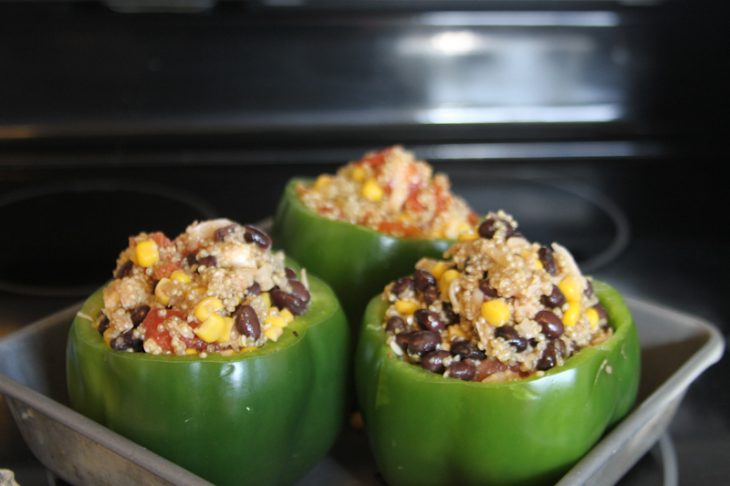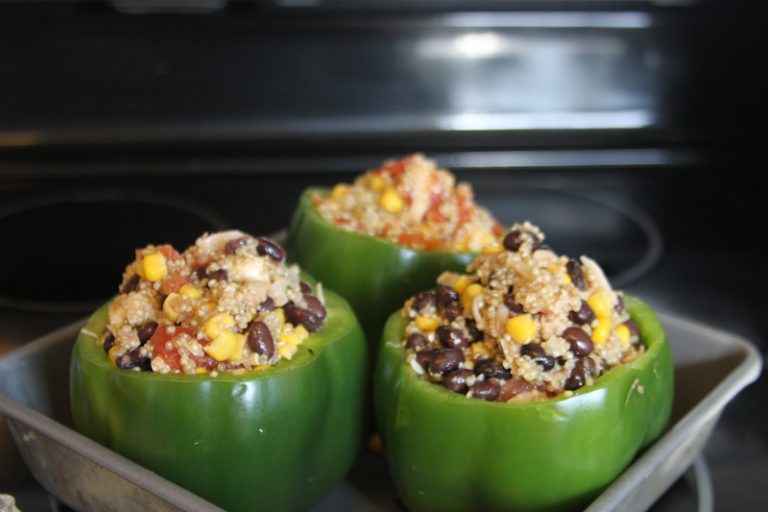 Ingredients: 
1 1/2 cups cooked quinoa
1/2 cup corn
1/2 cup canned black beans, drained and rinsed
1/2 cup petite diced tomatoes
1/2 cup shredded Roth Grand Cru® cheese + a bit for topping peppers
1/2 teaspoon cumin
1/2 teaspoon garlic powder
1/4 teaspoon chili powder, or more to taste
Kosher salt and freshly ground black pepper, to taste
3 bell peppers, tops cut, stemmed and seeded
Directions: 
Preheat oven to 350 degrees.
Prepare bell peppers by slicing the top off each pepper and scooping out seeds and membranes.
Rinse the peppers well, and trim bottom if needed to make them even to sit upright when filled with quinoa mixture.
If your bell peppers are smaller, you can easily place them inside the silicone muffin pan to keep them upright while cooking.
In a medium size bowl combine all ingredients, except bell peppers, together. Mix well. Divide mixture evenly among the three peppers. Place filled peppers in a baking dish or a muffin pan as mentioned above.
Add 3 tablespoons of water to the bottom of a baking dish or a small amount of water in the bottom of each muffin cup.
Cover with foil and bake for 25 minutes* (or until peppers are tender), removed foil, add cheese to the top of peppers and bake for 5 minutes. Serve immediately.
*Baking time depends on the size of peppers. Larger peppers will require more time to completely heat the filling.
This quinoa stuffed peppers recipe is a delicious meal option that appeals to both the meat eaters and vegetarians in your family.
More Vegetarian Recipes:
Pin Quinoa Stuffed Peppers to Pinterest