This bacon jalapeno cheese ball is the perfect appetizer for any party you may be hosting. The suggested serving size for this recipe is for 4 servings, but it could easily stretch to 6-8 servings if other appetizer options are available.
If you're not a fan of spicy foods you can feel free to eliminate the Jalapeno from this recipe.
I tend to make two cheese balls.
One with the jalapeno for those that like spicy food and one without jalapeno for people like me that can't handle spicy food.
The cheese balls are so easy to make that it's really easy to double up the recipe and make two different varieties.
Need more appetizer ideas? Check out this list of 60+ ideas for party appetizers. You're sure to find many delicious bites.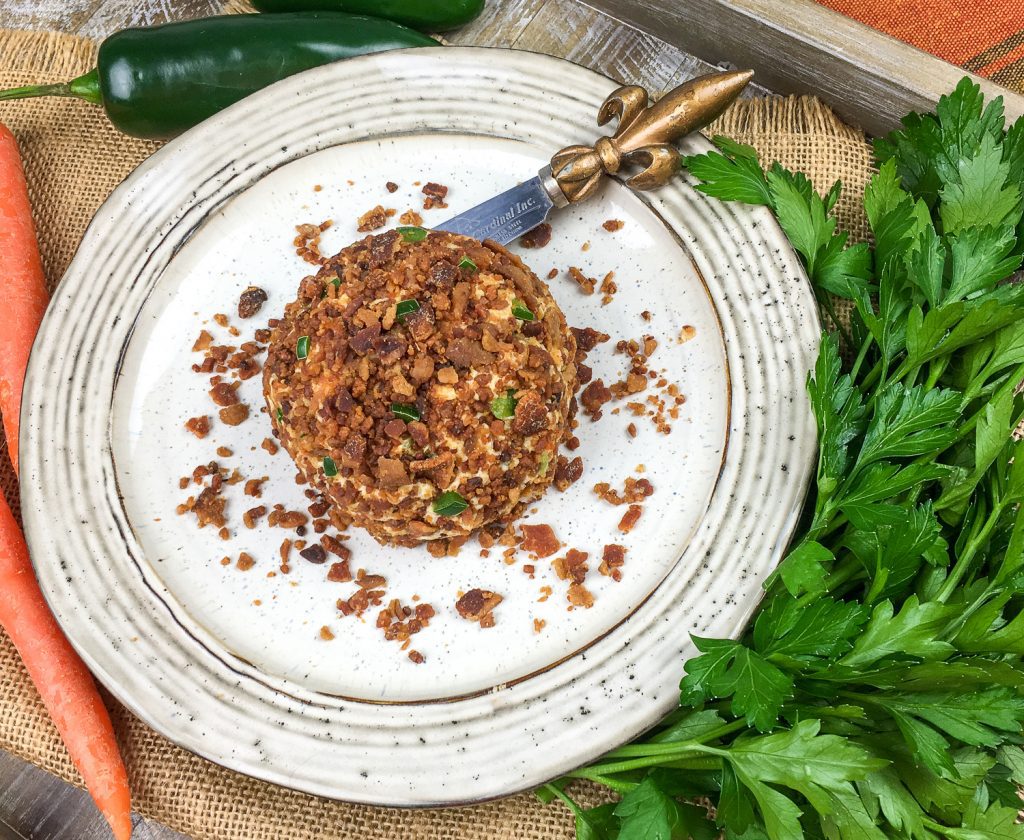 Prep time: 20 minutes
Cook time: 10 minutes
Serves: 4
WW Freestyle Points: 5 per serving
Bacon Jalapeño Cheese Ball Appetizer Ingredients
8 center cut slices of bacon
½ large jalapeño pepper, finely minced, divided
8 oz. fat-free cream cheese, room temperature
½ c. Mexican-blend cheese, finely shredded
½ t. smoked paprika
½ t. Mexican oregano
½ t. chipotle powder
½ t. garlic powder
Sea salt and black pepper, to taste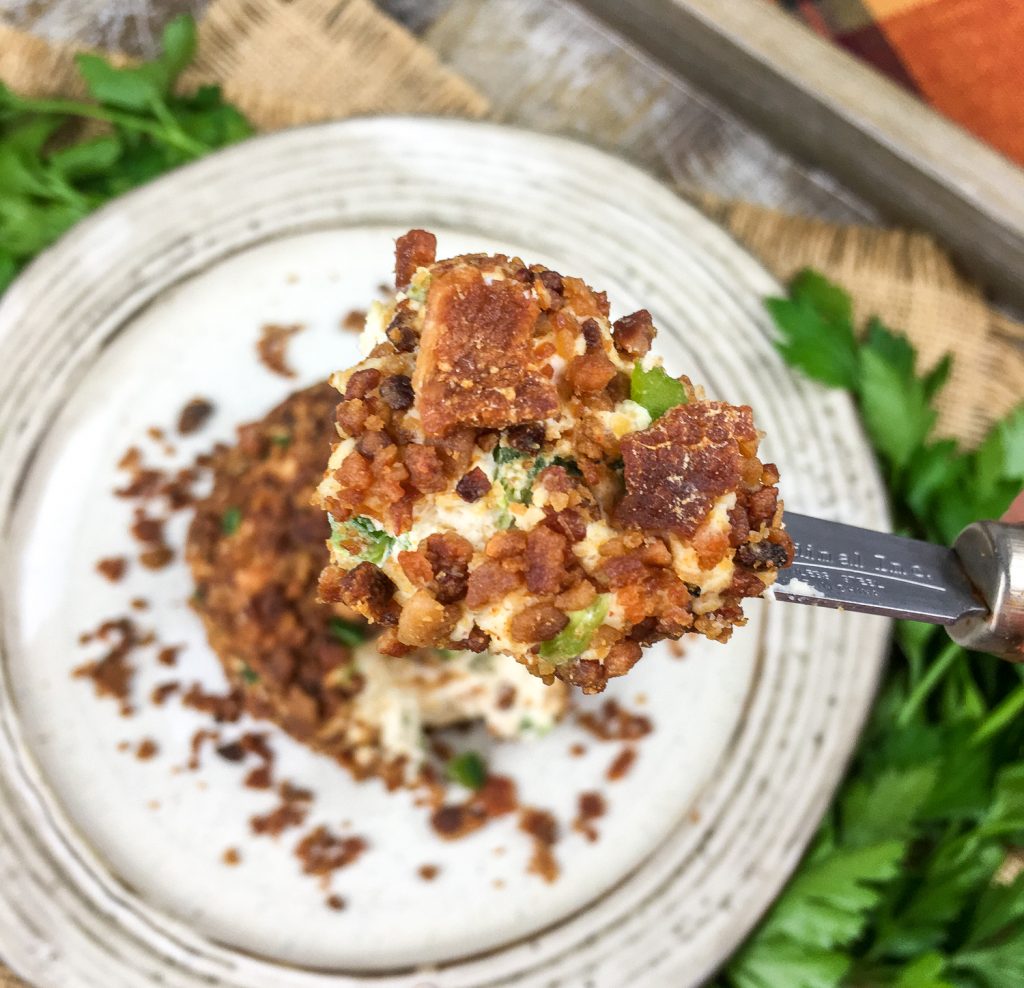 To Serve
Vegetables, of choice (no WW Freestyle points)
Gluten-free crackers (WW Freestyle points will vary by cracker)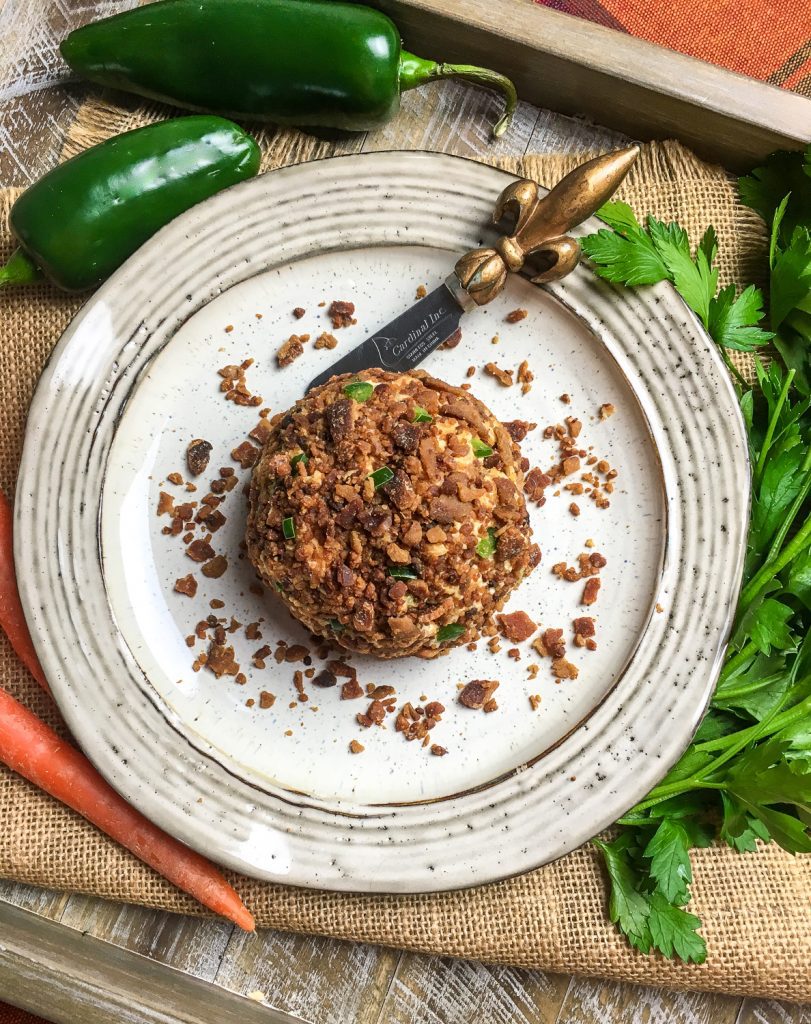 Bacon Jalapeño Cheese Ball Appetizer Directions
Line a large plate with paper towels and place 4 slices of bacon on top. Cover with additional paper towels. Microwave on high for 3-4 minutes, or until bacon is crispy. Remove from microwave and discard paper towels.
Repeat process with additional paper towels and remaining slices of bacon.
Place crispy bacon in a food processor and pulse briefly until roughly chopped. Transfer bacon crumbs to a large bowl, along with half the jalapeño pepper, and stir to combine. Set aside
Combine the remaining jalapeño pepper, cream cheese, Mexican cheese, smoked paprika, Mexican oregano, chipotle powder, and garlic powder in a large bowl.
Season with salt and black pepper, to taste, and stir vigorously to combine.
Shape the cheese mixture into a ball with your hands and transfer to a serving plate. Place in the refrigerator to firm up a bit, approximately 5-10 minutes.
Remove cheese ball from refrigerator and gently roll in the bacon jalapeño mixture until thoroughly coated. Return to a serving dish and serve immediately with sliced vegetables and/or gluten-free crackers. Enjoy!
Pin Bacon Jalapeno Cheese Ball Recipe to Pinterest