This Pear Crunch Coffee Cake recipe will make sure those pears on your counter don't go bad.
I mean, I know we all have good intentions that we are going to eat all the fruit we buy.
Sometimes life has other plans, but you don't have to toss those pears away. Instead turn them into a delicious treat perfect for your next coffee get together with friends. This recipe isn't nearly as hard to make as you may think.
Simply follow the easy step by step directions below.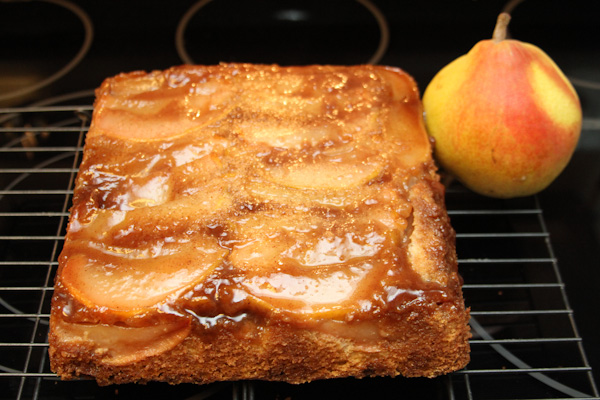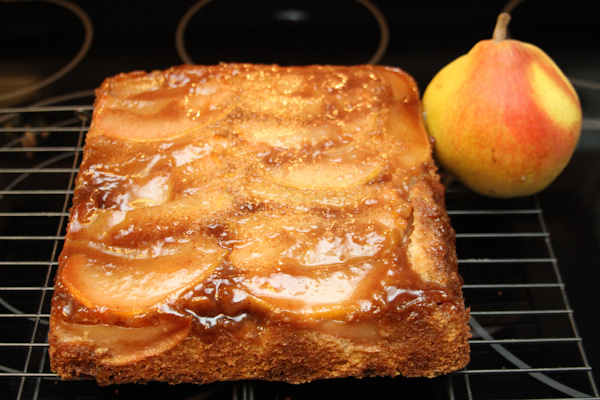 Upside Pear Crunch Coffee Cake Recipe
Serves: 4 (I think this would easily serve 6-8, 4 would make very generous servings)
Crunch Ingredients
1 ½ C. demerara sugar or brown sugar
1 t. ground cinnamon
¼ t. ground nutmeg
½ t. salt
1 TB. flour
2 TB. butter
Crunch Directions
Work all ingredients together with a spatula or your fingers and set aside.
Coffee Cake Ingredients
2 ea. pears, cored and sliced into 1/2 " slices with skin on
4 oz. unsalted butter
1 C. sugar
2 ea. large eggs
1 C. sour cream
¼ C. milk
1 t. vanilla extract
1 ½ C. flour
1 ½ t. baking powder
½ t. baking soda
1 t. salt
Coffee Cake Directions
Preheat the oven to 325 degrees convection.
Cream the butter and sugar together with a spatula or in a mixer with paddle attachment.
Add the eggs and combine to emulsify.
Add the sour cream, milk and vanilla extract and stir to combine.
Add dry ingredients just to combine.
Sprinkle half of the Crunch mixture divided between 2 loaf pans.
Divide the pears slices lined down each loaf pan on top of the Crunch layer. Divide Coffee Cake batter over the pears in each pan.
Finally, divide the rest of the Crunch over the batter in each pan. Bake for 30 minutes until cake is set.
To Serve:
Cool completely, this takes awhile, be patient. Then invert cake upside when cool, slice and serve.
More Desserts To Make:
Blueberry Compote Dessert Recipe
Sinfully Delicious Banana Raspberry Icebox Cake Recipe
4 Ingredient Mini Banana Cream Pies You're Going To Love
Aunt Ruth's Famous No Bake Cherry Dessert
Pin Pear Crunch Coffee Cake To Pinterest