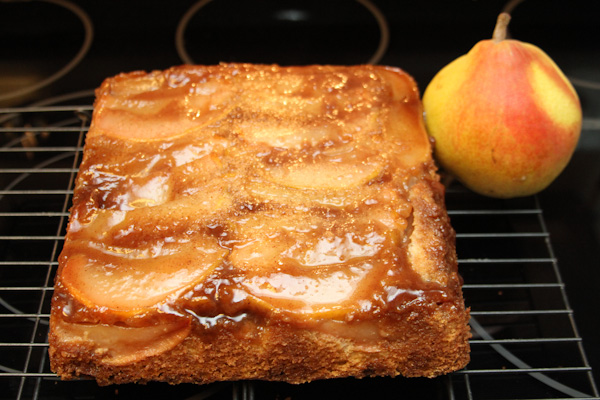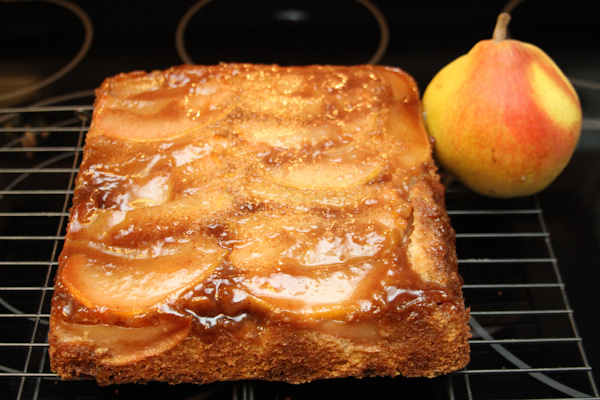 I receive press release pitches all the time. The majority just get trashed without ever opening them. For whatever reason, I decided to open this one and found the most luscious  Pear Crunch Coffee Cake recipe. This recipe is from Chef Elizabeth Falkner. She is returning to The Next Iron Chef this fall. I can't wait to see what she creates.
Elizabeth Falkner's Recipe
Upside Pear Crunch Coffee Cake
Serves: 4 (I think this would easily serve 6-8, 4 would make very generous servings)
For the Crunch:
1 ½ C. demerara sugar or brown sugar
1 t. ground cinnamon
¼ t. ground nutmeg
½ t. salt
1 TB. flour
2 TB. butter
For the Crunch:
Work all ingredients together with a spatula or your fingers and set aside.
For the Coffee Cake:
2 ea. Harry & David Royal Riviera® Pears, cored and sliced into 1/2 " slices with skin on
4 oz. unsalted butter
1 C. sugar
2 ea. large eggs
1 C. sour cream
¼ C. milk
1 t. vanilla extract
1 ½ C. flour
1 ½ t. baking powder
½ t. baking soda
1 t. salt
For the Coffee Cake:
Preheat the oven to 325 degrees convection. Cream the butter and sugar together with a spatula or in a mixer with paddle attachment. Add the eggs and combine to emulsify. Add the sour cream, milk and vanilla extract and stir to combine. Add dry ingredients just to combine.
Sprinkle half of the Crunch mixture divided between 2 loaf pans. Divide the Harry & David Royal Riviera® Pears slices lined down each loaf pan on top of the Crunch layer. Divide Coffee Cake batter over the pears in each pan. Finally, divide the rest of the Crunch over the batter in each pan. Bake for 30 minutes until cake is set.
To Serve:
Cool completely, this takes awhile, be patient. Then invert cake upside when cool, slice and serve.
disclaimer: affiliate links are included in this posts. aff links help keep BB in kibble. thanks so much for your support.