This delicious chewy chocolate cookies recipe is easy to make and oh so very yummy.
I know I tell you a lot of recipes are easy but that's because they are. I don't have the time or mental bandwidth to deal with complicated, time-consuming recipes.
These are great because you just roll the dough into a ball, roll in some nuts and place on a cookie sheet. I love cookies that require little to no work before baking.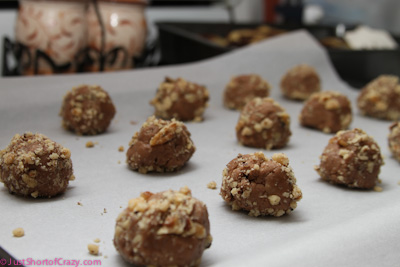 Fresh out of the oven and they smell so good. Sometimes I think the internet needs to come with a scratch and sniff option 🙂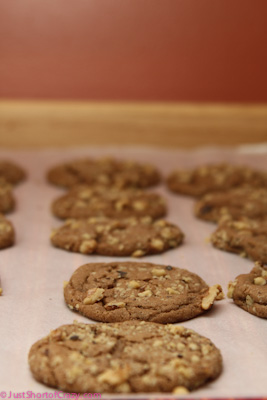 The cookies can be served with or without the white chocolate drizzle. I made them both ways. Each variety was very good and we didn't prefer one over the other.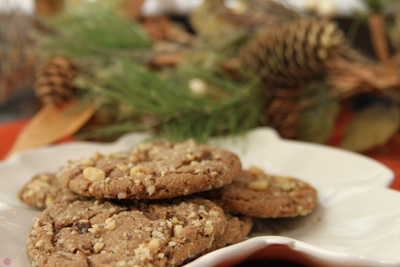 Chewy Chocolate Cookies Ingredients
3/4 cup (1 1/2 sticks) butter or margarine, softened
1 cup packed light brown sugar
1/4 cup light corn syrup
1 egg
1 cup Hershey's milk chocolate chips
2 1/2 cups all-purpose flour
2 teaspoons baking soda
1/4 teaspoon salt
1 cup finely ground pecans or walnuts
2/3 cup Hershey's white chocolate chips
1 1/2 teaspoons shortening (MUST use shortening)
Chewy Chocolate Cookies Directions
Beat butter and brown sugar in bowl until combined. Add corn syrup and egg, mix well.
Melt milk chocolate chips in microwave safe bowl and microwave at medium for 1 minute; mix. If needed, continue to heat at 15-second intervals just until chips are melted when stirred. Stir melted chips into butter mixture.
Stir together flour, baking soda and salt. Add to milk chocolate chip mixture, mixing just until blended. Cover and refrigerate about 1 hour or until dough is firm enough to handle.
Heat oven to 350 degrees F. Shape dough into 1 inch balls; roll in nuts, lightly pressing nuts into the dough. Place on ungreased cookie sheet.
Bake 8 to 10 minutes or until golden around edges. Cool slightly; remove from cookie sheet to wire rack. Cool completely. Drizzle with White Chocolate Chip Drizzle.
White Chocolate Chip Drizzle Directions
Place 2/3 cup white chocolate chips and 1 1/2 teaspoons shortening (MUST use shortening) in a small microwave-safe bowl. Microwave at medium for 1 minute; stir until chips are melted and the mixture is smooth.
More Cookie Recipes To Try:
Snickerdoodle Snickers Cookies Recipe
Easy 5 Ingredient Chocolate Peanut Butter Cookies Recipe
Quick and Easy Sour Cream Cookies Recipe
Pin Chewy Chocolate Cookies To Pinterest