I love cream cheese brownies and although I have never made them myself I thought I might as well give it a try. Lucky for me it was much easier than I thought it would be.
I slightly adjusted a cream cheese brownies recipe I found in a cookbook by omitting the peppermint flavoring.
The peppermint brownies in the cookbook look fantastic. However, I was trying my best to use ingredients I already had in the house. I don't really enjoy going to the grocery store so I was creatively using what I had available.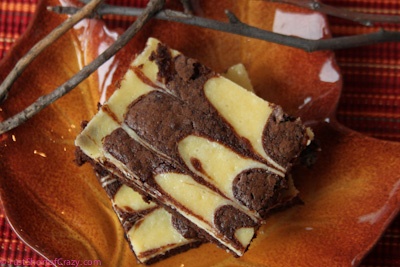 Cream Cheese Brownies Recipe
Cream Cheese Brownies Ingredients
3/4 cup Hershey's Cocoa
1/2 teaspoon baking soda
2/3 cup butter or margarine, melted and divided
1/2 cup boiling water
2 cups sugar
2 eggs
1 1/3 cups all-purpose flour
1 teaspoon vanilla extract
1/4 teaspoon salt
8 ounces packages of cream cheese at room temperature
1/3 cup white sugar
1 teaspoon vanilla extract
1 large egg
Cream Cheese Brownies Directions
Heat oven to 350 F. Grease 13x9x2 inch baking pan.
Stir together cocoa and baking soda in large bowl. Stir in 1/3 cup butter. Add boiling water, stir until mixture thickens. Stir in sugar, eggs and remaining 1/3 cup butter; stir until smooth.
Add flour, vanilla and salt. Mix completely. Remove 1/3 cup of brownie batter. Spread remaining batter in prepared pan.
In a bowl mix the cream cheese until smooth and creamy. Add the sugar, vanilla, and egg and mix just until creamy and smooth.
Spread the cream cheese filling evenly over the brownie layer. Drop small spoonfuls of the reserved brownie batter evenly on top of the cream cheese filling.
Using a table knife, pull the knife through the batter and cream cheese mixture to form lines. Do not mix them together.
Bake in preheated oven approximately 35 minutes or until brownies begin to pull away from sides of.
Cool completely in pan on wire rack. Cut into bars.
ENJOY!
More brownie recipes to try!
Tasty Vanilla Chip Brownies Recipe
Easy Marshmallow Peanut Butter Brownies Recipe
***Save these delicious treats to PINTEREST***