Take a bite off the edge of summer heat with this Dragonwater Cocktail. A mix of Mezcal, some sweet and some heat Dragonwater will definitely impress your friends with your mixology skills!
Dragonfruit is typically found in hot climates. For my friends in the United States some dragonfruit is grown in California and Florida, but the majority comes from Mexico and Central America. It should be in season right about now so you should start seeing it in your local markets.
I have a feeling it may be a little more difficult to find in smaller midwestern towns, but if you are near any ethnic markets or shops stop in and see if they have any dragonfruit in their produce section.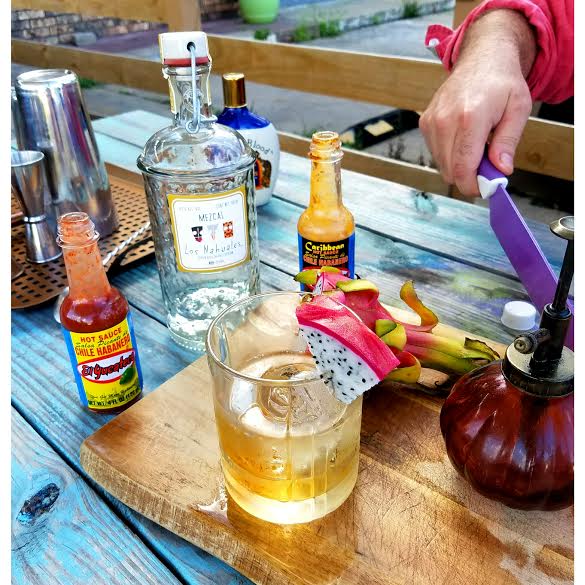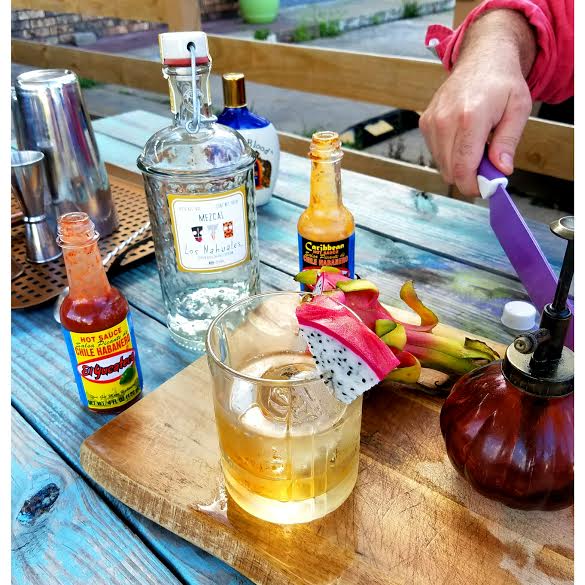 (c)Recipe creator/photographer: Mixologist Jeremey Brown
For this dragonwater cocktail you'll need:
Mezcal
Dragonfruit
Orange bitters
A few dashes of heat in the form of El Yucateco Chile Habanero & El Yucateco Caribbean.
Personally, I have to leave out the Chile Habanero & Caribbean because I am the biggest heat wimp you'll ever meet, but for those that want a little fire with their dragonwater cocktail this is the way to go!
DRAGONFRUIT SIMPLE SYRUP
1 1/2 cups cut up fruit
1 cup of water
1 cup of sugar
Combine ingredients in a small pan.
Bring the mixture to a boil, reduce heat and simmer for 2o minutes.
Remove from heat and pour contents through a fine mesh strainer reserving the liquid.
Fully cool before using.
Store remaining syrup in fridge. It should keep for 7-10 days.
DRAGONWATER COCKTAIL
Build in shaker with rocks:
2oz Los Nahuales Mezcal
1oz Dragonfruit Syrup
1 dash of orange bitters
1 dash of El Yucateco Chile Habanero
1 dash El Yucateco Caribbean
Instructions:
Shake and strain into rocks glass over ice cube.
Top with 1 oz of sparkling wine garnish with dragon fruit slice.
Thanks to Jeremy Brown and El Yucateco for sharing this recipe with us!
Pin Dragonwater Cocktail To Pinterest