This Bourbon Banana Trifle Recipe is an easy recipe that can be made in a matter of minutes or in advance of a party and by just making a few simple swaps to the recipe, I came up with a delicious twist on the classic trifle.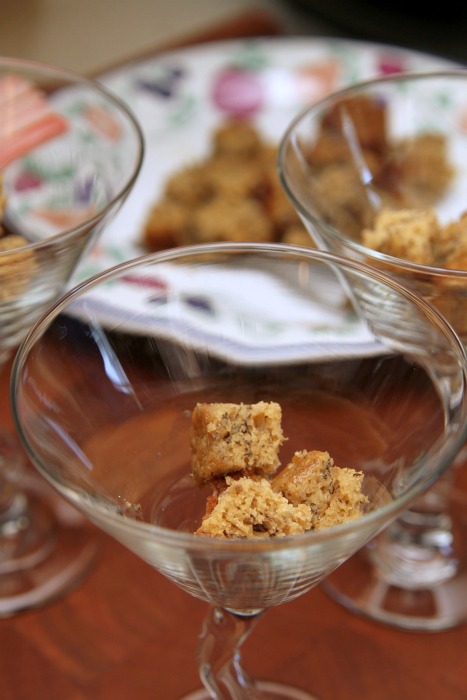 Banana Trifles are one of my favorite types of desserts to make when friends come over. The creaminess of the banana pudding, whipping cream added to cake and cookies is just yummy.
However, with all the creamy goodness comes a ton of calories that I don't like.
I swapped the pound cake for my homemade bourbon banana bread and pudding for honey vanilla greek yogurt.
These simple swaps make for a lighter and less sweeter version of a traditional banana trifle without sacrificing taste.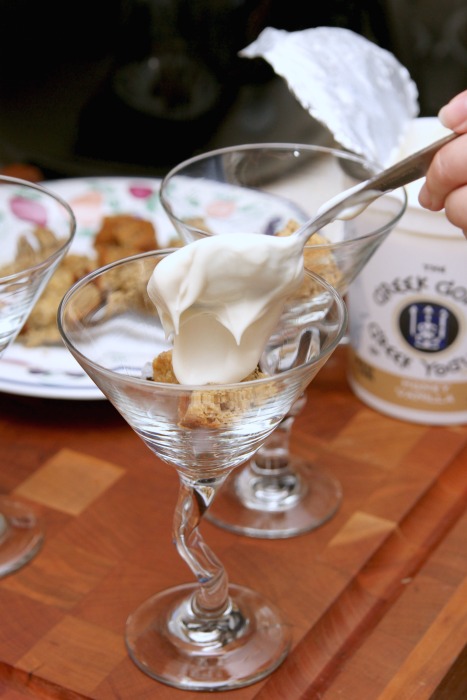 Bourbon Banana Trifle Recipe
Bourbon Banana Trifle Ingredients
2 small loafs of Bourbon Banana Bread
3/4 cup of your favorite bourbon
16 oz container of Honey Vanilla Greek Yogurt (I like to use Greek God Greek Yogurt)
2 cups of Whipped Cream (see recipe below on how to make into whipping cream)
2 Tablespoons of Salted Caramel Sauce (Optional)
4 fun martini glasses
Whipping Cream Ingredients
One Medium metal bowl
one whisk
dish towel
1 cup of heavy whipping cream
2 tablespoons of sugar
Bourbon Banana Trifle Directions
The simple recipe takes two small loafs of the banana bread and slice them into 1/2 inch slices and drizzle each slice with a teaspoon of bourbon and then cut the slices into nine cubes.
Place 4 to 5 cubes in each of your glasses. Then scoop and layer 4 tablespoons of greek yogurt over the banana bread cubes covering them.
Next take 2 tablespoons of whipped cream and layer on top of yogurt.
Then repeat adding banana bread cubes, then yogurt and whipping cream until each martini glass is filled
Whipping Cream Directions
Place metal bowl in the freezer for 30 minutes to chill before whipping cream.
Take your metal bowl and place on the folded dish towel to hold bowl in place.
Pour 1 cup of heaving whipping cream and add 2 tablespoons of sugar.
Using the whisk begin to beat your cream for approximately 10 minutes or until your reach a stiff peak with the cream.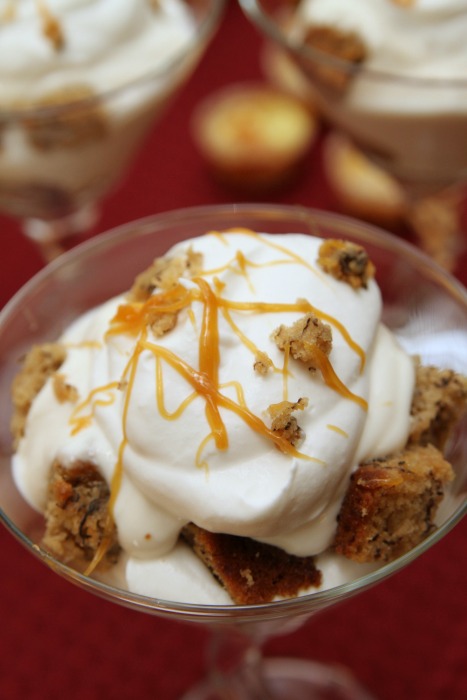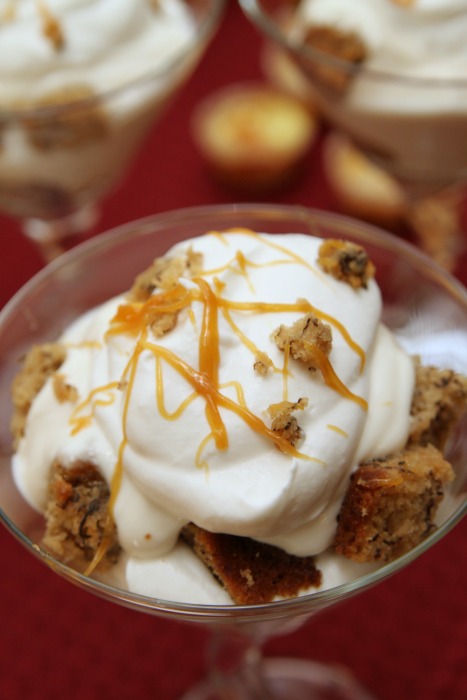 Should you choose, you can finish off the dessert with a drizzle of your favorite salted caramel sauce.
Once complete I like to chill them in the refrigerator for 1 hour to set the dessert but if you cannot wait grab a spoon and dig in.
Pin to Pinterest