There's nothing quite like this refreshing and indulgent Chocolate Banana Icebox Cake on a hot summer day.
Originally created as a banana pudding recipe, it has been switched up a bit to create a delicious icebox cake that will have everyone asking for seconds.
I've taken a traditional banana pudding recipe and notched it up a level with the help of some chocolate.
The best thing?
This Chocolate Banana Icebox Cake is soooo easy to make.
It's a great recipe for busy people who want to serve something special without spending hours in the kitchen.
Whether you're hosting a summer picnic, gathering with friends, or simply craving something sweet and refreshing, this Chocolate Banana Icebox Cake is the perfect choice.
It's a dessert that combines the classic flavors of banana and chocolate with the ease and convenience of an icebox cake. Plus, since it has bananas we can count it as a fruit serving, right? 😉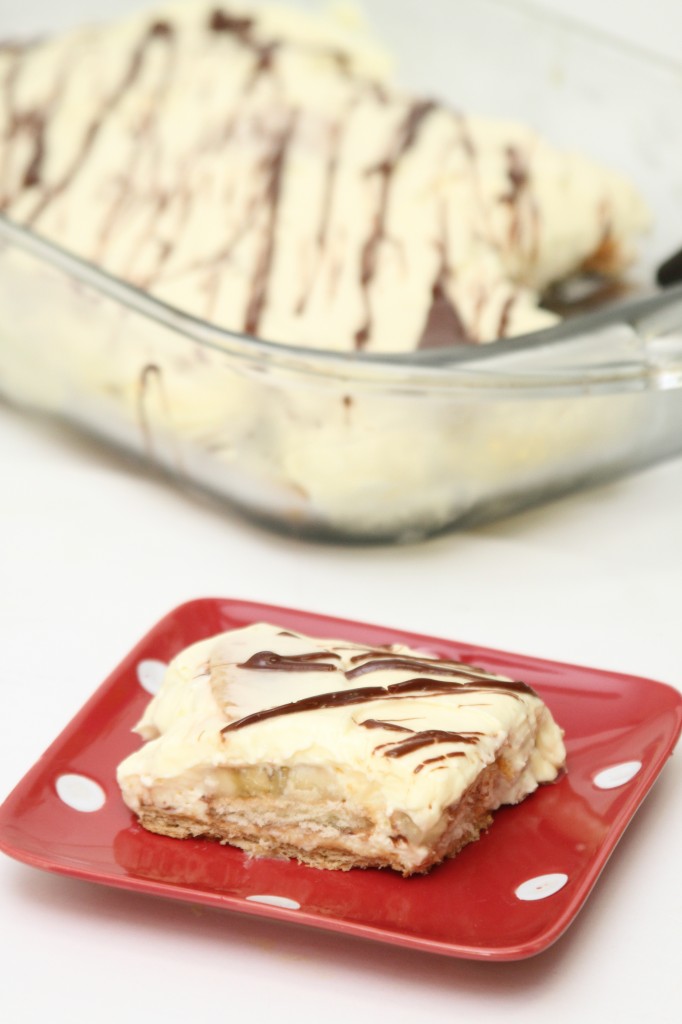 Ingredients:
1 pkg. (3.4 oz.) JELL-O Vanilla Flavor Instant Pudding
1-1/2 cups milk
7 oz. plain plain Greek-style yogurt
1 pkg. (8 oz.) PHILADELPHIA Cream Cheese, softened
1/2 cup COOL WHIP Whipped Topping, thawed
6 graham cracker sheets
25 vanilla wafers
2 tablespoons chocolate, melted
3 bananas, sliced
Chocolate Banana Icebox Cake Directions
In a medium sized bowl combine instant vanilla pudding and milk together with a whisk. Add yogurt and cream cheese to pudding. Mix well. Fold in COOL WHIP.
Place graham cracker sheets in a single layer on the bottom of a 9×13 pan. Top the graham crackers with half of the pudding mixture, spreading evenly across crackers. Top pudding mixture with half of the sliced bananas. Drizzle with half of the melted chocolate.
Top the above layer with a single layer of vanilla wafers, remaining bananas, and the remaining pudding mixture. Drizzle chocolate on top.
Refrigerate for a minimum of 4 hours or overnight.
More Cream Cheese Recipes
Caramel Apple Dip With Cream Cheese Recipe
Strawberry Cream Cheese French Toast
Pin to Pinterest