It never really feels like the holidays without the classic egg nog. Like most things though, eggnog tastes so much better when it's homemade versus bought premade at the store.
A few ingredients and some simple steps and you can be enjoying homemade egg nog while celebrating the holidays with family and friends.
This recipe will appeal to those that don't like the idea of using raw eggs. This recipe heats the egg mixture on the stove with the milk. You'll need to make this far enough in advance that it has time to chill down for serving.
I didn't include alcohol in this recipe but it's easy enough to add a shot or two of rum, bourbon or cognac to the adult-only cups.
Be sure to check out these additional holiday recipes as well:
Holiday Recipes You Need To Make This Year
Homemade Egg Nog No Raw Eggs Recipe
Servings: 12
Total Prep Time: 30 minutes plus time to chill
Homemade Egg Nog Ingredients
12 eggs
1 ¼ c. sugar
4 c. whole milk
2 t. vanilla extract
1 t. ground nutmeg
2 c. evaporated milk
2 c. half and half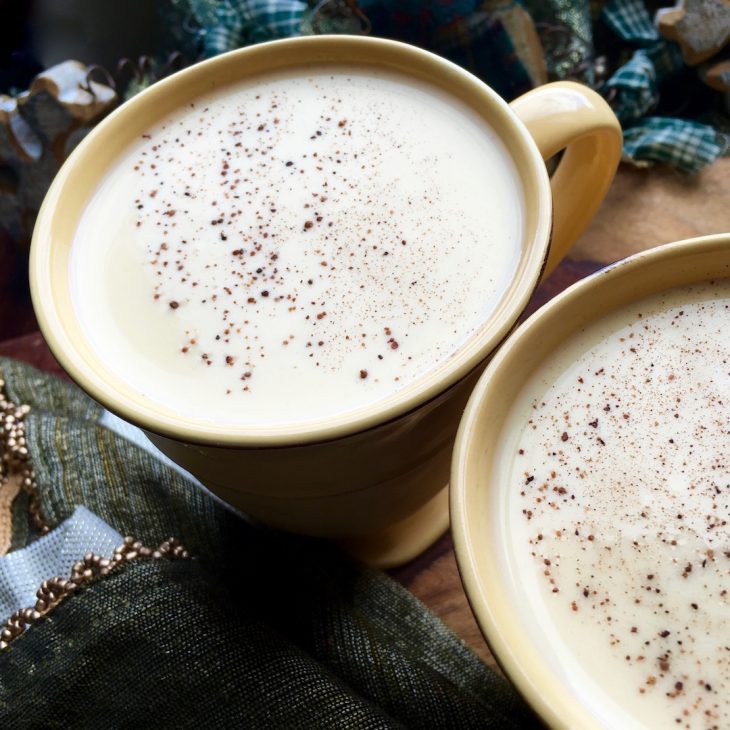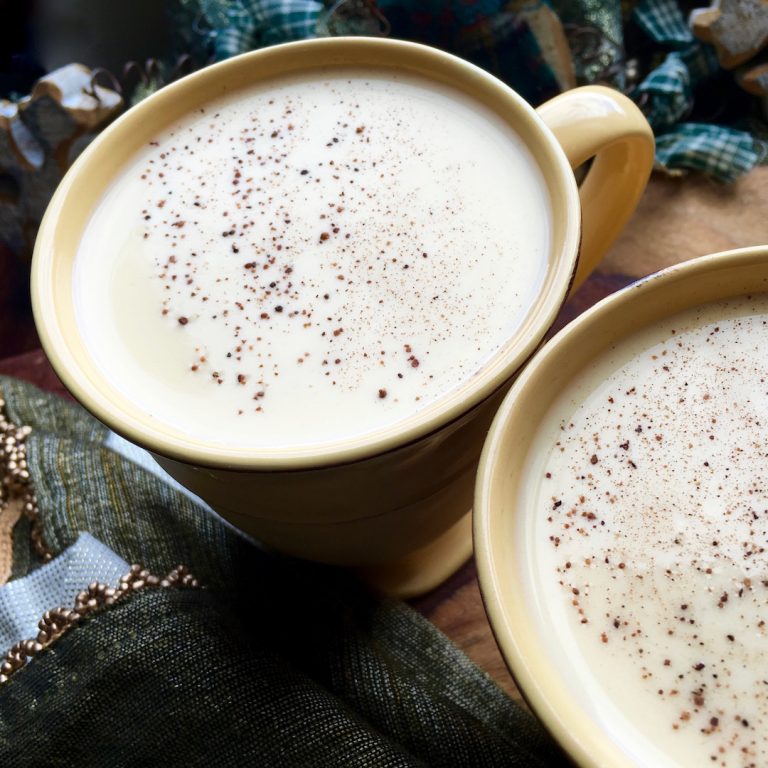 Homemade Egg Nog Directions
Combine eggs and sugar in a medium glass bowl and whisk until thoroughly combined. Transfer to a saucepan and stir in whole milk, vanilla extract, and ground nutmeg.
In a separate glass bowl, stir evaporated milk and half and half until combined.
Heat egg mixture over medium-low heat while stirring constantly to prevent the milk from scorching. When mixture reaches 160 degrees on a candy thermometer, remove from heat and slowly whisk in evaporated milk mixture.
Cool slightly before tasting. Add more sugar or nutmeg, if desired, before transferring to an airtight container. Refrigerate overnight or until thoroughly chilled.
Serve in mugs and garnish with whipped cream, cinnamon sticks, or a dash of nutmeg.
WW BLUE POINTS: 12 per serving as directed.
Weight Watchers Friendly Homemade Eggnog Substitutions
To create a Weight Watcher friendly homemade egg nog recipe that comes in at 7 WW Blue points per serving use these substitutions:
Replace 1 1/4 cups of sugar with 1/2 cup sugar + 6 ounces of Stevia in the Raw
Instead of whole milks use fat-free milk, fat-free half and half and fat-free evaporated milk.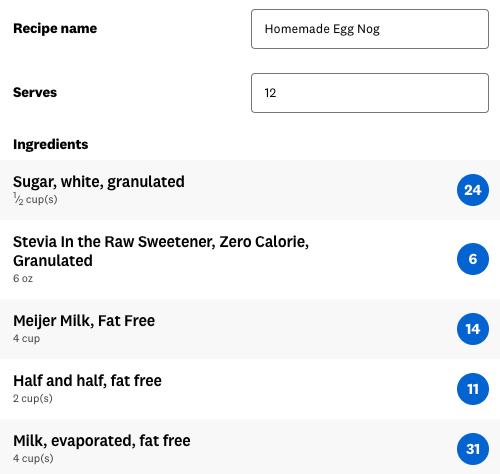 Pin Homemade Eggnog to Pinterest