I absolutely LOVE egg rolls from our local Chinese restaurant but those delicious bites come in at 7 Weight Watchers points. Now, I only get 23 points a day so taking 7 points out for an egg roll is a big ask.
I didn't lose weight by cheating on my Weight Watchers points so I found this great alternative instead.
This easy egg roll in a bowl recipe is only 2 points per serving!!!
Now, THAT is something I can eat and still have enough points for other meals throughout the day like this Cashew Pork Stir Fry (8 points) or any one of these Weight Watchers turkey recipes.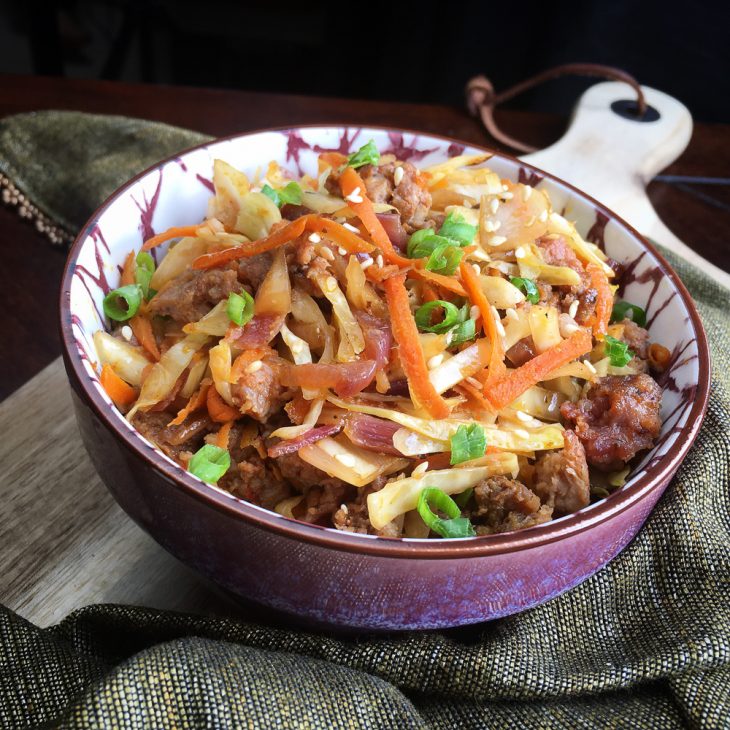 Prep time: 15 minutes
Cook time: 10-15 minutes
Serves: 6
Note: You can use regular pork sausage in this bowl but it increases the points significantly.
Easy Egg Roll in a Bowl Ingredients
1¼ c. turkey sausage crumbles
¼ c. water
3 c. green cabbage, shredded
1 medium carrot, shredded
½ t. garlic powder
2 T. toasted sesame oil
½ T. fresh ginger, finely minced
2 T. green onions, chopped
1 T. rice vinegar
2 T. coconut aminos or tamari
Sea salt and black pepper, to taste
Optional garnish: 1 T. toasted sesame seeds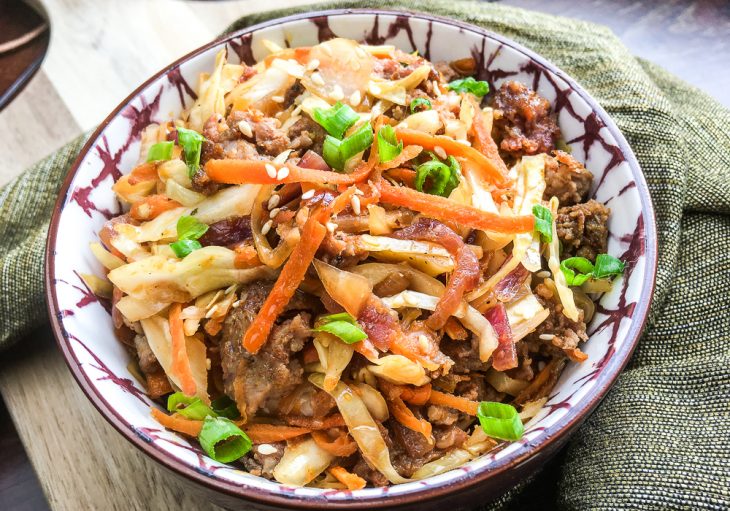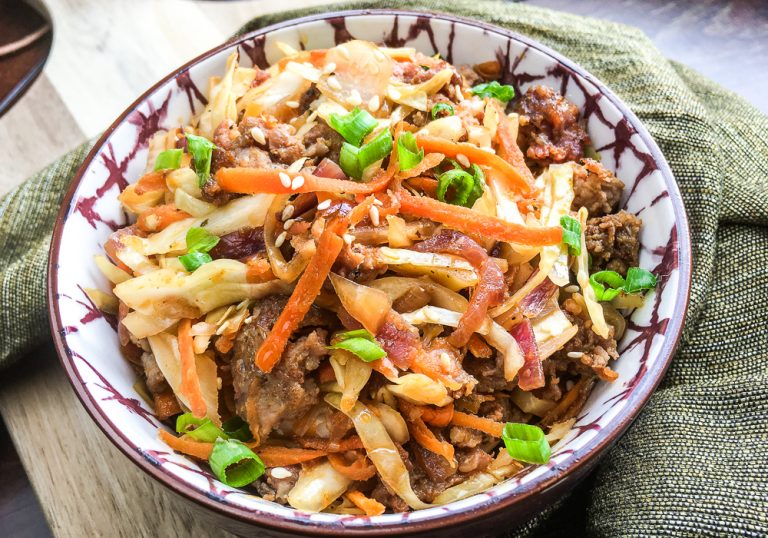 Easy Egg Roll in a Bowl Directions
Heat a large high-sided skillet over medium heat.
Add sausage, water, shredded cabbage, carrots, garlic powder, sesame oil, ginger, and green onions to the pan.
Season with salt and black pepper, to taste, and cook, stirring frequently, until the cabbage wilts and the carrot softens approximately 4-5 minutes.
Add rice vinegar and coconut aminos and stir to combine.
Cook another 1-2 minutes or until heated through.
Remove from heat and transfer to a serving platter or bowl.
Sprinkle with toasted sesame seeds, if using, and serve immediately.
I love the "toss everything in one pan and done" method of cooking. It makes life in the kitchen so much easier.
For us, this would be a main dish. It has everything we need: vegetables and protein.
For others, it might be a side dish that you pair with an entriee like pepper steak or even turkey burgers.
There is no wrong way to enjoy this easy egg roll in a bowl!
Pin Easy Egg Roll in a Bowl to Pinterest