Sticking with a theme of quick meals that take less than 30 minutes I'm sharing a lemon garlic jumbo shrimp recipe. It doesn't get much easier than this! This versatile main course goes from refrigerator to dinner table in less than 15 minutes. The classic flavors of this dish go with just about any side dish you choose. A nice green salad, quinoa, roasted veggies or even rice pilaf. In addition to the serving suggestions noted here, it also makes a delicious low carb entrée when paired with steamed vegetables or a green side salad.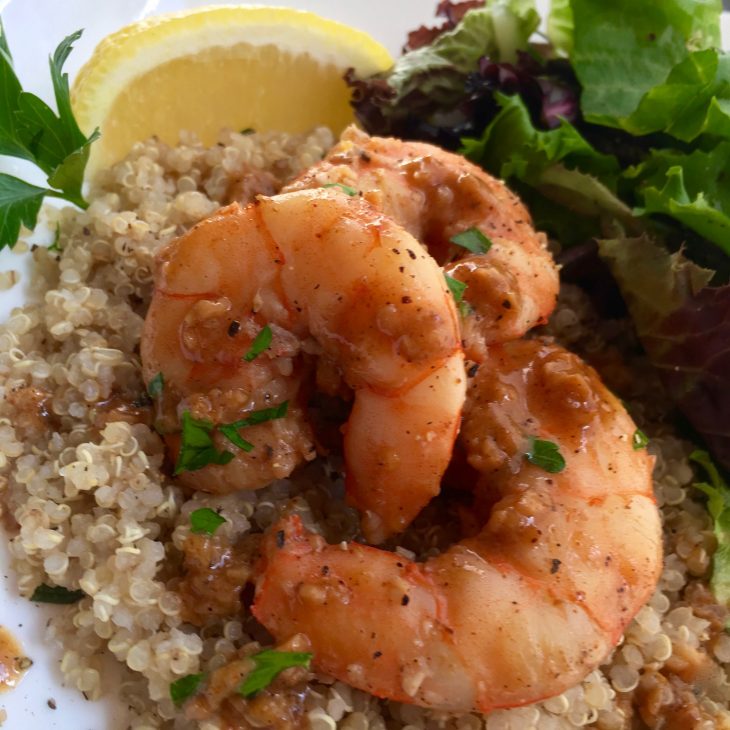 You can usually buy ready-to-cook shrimp that is already peeled and deveined with the tail removed at the grocery store. Check the freezer section or if your store has a seafood counter check with them for the freshest shrimp.
Lemon Garlic Jumbo Shrimp Ingredients
3 T. unsalted butter
1 T. garlic, finely minced
1 lb. Jumbo shrimp (10/15 ct.), peeled, deveined, and tail removed
1 large organic lemon, zest and juice
1 T. ground cumin
Optional: 
Salt and pepper, to taste
, Fresh parsley leaves, chopped
Lemon Garlic Jumbo Shrimp Directions
Melt butter in a large skillet over medium heat. Add garlic and sauté for 1-2 minutes, stirring occasionally.
Add shrimp to skillet and cook for 4-5 minutes, stirring occasionally, or until shrimp starts to turn pink.
Add lemon zest, lemon juice, and ground cumin to the skillet and stir to combine thoroughly. Season with salt and black pepper, to taste, and remove from heat.
Spoon shrimp mixture over a bed of cooked quinoa, brown rice, or your favorite gluten-free pasta. Drizzle some pan juices over each serving and garnish with fresh chopped parsley, if desired.
Serve immediately and enjoy!
PIN TO PINTEREST