Gotta love celebrating the 4th of July. There's great parties, delicious foods and fireworks, what more do we need? Since it's usually hot out but there is still a need for a fun and tasty sweet treat I pull out the Rice Krispies and color and shape them into stars. So much fun and they are easy to make and easy to eat without the mess.
Star Spangled Rice Krispies Treats Ingredients
9 cups of Rice Krispies
90 Regular size Marshmallows
9 Tablespoons Butter
Blue and Red food coloring
9×13 Pan
Star Shaped Cookie Cutter
Sucker Sticks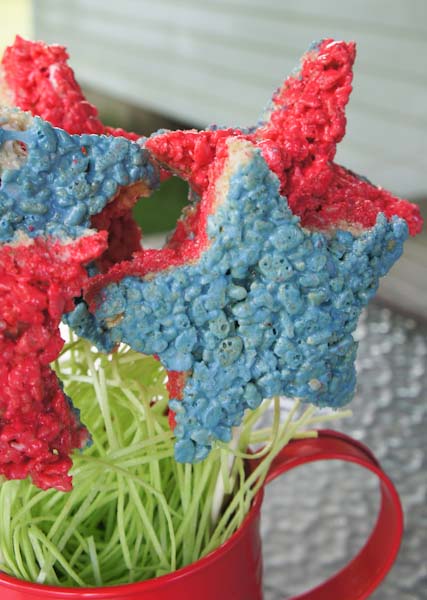 Star Spangled Rice Krispies Treats Directions
Take the 9×13 pan and grease so you rice krispies will not stick.
Next, you will need to make your rice krispies in three different sets one at a time. Starting with the teal layer. Melt 3 tablespoons butter in a large sauce pan before adding marshmallow make sure your stove is at a medium heat. Then add 30 marshmallows slowly melting so as not to burn them.
Once the marshmallows are completely melted remove from heat add 30 drops of blue food coloring to get desired shade of blue, then add 3 cups of rice krispies. At this point you will need to work really fast as the marshmallows cool they begin to set.
After the rice krispies are completely mixed in, you will scape them into your pan spreading evenly. Let this layer set for approximately 10 minutes before adding the second layer.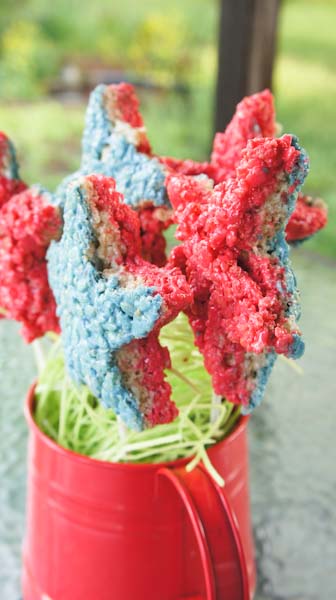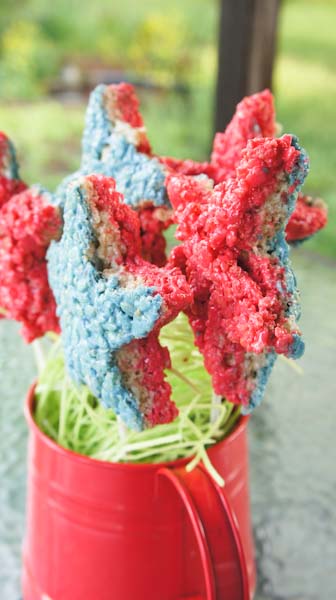 This is usually the amount of time is takes me to wash out my pan and star the next batch. Then repeat the process except this time no food coloring will be added as this is the white layer.
For the final layer, the process is repeated again, but this time using the red food coloring. Red food coloring can be very tricky depending on the brand you will need 50 to 60 drops to get this color. When making the ones picture above it took 55 drops of red food coloring.
Let cool and set for at least 3 hours. Then take the cookie cutter and cut out the star and place on a sucker stick.
***PIN STAR SPANGLED RICE KRISPIES TREATS TO PINTEREST***