When I started planning Emma & I's road trip I knew that I wanted it to be memorable and not just a memory of us being stuck in a car for days on end. I automatically thought of taking the S.S. Badger Car Ferry across Lake Michigan.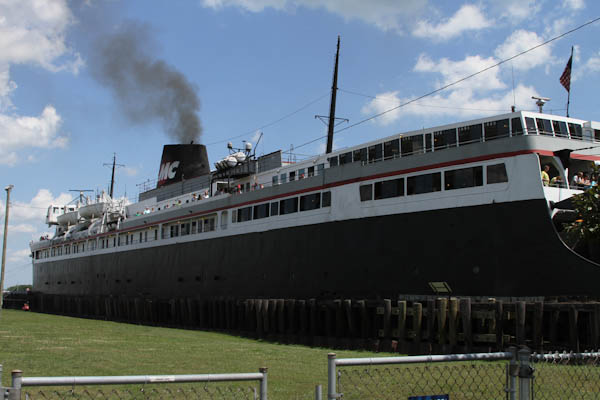 This would really be the perfect opportunity to take the ferry. The biggest benefit, in my opinion, is the amount of drive time we would save.
Our first stop was going to be Mall of America and by taking the Badger from Ludington, MI to Manitowoc, WI we saved at least 6 hours of driving.
DEPARTING FROM LUDINGTON – WHAT YOU NEED TO KNOW
When we arrived at the Ludington port the traffic was funneled into one lane. A police officer with bomb/gun/drug sniffing dog stopped us to ask if we had any firearms with us. (uh, no!) After we passed him we proceeded to an attendant that confirmed our reservation.
We drove into our designated lane, left the car unlocked with the keys in it and grabbed what we needed for the four hour crossing. A quick stop in the ticket office to pick up our boarding passes and we made our way to the ferry.
Attendants drive your car onto and off the ferry so once you leave it in the designated lane you will not see it again until after you arrive at your destination and it is driven back off.
The passengers enter the ferry on the same level as the cars and make their way up a steep staircase. There is a chair lift for those that can't use the stairs.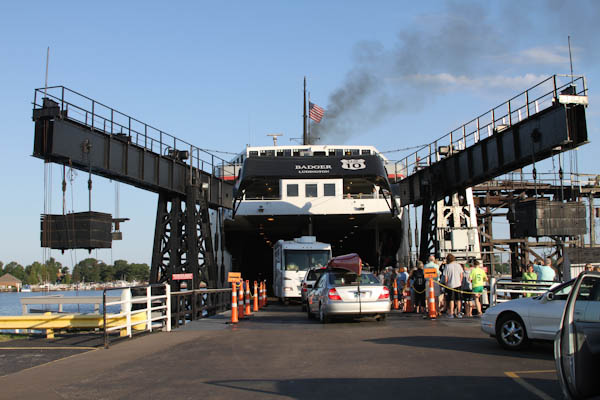 Cars load on the left and passengers enter the ferry on the right.
The car area is HUGE! We were amazed at how many cars they fit on the ferry.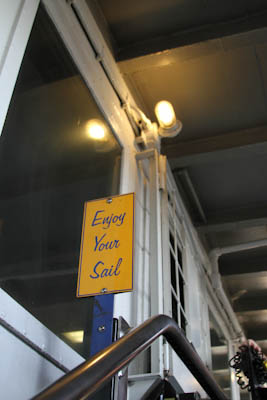 THE RIDE ACROSS ON THE LAKE MICHIGAN CAR FERRY
A nice sign greets you on your way up the stairs to the passenger lounge or sun deck.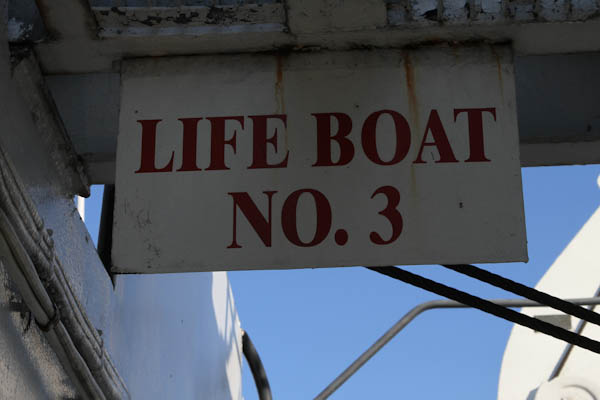 Quite a few lifeboats available and ALWAYS a good idea to know where they are located.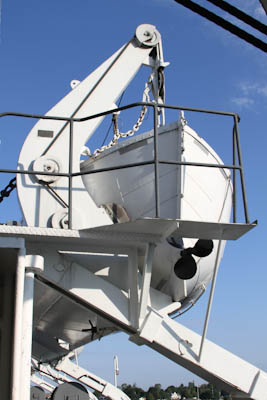 This was the view of Ludington as we were leaving.
The awesome sun deck! Em & I were lucky enough to snag a couple lounge chairs where we promptly took an hour nap.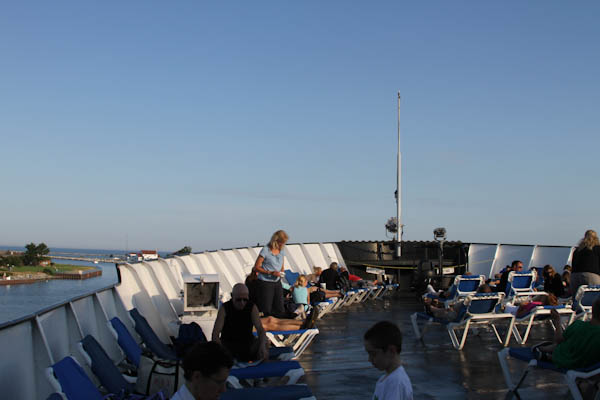 Ludington lighthouse. It was fun waving to the people on the pier.

Once we were at "sea", so to speak, there were all kinds of activities to keep us occupied. First we napped 🙂 Then we explored the ship. Their motto is "Big Ship, More Fun" and that about sums it up.
There were movies (Hop & Soul Surfer), a quite room where we could have napped if we were unable to sleep on the sun deck, an arcade, and a small playroom for toddlers.
MAIN CABIN FUN
In the main cabin there is food service and games. Bingo with prizes and karaoke to name a few.
The karaoke also came with a prize for best singer. There was a student from Belgium that won, but personally, I think the lady that sang Patsy Clines "Crazy" should have taken the award. Holy bells, that lady could sing!!
Additionally, there were areas set up playing documentaries about the ship and lots of open areas to just relax and enjoy the view. It was a GORGEOUS day for a sail.
Oh, and, the best part, the Badger has Wi-Fi for a nominal fee. Well worth it!
STATEROOMS ON BOARD
If you prefer a private area to pass the time there are a limited number of rooms available with beds in them. I think they are perfect for families with infants or small children.
If you suffer from motion sickness you may want to take a Dramamine prior to departure or the gift shop has wrist bands you can rent. The sail was very smooth, but I took some Dramamine just in case.
I get car sick real easy and didn't want to take any chances. I figured it was better to be safe than sorry. Em done just fine without anything.
ARRIVING IN MANITOWOC, WI ON THE LAKE MICHIGAN CAR FERRY
Entering the port in Manitowoc, WI.
This was a wonderful experience and a great way to spend four hours. We could have been stuck in Chicago traffic that long, instead we got to enjoy some sun and great views on a big ship with more fun!
Pin Lake Michigan Car Ferry To Pinterest: