Who doesn't love a sweet and juicy peach? Long associated with summer, a new book shows that peaches can be a year-round treat.
Just Peachy by Belinda Smith-Sullivan (Gibbs-Smith/May 2019) provides a vast array of delicious recipes all showcasing the versatile peach that can delight holiday meals.
"Peach season is short-lived, and it can be even shorter depending on your location. On average, peach season lasts from late May to mid-September," Chef Belinda says.
"The easiest way to extend the season – and enjoy this versatile fruit year-round – is to can and freeze peaches while they are plentiful and inexpensive."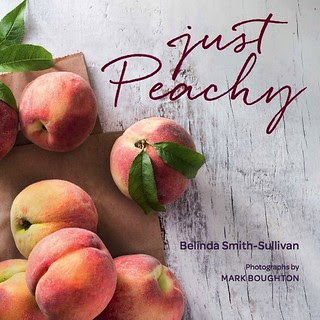 Just Peachy contains 70 recipes that cover a wide range of dishes that include peaches. Recipes range from breads, breakfasts, appetizers, entrees and desserts to sauces, preserves, condiments and drinks, all beautifully photographed.
Chef Belinda has included facts about peaches, information on growing and growers, festivals, a list of all peach varietals and how to use them, and the history of peaches.
Recipes in Just Peachy range from the sweet to the savory and grace any holiday celebration:
– Buttermilk Peach Waffles
– Old-Fashioned Tea Cakes with Peach-Almond Glaze
– Hot Curried Peaches
– Peach and Tomato Gazpacho
– Greek-Style Beef Stew with Peaches
– Herb-Crusted Peach Mustard Pork Tenderloin
– Spicy Oven Ribs with Peach Barbecue Sauce
– Peach Bread Pudding with Rum Peach Coulis
– Blueberry-Peach Slump
– Chocolate-Peach Soufflé
– Peach-Thyme Pound Cake
– Granddad's Easy Homemade Peach Brandy
Just Peachy proves the peach is a very versatile fruit, lending itself easily to savory applications, especially when paired with meats like chicken, pork, fish, and lamb.
This holiday season try these savory and delicious recipes.
Recipes and photos from Just Peachy by Belinda Smith-Sullivanm Photography by Mark Boughton Gibbs-Smith/May 2019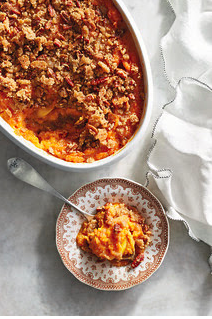 Peach Sweet Potato Casserole
Serves 6 – 8
This savory dish could almost pass for dessert. Creamy, spiced sweet potatoes get a hit of bourbon and a decadent pecan streusel topping. Serve it as a side to pork, lamb, or turkey—it steals the show every time. Use fresh ripe peaches or peaches you've canned or frozen.
Peach Sweet Potato Casserole Topping
1 cup firmly packed light brown sugar
1⁄3 cup flour
4 tablespoons butter, softened
1⁄2 cup chopped pecans
Peach Sweet Potato Casserole Ingredients
4 large or 6 medium sweet potatoes, baked and cooled
4 tablespoons butter
1⁄2 cup firmly packed light brown sugar
1⁄4 teaspoon nutmeg
1 teaspoon vanilla extract 1⁄3 cup heavy cream
2 tablespoons bourbon
2 to 3 cups ripe peeled peach slices
Preheat oven to 350 degrees F. Grease a 9 x 13-inch baking dish.
Peach Sweet Potato Casserole Directions – Topping
In a small bowl, combine the brown sugar, flour, and butter with a fork until crumbly. Stir in the pecans and set aside.
Peach Sweet Potato Casserole Directions – Casserole
Peel the sweet potatoes, discard the skins, and place the flesh in the bowl of a stand mixer. Add the butter, brown sugar, nutmeg, and vanilla; beat until thoroughly combined.
Add the cream and bourbon and continue beating until smooth.
Pour half of the mixture into a prepared baking dish. Cover with sliced peaches and finish with remaining sweet potato mixture.
Top with the brown sugar topping. Bake, uncovered, for 30 minutes, or until top is golden brown.
To make ahead, prepare the casserole, but do not bake. Cover with plastic wrap, and then cover with aluminum foil and freeze.
When ready to bake, thaw in the refrigerator overnight. Uncover and bake at 350 degrees F, increasing baking time to 45 minutes or slightly longer.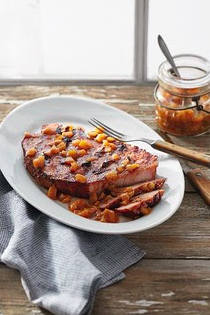 Peach Glazed Ham Steak
Serves 4
Ham steak is traditionally thought of as a breakfast item, but properly prepared, it can be an anytime-of-the-day meal. Feeding a crowd? Use this glaze recipe on a whole ham—just double the glaze ingredients.
2 peaches, peeled and chopped small
2 tablespoons firmly packed brown sugar
2 tablespoons water
1 teaspoon ancho chile powder
1 teaspoon Dijon mustard
1⁄2 teaspoon ground cardamom
1 smoked ham steak, 1⁄2-inch thick (about 1 1⁄4 pound)
In a small saucepan over medium-low heat, combine the peaches, brown sugar, water, chile powder, mustard, and cardamom.
Cook, stirring occasionally, until thickened and peaches start to break down, about 20 minutes.
Make diagonal cuts, 1 inch apart, into outer edges of ham steak to prevent it from curling up on the grill. On an outdoor grill or an indoor grill pan, over medium-high heat, place the ham steak and brush the top with glaze.
Cook for 4–5 minutes and turn over. Brush the cooked side with glaze and cook for another 4–5 minutes.
Remove to a platter, brush once more with the glaze, and let rest for 5 minutes.
ABOUT CHEF BELINDA
Chef Belinda's peach inspired recipes will allow home cooks to celebrate the holidays peachy deliciously.
Belinda Smith-Sullivan is a chef, food writer, spice blends entrepreneur, and a commercially rated pilot.
She received a culinary arts degree from Johnson & Wales University and writes a monthly column for South Carolina Living and Bella magazines.
Chef Belinda is an active member of the Southern Foodways Alliance, the International Association of Culinary Professionals (IACP), the American Culinary Federation, and Les Dames d'Escoffier.
She lives in Trenton, South Carolina in the heart of South Carolina's peach country. For more information on Chef Belinda, visit her website, www.ChefBelindaSpices.com.
Pin Peach Sweet Potato Casserole To Pinterest