The flavor of soft chewy cooking mixed with the sweet flavor of milk chocolate and tart dried cherries is a wonderful play on the salty, sweet and tart in your mouth.
I will warn you if you make these chocolate cherry cookies they will not be around long as they will quickly become a family favorite.
I've included tip on hosting a holiday cookie exchange after the recipe 🙂
Chocolate Cherry Cookies
Ingredients:
2 cups of unbleached flour
1 teaspoon of baking soda
1 teaspoon of salt
1 cup (2 sticks) of softened unsalted butter
3/4 cup of sugar
3/4 cup of brown sugar packed
1 teaspoon of vanilla
1 tablespoon of bourbon or whiskey
2 large eggs
1 1/2 cup of Milk Chocolate Chips
1 cup of Dried Cherries
Directions:
Preheat Oven to 375 degrees
In a medium bowl mix together flour, baking soda and salt. Add to mixer softened unsalted butter, sugar and packed brown sugar beating on a medium speed until creamy and smooth.
Using a small bowl beat eggs, vanilla and bourbon until well blended.
Turn mixer on low add 1/2 the flour mixer and 1/2 egg mixer to the sugar cream. Beat until completely combined then add the rest of the flour and egg mixture to the batter lightly mixing for 1 to 2 minutes.
Be careful to not over mix as cookies will not be light and fluffy.
Using a spatula fold in the chocolate chips and cherries to the batter. At this point batter will be a little sticky, so use a tablespoon to scoop and drop cookies onto a lightly greased cookie pan spacing 2 inches apart. Bake for 9-11 minutes or until cookies are lightly golden brown.
Remove chocolate cherry cookies from oven and allow to cool for approximately 3 minutes and then remove from pan and place on a cooling rack to finish cooling.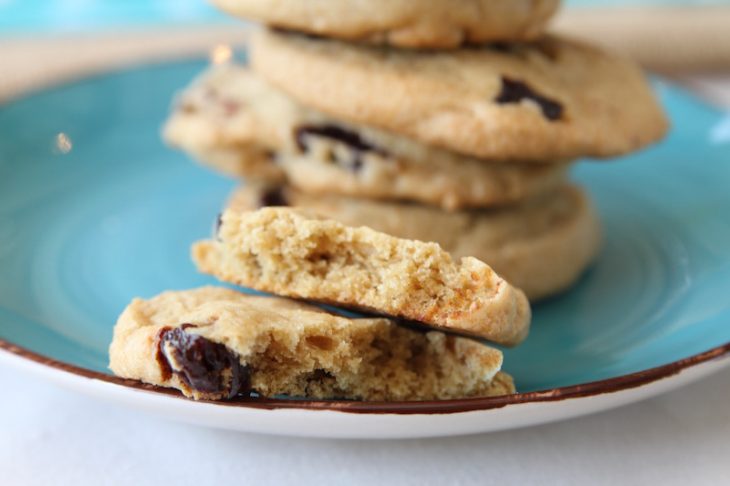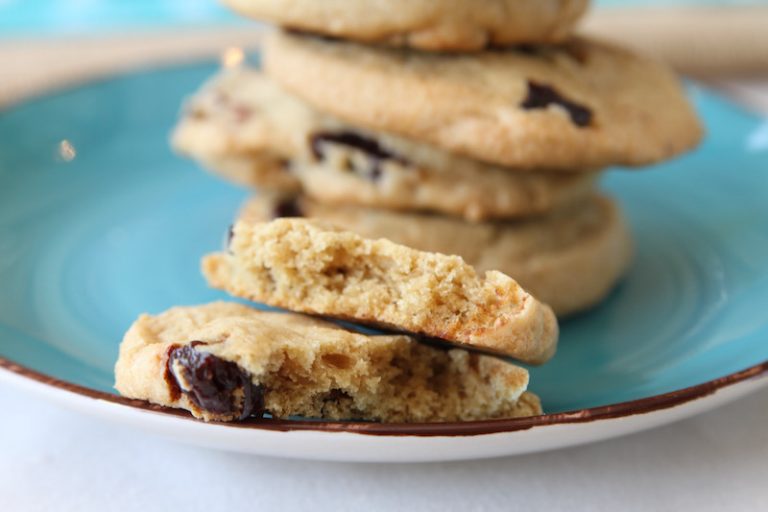 One of my favorite thing to use when baking is coconut cooking spray. It makes baking easy and you can lightly grease your baking pans without having a chemical taste you might get from some of the other cooking sprays.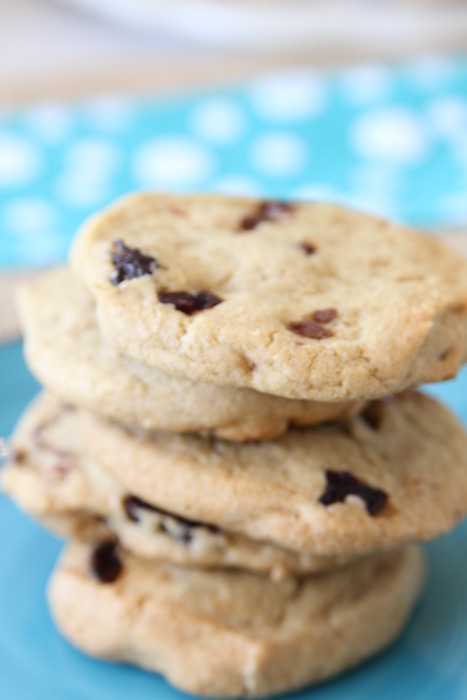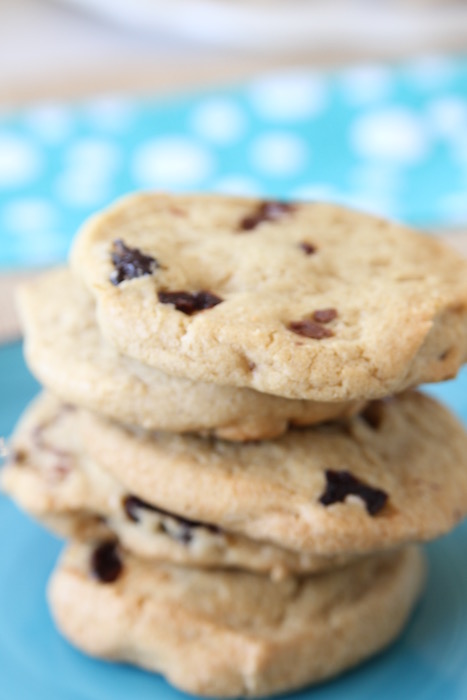 Quick Variation on Chocolate Cherry Cookies
Drop the cookie dough into a lightly greased 9×13 cake pan and spread the batter evenly around the pan.
Preheat oven to 350 degrees and bake for 20 – 25 minutes or until a butter knife comes out clean when poked into the batter.
Remove from oven and cool for 5 -7 minutes then cut into 2 inch square bars.
Remove from pan and finish cooling on a cooling rack.
HOW TO HOST A HOLIDAY COOKIE EXCHANGE
Hosting a cookie exchange can be a fun and delicious way to celebrate the holiday season with friends and family. Not only is it a great excuse to get together and enjoy some tasty treats, but it's also a great way to share recipes and try out new flavors.
To host a successful cookie exchange, the first thing you'll need to do is invite your guests. This can be done via email, phone, or even a simple invitation card. Be sure to include all the important details, such as the date, time, and location of the event, as well as any special instructions or guidelines for the cookie exchange.
Once you've invited your guests, it's time to start planning the rest of the event. One important thing to consider is the type of cookies that will be exchanged. You can either ask your guests to bring a specific type of cookie, or you can let them choose their own. Either way, be sure to provide enough variety so that everyone can find something they like.
Another important aspect of hosting a cookie exchange is the presentation. Set up a table or tables where your guests can display their cookies, and provide plates, napkins, and other necessary items for everyone to enjoy the treats. You can also add some festive decorations, such as holiday-themed tablecloths, candles, or centerpieces to add to the holiday spirit.
Finally, be sure to provide plenty of drinks, such as hot cocoa or coffee, to help wash down all those delicious cookies. And don't forget to take pictures to capture the memories of your fun and tasty cookie exchange.
Overall, hosting a cookie exchange can be a fun and enjoyable way to celebrate the holiday season with your friends and family. Just be sure to plan ahead, provide plenty of delicious cookies, and create a festive atmosphere to make the event a success.
Pin Chocolate Cherry Cookies Recipe to Pinterest