Being from Michigan I love cherries!  I especially love dried cherries and try to put them in and on everything.  Sometimes it doesn't taste that great but other times like with these cookies it is amazing.  The flavor of a soft chewy cooking mixed with the sweet flavor of milk chocolate and tart dried cherries is a wonderful play on the salty, sweet and tart in your mouth.  I will warn you if you make these chocolate cherry cookies they will not be around long as old and young alike love them.
Chocolate Cherry Cookies Recipe
2 cups of unbleached flour
1 teaspoon of baking soda
1 teaspoon of salt
1 cup (2 sticks) of softened unsalted butter
3/4 cup of sugar
3/4 cup of brown sugar packed
1 teaspoon of vanilla
1 tablespoon of bourbon or whiskey
2 large eggs
1 1/2 cup of Milk Chocolate Chips
1 cup of dried Cherries
Preheat Oven to 375 degrees
In a medium bowl mix together flour, baking soda and salt. Add to mixer softened unsalted butter, sugar and packed brown sugar beating on a medium speed until creamy and smooth. Using a small bowl beat eggs, vanilla and bourbon until well blended.
Turn mixer on low add 1/2 the flour mixer and 1/2 egg mixer to the sugar cream. Beat until completely combined then add the rest of the flour and egg mixture to the batter lightly mixing for 1 to 2 minutes.
Be careful to not over mix as cookies will not be light and fluffy.
Using a spatula fold in the chocolate chips and cherries to the batter. At this point batter will be a little sticky, so use a tablespoon to scoop and drop cookies onto a lightly grease cookie pan spacing 2 inches apart. Bake for 9-11 minutes or until cookies are lightly golden brown.
Remove chocolate cherry cookies from oven and allow to cool for approximately 3 minutes and then remove from pan and place on cooling rack to finish cooling.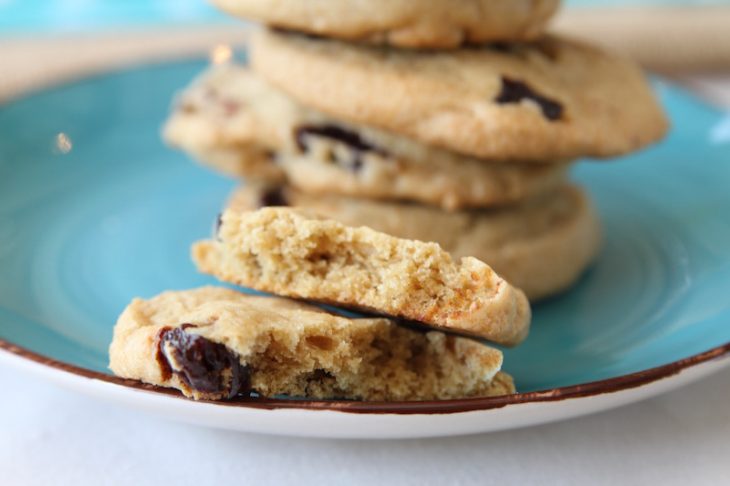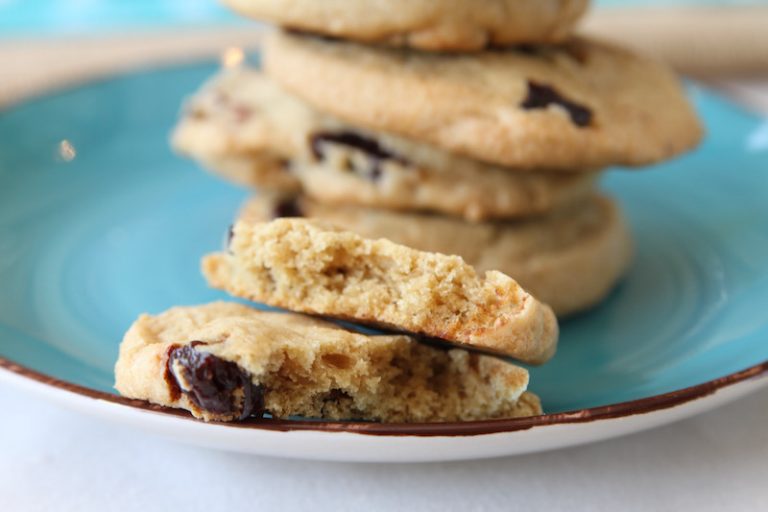 One of my favorite thing to use when baking is PAM Coconut cooking spray.  It makes baking easy and you can lightly grease you baking pans without having a chemical taste you might get from some of the other cooking sprays.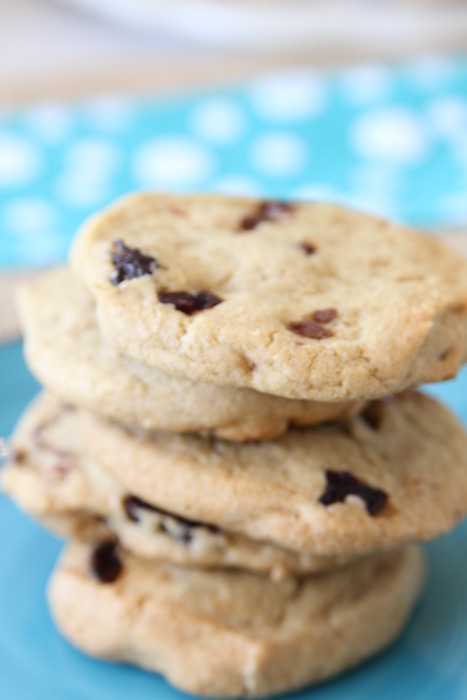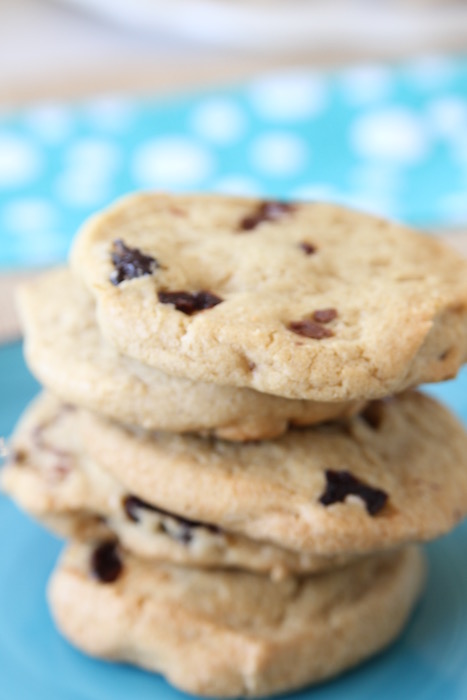 Quick variation on these cookies instead of dropping them onto a cookie pan lightly grease a 9×13 cake pan and spread the batter evenly around the pan.  Preheat oven to 350 degrees and bake for 20 – 25 minutes or until a butter knife comes out clean when poked into the batter.  Remove from oven and cool for 5 -7 minutes then cut into 2 inch square bars.  Remove from pan and finish cooling on a cooling rack.
I hope your family enjoys these cookies as much as ours does.
PIN ME