There are so many free and affordable things to do in Petoskey that you won't regret the drive.
Plus you'll end up traveling along secondary roads, passing through small towns, and spending a fair amount of time oohing an ahhhing over the scenery.
Plan to stop for treats at roadside farm market stands and pick your own flower fields.
Half of the charm of the Petoskey region is getting there.
Located in northern Michigan, 4-hours north of Detroit and 3-hours north of Grand Rapids is beautiful Petoskey.
Located on the shores of Little Traverse Bay and not far from the Great Lakes it offers up an opportunity for an incredible getaway.
Nearby you'll find the quaint areas of Boyne Falls, downtown Harbor Springs, Lake Charlevoix, and Walloon Lake.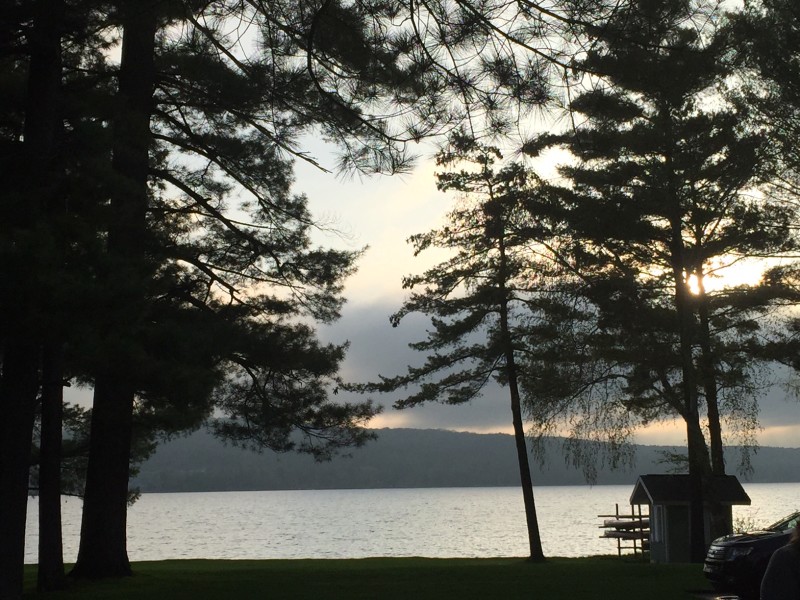 When you arrive in Petoskey stop at the visitors center, located in the Gaslight District, to grab a map of the area and get ready to have a fabulous visit.
There are so many great Petoskey area attractions that are free or low cost
Between the attractions and lots of activities, there is never a dull moment and you'll soon discover that you need a lot of time to explore all the region has to offer.
This is just a start to all the fun you can have in the area. There are more water sports, special events, festivals, winter sports and outdoor activities that aren't listed here.
Petoskey's location to other destinations and the shores of Lake Michigan makes it an excellent hub for first time visitors to northern Michigan.
To prove that vacations don't have to cost a fortune I'm sharing 36 free and affordable things to do in Petoskey, Michigan.
36 OF THE BEST THINGS TO DO IN PETOSKEY, MICHIGAN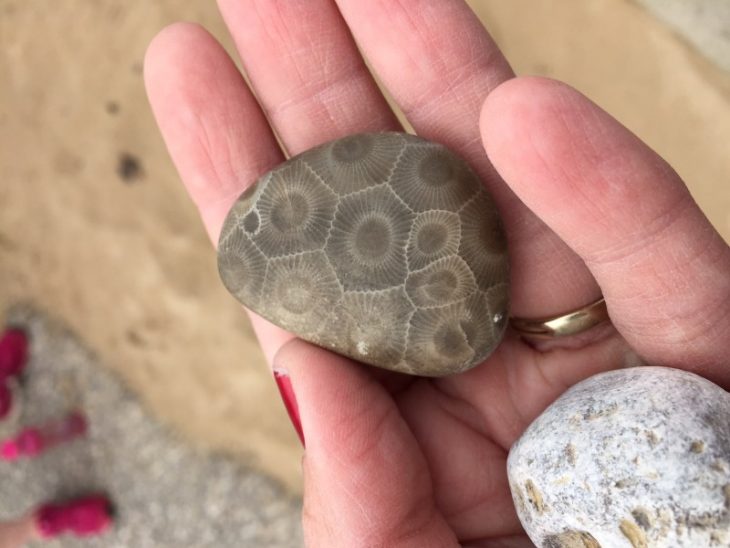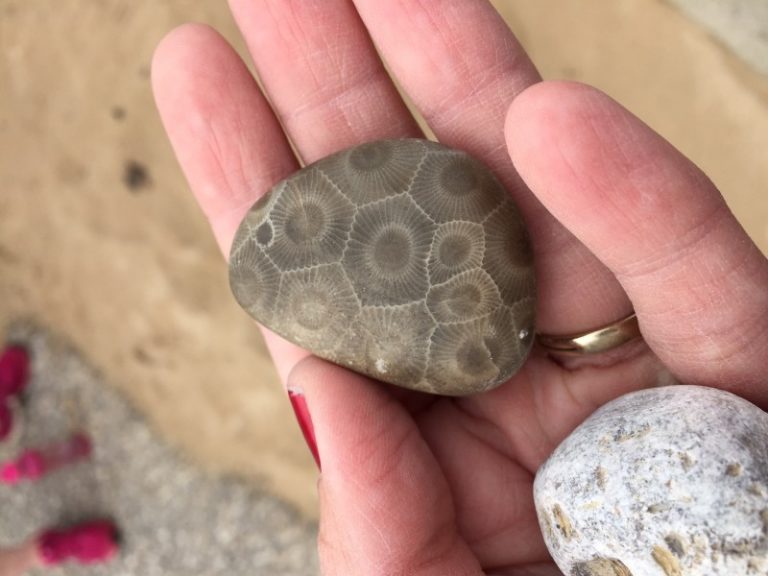 1. Hunt for the famous Petoskey Stones, Michigan's state stone, at Petoskey State Park or Bayfront Park.
2. Take a self-guided tour of the historic Bay View Association – the whole community is on the National Historic Register.
3. Say "Hi" to the bucks and does at Deer Park in Harbor Springs.
4. Download a free app (search LTC Explorer) and tour the acres and acres of Little Traverse Conservancy properties within each of our towns.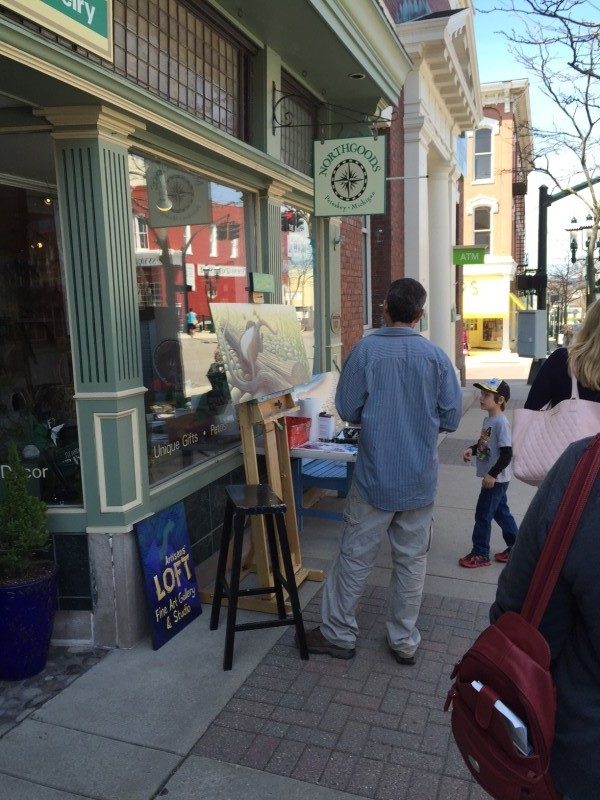 5. Window shop in Petoskey's Gaslight District and the downtowns of Boyne City, Bay Harbor and Harbor Springs.
While in Petoskey stop in at McLean and Eakin Booksellers, one of my favorite bookstores in the entire state.
6. Visit the International Dark Sky Park in Mackinaw City.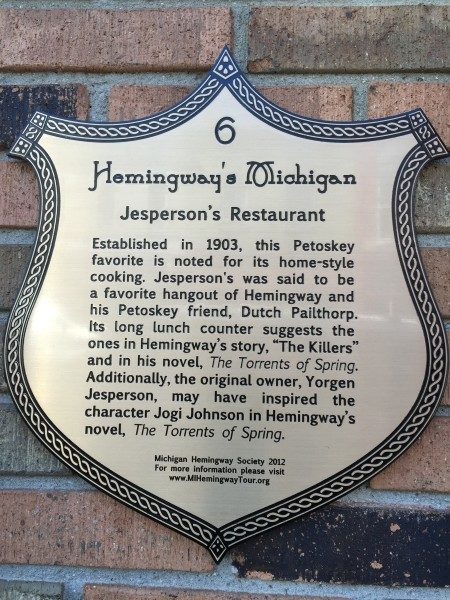 7. Grab a brochure and explore Ernest Hemingway haunts on your own.
8. Visit the famous National Shrine of the Cross in the Woods in Indian River.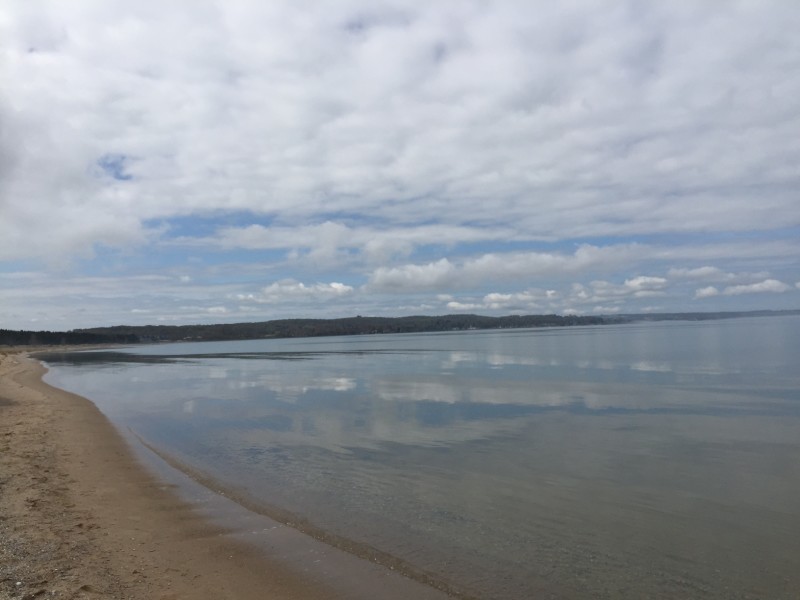 9. Take advantage of some beautiful beaches (non-state park) that do not have admission fees. Magnus Park is a great option.
10. Catch a free outdoor movie in Harbor Springs or Petoskey (seasonally).
11. Skateboard parks in both Petoskey and Harbor Springs are free to the public.
12. Take a chocolate tour and try a free sample at Kilwins Chocolate Kitchen in Petoskey. After the tour, especially during the summer months, this is a great place to grab an ice cream.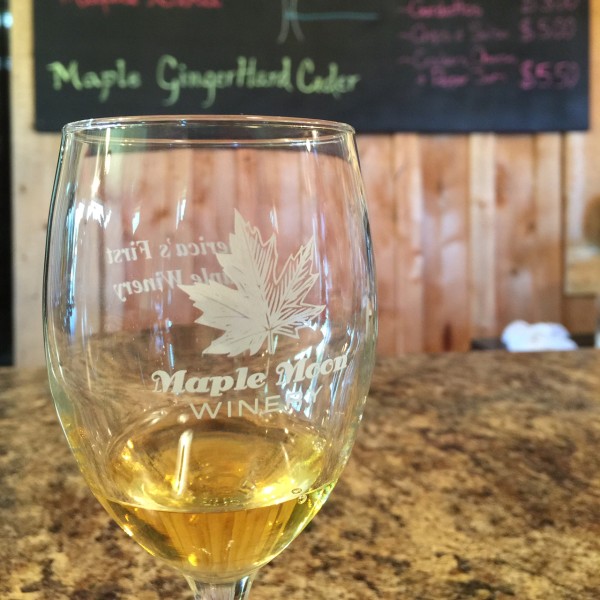 13. Take a tour of Maple Moon Family Sugary in Petoskey and see how pure maple syrup is made and enjoy a wine tasting (fee may apply for tastings).
14. Enjoy live entertainment in the downtowns of Harbor Springs (Street Musique on Thursdays), Petoskey (Petoskey Rocks on Fridays) and Boyne City (Stroll the Streets on Friday) throughout the summer.
15. Hunt for the ever popular morel mushroom during the spring.
16. Ride, walk or run the 23-mile long Little Traverse Wheelway (Charlevoix to Harbor Springs) or any of the other bike trails within the region.
You don't have to do the entire path. Start at Magnus Park and walk a couple miles and then turn back. Its a beautiful path right along the Little Traverse Bay.
17. Climb the 462 steps to the top of Avalanche Preserve in Boyne City for awesome views.
18. Bring your own kayak for a rush on Petoskey's mile-long whitewater trail, the only one in the lower peninsula, located at Bear River Valley Recreation Area–class one to class three.
19. How about a self-guided tour of the Earl Young Homes (aka Mushroom Houses) in Charlevoix.
20. Learn the history of Boyne City at their history museum.
21. For some family fun bring the whole family to Oden State Fish Hatchery (just NE of Petoskey) to the Michigan Fisheries Visitor Center.
22. Kids (16 and under) fish for free all over Michigan and there are lots of great spots to do that in our area.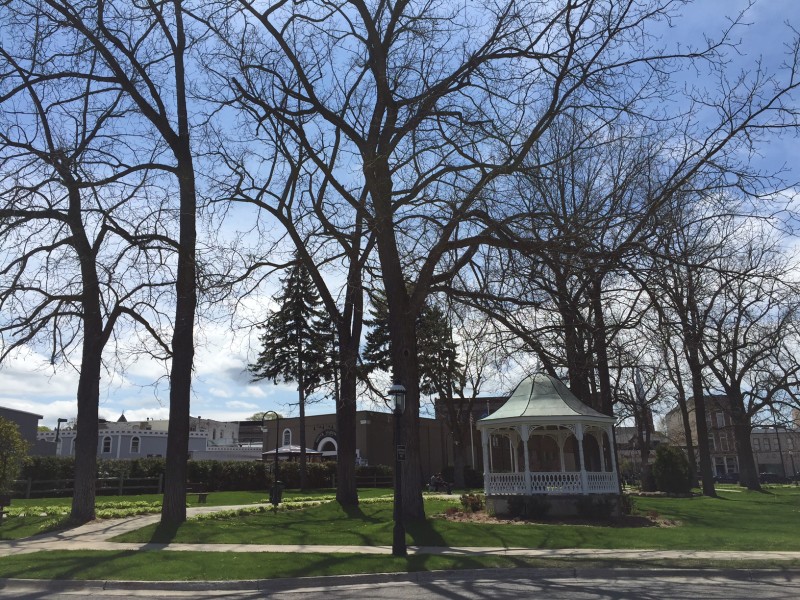 23. Take in an outdoor concert in Petoskey (Concerts in the Park) and Boyne City (Evenings at the Gazebo) during the summer.
24. Learn about Native American history at the Andrew Blackbird Museum in Harbor Springs.
25. Take a beautiful drive through Tunnel of Trees scenic route from Harbor Springs to Cross Village (lovely in any season).
26*. In the heart of Petoskey dine at the City Park Grill, a local restaurant that is said to have been frequented by Hemingway.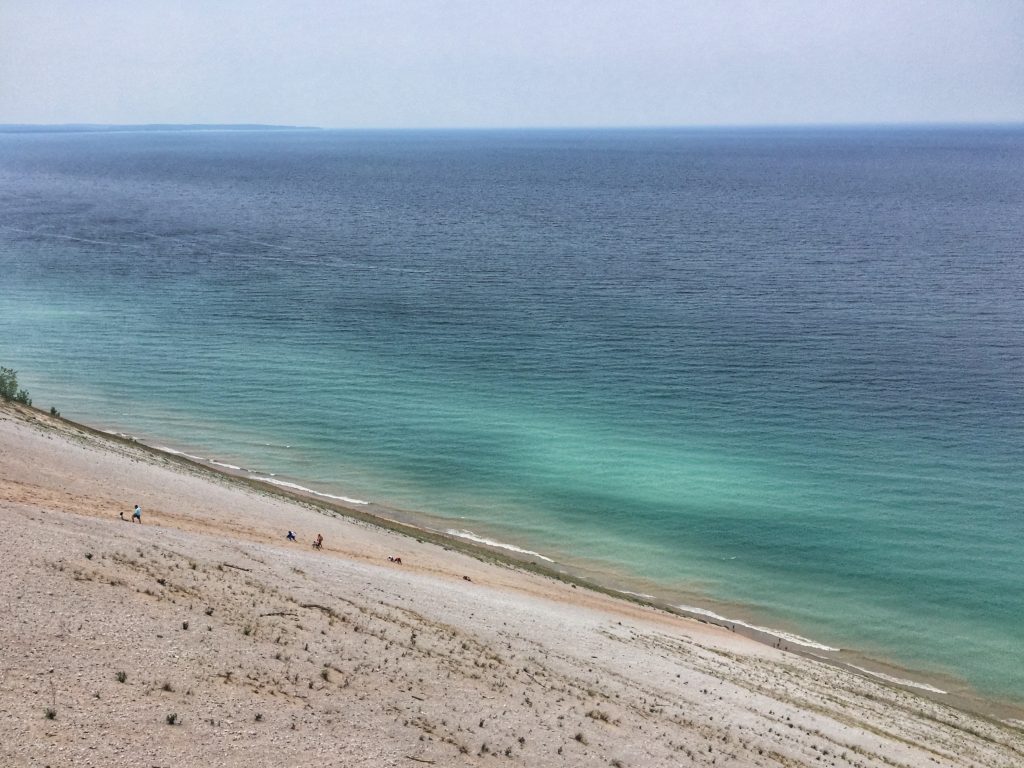 27*. A short drive away, just west of Traverse City, you'll find Sleeping Bear Sand Dunes National Lakeshore and if you've never been its a must!
28*. You'll have to pay to ferry over to Mackinac Island but it's totally worth it and I have a whole list of free things to do on Mackinac Island.
This is a bucket list item for many people and it's easy to check off while you are visiting Petoskey.
29*. Visiting during the winter? Go winter rafting, no special gear required.
30*. Take the ferry from Petoskey to Bay Harbor or Harbor Springs. This adventure is two fold, it gets you on the water and saves you from driving and dealing with parking. Buy tickets in advance.
31. Pack a picnic and enjoy it at one of the many picnic tables located along Bayfront Park. The marina area is one of my favorites for picnics.
32*. In the fall head over to Boyne Mountain Resort in Boyne Falls and take the chair lift for a unique fall color tour via a chairlift.
33. Enjoy the arts at the Crooked Tree Arts Center. Four art galleries are free and open to the public.
34*. Discover where history, science and art intersect at Raven Hill Discovery Center.
There is a Music Garden, Jurassic Park walkway, Schoolhouse, Treehouse, Ancient World and other outdoor exhibits.
New Connections Trail with 40 learning stations is being installed outside, and visitors can enjoy the indoor exhibits as well (minimal hands-on opportunities at this time.)
35. Visit a local farmers market. This is a great way to taste the region.
36*. Pick lavender at Lavender Hill Farm located about 15 minutes south of Petoskey.
*Not free, but falls under my definition of "affordable."
Pin to Pinterest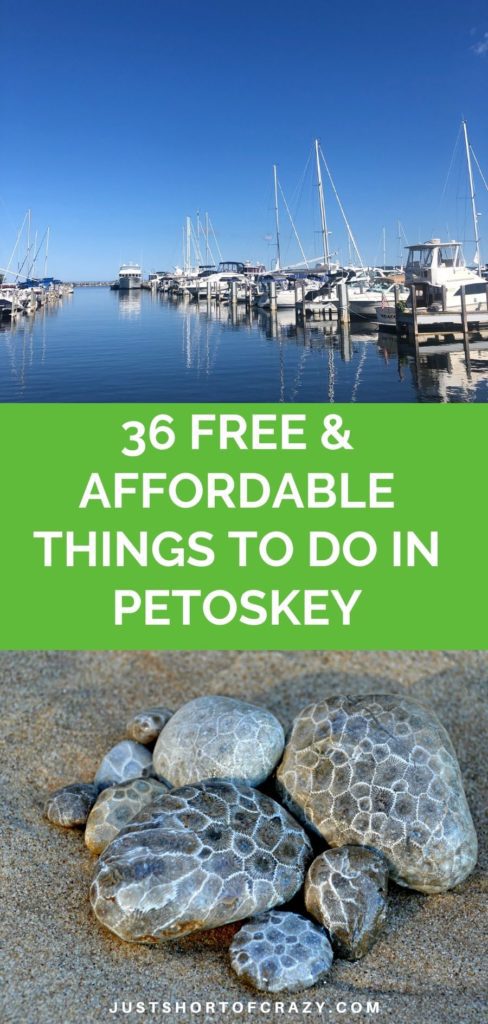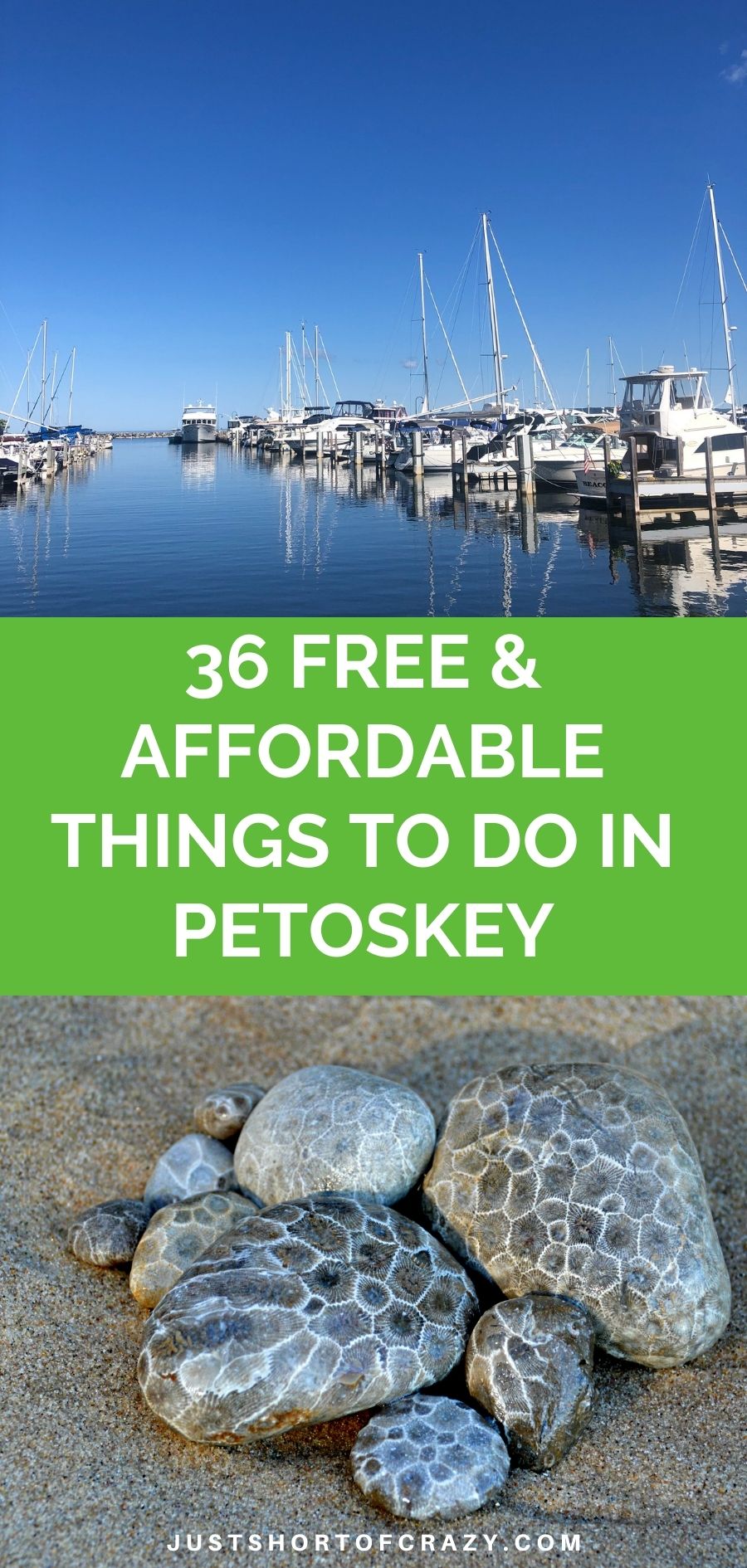 More Petoskey articles that include many of my favorite things:
How To Spend A Weekend In Petoskey
A Stay At Stafford's Bay View Inn
Summer Reading Fun at McLean and Eakin, Petoskey's famous independent bookstore!
Escape to Nature and Fun in Petoskey