Snow pummels our car as we drive north towards East Jordan, a small community located between Traverse City and Petoskey. The plan is to take a guided winter rafting trip, but we question our sanity as the temps continue to drop.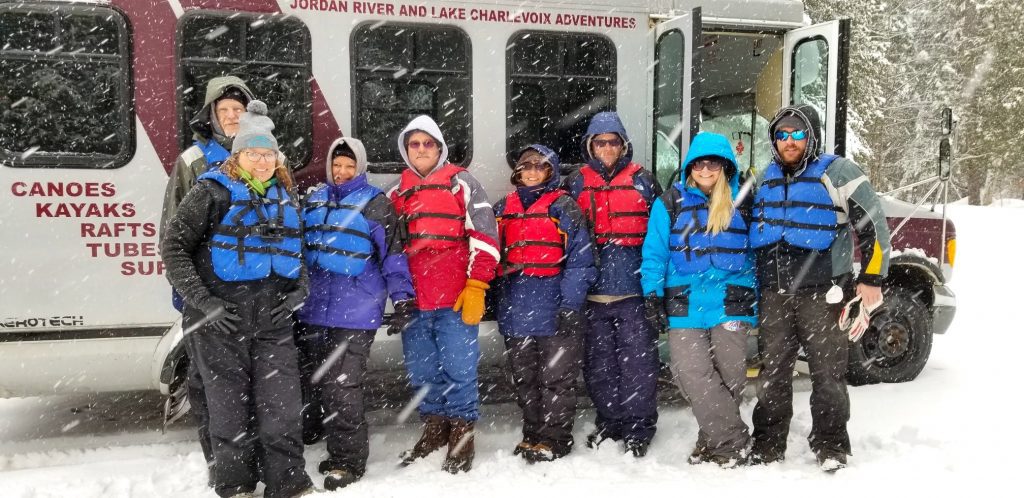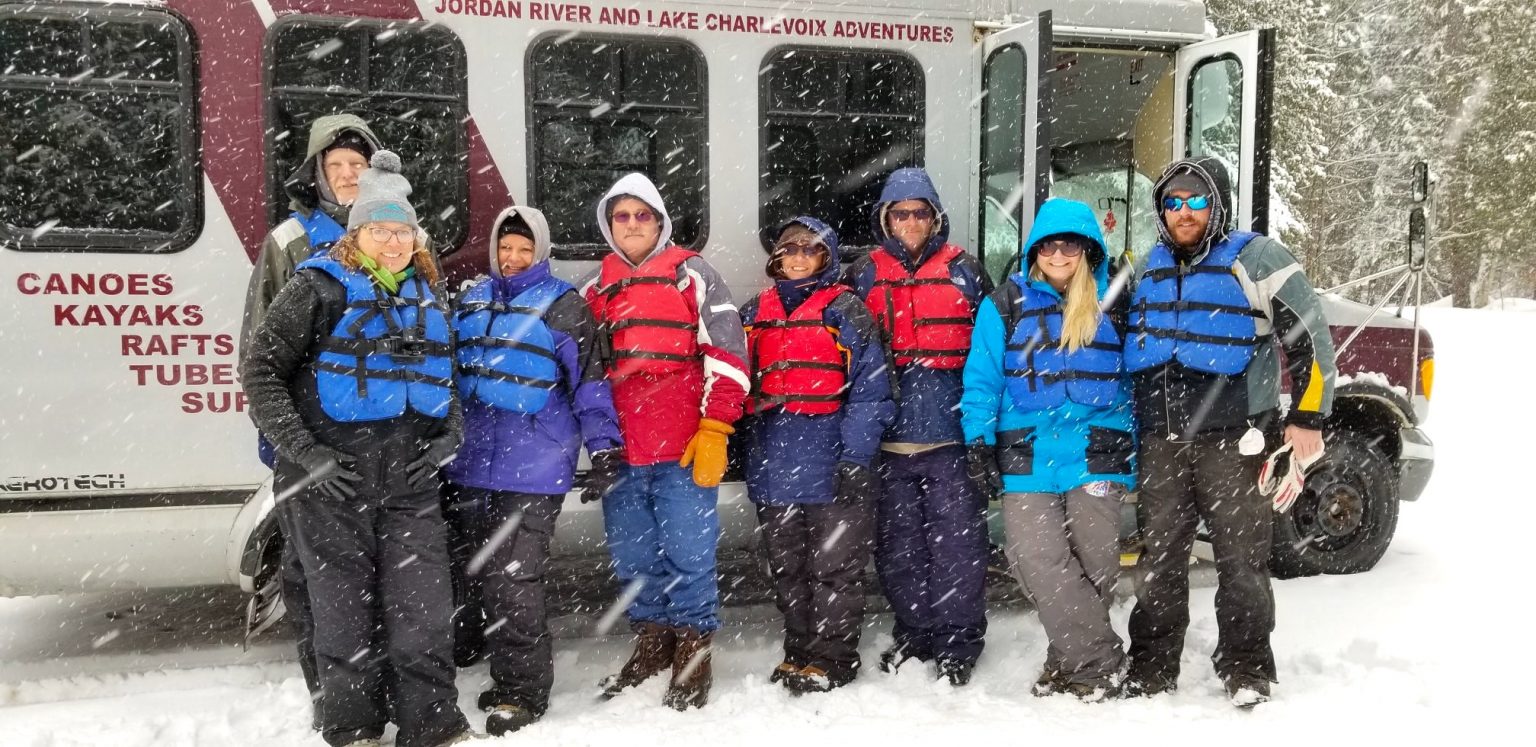 However, the pull of being on the water is strong so we continue our drive and just pray that the storm passes before our raft launches on the Jordan River.
The previous month we took our first-ever rafting trip on the Sturgeon River out of Indian River and fell in love with the activity. It was one of my better "crazy" ideas.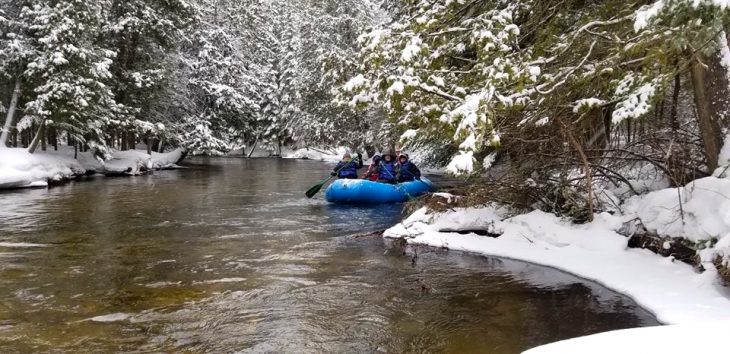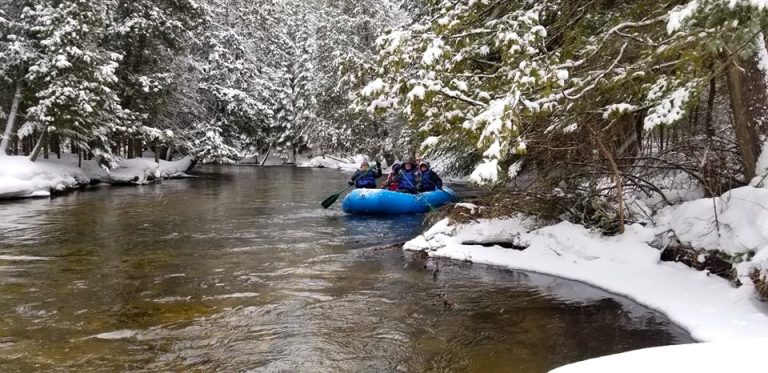 Born, raised and never strayed, I've lived in Michigan my entire life and have never adapted to the winters.
Last year I decided I had to force myself out of the house more and enjoy what the state has to offer during the winter months.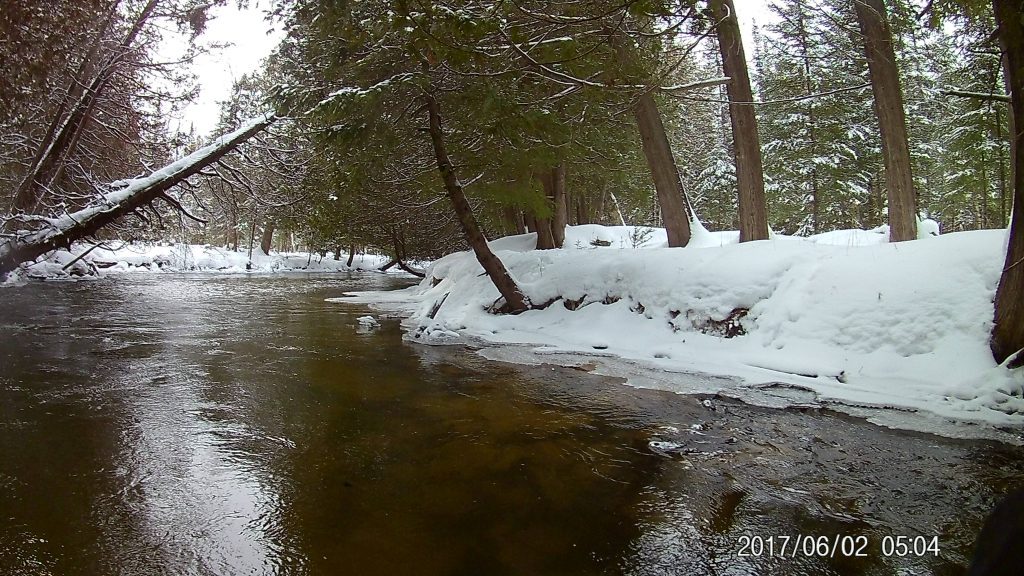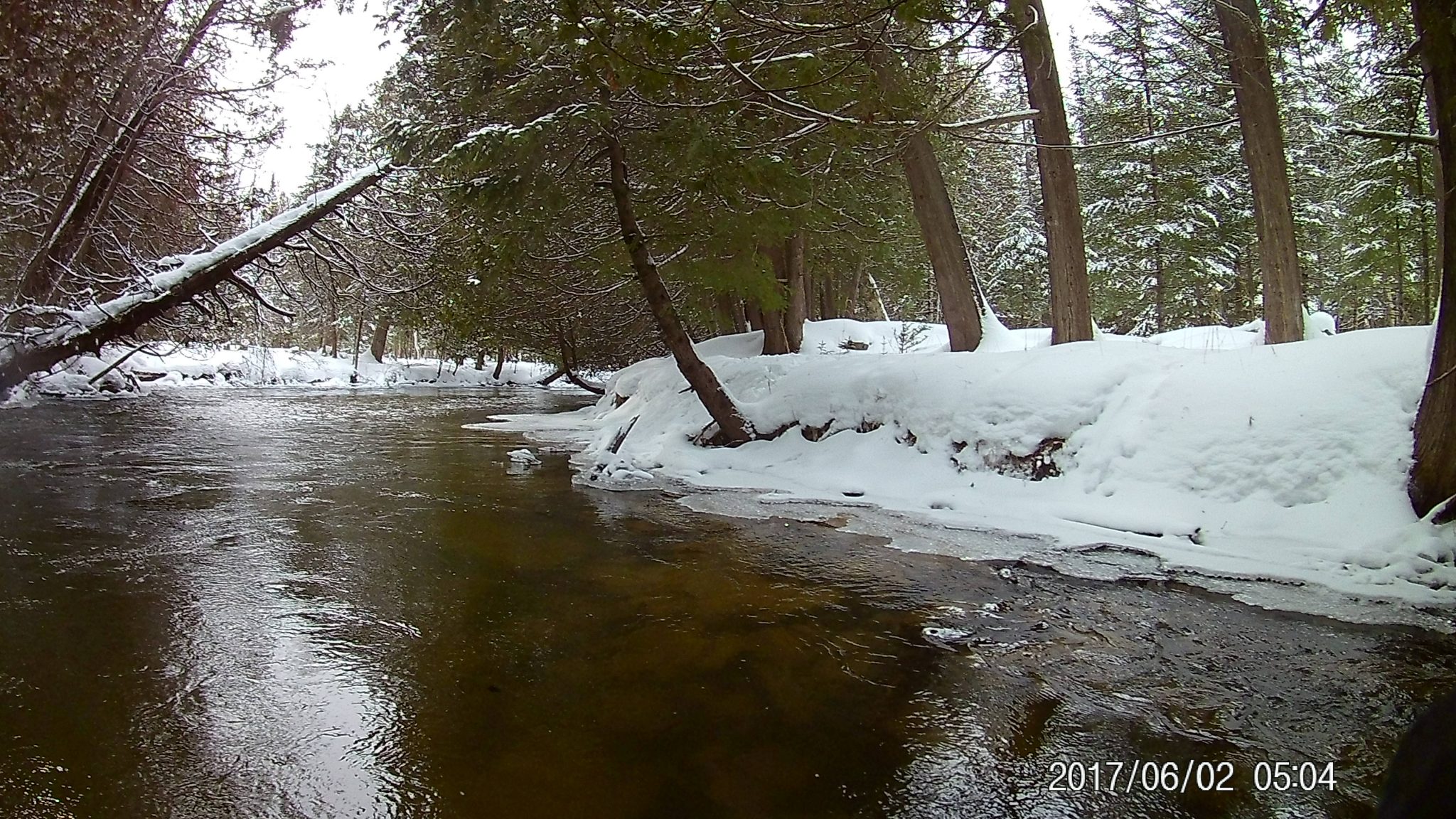 Our first trip down the river was incredible. The temps were frigid, well below freezing, but there was just something about floating on the river, surrounded by peace and quiet, seeing the world coated in white that was magical.
We had a bigger group for our second trip with enough people to fill two rafts.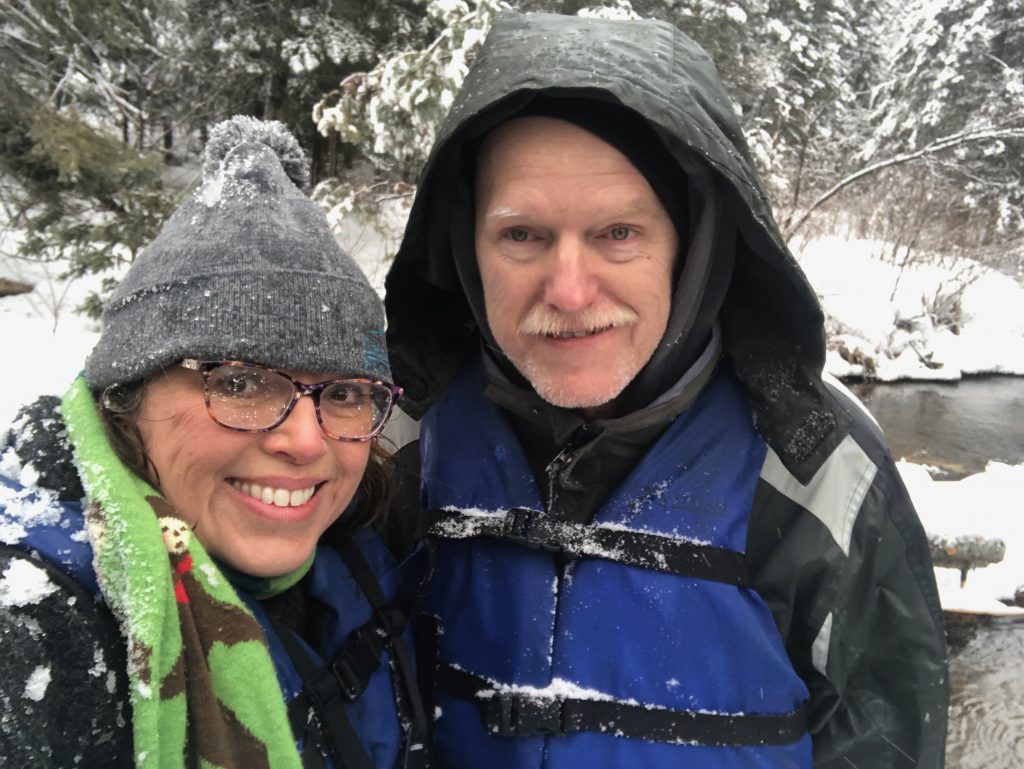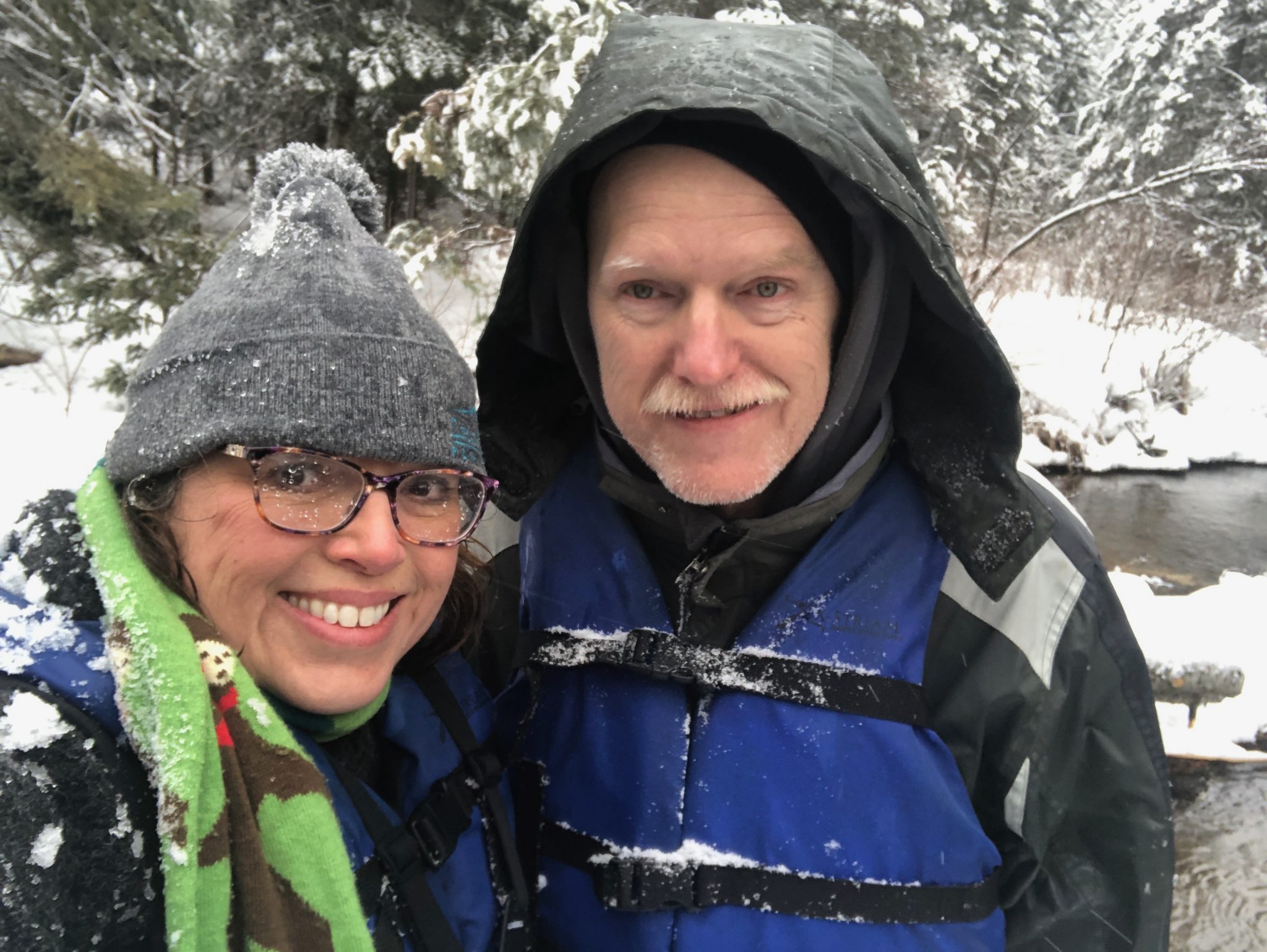 We arrive at Jordan Valley Outfitters and our guides are a go for our adventure even though we still debate the wisdom of being on the water in this kind of weather.
The temps are hovering around 10 degrees and it's still snowing, not the pretty snow either, but the "in your face" snow complete with the wind. We're assured that once on the water things won't be as severe.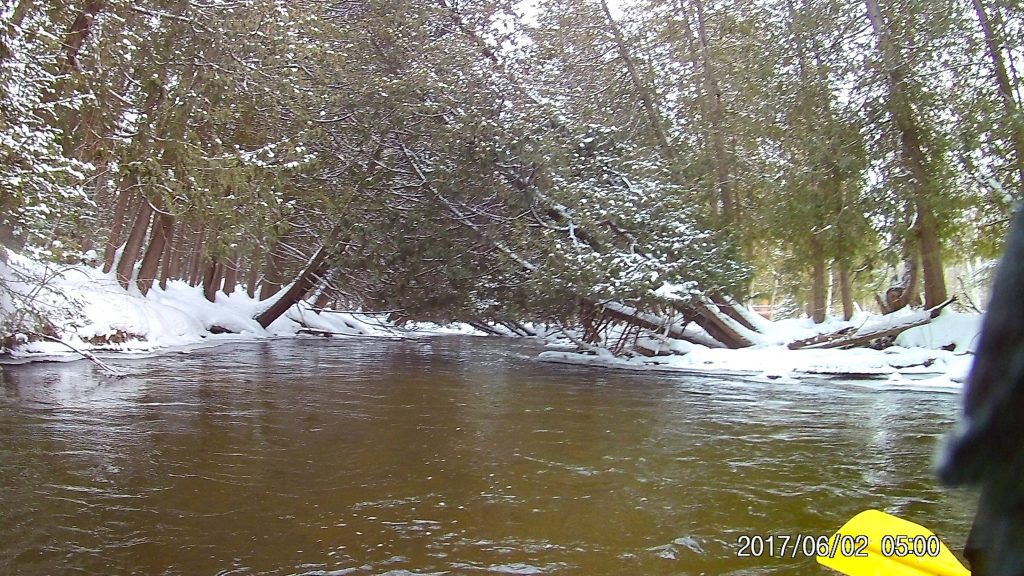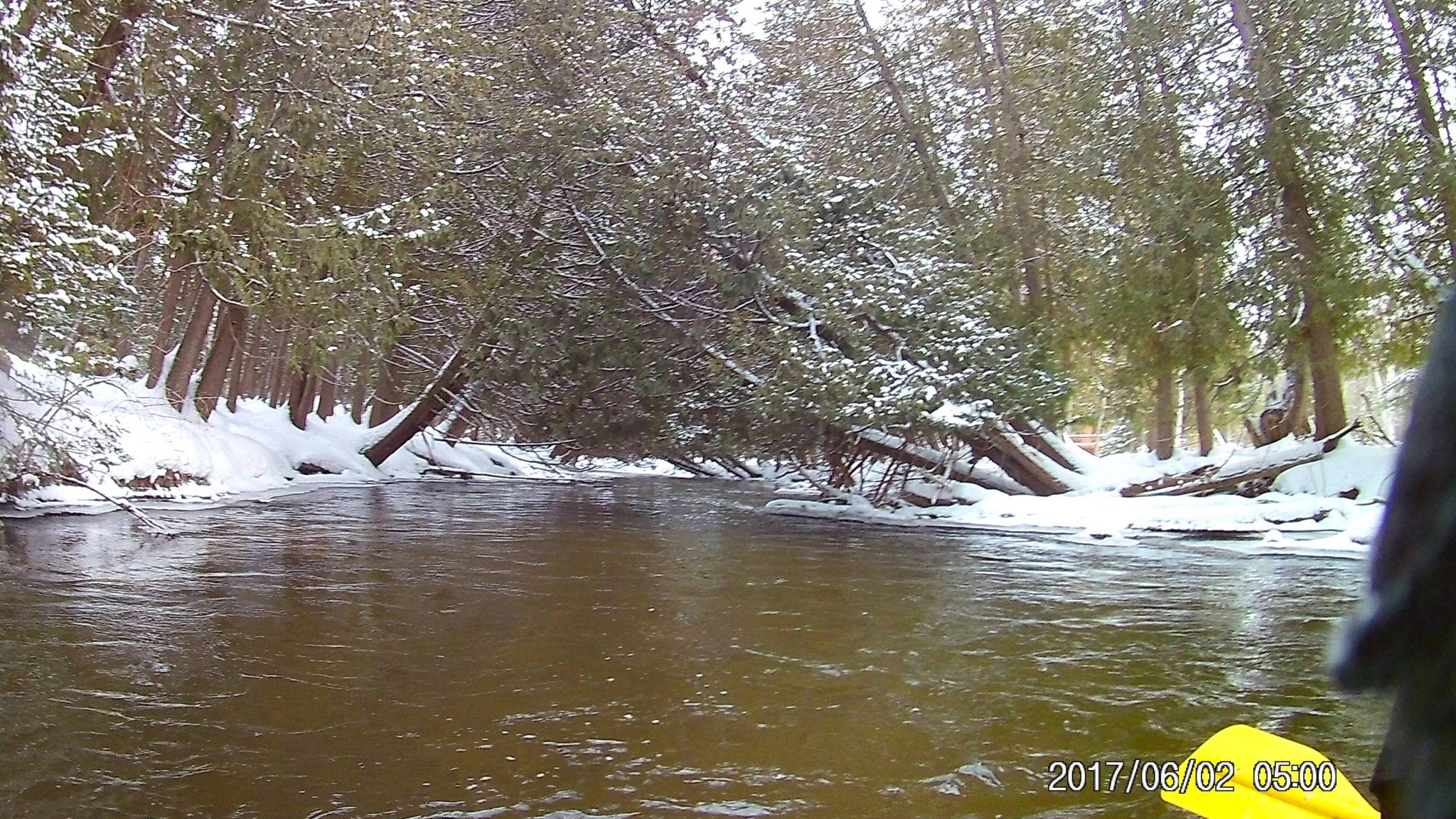 However, we drove this far and figure we are all in. After everyone puts on all their extra layers we load up in the van, our guides toss the rafts on the roof and we make the drive to our launch point.
Now, if things are going to go wrong this is where it will happen. Getting in the raft can be a fair bit tricky, but if you take your time and go slow you'll be ok.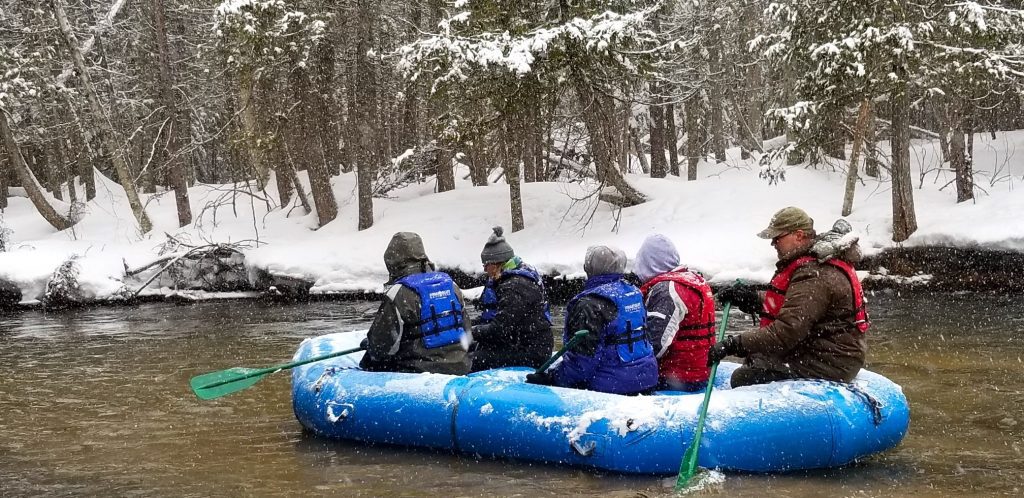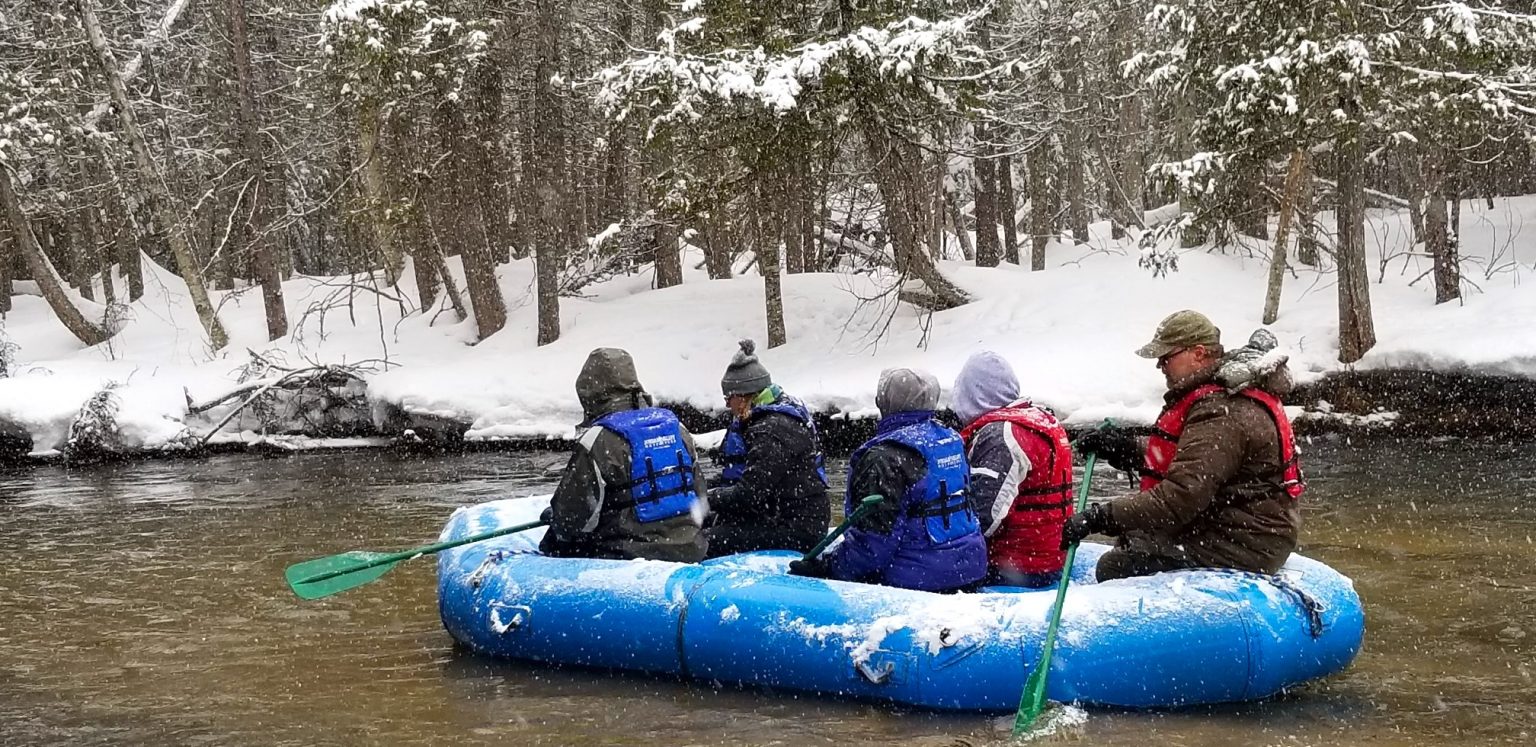 Six of us load up in each raft, precariously perched on the sides, feet positioned to keep us safely out of the water and we are off.
The tree branches hang heavy with snow and the river banks have a fresh coat of white fluff. As we settle in our guide yells out commands to paddle once, paddle a couple of times or paddle in reverse.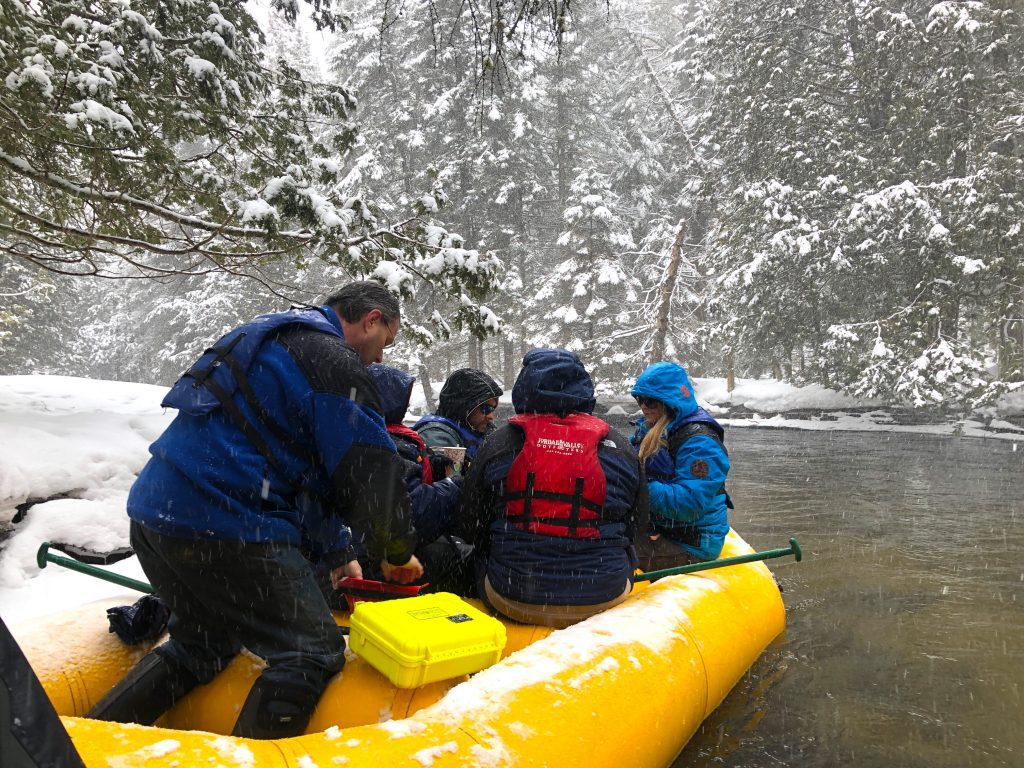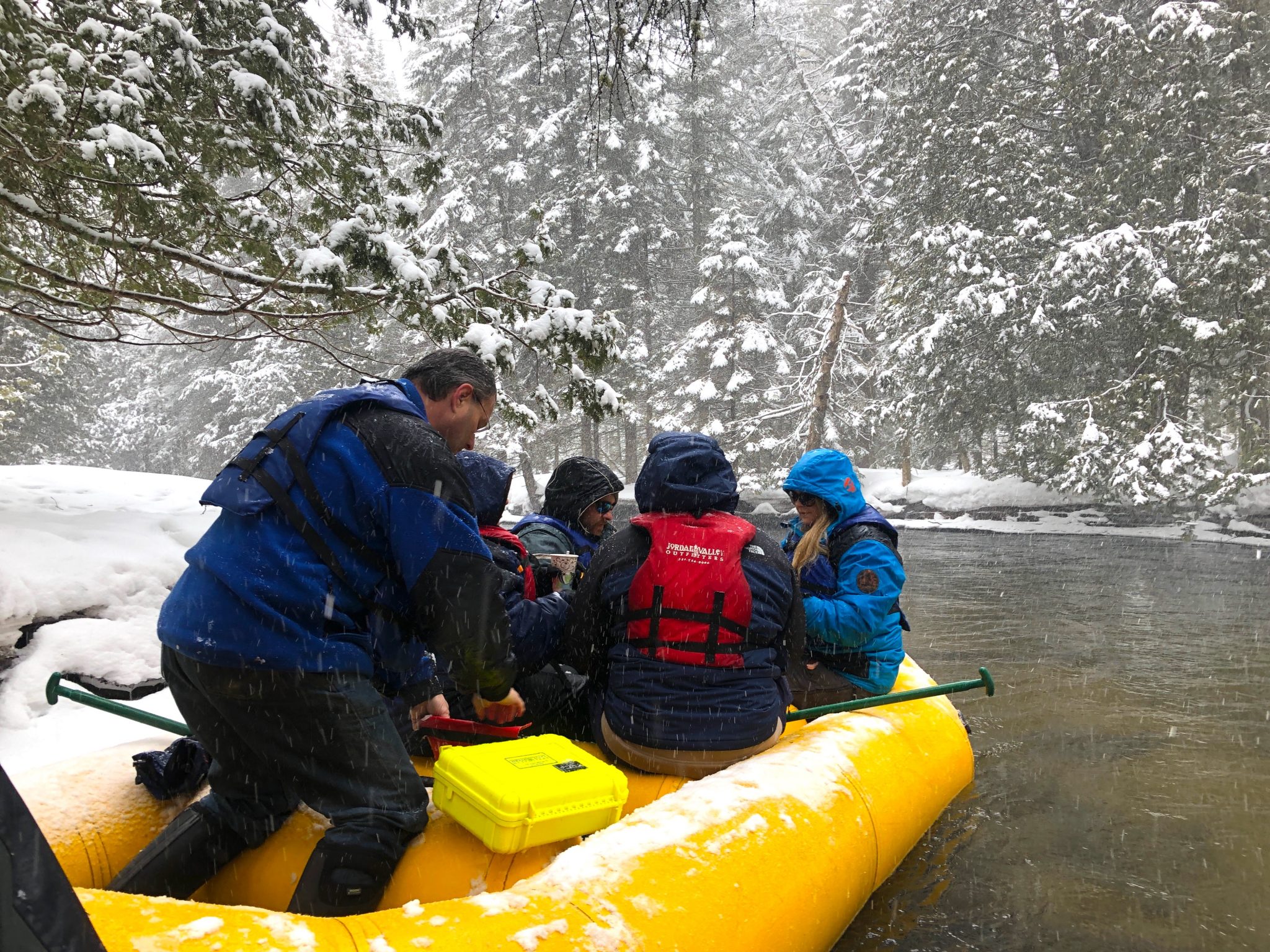 Our raft gently floats along the Jordan River, sometimes moving forward, sometimes sideways, and sometimes backward, but always fun!
At times fallen trees create obstacles that require us all to practice our reverse limbo maneuvers as we all try to make ourselves as flat as possible without losing our seat to float under the trees.
The weather, while still snowing, is now the soft fluffy flakes with occasional flurries if the wind kicks up for a minute or two.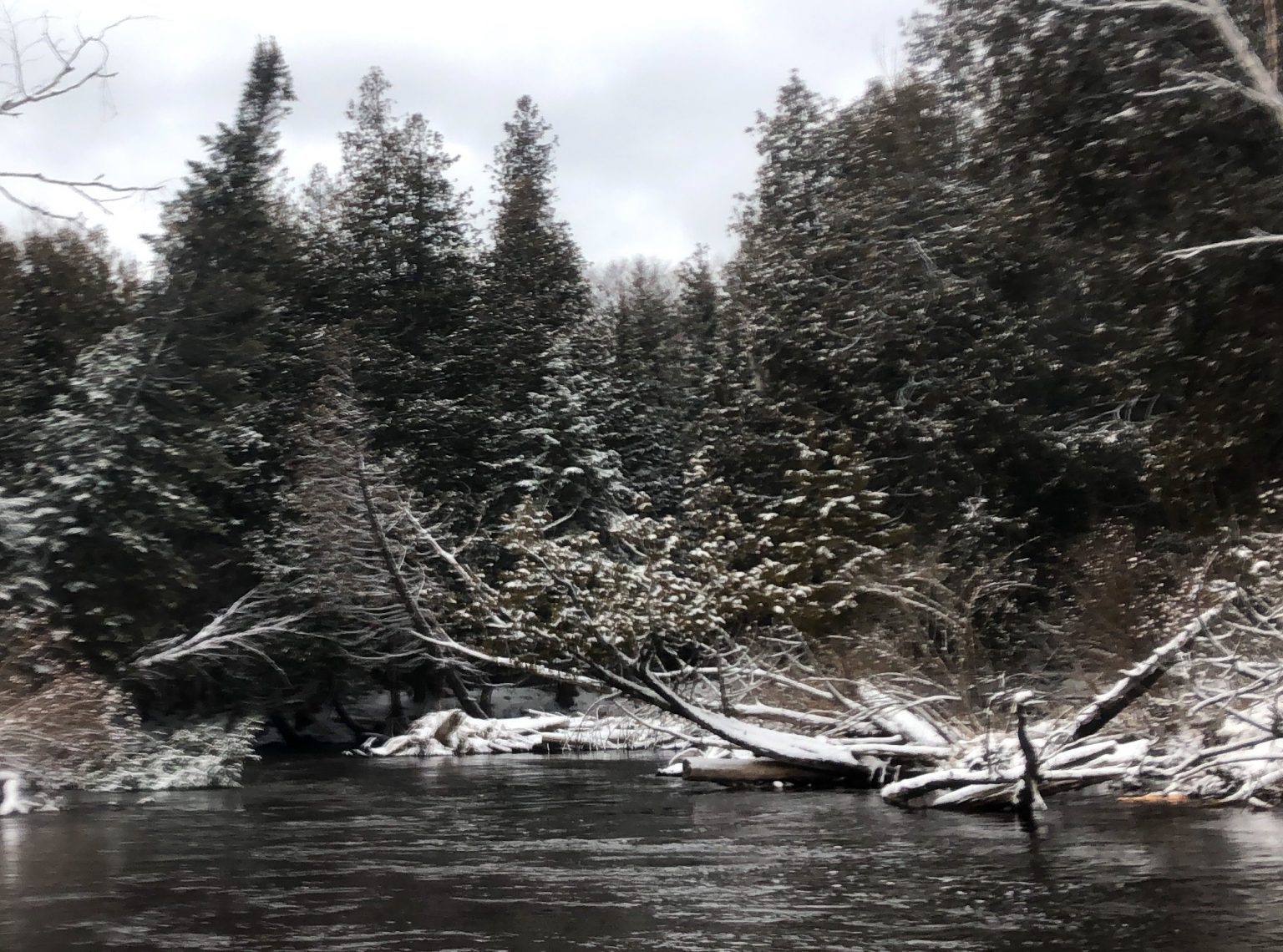 It's in no way miserable and, honestly, the only thing that is cold is my toes which I blame on my poor footwear choice.
Around the halfway point our guides pull our rafts to the edge of the river and we all enjoy a hot beverage of coffee, tea or hot cocoa. The day may have started out a little iffy, but this moment was completely worth the effort to get here!
This is one of those moments in life that you know will stay with you forever. I never would have thought my adventures would ever take me down a river in the middle of winter let alone that I would love it. This is awesome!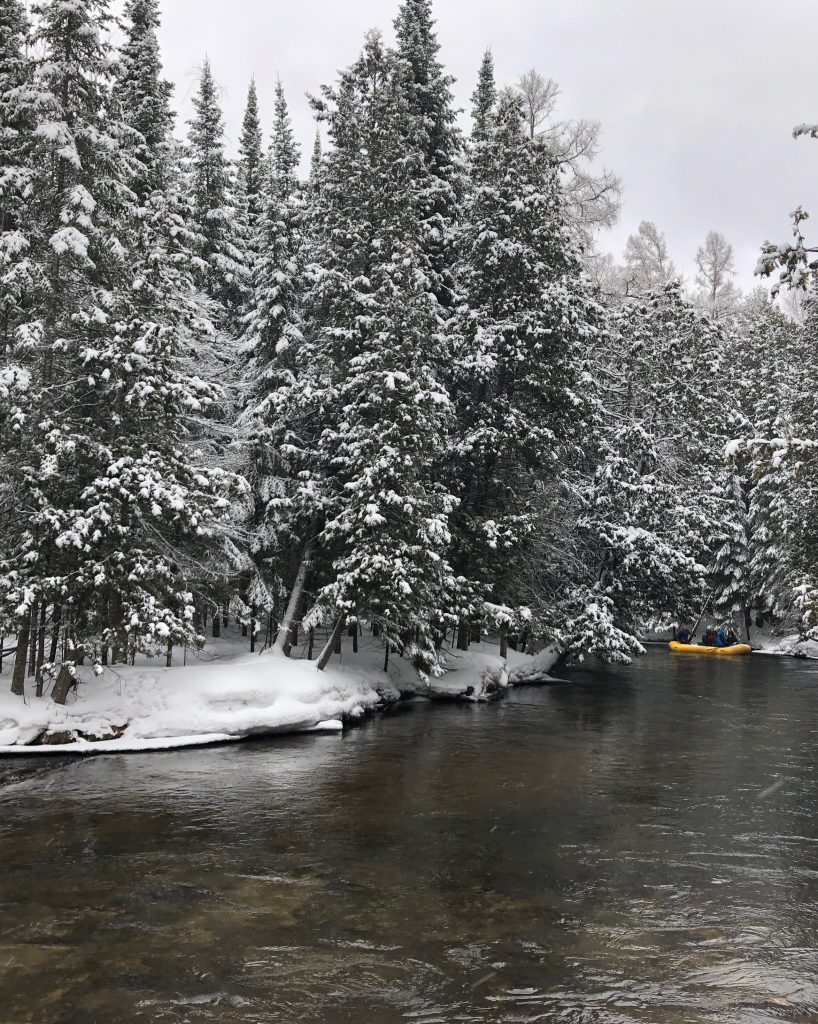 We continue our float and are fortunate to spot a number of deer as they dash off through the forest as we float by.
Before long our journey has ended and it's time to make our way off the river and back to reality. Our guided winter rafting adventure has been a magical break from reality and exactly what we needed to break up the winter blahs.
If you ever find yourself in Michigan in the winter I HIGHLY recommend taking a guided winter rafting trip. Trips can fill up quickly so call in advance and make reservations.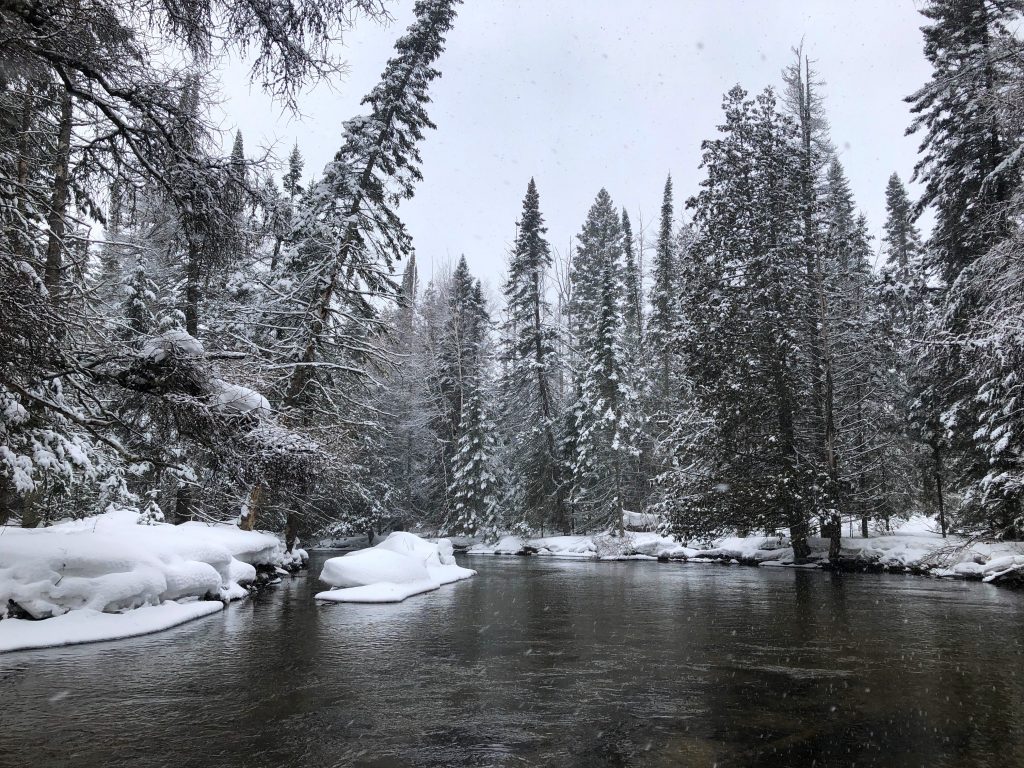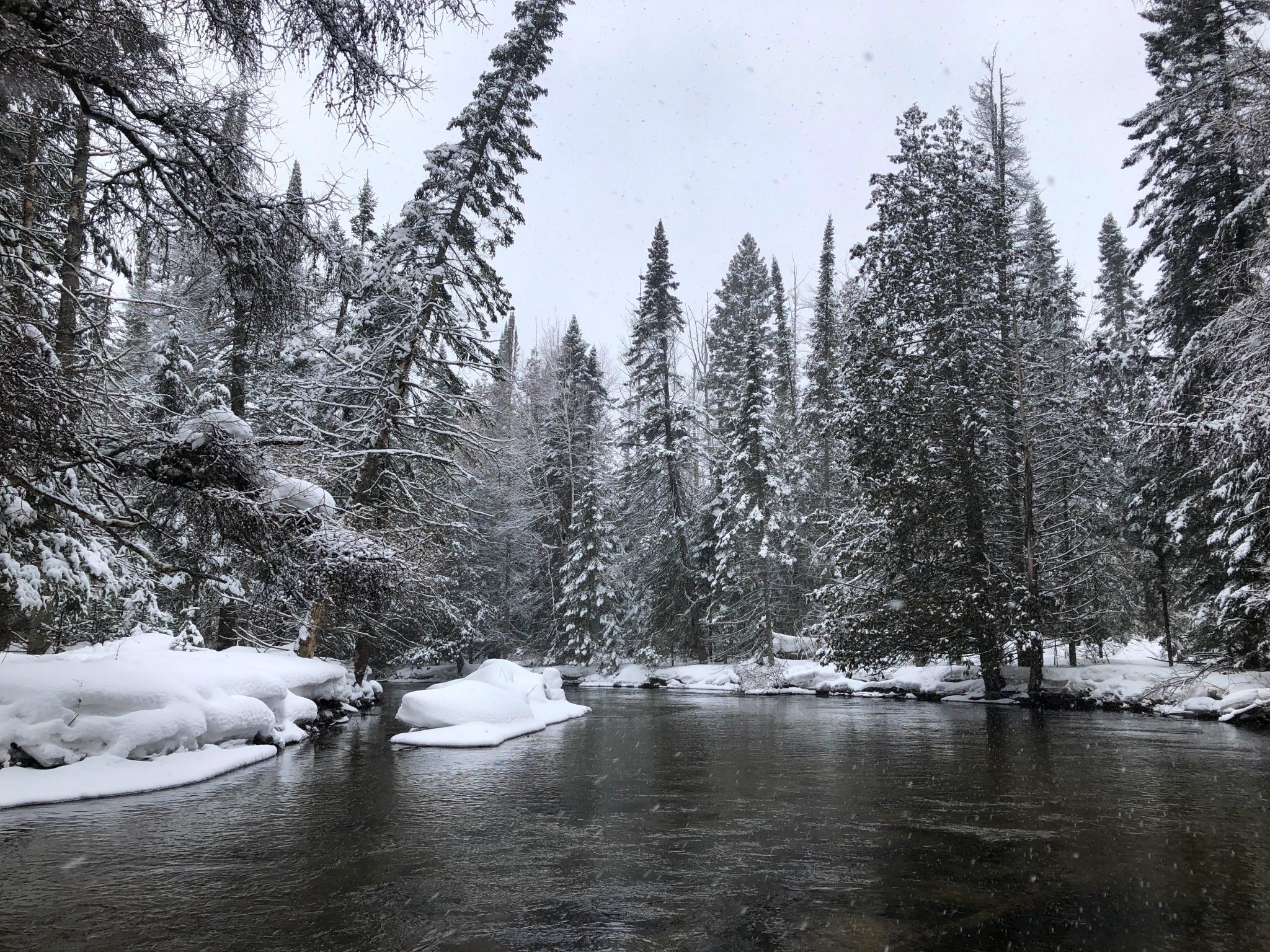 Where To Take A Guided Winter Rafting Trip
There are currently three locations, that I know of, offering the trips and I have done winter trips with them all.
You won't go wrong with any of them, but we picked to go back to Jordan Valley Outfitters due to their location (we have lunch at Short's Brewing in Bellaire afterward) and they stop for a hot beverage which the other two do not.
Jordan Valley Outfitters – East Jordan
Sturgeon River Paddlesports – Wolverine
Big Bear Adventures – Indian River
Note, both Sturgeon River and Big Bear paddle the exact same portion of the Sturgeon River.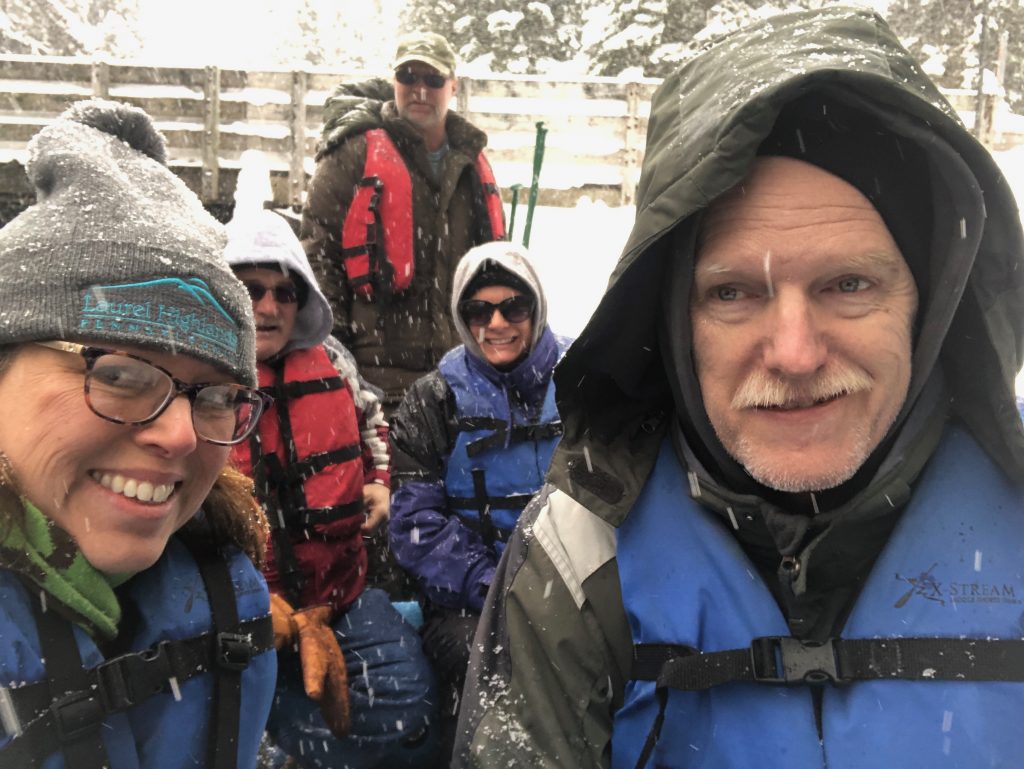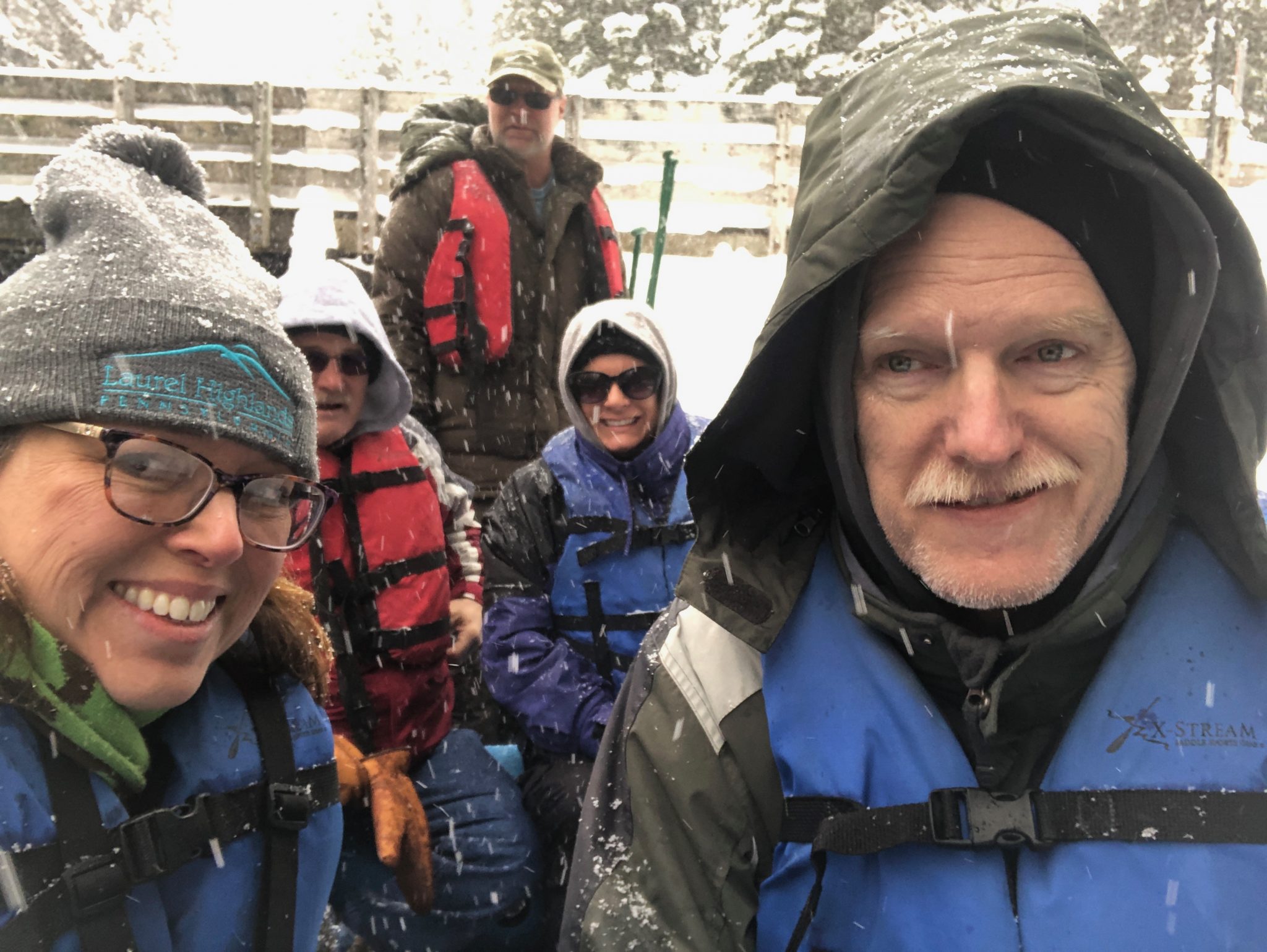 How Much Does A Guided Winter Rafting Trip Cost?
The rates run anywhere from $37-$45 per person depending on the size of the group and the outfitter. I find that is a really reasonable rate for some Michigan winter fun.
What To Wear When You Go Winter Rafting
No, you don't need a wet suit or a dry suit. You'll just need to layer up and wear what you would typically wear to play outside in the snow.
Here's what I recommend
Moisture-wicking wool socks (Smartwool is my choice)
Warm winter boots <<—this is a must!
Thermal underwear or leggings
Pair of pants (NOT jeans!)
Snowpants
Thermal top or snug long-sleeved shirt
Another long-sleeved top
Winter coat
Hat
Scarf
Warm waterproof gloves
Face shield
Basically, I wear two layers of clothing plus snow pants and a winter coat. I hate being cold so I really bundle up.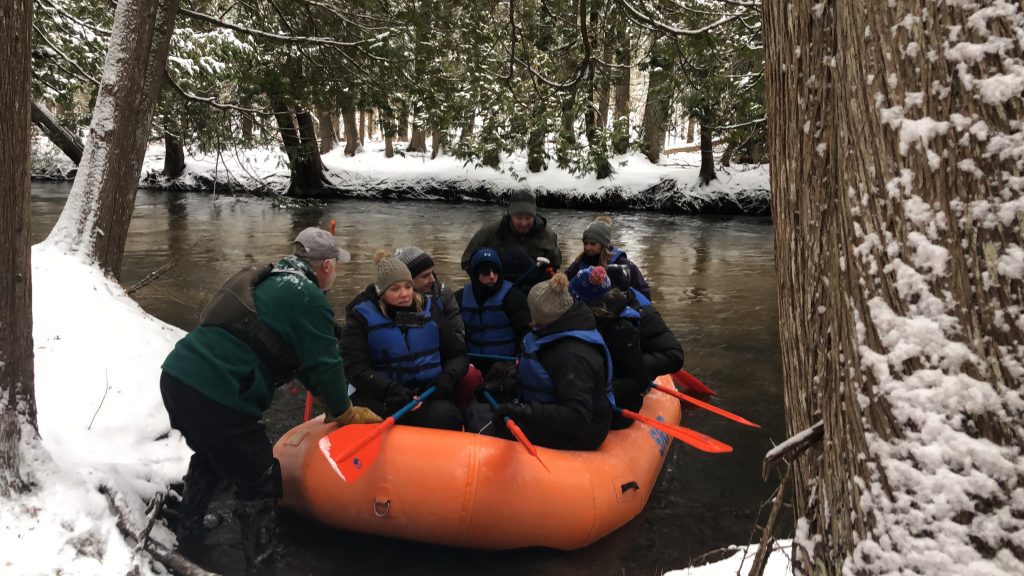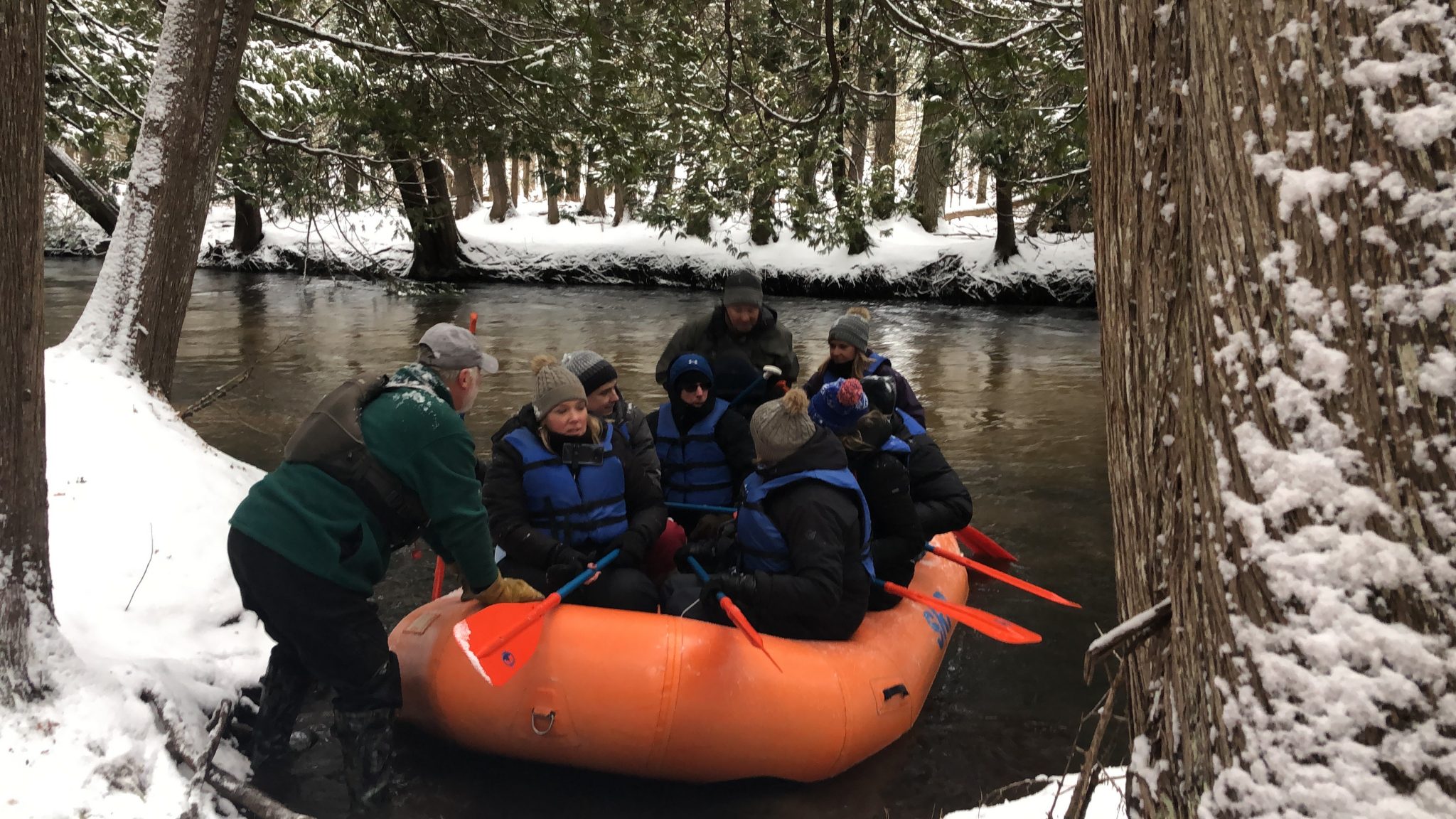 Tips For Your Guided Winter Rafting Trip
Try to be in the first raft to spot wildlife
You can take your own beverage on the river, but NO GLASS!
Pack a set of dry clothes in the car, just in case
You don't have to be a skilled paddler to enjoy this adventure.
Life jackets are provided and must be worn
More Fun Things To Do in Northern Michigan in the Winter
More Michigan Winter Fun Ideas
Pin Michigan Winter Rafting Trip to Pinterest