If you're wondering why you should hire a private chef on your next vacation or what all the fuss is about then you need to read on.
If you want the short and fast answer: because it's a luxurious indulgence and you deserve it. For more context, keep reading.
Did hiring a private chef for your next vacation even hit your radar?
No shame in your travel game if you haven't thought of it. It's not something that I'd really given thought to until recently.
I plan flights, rental cars, vacation homes, spa treatments, and more, but I can't say I've ever considered hiring a private chef.
If you're like me, my guess is you haven't either.
I'm sharing why you should absolutely make the effort to have a private chef create a culinary experience unlike no other on your next vacation home getaway.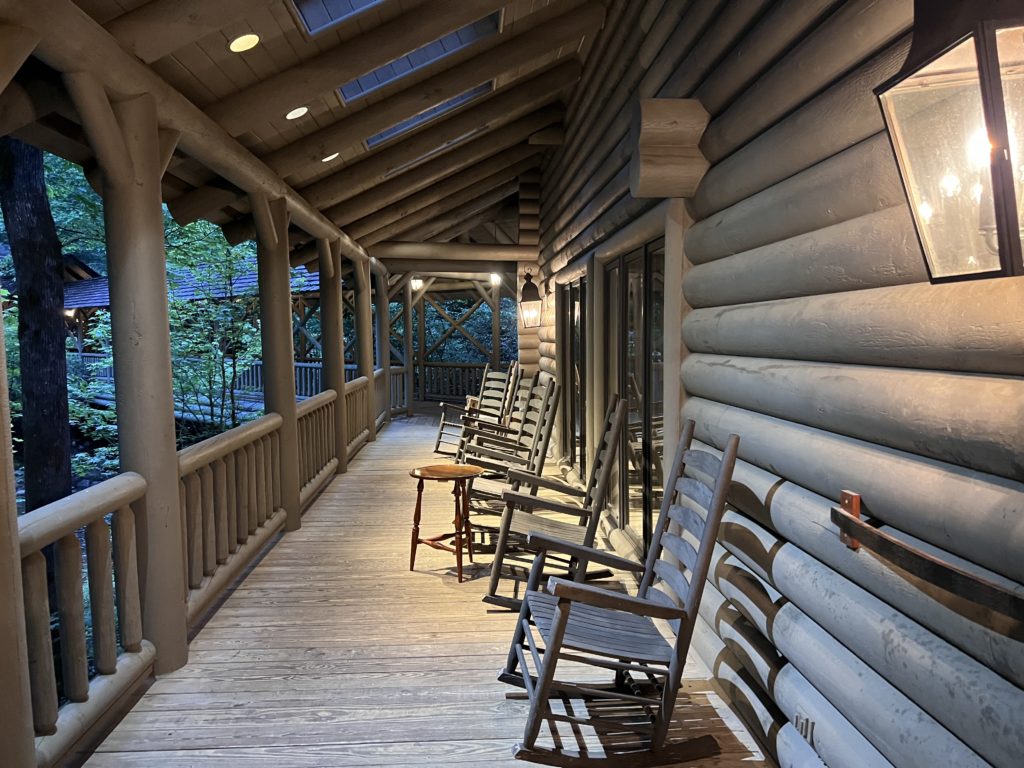 Why Hire A Private Chef
Let's set the scene:
Imagine sitting on the porch or patio of your vacation home, sipping a cocktail while enjoying the incredible view and the company of friends and/or family while dinner is being made.
Occasionally, you hear noises from inside the house of dinner prep at hand.
It reminds you that for you there are no timers to set, no excusing yourself to go check on the meal, no worries about what to make, no shopping to be done.
This vacation is truly a vacation that you get to enjoy by NOT worrying about what's for dinner.
Then, when things are ready, the chef calls you to the table and you enjoy a culinary experience that is one you will remember for years to come.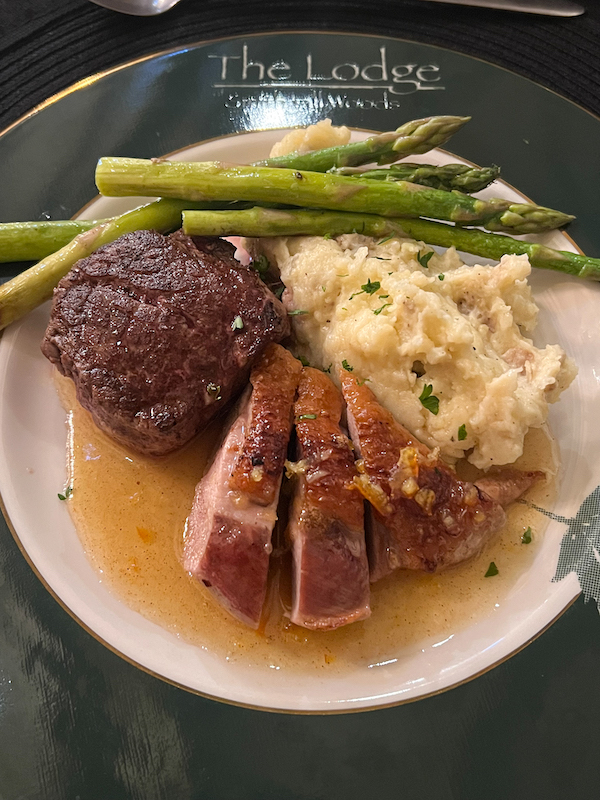 The Chef Monda Private Chef Culinary Experience
If you're headed to Helen, Georgia and/or the surrounding area you can hire Chef Monda Dodge to create this exact experience for you.
I had the opportunity to experience a Chef Monda meal and it is, to date, one of my favorite vacation culinary memories.
I now must indulge in at least one Chef Monda meal on all future trips to Helen, GA. It's just how it's going to have to be and here's why:
As I sat on the porch overlooking Dukes Creek, enjoying a glass of wine, and chatting with colleagues, I knew that there was magic happening in the kitchen.
It wasn't any one specific thing, just this overwhelming knowledge that there was a great meal heading my way.
We started with a charcuterie board and appetizers that absolutely delighted the taste buds. The honey roasted grapes with ricotta on crostini was my fave!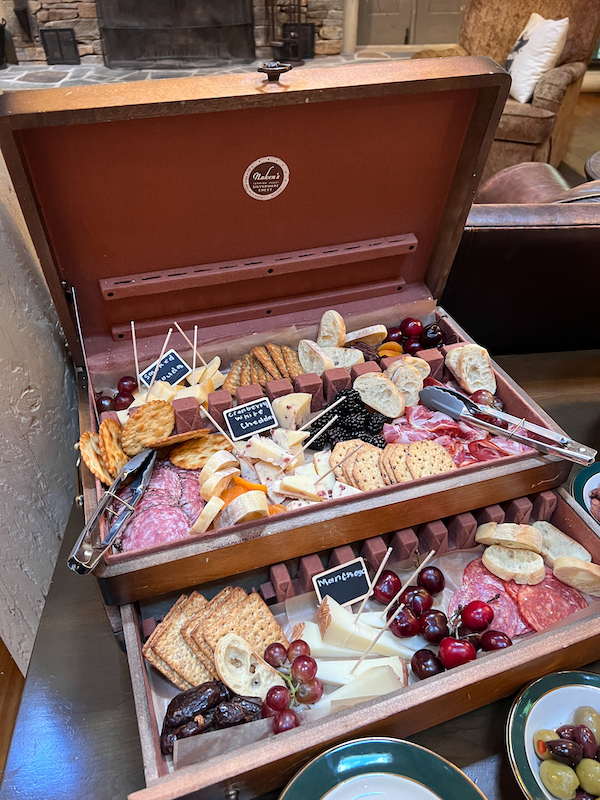 Chef Monda took her time to talk about the different meats and cheeses on the board as well as share about the wine paring.
I love that her passion for food and flavors shines through as she discusses the menu items.
Once we'd taken our place at the dinner table, we were treated to a roasted red pepper bisque with creme fresh immediately followed by a salad.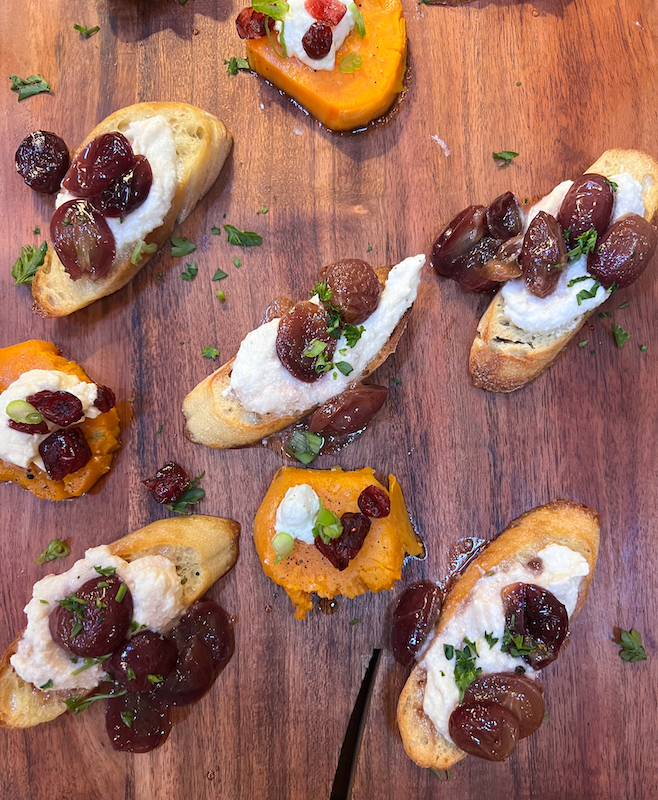 Once the soup and salad dishes were removed, we were served a filet mignon (cooked to our taste preference without judgement) and duck a la orange with a side of asparagus and mashed potatoes.
At the start of each course Chef Monda introduced the course being served and through the meal checked on us to see if we need anything else and always kept our wine glasses topped.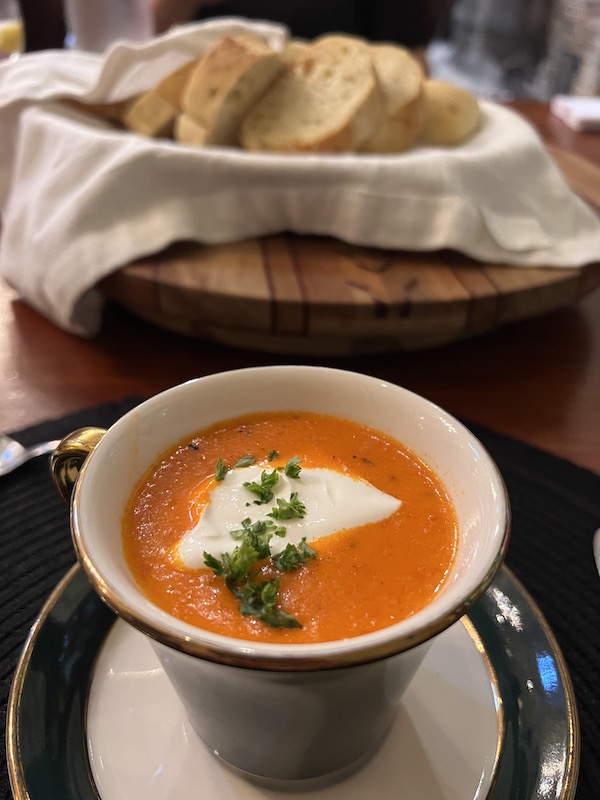 We ended our meal with a classic French chocolate mousse and a sip of homemade Limoncello.
I will say this, if you hire Chef Monda to prepare a multi-course meal for you plan your day accordingly and maybe skip lunch.
The entire experience, from appetizers through the to the end of the meal, was a great way to kick off our adventure in Helen and a much-needed switch from dinning out.
Plus, not having to drive back to the cottage after a great meal is a beautiful bonus!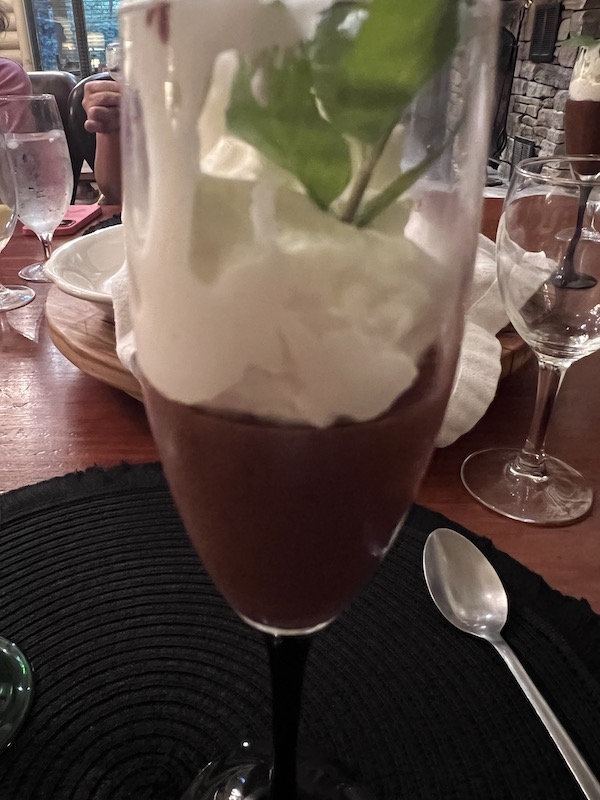 5 Reasons To Hire A Private Chef For Your Helen GA Mountain Vacation
Personalized Meal
This is different than having a restaurant chef leave the onions off your salad or preparing your steak medium rare.
Chef Monda will consider everyone's dietary restriction and likes/dislikes while working with you to craft a customized dinner menu specifically for you and your guests.
Convenient AND Relaxing
I said it before, and I'll say it again. Enjoying a meal, that you didn't have to prepare, at your vacation home is the ultimate luxury.
You don't have to meal plan, shop for ingredients, make the meal or even clean up afterwards. Simply relax into vacation mode and know that dinner is taken care of and will be incredible.
Culinary Expertise
Beyond creating a perfectly palette pleasing meal Chef Monda's culinary expertise extends to wine and/or beer pairings that will complement each course.
She brings an elevated level of experience to the table with her knowledge of food from a classic duck a la orange to an indulgent French mousse dessert.
Local Flavors
A true culinary vacation experience is based on the flavor of the region and Chef Monda excels at incorporating the areas food and wine into your meal.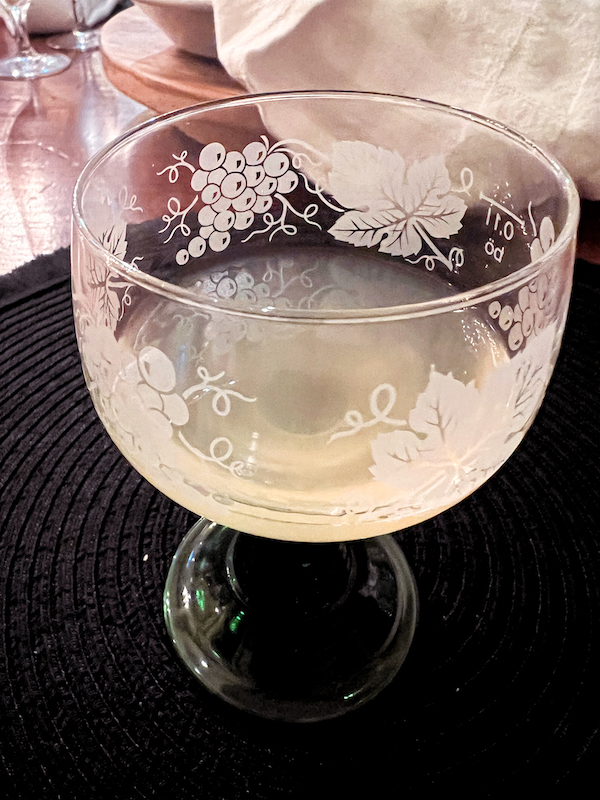 Frequently Asked Questions About Hiring A Private Chef For Your Helen GA Mountain Vacation
Why Chef Monda?
Chef Monda, a graduate of the Culinary Institute of America in Hyde Park, NY adds 35 years of hands-on experience in the restaurant industry and strives to maintain the standards of excellence that go hand in hand with your vision.
Her service is perfect for small intimate gatherings. She can accommodate up to 60 guests and provide services for breakfast, brunch, lunch, afternoon tea, tapas, and cocktail hour, and easy breezy or formal evening events.
Your time and occasion as well as budget are all things considered when booking an event.
Why hire a private chef?
According to Chef Monda there are many reasons for a client to book a "concierge chef" but she believes the number one reason is to have someone come in for any occasion so the host & hostess can enjoy the time with their guests and be pampered in the privacy of their home or vacation rental.
Sometimes all the details can be overwhelming, and it is a pleasure to have a professional come in with staff to take care of them and handle the little details that make an event a joy – not to mention the clean up after. All her clients love the "magic" of having a wonderful time and no clean-up.
How much does a private chef cost?
The cost per person varies depending upon the services needed as well as guest count ranges from $100 – $350 per person.
This generally includes a planning session with the client, product procurement, organization, pre-preparation, rental of necessary items not provided by client or the venue/property location, liability insurance, on site preparation and service staffing.
All costs should be broken down in a transparent contract for clients' pre-approval.
How far in advance should you book a private chef?
The sooner the better to guarantee your date is available. Some book 6 months in advance as well as within 1 month.
In a pinch, some chefs can probably be ready within 2 weeks, but I wouldn't recommend that route.
Note that if it is an event over 10 guests, I strongly recommend advance booking so that products and staffing services can be secured.
How to contact Chef Monda and what information does she need?
Date and Time of event
Estimated number of guests
What they are envisioning for the party
Contact number.
Pin To Pinterest