Mackinac Island is a great place to spend your vacation. There are so many free things to do on Mackinac Island you might just be surprised by what there is to do on Mackinac Island.
You don't have to spend a fortune when visiting the island. There are so many free things to do on the island.
Of course, my favorite is hiking and spending time in the state park, but there are a number of free things to do in addition to the park.

Free Things To Do On Mackinac Island
This is a list of 13 free things to do on the island. Many of these you can probably see and do in a day, but if you have two days it would be even better.
There are a number of places to stay on the island. A bucket list stay at the Grand Hotel should happen for everyone at some point.
There is also Mission Point Resort that is a nice stroll from the docks and a great place to stay.
If you are looking for something a bit cozier, but still downtown, check out the Pine Cottage Bed and Breakfast.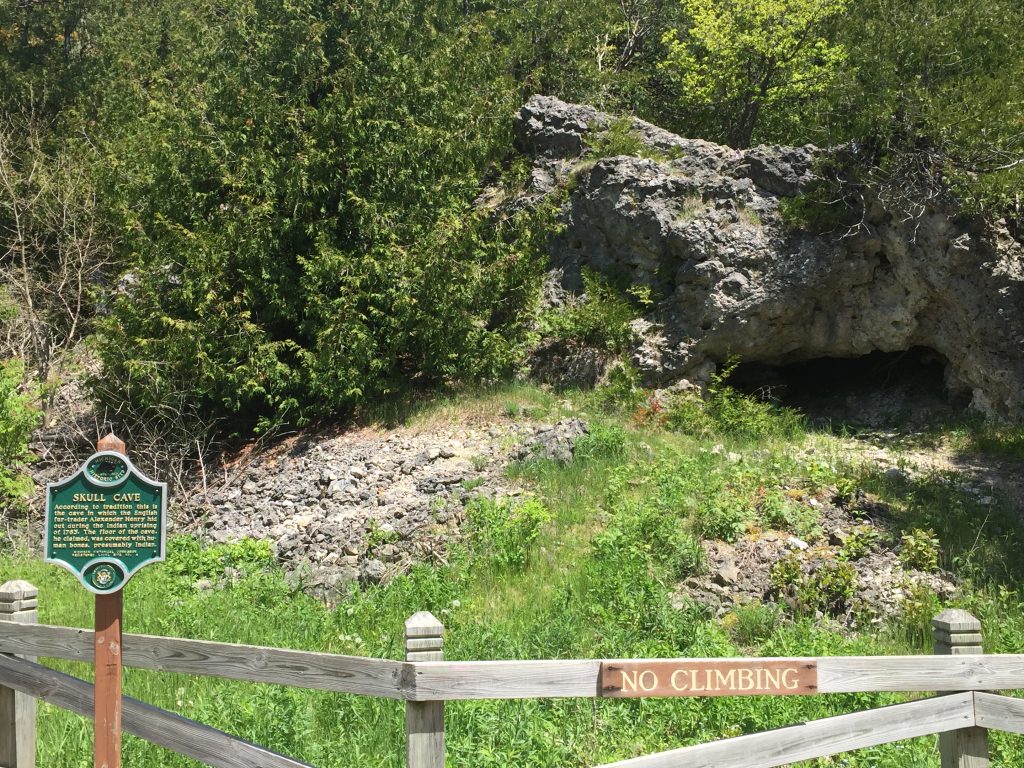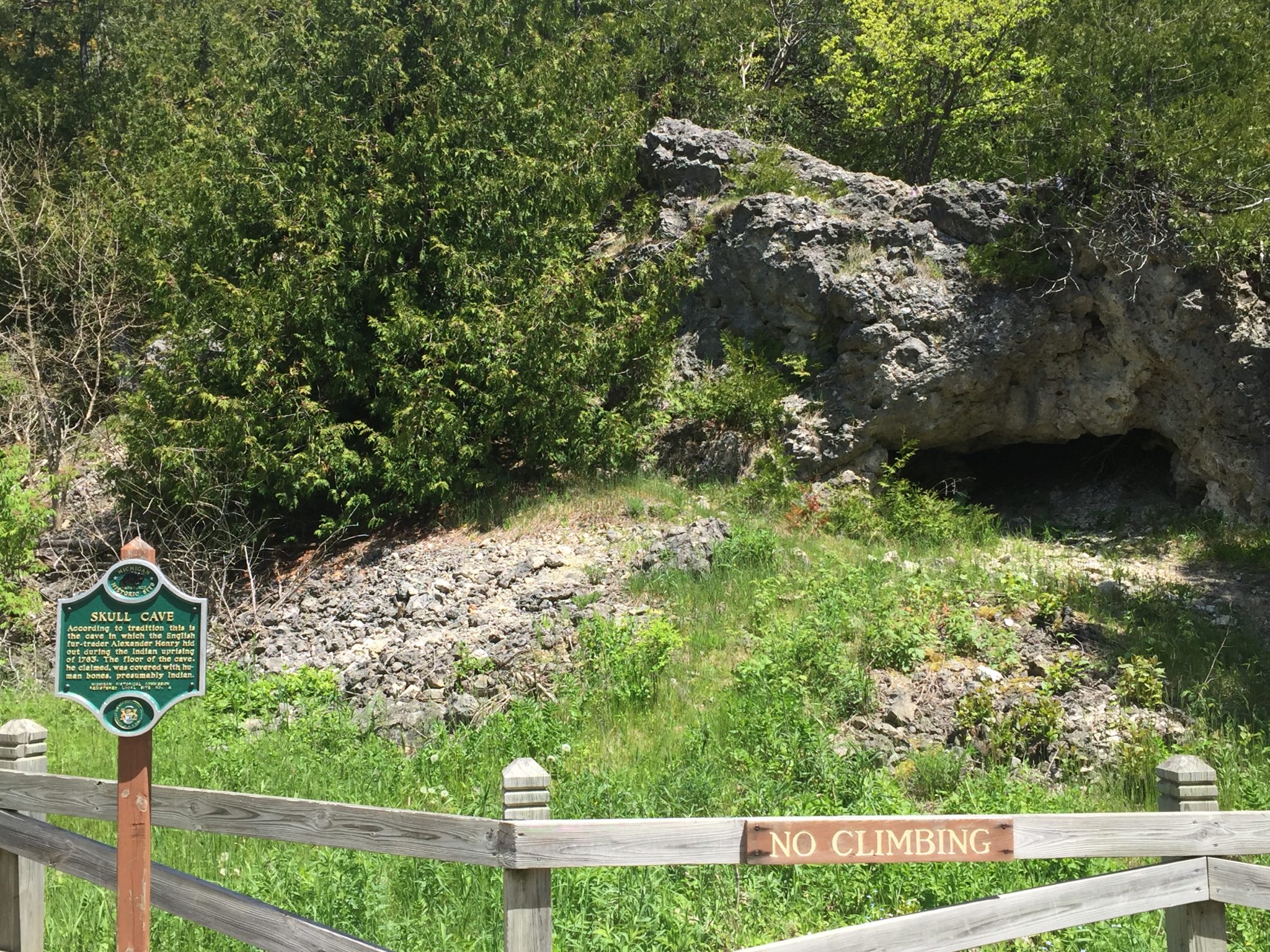 Visit Skull Cave
A small cave that is fenced off. You are not allowed to go inside the cave, but it's still a cool spot to visit.
It is believed to be the burial ground for Native Americans and also a hiding spot for a fleeing fur trader.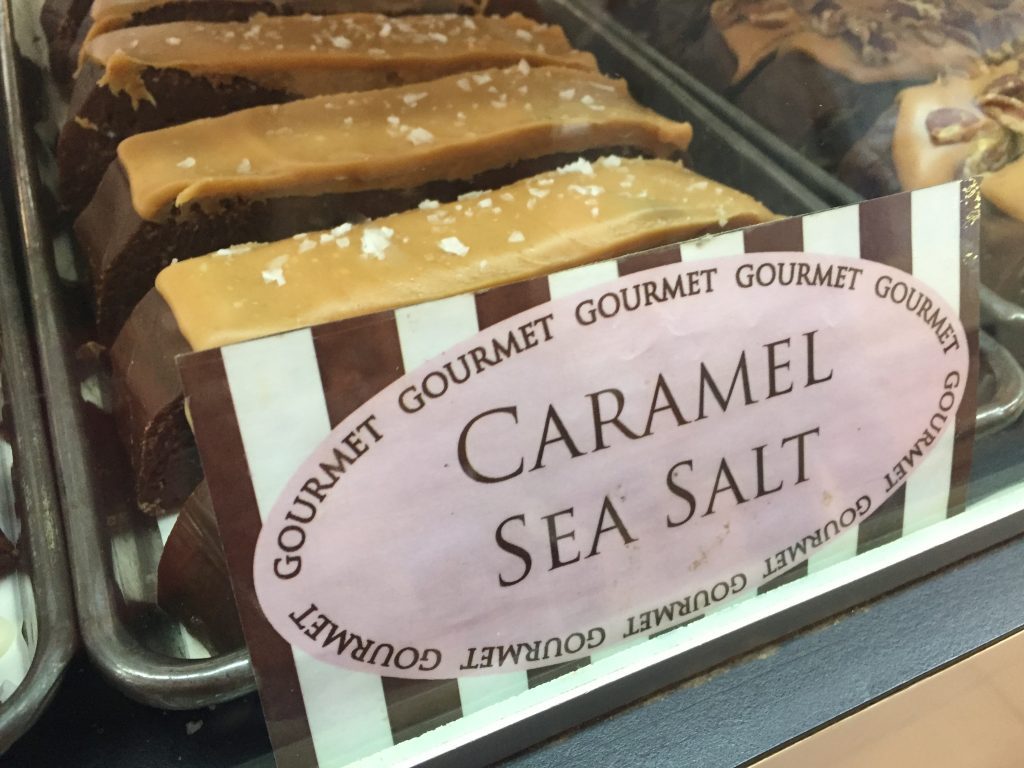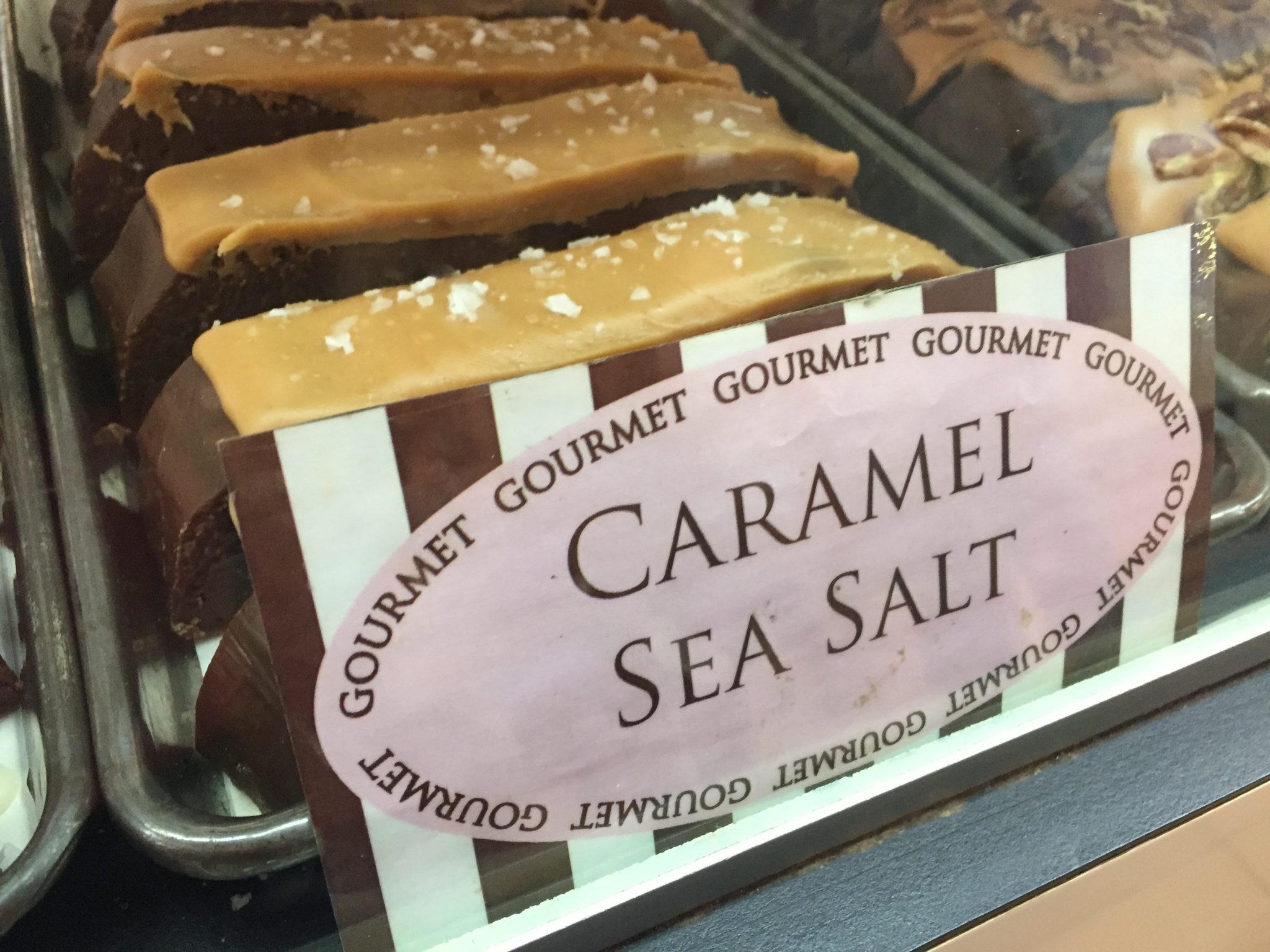 Take a Fudge Tour
Each of the 15 fudge shops on the island offers free samples. Stop at each of the stores to try this famous Mackinac Island treat.
The Caramel Sea Salt is my favorite, but they have something for everyone, including sugar-free fudge and vegan fudge!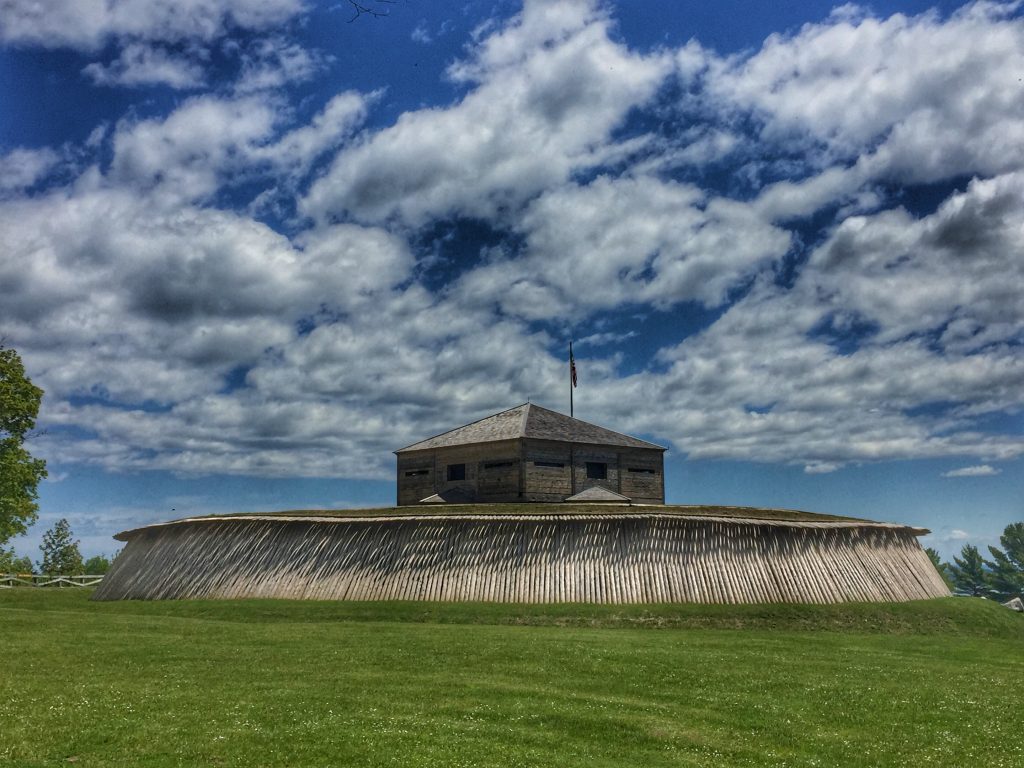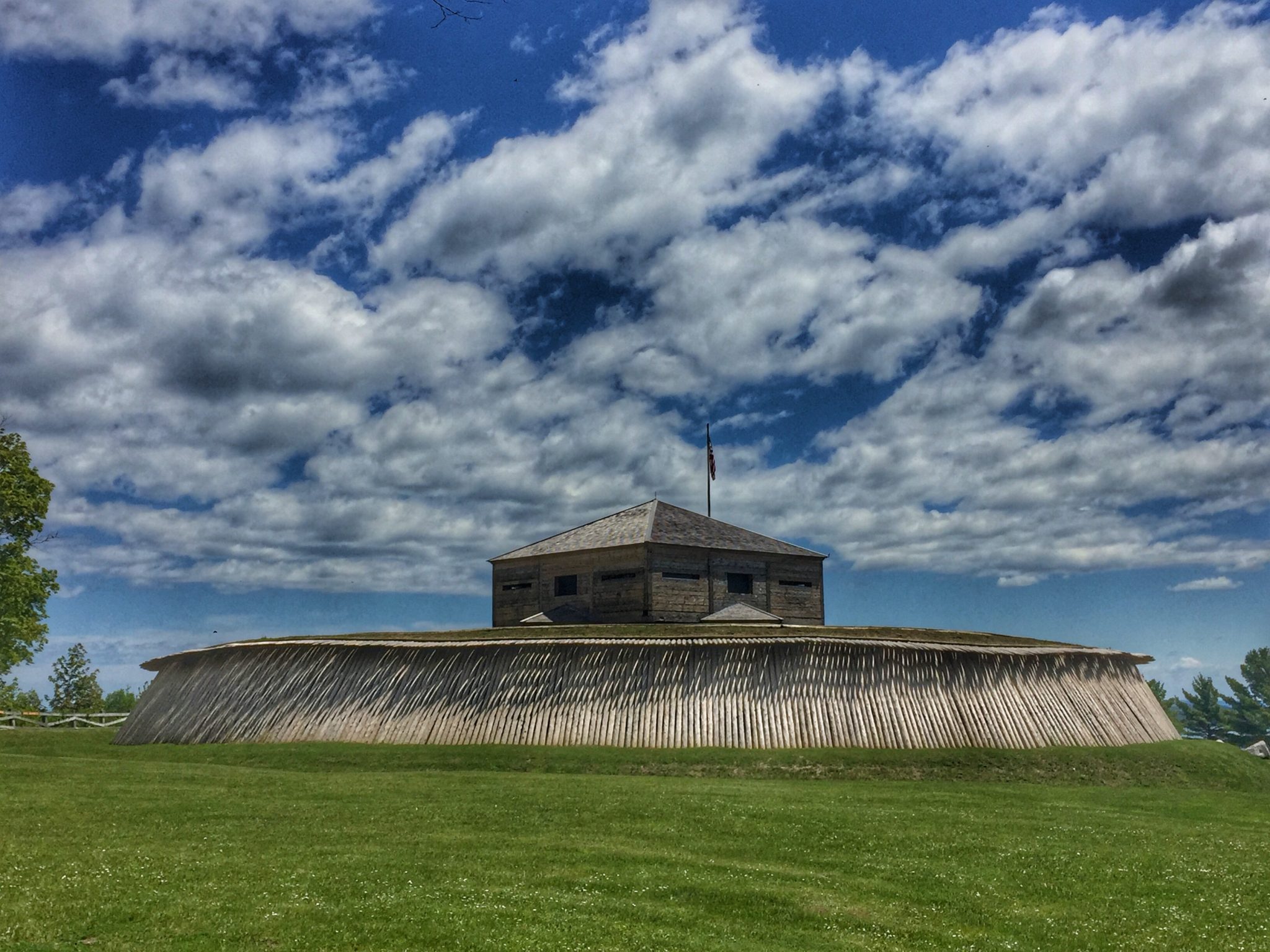 Hike to Fort Holmes
Fort Holmes is part of the Fort Mackinac Historic State Parks and is located on the highest point on the island.
Be prepared to climb a lot of steps, but it's well worth it.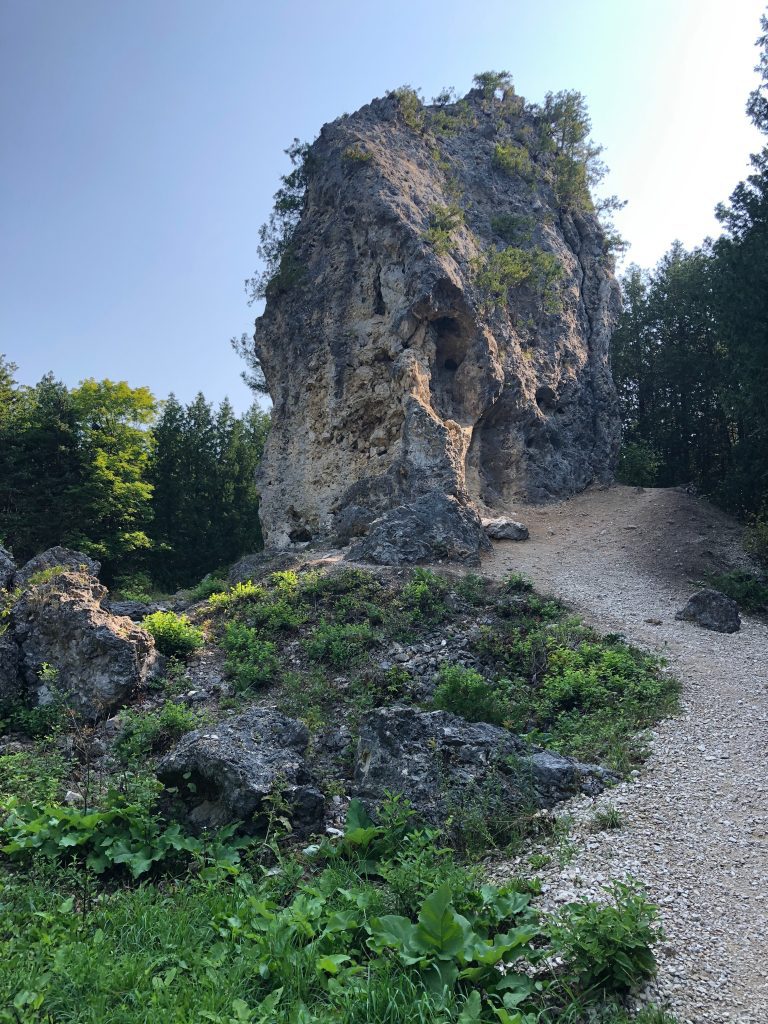 Walk Around Sugar Loaf
This 75-foot tall rock stands strong in the middle of the island. View it from a distance before moving closer and seeing this massive rock up close and personal.
There is a trail all the way around the rock you'll want to walk.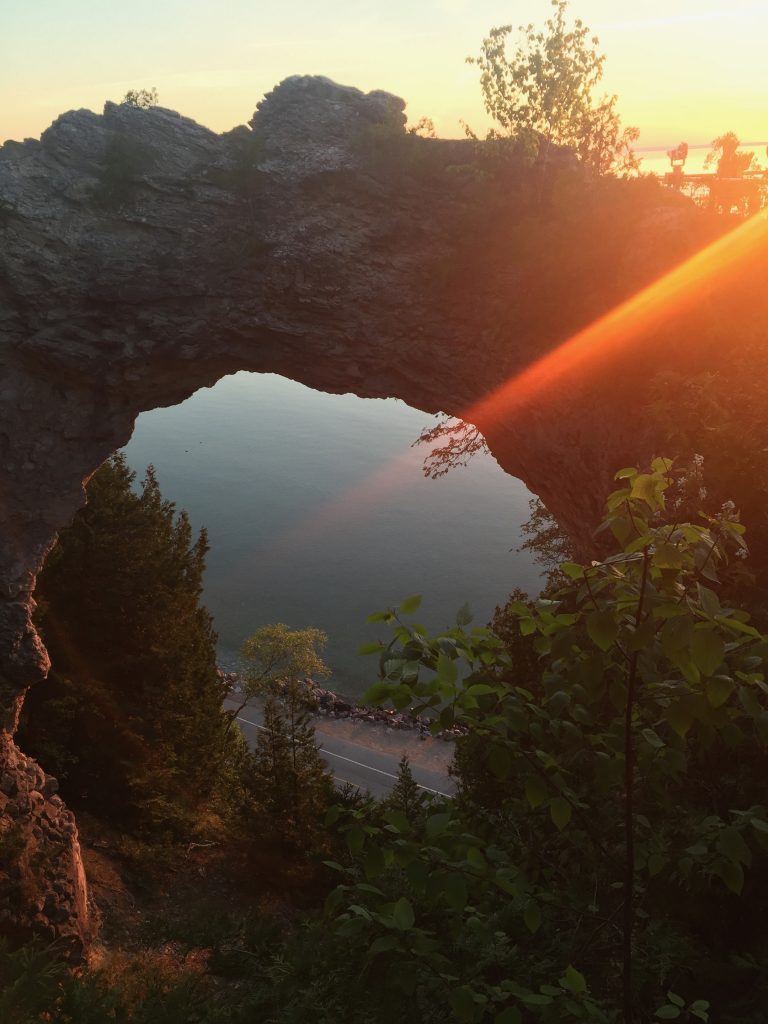 Photograph Arch Rock
This is the most popular scenic stop on Mackinac Island. Go at sunrise for some gorgeous, perfect light, images.
If you are walking to Arch Rock from the ferry docks its a bit of a hike, but worth it.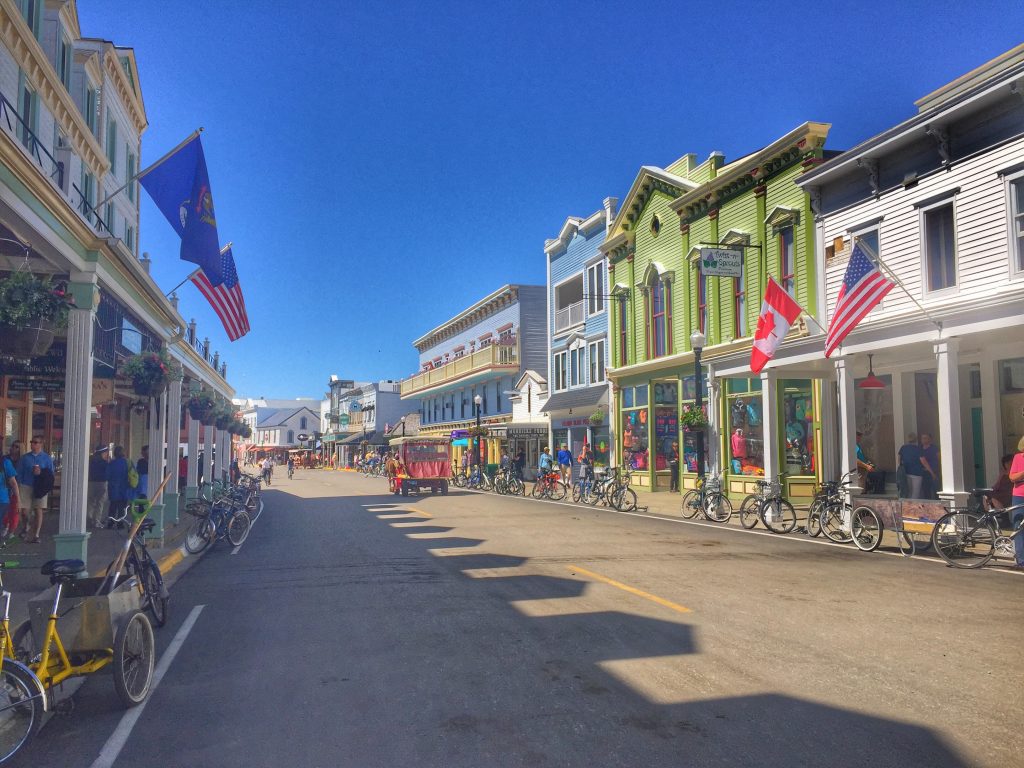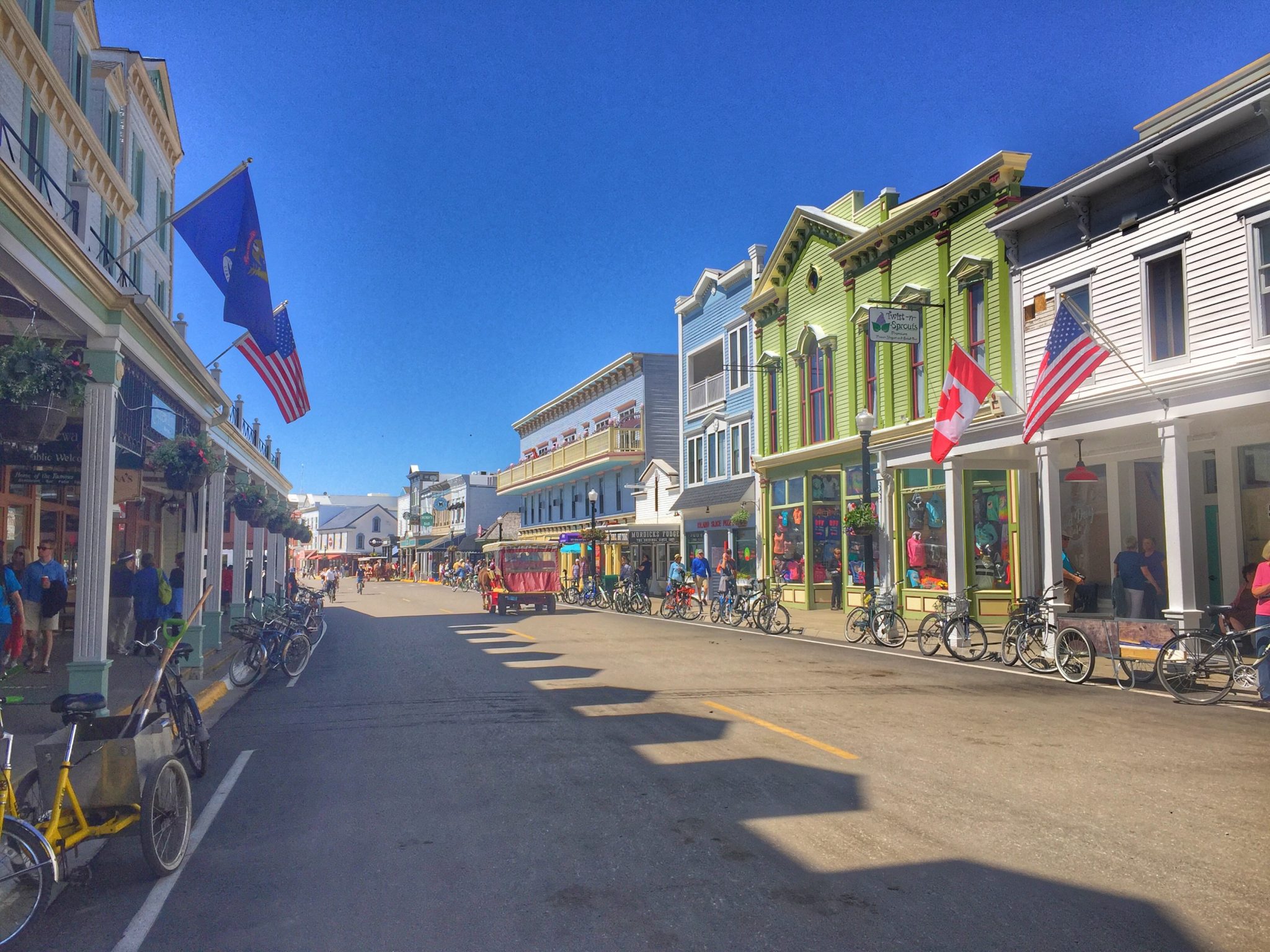 Go Window Shopping
Stroll along Main Street and window shop for souvenirs. Main Street is just a couple of blocks long.
Be sure to walk over a block and stroll along Market Street as well.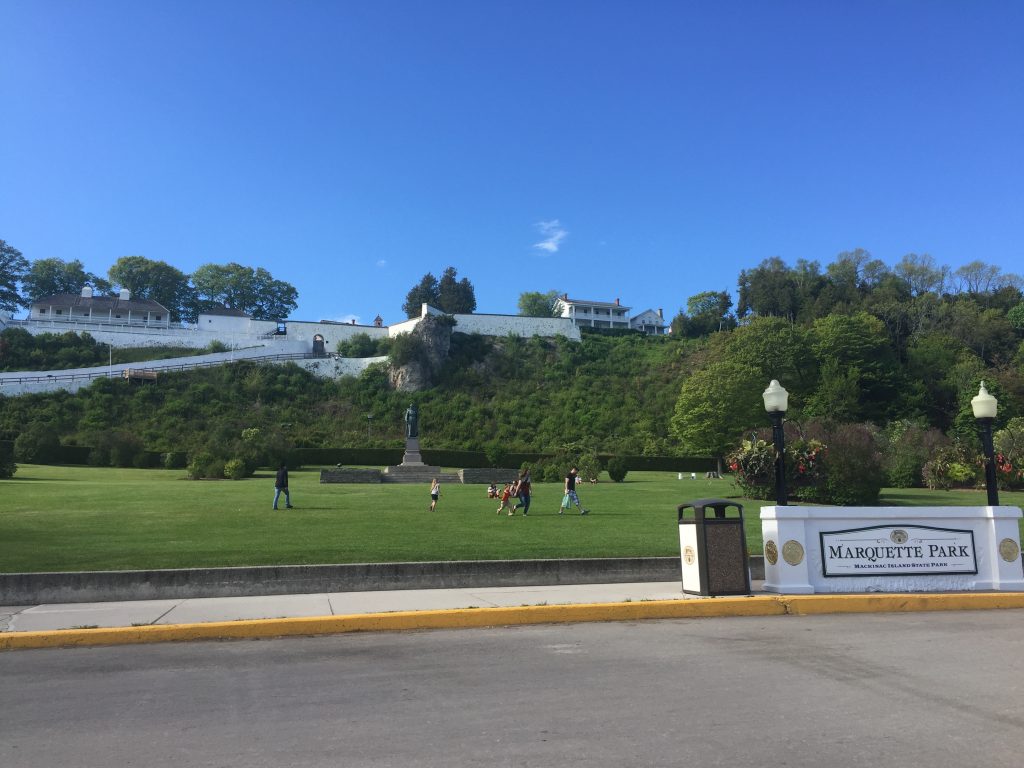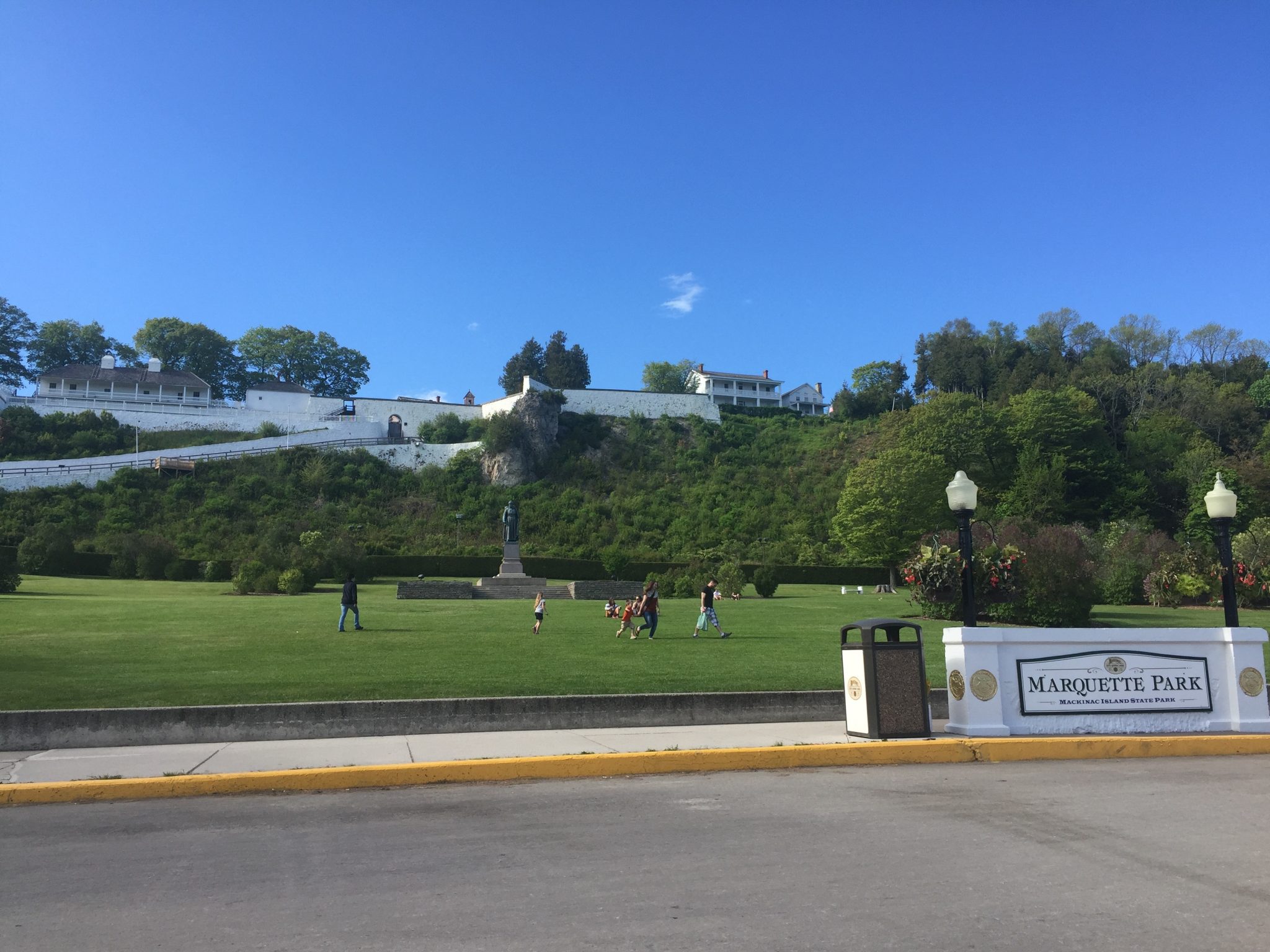 Fly A Kite
This is a great green space for flying a kite. Located at the base of Fort Mackinac it makes a great backdrop for kite flying.
The waterfront lawn at Mission Point is another great spot to fly a kite.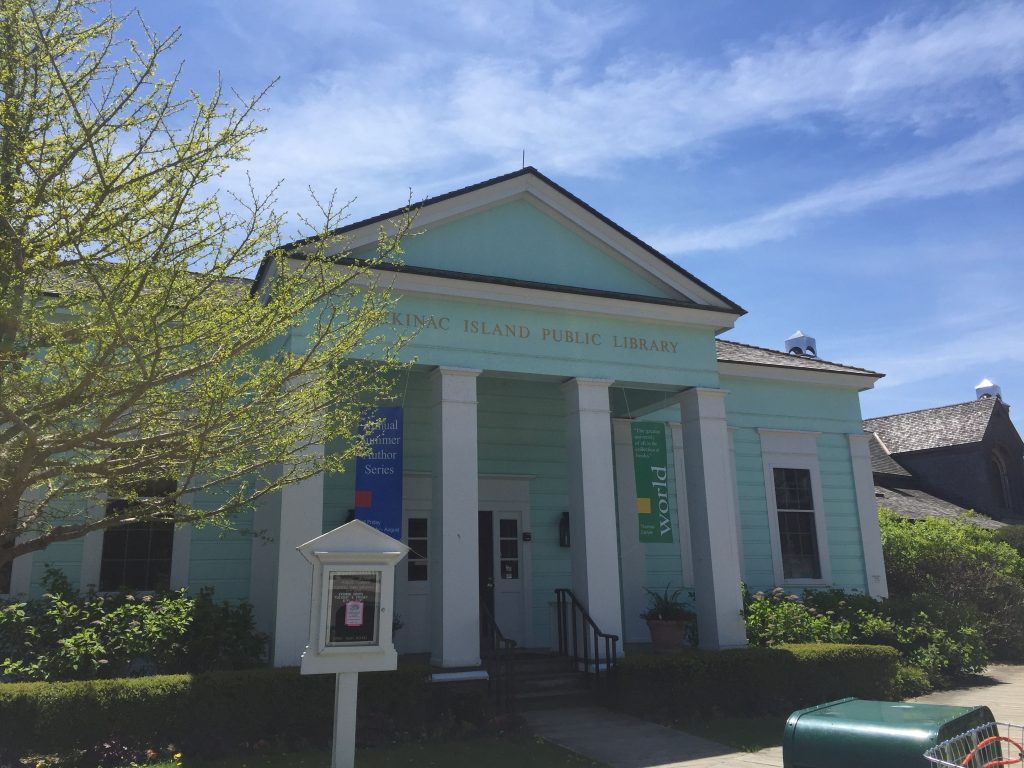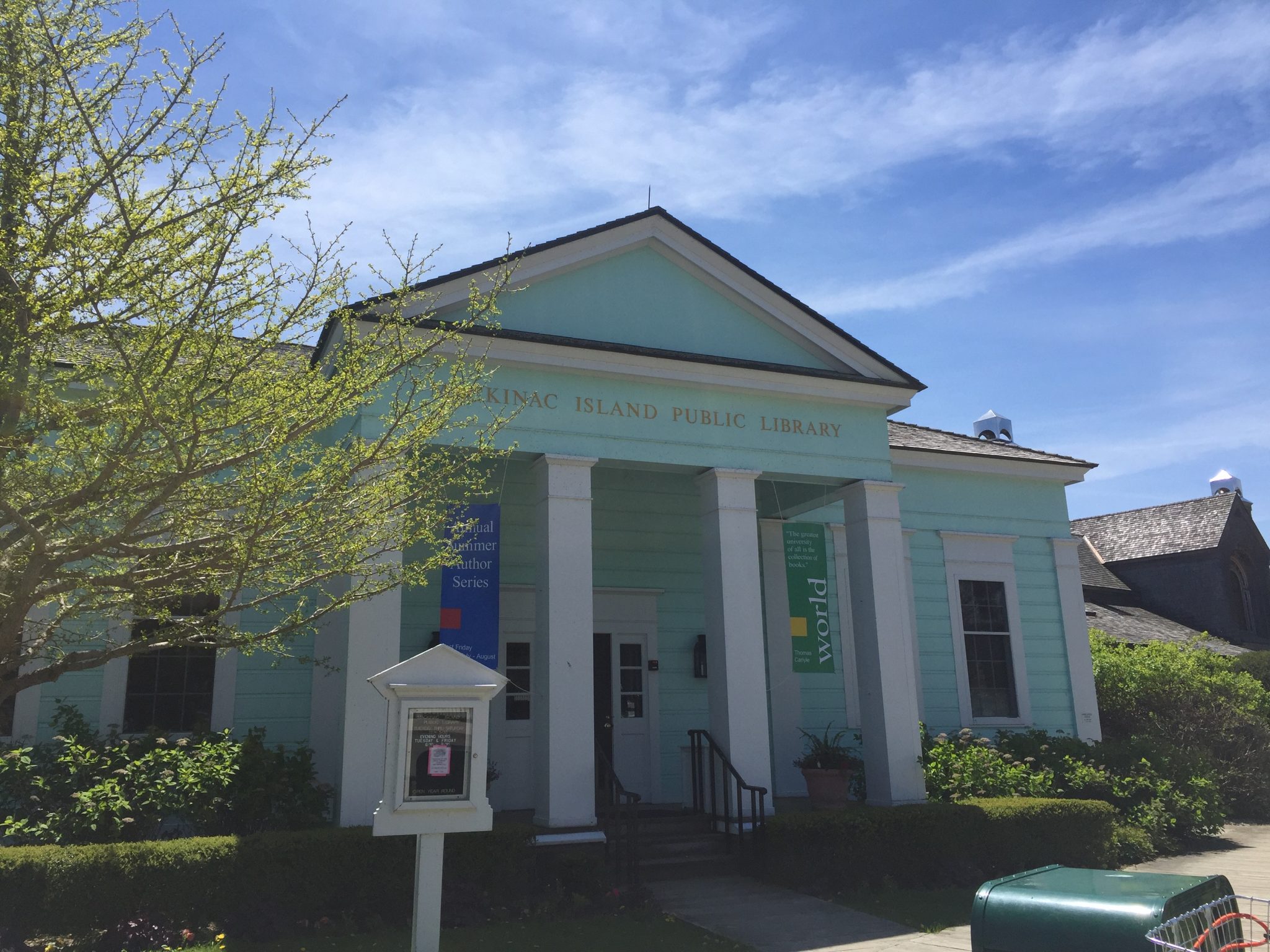 Visit the Library
One of the best free views on the island is from the back deck of the library.
It's kind of small with just a couple seats, but if luck is on your side you can snag a seat and watch the freighters and ferries move through the straights.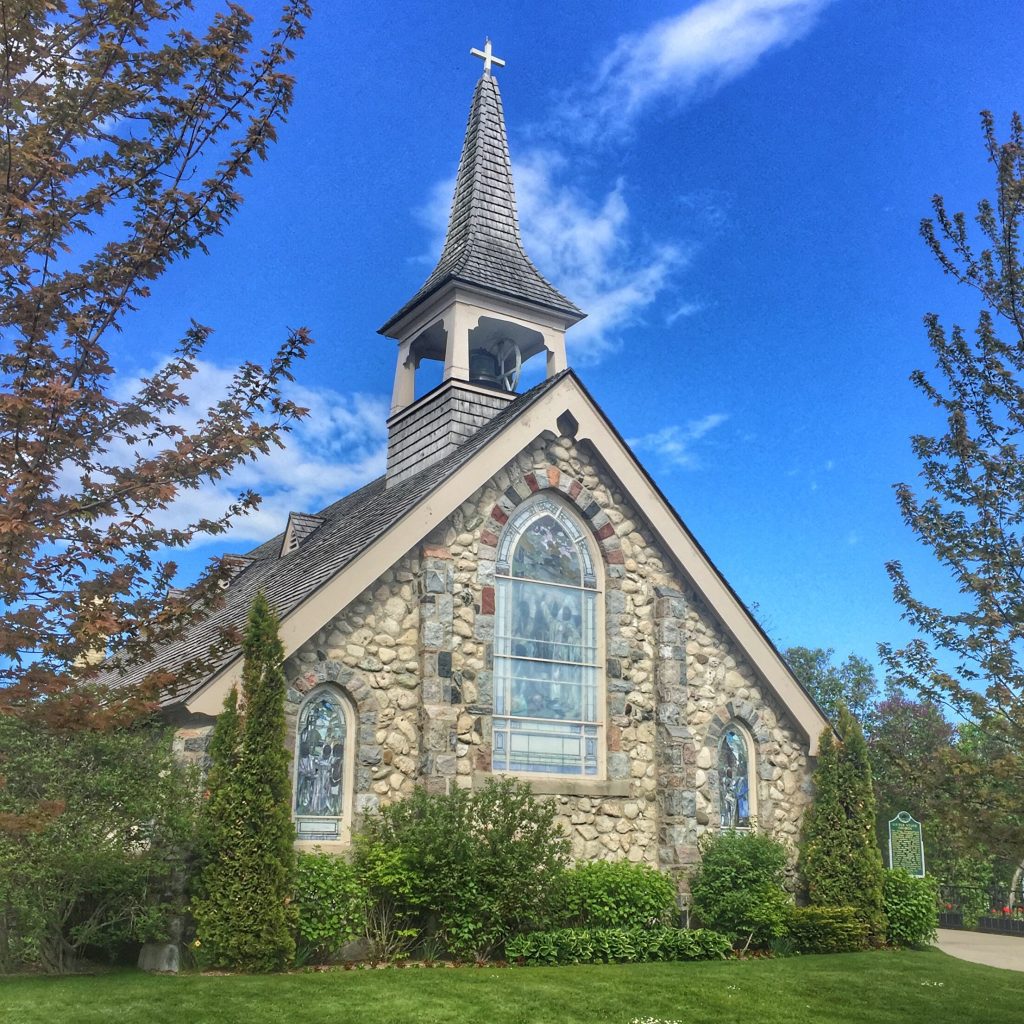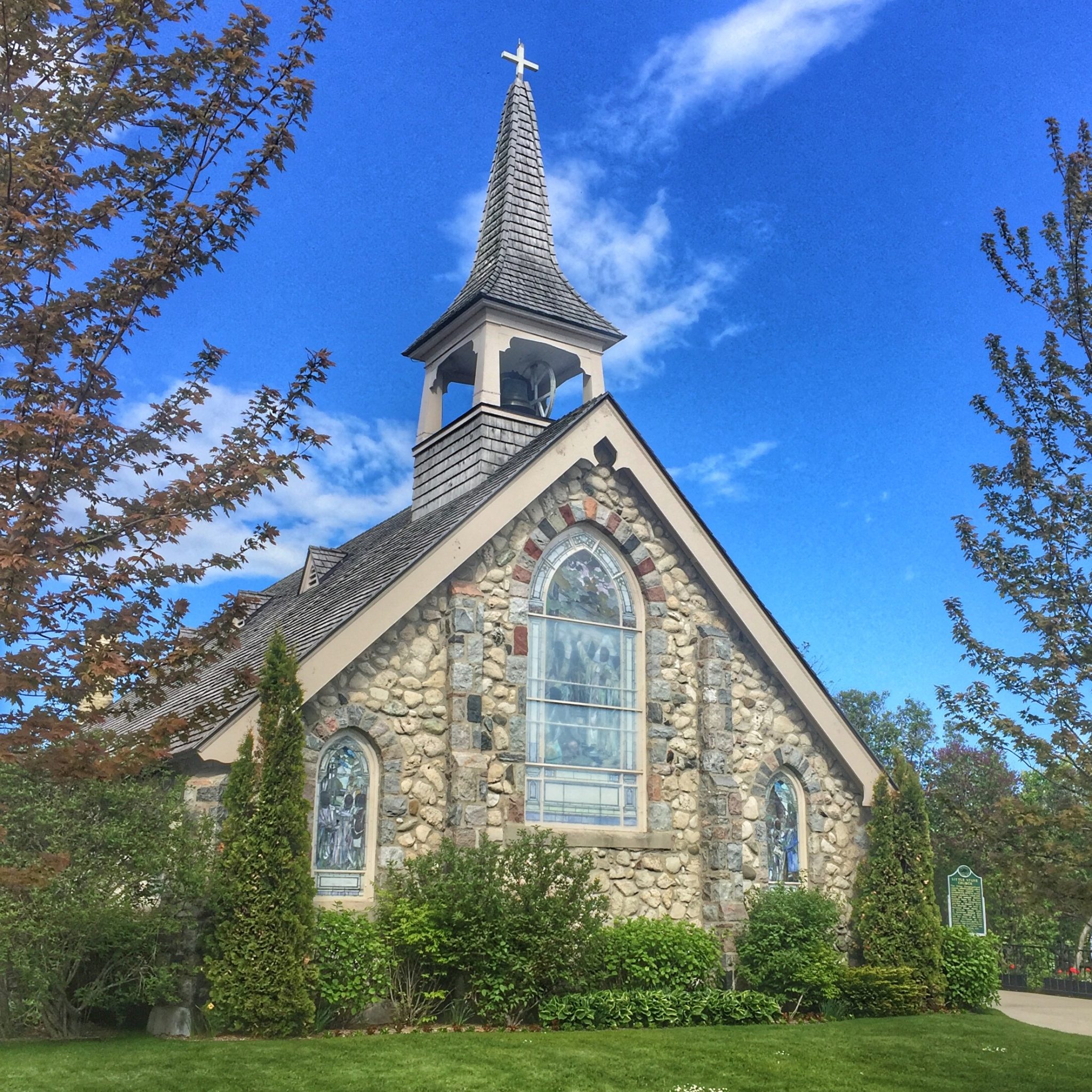 Go To Church
The Little Stone Church was built of local fieldstones in 1904. It still serves as a place of worship and hosts Sunday services every week at 10:30 which may be the only time you can step inside.
However, if you're there during the week its worth a try to see if the doors are unlocked.
There is also a historical marker out front on days the church is closed.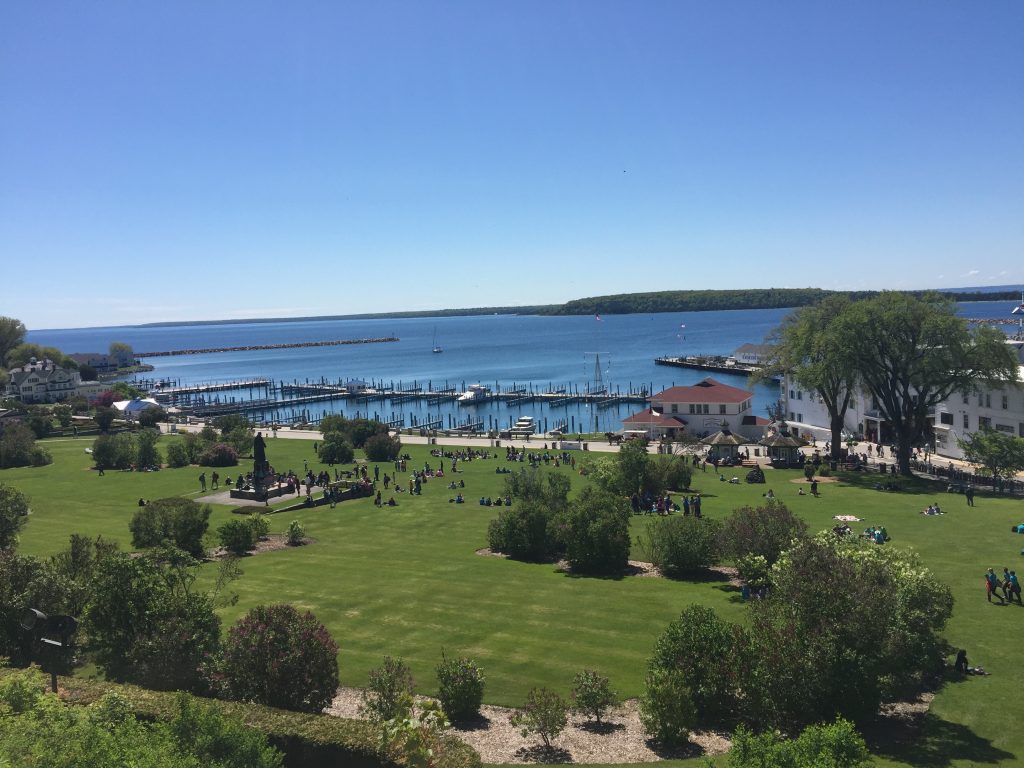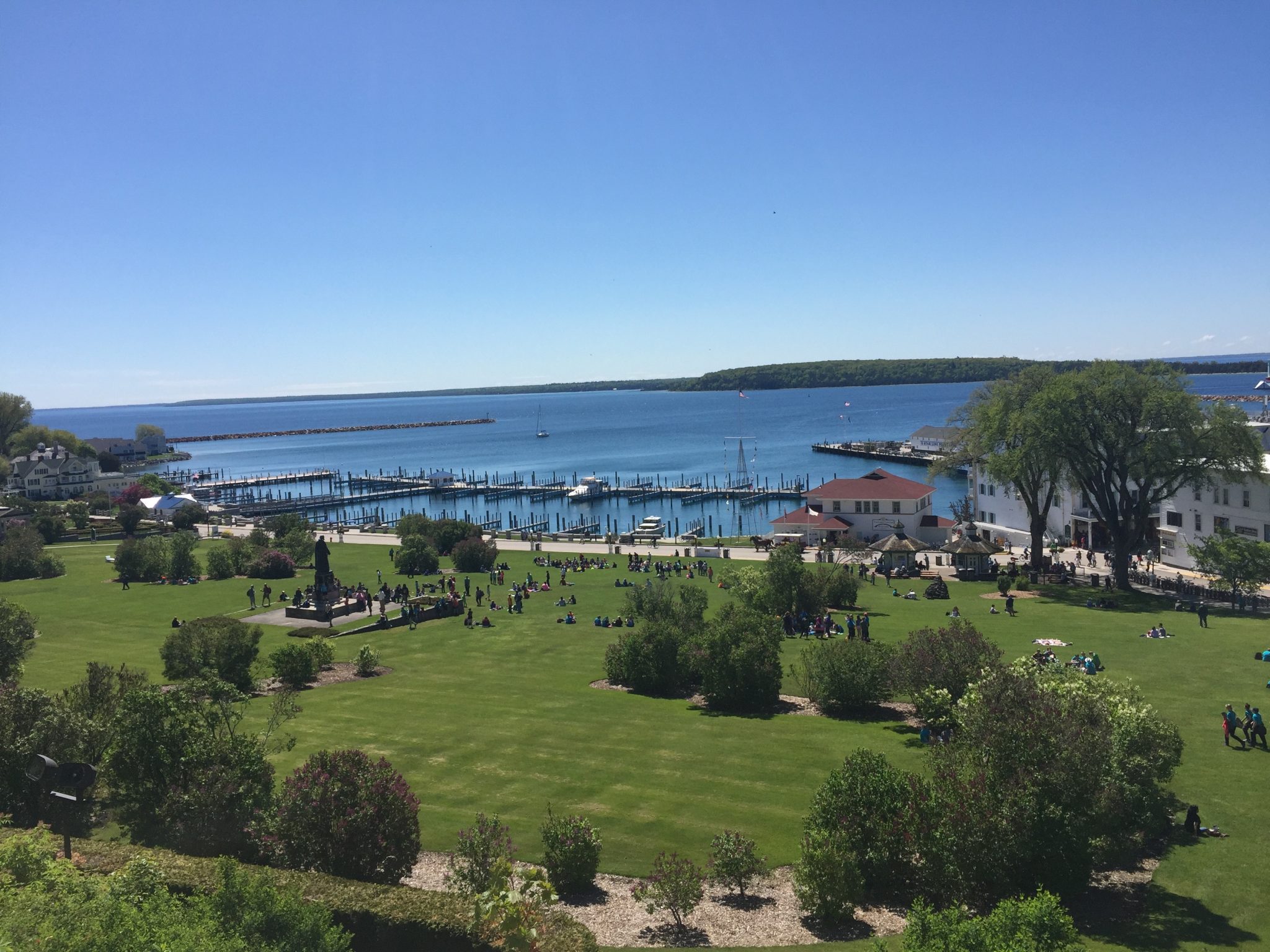 Concert at the Park
Throughout the summer there are free concerts in Marquette Park on Thursday nights.
Pack a chair or toss a blanket on the ground and enjoy an evening of free music.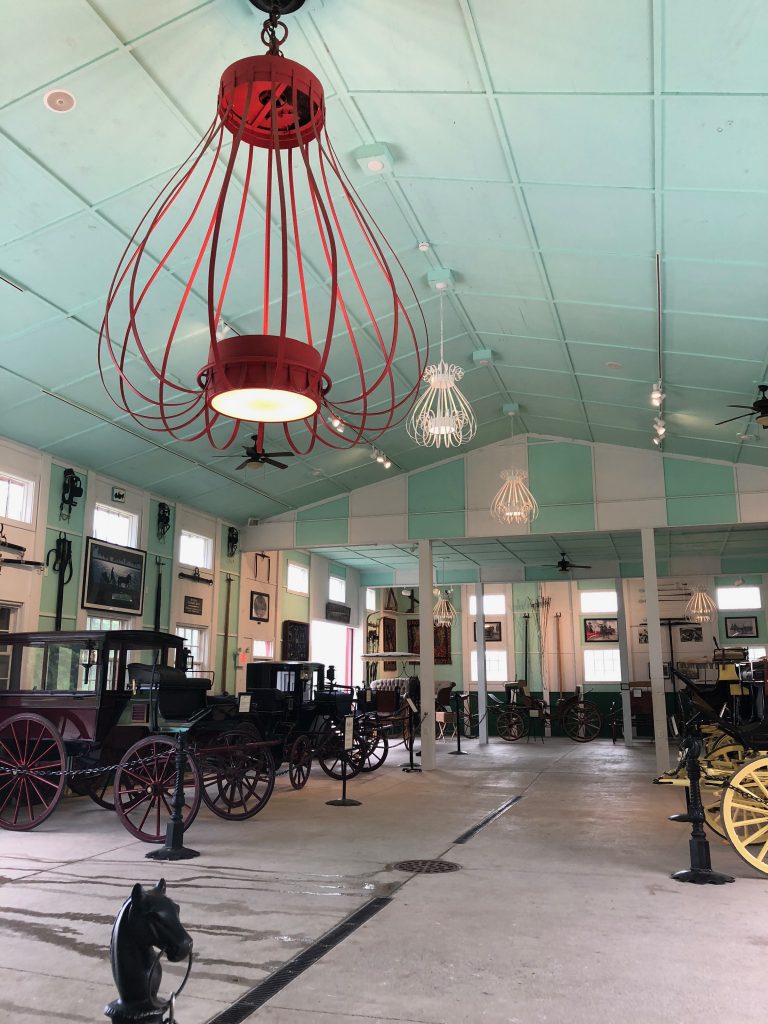 See the Chandelier in the Grand Hotel Horse Stables
The Grand Hotel Horse Stable is gorgeous and has a pretty epic chandelier in it.
While you're there you can visit the horses, see a history of carriages and, best of all, it's all free.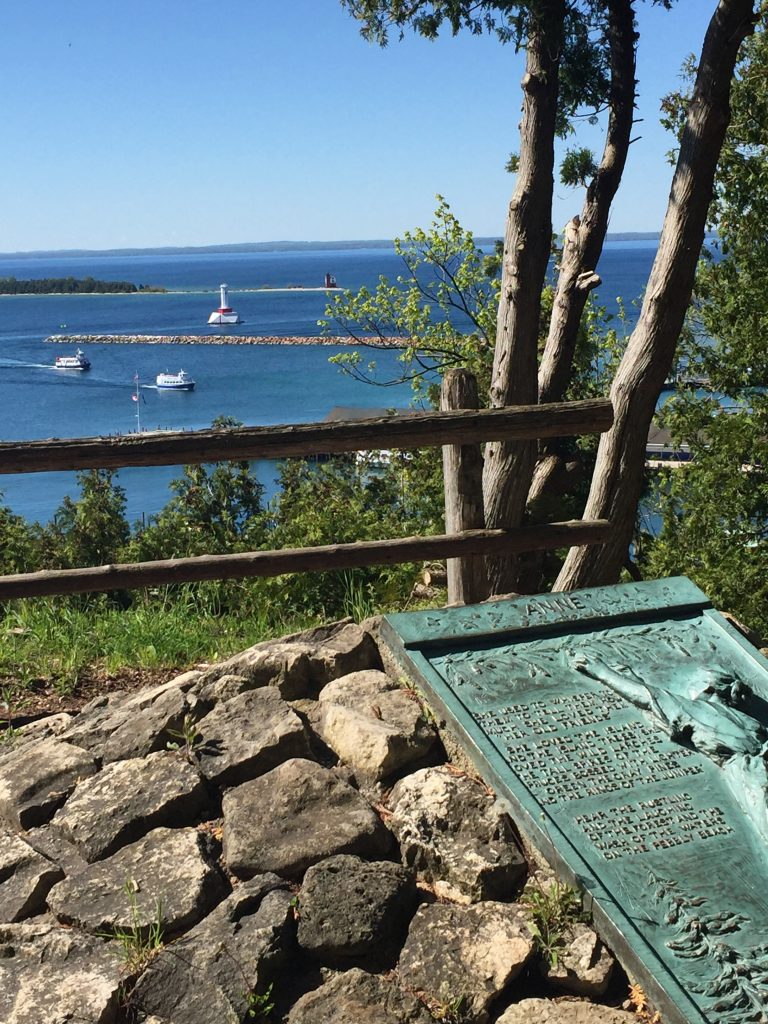 Visit Anne's Tablet
Anne's Tablet is a tribute to author Constance Fenimore Woolson who spent her childhood summers on the island and became a well-known, early 19th-century author.
You'll find the tablet at a great overlook of the Straits, near the Mackinac Fort administrative offices.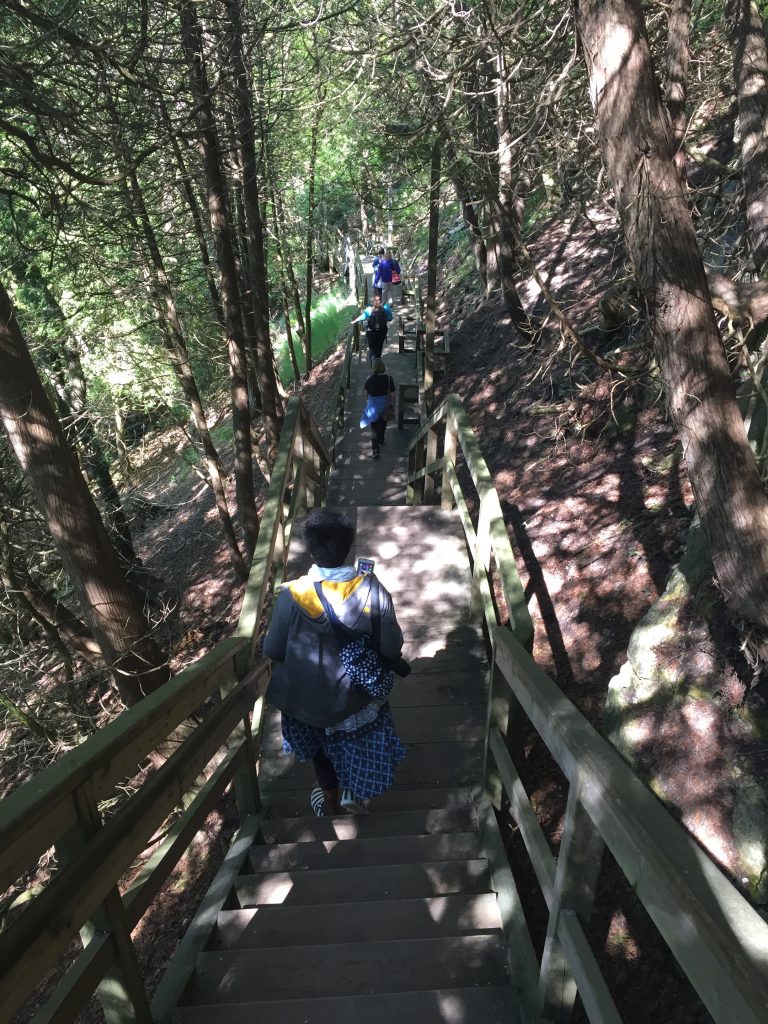 Take A Hike
Mackinac Island is 75% state park and has a number of pretty fantastic hiking trails. You can easily spend an entire day exploring the island on foot.
There are so many other things to do on the island, but this is a great way to explore the island without spending a lot of money.
Pin Free Things To Do On Mackinac Island to Pinterest