Garvan Woodland Gardens in Hot Springs, AR is a beautiful respite from the busy bath house district of historic downtown. The gardens are located just outside of town on 210 wooded acres and are well worth a visit. Arriving at the gardens you'll enter through the visitor's center (be sure to check out the water features near the entrance) where you can get a map of the gardens and if you'd like to opt for the golf cart tour (additional fees apply).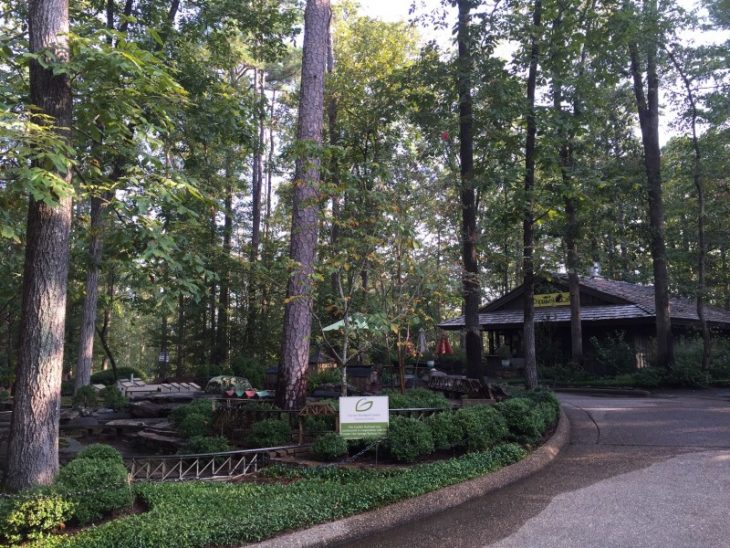 Chapel At Garvan Woodland Gardens
In my opinion, one of the best attractions at the gardens is the Anthony Chapel. Designed by Maurice Jennings & David McKee and constructed in 2006, the chapel is all wood, glass, and light and is very Frank Lloyd Wright inspired. Stepping inside the chapel is like an experience in itself. I can see why this is a popular destination for weddings, concerts and other events.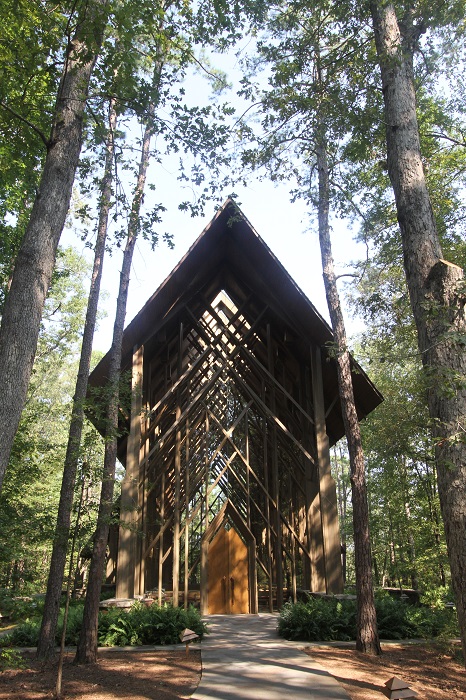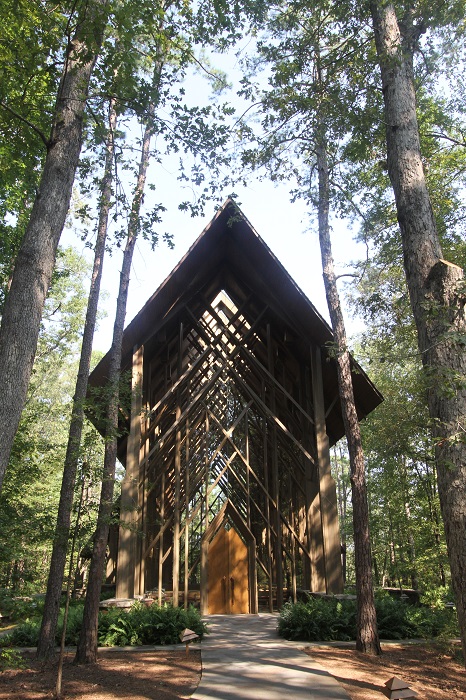 The inside peak reaches a stunning 55 feet tall and is an impressive display of architecture being one with nature.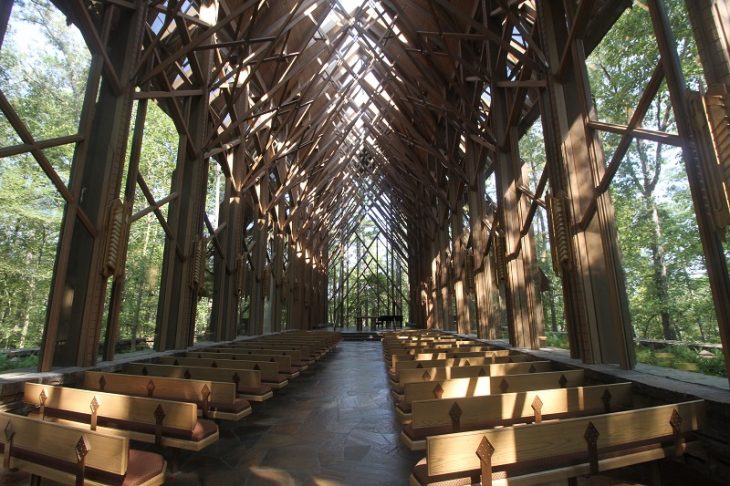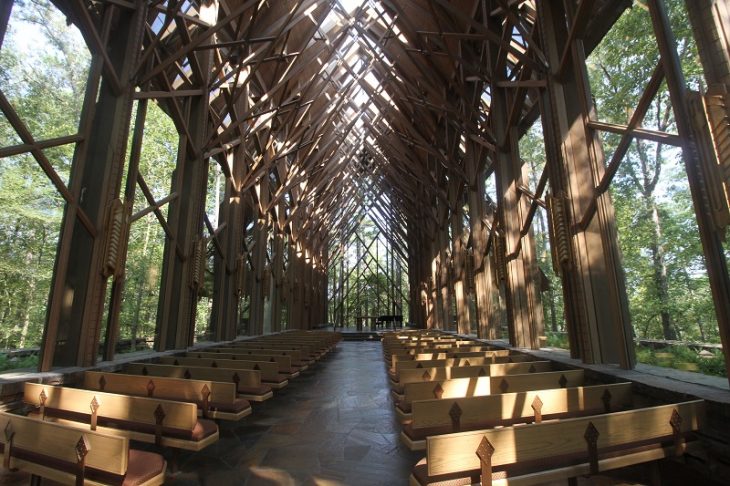 Bigfoot At Garvan Woodland Gardens
There are so many other great things about Garvan Woodland Gardens. There are 13 man-made water features, views of Lake Hamilton, a fairy garden, bonsai gardens, Japanese gardens, a number of interesting bridges and BIG FOOT! Yes, you read that correctly. Big Foot has been hiding out at Garvan Woodland Gardens and I have photographic evidence.

See, I told ya. I don't know if he'll still be there when you visit, but if he is be sure to get a photo of him!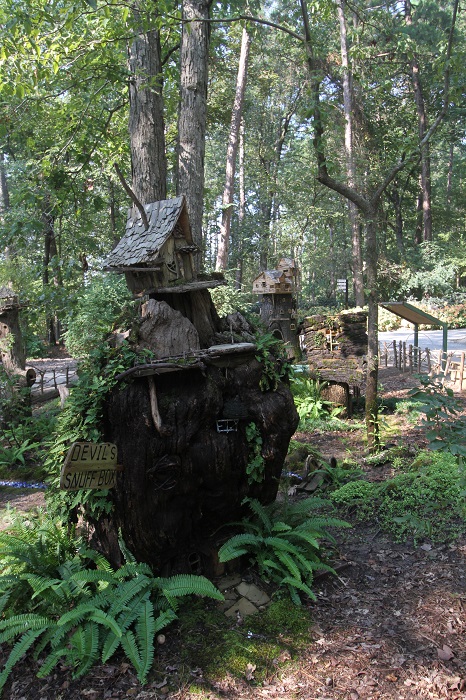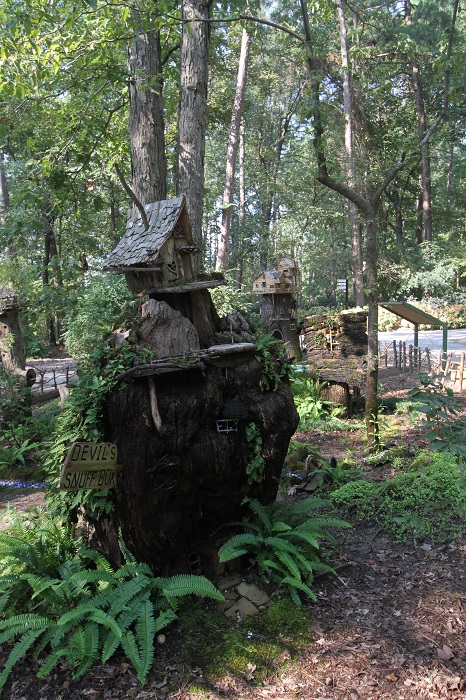 Fairy Gardens At Garvan Woodland Gardens
The fairy gardens are absolutely delightful with numerous fairy houses and is sure to delight children of all ages. The house names are very fitting for fairies and one house even has a fairy living in it….look around long enough and you may be lucky enough to spot it as well.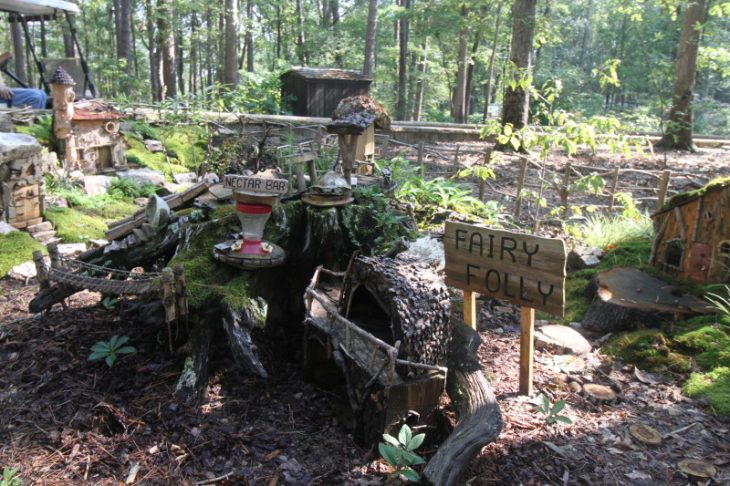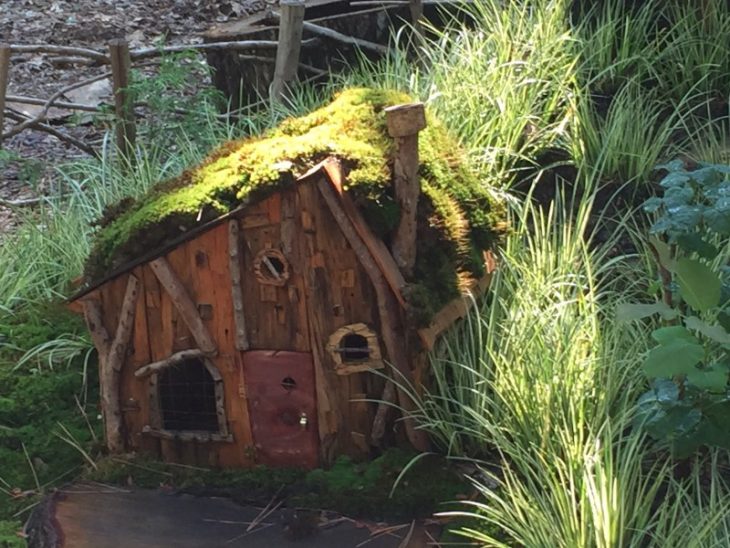 Be sure to make a cute video of searching for fairy doors.
Water Features at Garvan Woodland Gardens
The water features are impressive at the gardens and I could have spent all day photographing all the features. This is the largest waterfall at the gardens and is a great place to sit and relax for a spell.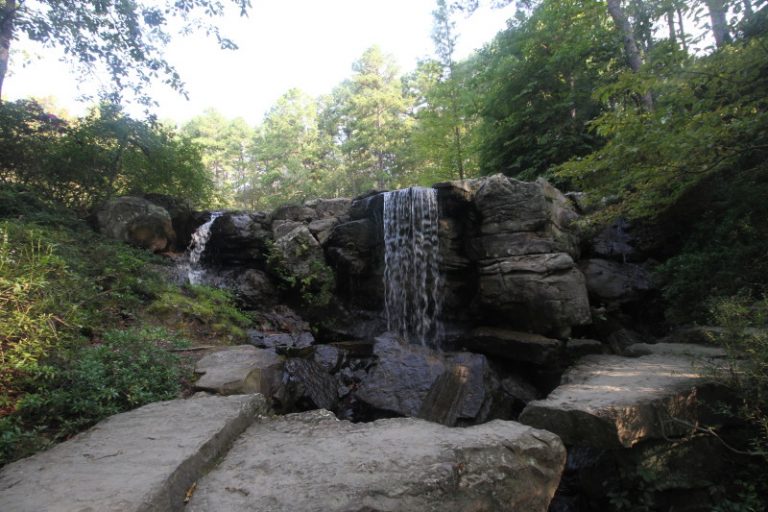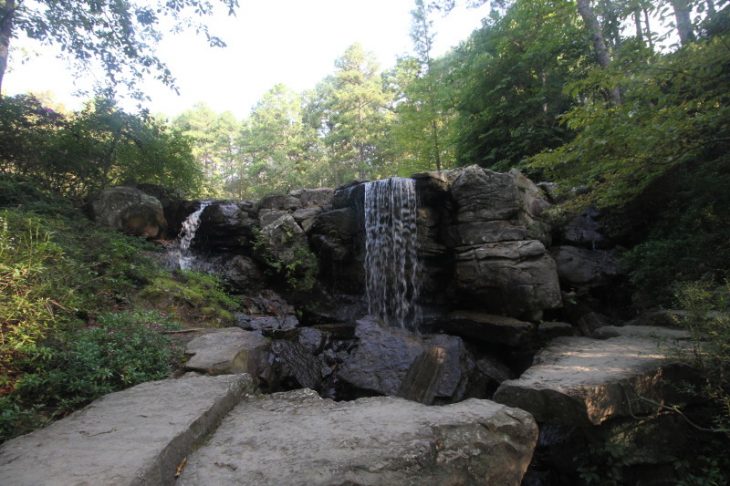 Views of Lake Hamilton peek through the trees as you wander through the gardens.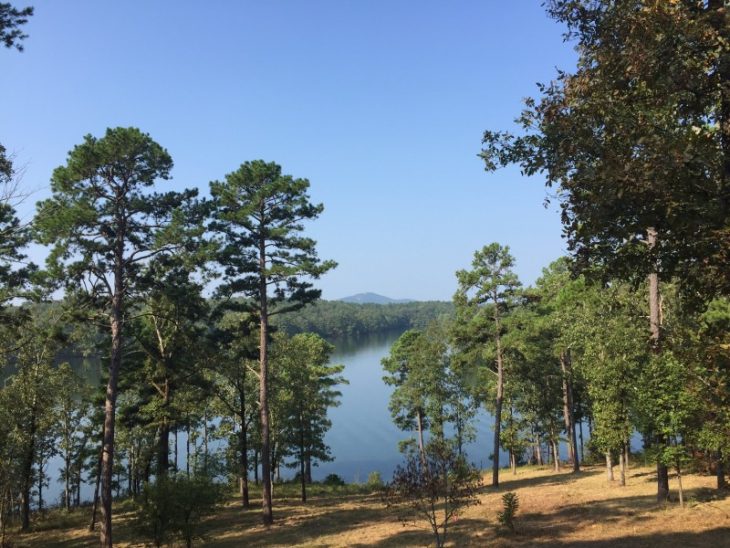 Gardens at Garvan Woodland Gardens
The gardens is home to more than 160 different types of azaleas, hundreds of rare shrubs and trees, including camellias, magnolias. Japanese maples and tree peonies also adorn the Japanese garden which is the 5th best Japanese garden in North America.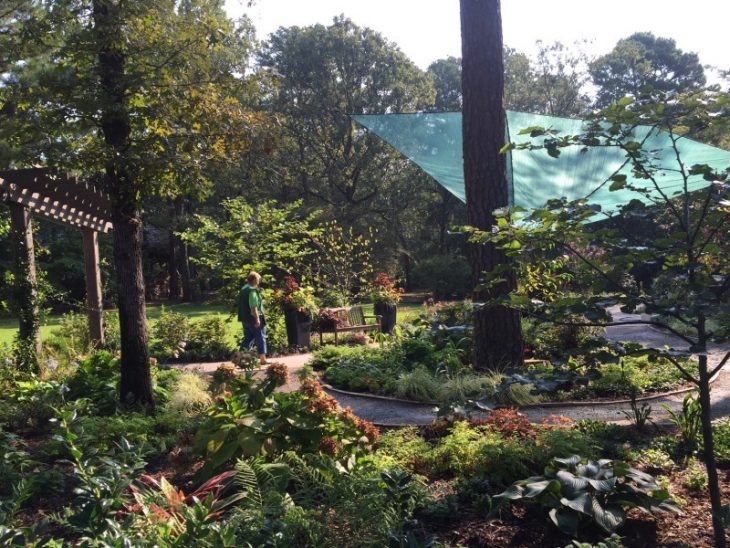 Bridges at Garvan Woodland Gardens
I loved all the bridges around the property. My favorite is the Millsap Canopy bridge, but the Bridge of the Full Moon is also pretty cool.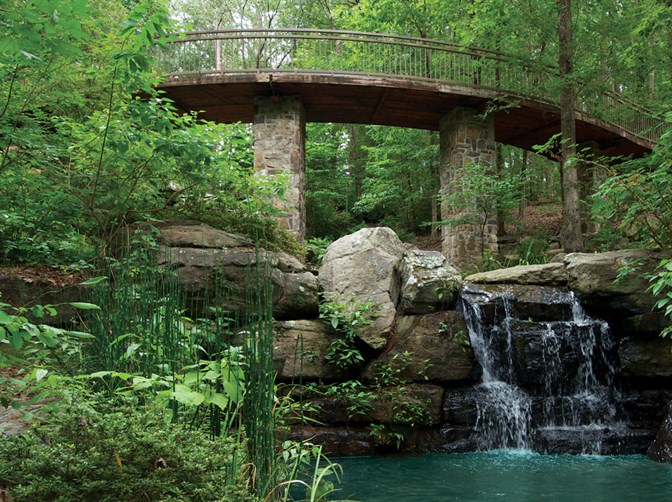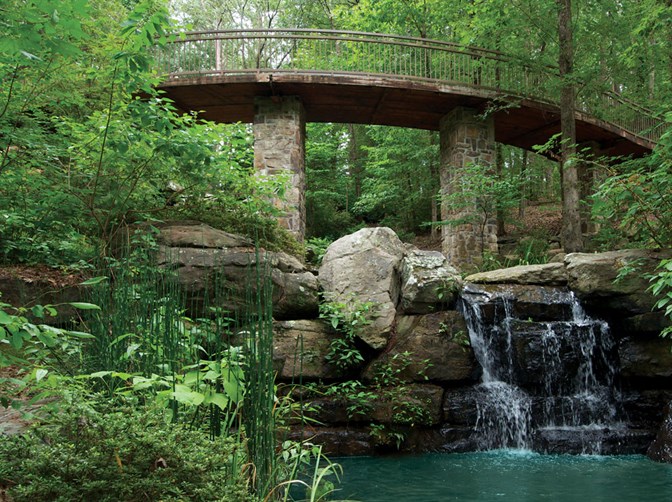 (c)garvangardens.org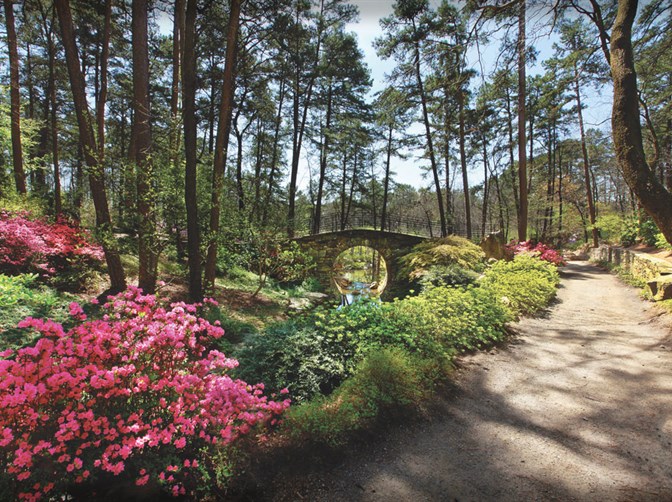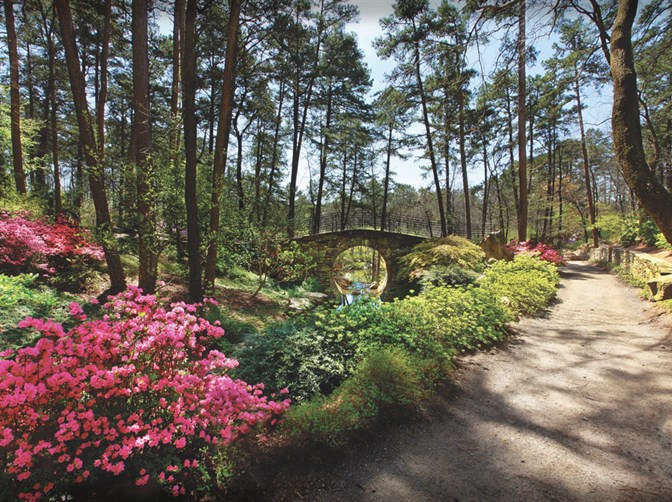 (c)garvangardens.org
Christmas at Garvan Woodland Gardens
During the Christmas holidays 17 acres of the property comes alive with over 4 million lights. This is definitely a great time to visit the gardens and is sure to brighten your holiday.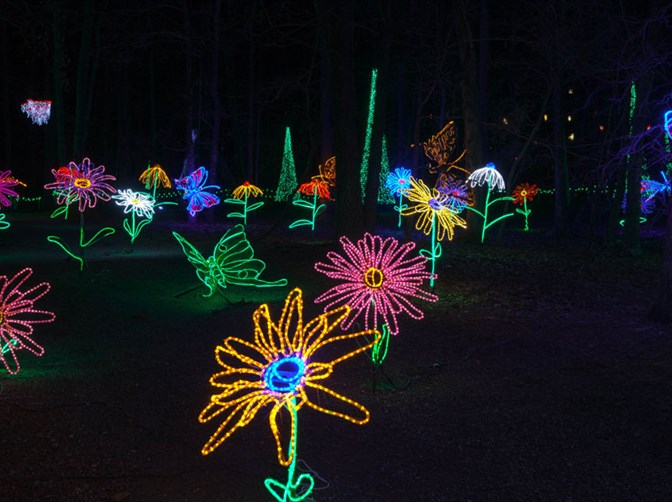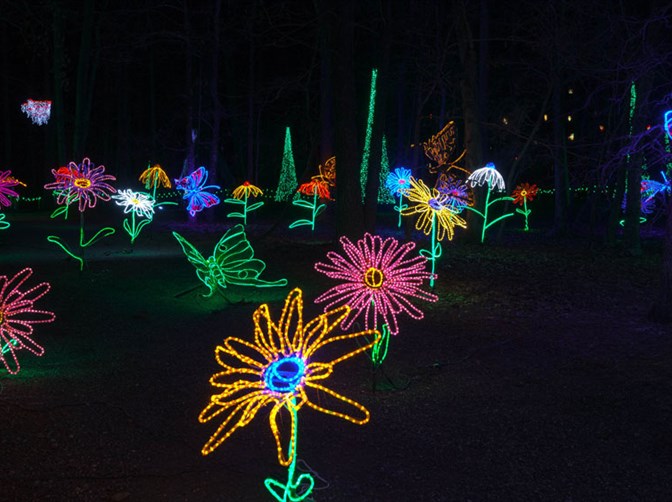 (c)garvangardens.org
Learn more about the gardens at http://www.garvangardens.org/ and be sure to follow them on Facebook.
***PIN GARVAN WOODLAND GARDENS PINTEREST***