Camping in the great outdoors is a beautiful thing. But camping by the water is even better! Not only do you get an incredible view, but you can also cool off any time you want, and if you enjoy kayaking, you have a launch site right outside your "front door."
However, finding the perfect waterside campsite isn't always as straightforward as it seems. There are certain signs to look out for that will ensure you get the most out of your camping experience.
So when you're searching for your dream campsite by the water, where do you start? Right here! We've created a list of tips and steps you can take toward identifying a waterside campsite that ticks every box.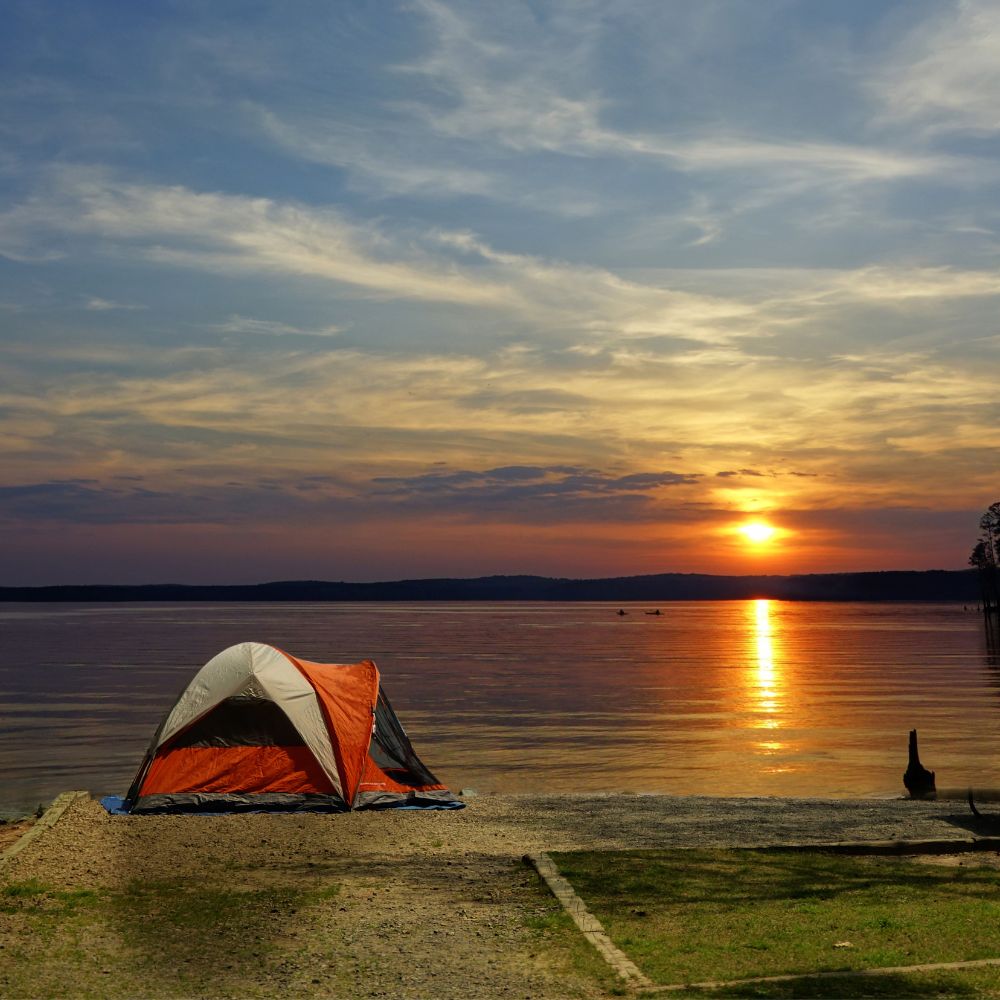 How To Find The Perfect Waterside Camping Spot
There are plenty of campsites that are right by lakes, rivers, waterfalls, and even oceans. But simply seeing water and pitching your tent right by it can have undesirable and sometimes downright dangerous results.
For instance, many natural bodies of water attract mosquitoes or may not be safe to swim in. Others may have tides that threaten to submerge your camping ground.
However, when you know what you're looking for, identifying an ideal campsite by the water can be an easy and straightforward process. Once you know how to do it, you'll always have the advantage of finding gorgeous rivers, lakes, or oceans to pitch your tent next to.
1. Prioritize elevation and distance
When searching for an ideal waterside camping spot, one of the first things you need to look for is elevation. Your tent and camping area should always be elevated well above the nearest waterline.
Before pitching your tent, look for an area that is around 150-200 feet away from where the river or lake begins. Aim for a bit further if you are camping by the ocean, as tides can wreak havoc on your camping zone. But putting a bit of distance between you and the closest waterline is always a good strategy for protecting yourself against sudden changes in water levels due to dam releases or heavy rainfall.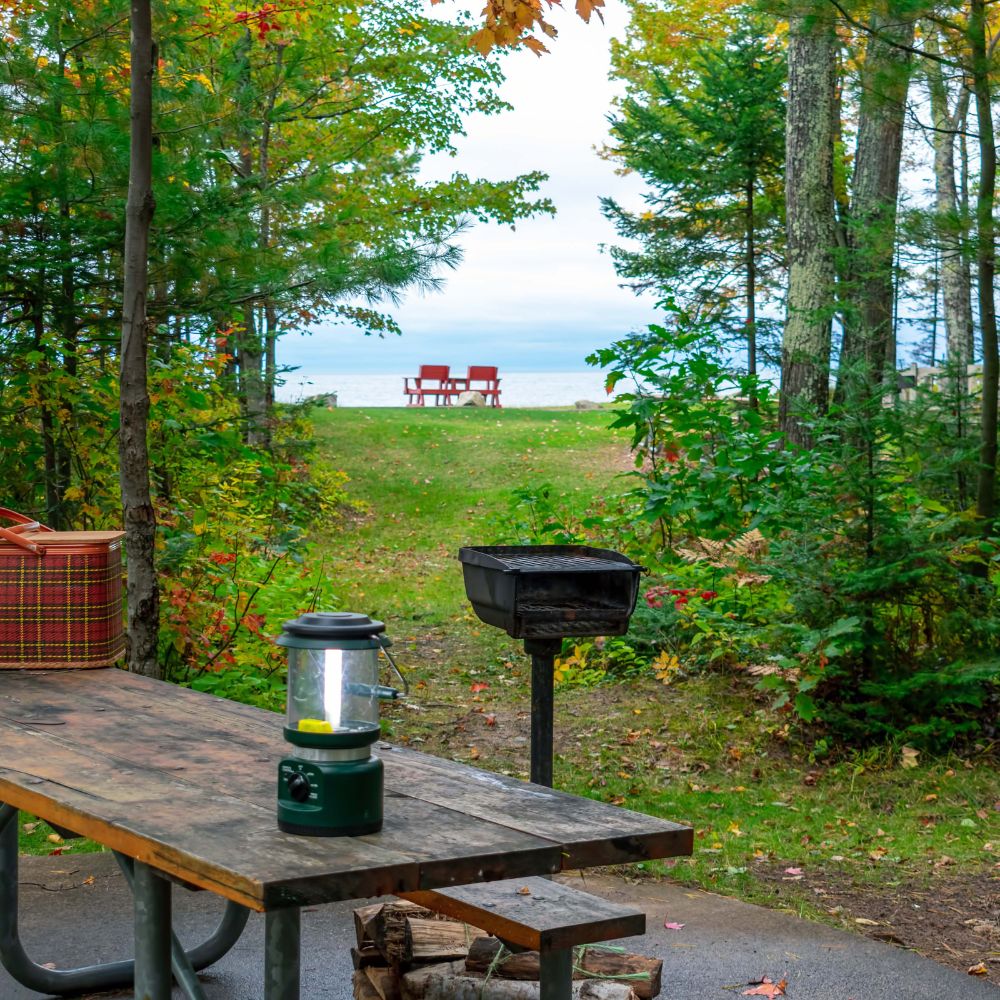 2. Look for natural barriers
Natural barriers are another important thing to look out for when considering where to pitch your waterside tent. Empty clearings with signs of erosion will offer very little protection in the event of seasonal flooding, so aim for areas that have boulders, trees, or sections of vegetation around them.
It's also a good idea to look for signs of a recent high watermark or tide. Often, debris will wash up to the highest point so you can see where you need to camp beyond.
3. Assess the color of the water
If you want to find your dream campsite by the water, it's important to assess the quality and coloration of that water. The cleaner and clearer it is, the more likely it is to be good to swim in and the prettier it will look for sunset and sunrise viewing.
Most natural rivers and lakes are clear, which is a generally good sign. And if you are on official campsite grounds, it is usually very unlikely that the surrounding water is contaminated. But here are some signs you can look for when determining how clean a wild body of water actually is:
● Avoid bad-smelling water
● Avoid very murky or slimy-feeling water
● Avoid warm, stagnant, or slow-moving water
● Don't swim with an open wound
● Look for a healthy ecosystem of bugs and amphibians
● Look for cool, clear, moving water
Generally speaking, the clearer, colder, and more active-flowing a body of water is, the more likely it is to clean. Stagnant, discolored, and off-smelling water is likely to be contaminated.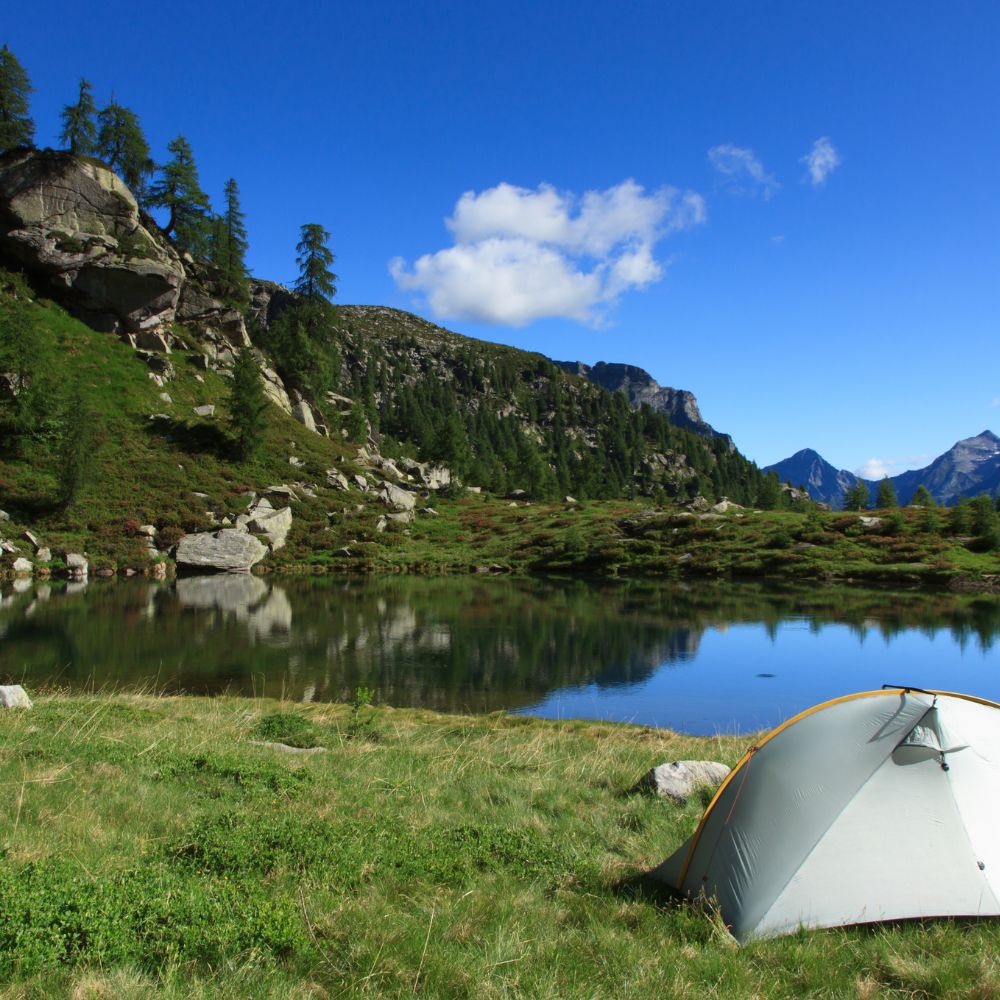 4. Research local water behavior
Water behaves differently across different states and regions. It is always a good idea to do some research on the local weather and water patterns of the area you will be camping in so that you can get a better idea of what red and green flags to look out for when finding a spot to set up.
This is a good idea if you're planning on swimming or kayaking too, as you need to know what conditions you'll face.
5. Know which insects indicate clean water
If you're not sure whether a body of water is clean, there are bugs and insects that will tell you by their presence alone. Of course, it's always useful to ask your campsite administrators about the quality of the water, especially if you plan on drinking it or using it for cooking. Looking for the following insects can also provide clarity:
● Mayflies
● Dragonflies
● Frogs and toads
● Stoneflies
All of these critters rely on healthy water habitats to feed, reproduce, and go about their daily business. If you see them around a river or lake, the chances of it being clean are high.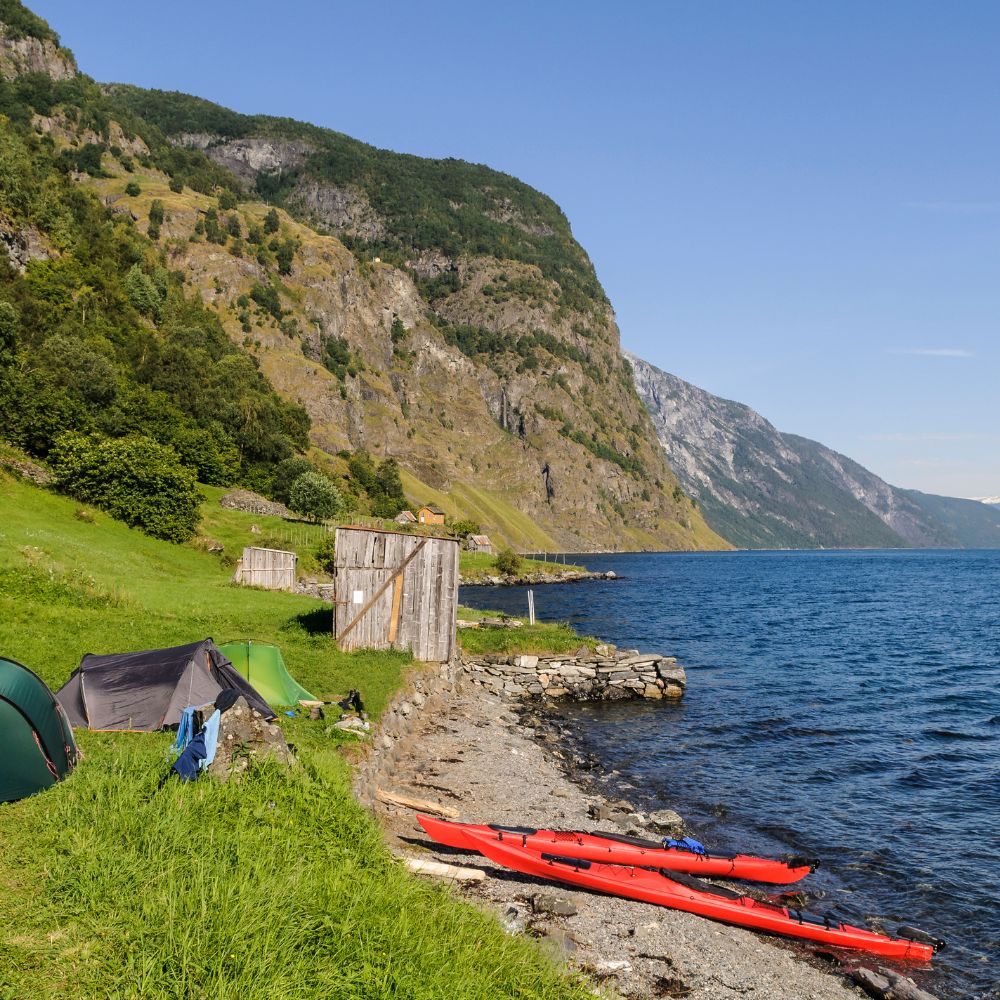 6. Look for hidden gems
Encountering a perfectly protected campsite by the water is a really special thing. And it can take years to find your dream camping spot. But you can speed up the process by chatting to people about which places they have found to be good for camping, swimming, and kayaking. Kayak Guru has also compiled an awesome guide to the best places to kayak in the US, and many of these spots offer camping, too.
Most of the time, people are very happy to share information about nature's best hideaways and hidden gems. Plus, if you get a good recommendation, you'll know you're in for a treat.
7. Look for healthy trees and vegetation
Strong, tall, healthy vegetation is a clear sign of a quality nearby water source. Not only that but camping around trees can drastically improve your camping experience, from providing shade during midday heat to makeshift laundry lines and all manner of campsite operations.
When assessing the grounds of your campsite, make ample trees as much of a priority as a nearby water supply. You'll stay cool throughout the day, have more options for tent set-ups, and have a more verdant and beautiful campsite to enjoy.
Pin To Pinterest