Located a short jaunt from the hustle of Main Street and tucked on a quiet side street you'll find the historic Pine Cottage, a Mackinac Island Bed and Breakfast.
After reading all the reasons why you should stay here be sure to jump over to our guide on what to do on Mackinac Island.
Built in 1870, it was one of the first Mackinac Island hotels to be established and was enjoyed by the likes of Ty Cobb and Ernest Hemingway.
Today, guests come to the island to experience a step back in time and to explore the outdoor Mackinac Island activities. After a full day of fun on the island, guests return to their room for a cozy stay at Pine Cottage.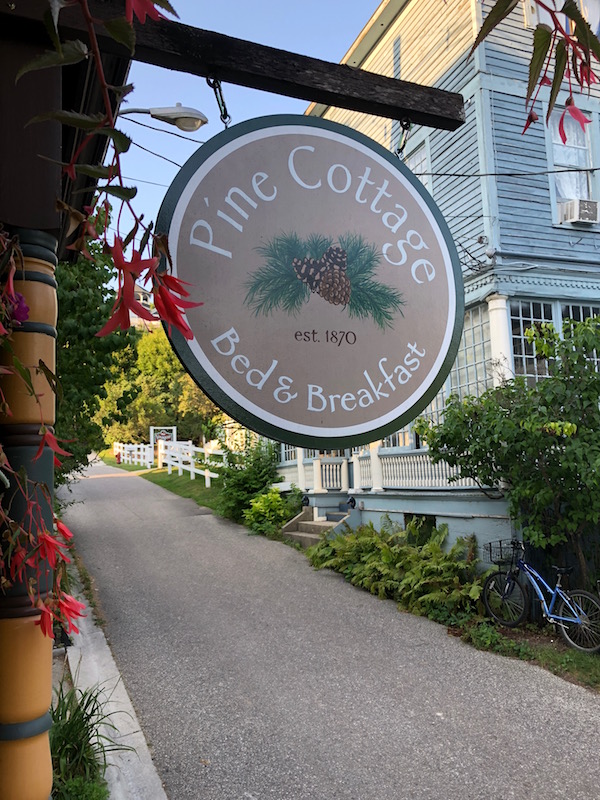 The Rooms at Pine Cottage -A Mackinac Island Bed & Breakfast
This three-story bed and breakfast let you take a step back in time while enjoying all the amenities of today.
Steam radiators and claw foot tubs that are found in some of the rooms are from the original hotel and are still used today.
Rooms have either one or two queen beds, some with a shared bathroom, some with a private bathroom.
Pine Cottage also has a suite that can accommodate up to six with a king bed, queen bed, living room with sleeper sofa and a small kitchen.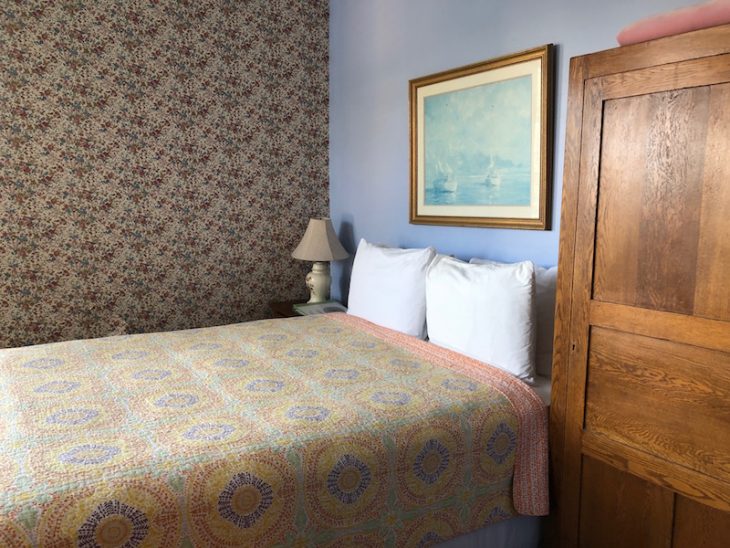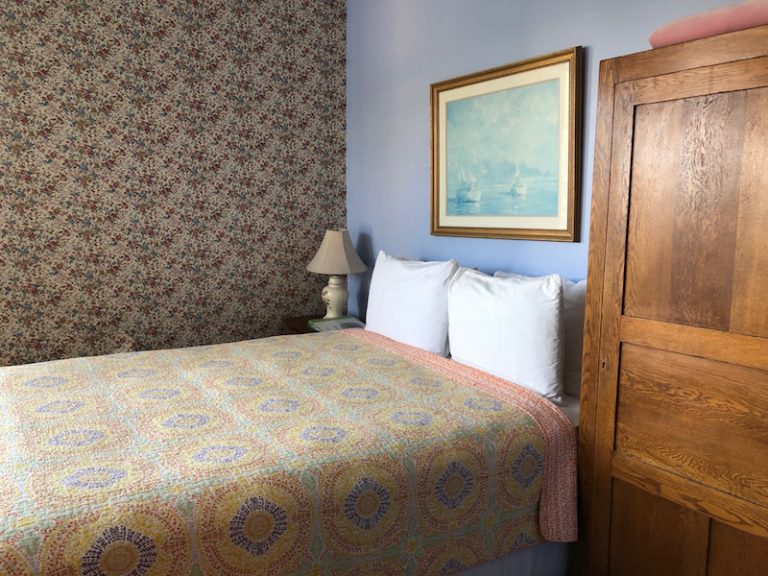 Flat screen tv's, air conditioning and internet are available.
A fair heads up on the internet, the island as a whole has very limited connectivity, but it is available.
It just might not be at the speeds you are used to at home.
The good news, a stay on Mackinac Island gives you a good excuse to go on a social media break.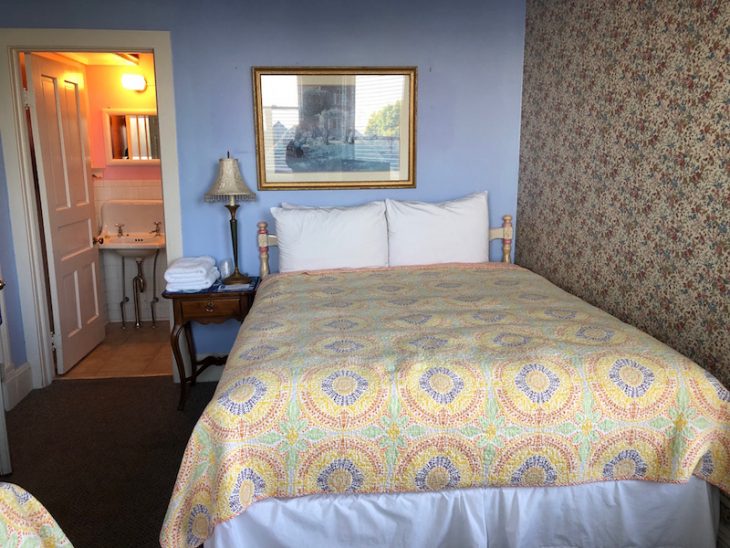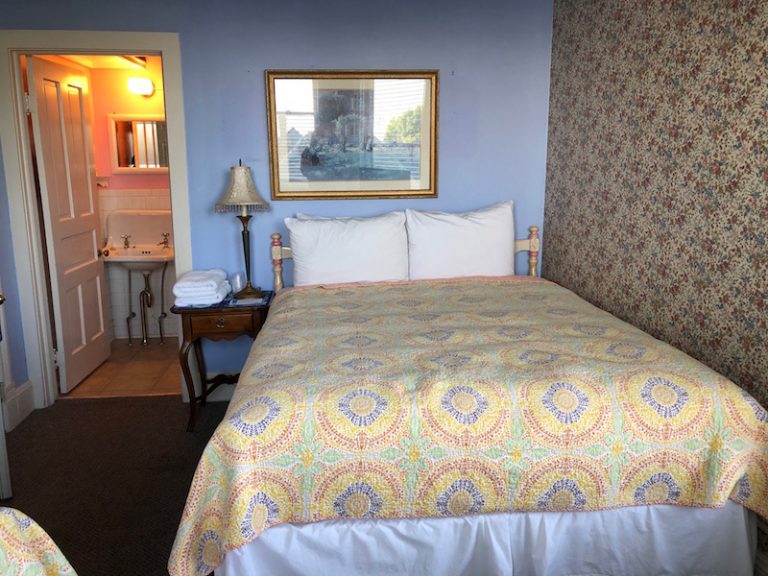 We traveled with one suitcase and simply brought it with us as we walked to Pine Cottage.
However, if you don't want to handle your own luggage after arriving on the island simply ask to have you bag tagged for Pine Cottage at the ferry dock on the mainland before you board the ferry and your bags will be delivered to the cottage for you.
Check out the 360 degree image of our room at Pine Cottage here:
Read: Tips for Visiting Mackinac Island

Mackinac Island Bed and Breakfast and Tea
A hot continental breakfast is available each morning. It is served buffet style with chafing dishes keeping the selection of the day warm.
During our stay, we had sausage and pancakes one morning and biscuits and gravy the next.
There is also a variety of cold cereal, fruit, muffins, and bagels.
The coffee is excellent (the standard by which we rate our stays…what can we say, we love a good cuppa joe), they serve up Seattle's Best coffee.
Read: Things To Do On Mackinac Island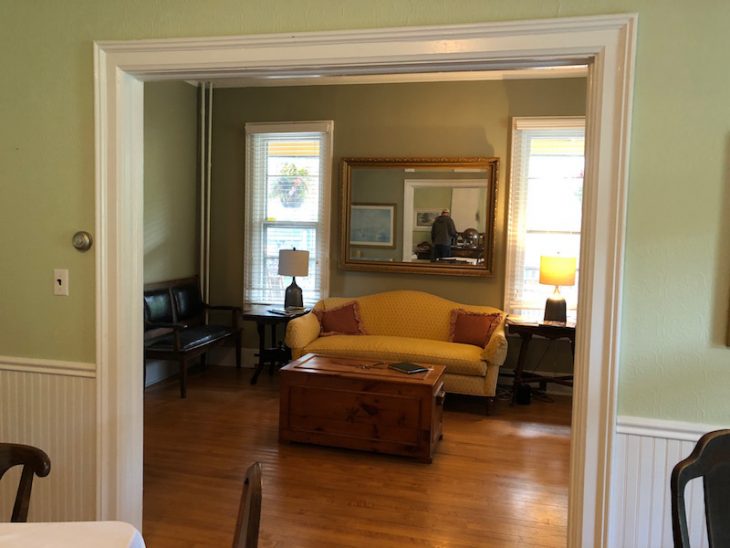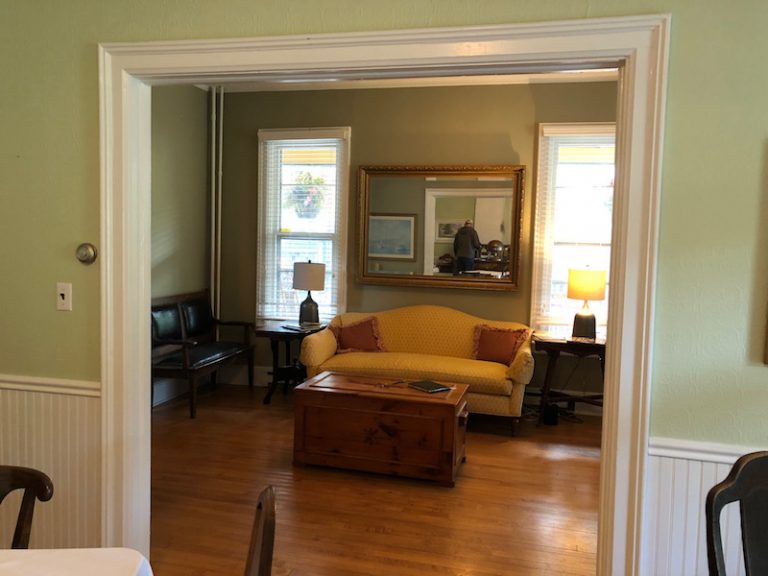 Is Pine Cottage Haunted?
The reason for my stay was to experience one of the most haunted hotels on Mackinac Island. Mention a haunted hotel and I'll do my best to find a way to stay there.
Mention that the hotel may be haunted by more than one entity and it moves way up my list of places to visit.
Include a fun fact that there are rumors there are as many as four ghosts at a location and I'll rearrange entire schedules to make a visit happen.
Yes, I love seeking out the paranormal that much.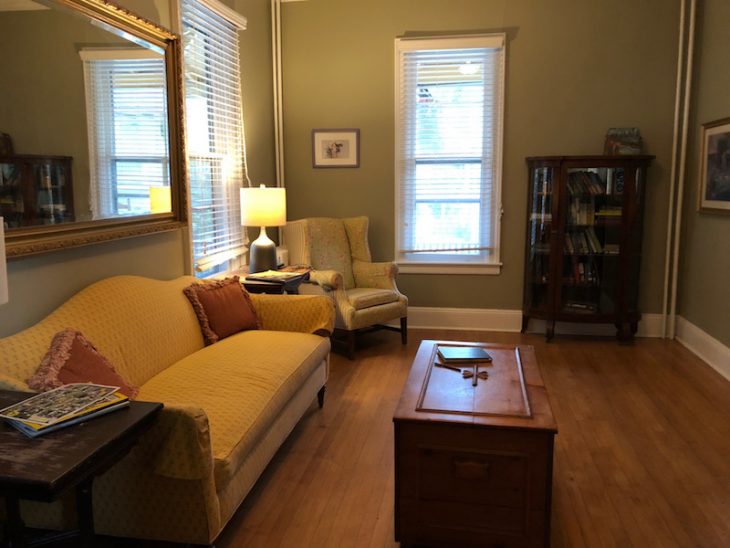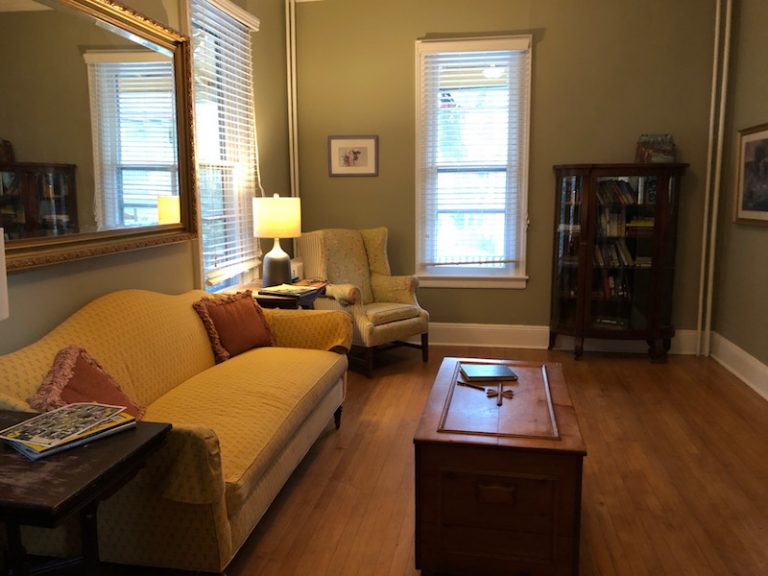 I love the history of why a place may be haunted and I love having paranormal experiences.
Even if you think haunting is just a bunch of woo woo there's no denying the fact that they usually come with a great story or two.
One story about Pine Cottage goes, as most ghost stories do, that a murder took place at the hotel in 1942.
Ask five different locals about the murder and, most likely, you'll get five different variations, but some facts remain the same. The basic facts, a woman was murdered by a large man. The case was never solved and someone, quite literally, got away with murder.
Another story is that of a little girl.
It is said she lived in Pine Cottage (during a time when it was a residence and not a hotel) with her alcoholic parents.
One day, the parents simply up and moved away leaving their young daughter alone in the home. It is rumored that she died a short time later, but never left her home.
Read: What To Pack for Mackinac Island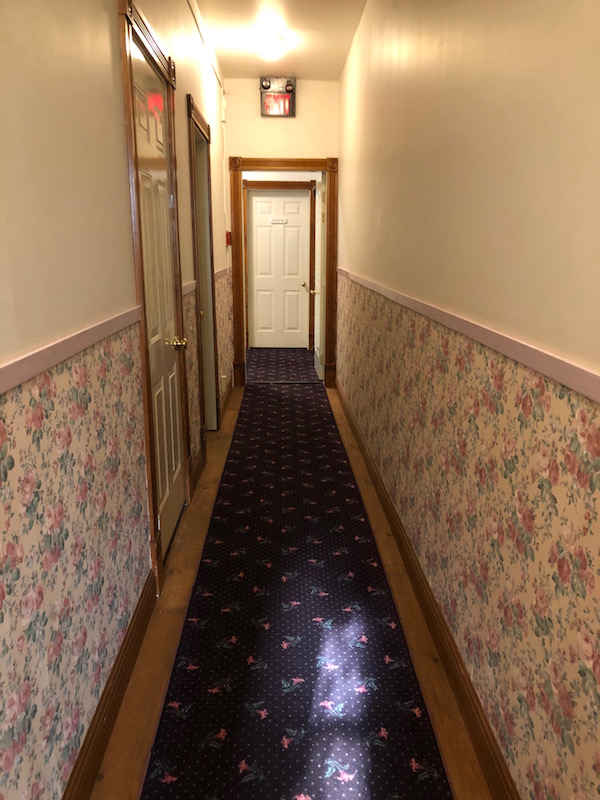 The Ghosts of Pine Cottage
Sadly, there were no ghostly encounters with any ghosts during my stay.
I talked to them and let them know I would love a visit and even woke a couple of times during the night in hopes that I would experience something.
Needless to say, the ghosts stayed tucked in their own worlds during my visit.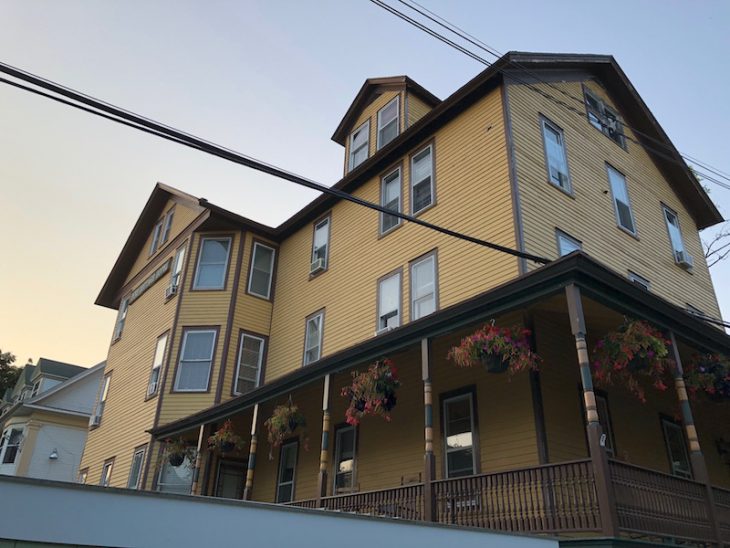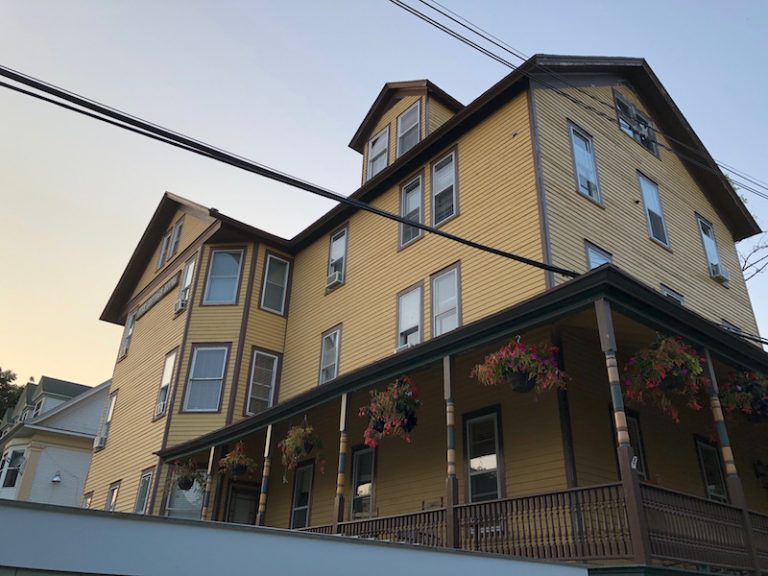 The ghosts of Pine Cottage are thought to simply be a glimpse of history repeating itself over and over. No harm ever comes to guests and, on the off chance you do spot a ghost during your visit, it adds to the colorful story you share with family and friends.
Here is who you might just have a chance encounter with:
The Man
Thought, perhaps, to be that of the killer mentioned above.
He is more active than the woman but is seldom seem and mostly heard. His activity is said to come in the form of a door slam or a loud voice that seems out of place.
The Woman
It's pretty obvious that this could be the ghost of the murdered woman mentioned in the story above.
Seldom seen, but when she does it's in the form of an apparition moving quickly through a room.
The Little Girl
Said to be the most active spirit she is often spotted looking out the attic window or wandering around the halls.
Want to learn more about this ghost story as well as others. Be sure to buy a copy of Haunts of Mackinac.
Read: More haunted and strange travel stories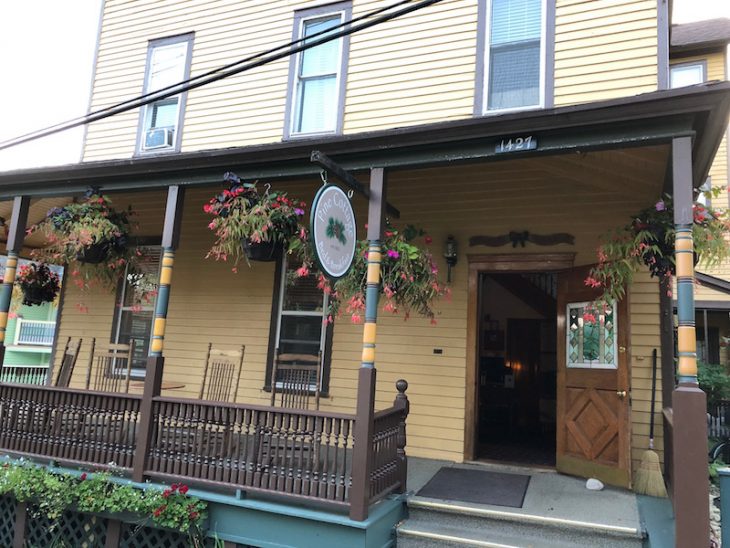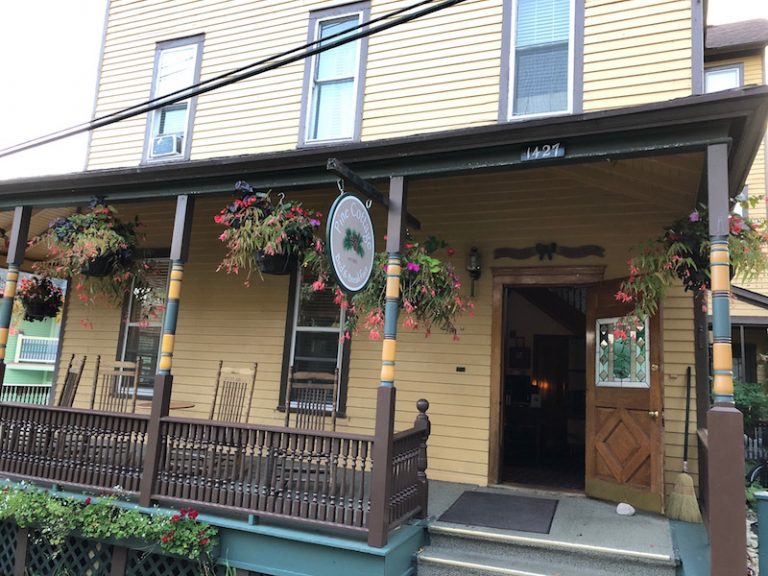 Book Your Stay At This Adorable Mackinac Island Bed and Breakfast
Regardless if there are ghosts or no ghosts the fact remains that Pine Cottage is simply a delightful place to stay during your visit to Mackinac Island.
I can't wait to go back. I'm feeling the need for a late October visit so I can update any ghostly encounters at this Mackinac Island hotel.
Pin This Mackinac Island Bed and Breakfast To Pinterest