Congrats, you've made a fantastic decision to visit Mackinac Island. This is one of Michigan's favorite playgrounds. Horse drawn carriages, endless blue waters, bike rides, fudge and so much more make this car-free island a favorite of Michigan natives and visitors alike. However, what to pack for Mackinac Island vacation is a frequently asked question.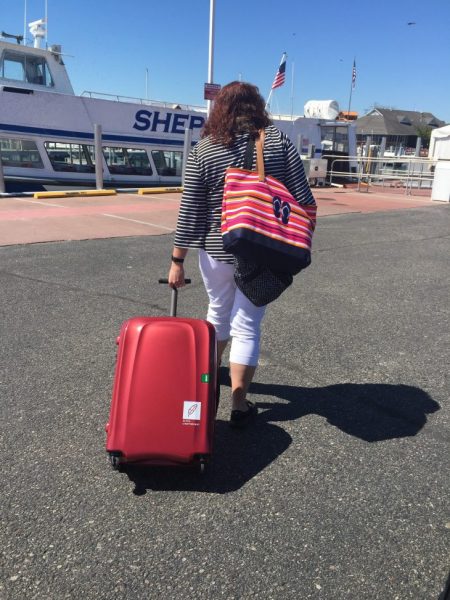 GRAB A SUITCASE
No worries, I'm here to help. Grab a suitcase (preferably a Lojel Lumo for its lightweight construction) and get ready to pack all you'll need for your Mackinac Island escape.
By the way, I've been using my Lojel suitcase since May and I'm really liking it. It's super light, has plenty of room, and it's easy to navigate through an airport, at the ferry docks and more.
CHECK OUT THIS SHORT VIDEO
Use code JSCO 15 to receive 15% off at LoJel.US, good through AUG 31
WHAT TO EXPECT ON THE ISLAND
While on the island you'll probably do some hiking, biking, kayaking, and shopping. Dinners out at night sometimes require a change of clothes, especially if you are dining at the Grand Hotel (no jeans after 6 pm). You'll want to make sure you have all your bases covered.
WHAT TO PACK FOR MACKINAC ISLAND
Jeans
Capris (including a quick dry pair for kayaking)
Short sleeve shirts
Lightweight jacket
Dressy pants/tops for dinners
Undergarments/socks/pajamas
Dressy shoes
Casual shoes for outdoor activities
Umbrella
Mittens<<—seriously! It may be summer but it's also northern Michigan and mornings and evenings can be cold. They take hardly any room so better safe than sorry 🙂
Sun hat
Bug spray
Sunblock
Waterbottle
Daypack
Camera–The Polaroid SnapTouch is a fun camera for vacations!
Phone Charger
Meds
Makeup/Shampoo/Toothbrush/Toothpaste/etc
I probably took a little more than I needed but this was one time I decided to play it safe and take a little extra. There aren't really any beaches on Mackinac Island but if you are staying at the Grand Hotel you'll want to pack a swimsuit to use their pool.
***PIN TO PINTEREST***