I flew Spirit Airlines last year, for the first time in quite a while. This article was written back in 2015, but since it still gets a fair amount of traffic and I had recently-ish flown them again I thought I would give it an update.
After my flight last year I had pretty much decided that flying with Spirit was going to be happening on a pretty limited bases.
Yes, they lure you in with all those hopes and dreams of super low fares to warm destinations, but I'm not sure it's worth it after fees.
Keep reading to see the Spirit Airline fees that shook me the most and some suggestions on how to keep the fees low and other options.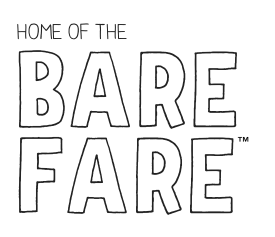 I was browsing airfares the other week and came across Spirit Airlines Bare Fares and like many, I wondered about the Spirit Airlines flight fees that could be hidden.
I could fly round trip from Detroit to Tampa for a Bare Fare ticket price of $212.
Any price near the $200 mark to Florida in the winter is a heck of a deal, but I wasn't sure if it would really be worth it after the Spirit Airlines baggage fees and other were added on top of the $212.
WHAT ARE BARE FARES?
When they say Bare Fare they mean it. Our flight attendant even joked during the safety message that if the oxygen masks drop down just swipe your credit card to start the flow of air.
Actually, he was one of the funniest stewards I've had in recent years and I appreciated his Bare Fare humor.
The truth of the matter is the Bare Fare price gets you from point A to point B, everything else is extra including seat selection.
However, if you are ok with a seat assignment, their choice, not yours, there is not a fee.
After my flight, I have a few tips for making the most of Spirit Airlines Bare Fares flights and how to manage their baggage and other fees.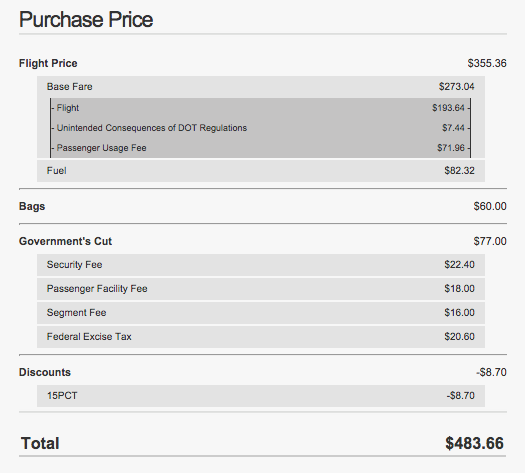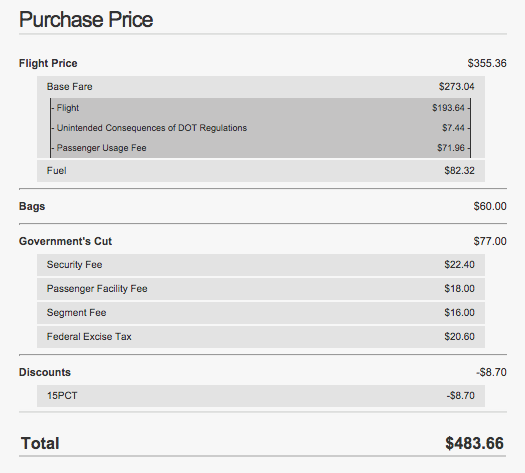 Total for 2 tickets including luggage was $483.66. Great price, in my opinion, to escape the cold.
HOW TO FIND BARE FARES?
If you don't mind flying budget then you can find some great rates on Spirit, even with their baggage fees.
Be sure to sign up for their email deals so you don't miss those best deals.
The day after I purchased tickets to Florida I received an email with another round of specials and purchased a ticket from Detroit to Los Angeles for $68.20 ROUND TRIP!!!
Even after purchasing a piece of checked luggage each way it only brought my ticket to $128.20. That price is unheard of.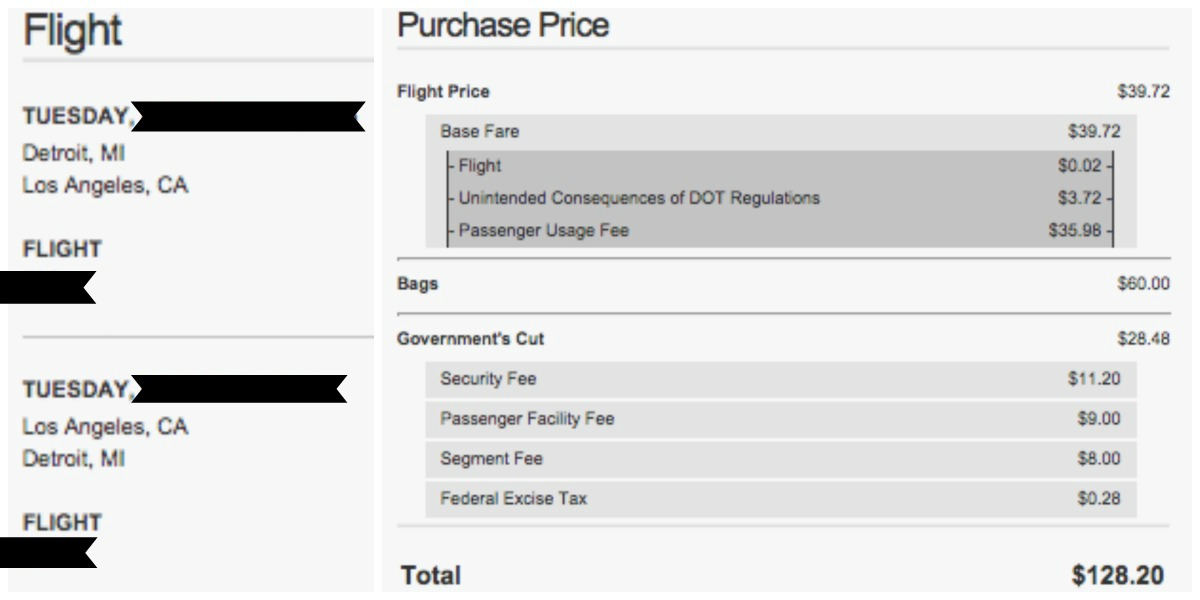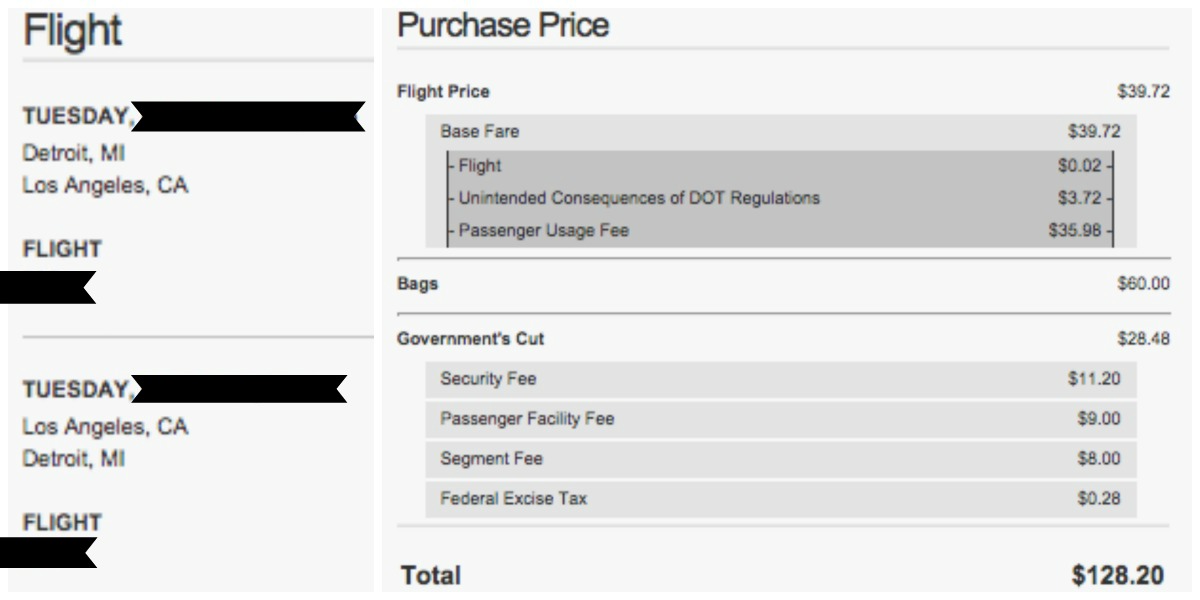 Tips For Avoiding/Reducing Spirit Airlines Fees
Ok, THIS RIGHT HERE is the one that shook me to my core!!! In 2015 a piece of carry-on luggage was $35. Today, Spirit Baggage fees vary based on the route and date of travel. So NOT cool!
So, in the above Bare Fares scenario, my round trip from DTW to LAX, my luggage fee would be MORE than my flight. Together, flight and luggage (just CARRY ON), would be $258.20. (See below for my recommendations for other options)
Pay bag fees in advance. There are Spirit Airlines fees for both a checked bag and standard carry-on baggage. You are allowed ONE free personal item (size needs to fit in 16″x14″x12″ box). In advance, checked luggage is $30 each way and carry on luggage is $40 each way. Wait until you are at the airport and you will pay $10 more for those fees. If you choose to carry on luggage be sure to have the right size otherwise it's a $100 to check a bag at the gate.
Share a suitcase. Since Spirit charges per bag, share a suitcase and reduce the fee. The checked piece of luggage can be a maximum of 62 linear inches (length + width + height) including handles and wheels and a maximum of 40 pounds in weight. Em and I packed a large suitcase that was 60 linear inches and weighed in at 39 pounds. We paid a total of $60 in round trip baggage fees which means $15 for each of us each way.
Online check-in. If you wait to check in with a clerk there is a fee of $10 per person. Online check in is easy. Simply follow the instruction in the email that is sent to you 24 hours before your flight. If you can print your boarding pass from home or you can use a kiosk at the airport to print a boarding pass for free.

Let Spirit pick your seats. You can pick your seat in advance and pay a fee, anywhere from $1 to $750 (2015 pricing: $10-$44), or you can let Spirit assign you a seat at check in. If you are flying with a group there is a chance you won't be seated together if you allow Spirit to pick your seat. Em & I were flying together and we decided to let Spirit assign us seats to save money. It worked out in our favor and we were seated next to each other both ways saving us $2-$1500 in total seat fees. However, seat assignments are seldom at the front of the plane so if you want to be close to the front be sure to pick your own seat. Also, the pricing for the seats is quite the range and it feels slightly icky.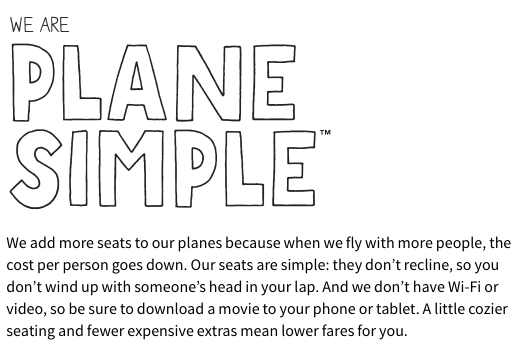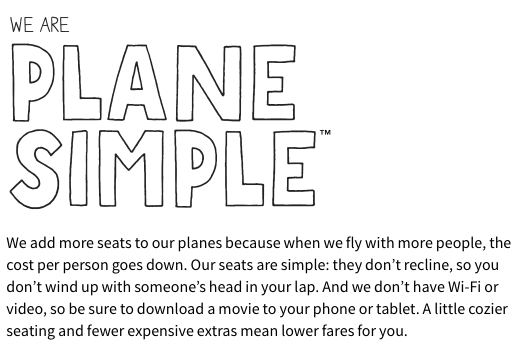 Need extra leg room? Purchase a big front seat. Spirit airlines pack as many people on a plane as possible. This means very limited leg room. Em is 5'7 1/2″ and her knees were jammed into the seat in front of her. We could have purchased a big front seat that has extra room (2 seats across the aisle vs. 3 and extra leg room), but the cost is $44 each way. For a 2 hour and 12-minute flight, it wasn't worth it. For a longer flight, I may consider it.
Pack your own snacks and water. We travel with water bottles and fill at the airport after we clear security. If we think we might want a snack we pack those in advance in our personal item. Nothing is free on a Spirit flight so if you want a bottle of water or soft drinks there is an extra charge.
Spirit's Baggage Policy
This applies to domestic flights:
To keep ticket prices (Bare Fare™) low for everyone, we charge for carry-ons and checked bags. We charge more for checked bags over 40 lbs. This is because the added weight requires more gas for the plane.
One personal item that fits entirely in the smaller sizer box (like a purse, small backpack, etc.) is included with your ticket. Another personal item or anything larger like a standard carry-on or checked bag will need to be paid for.
PRO TIP: If you know you're going to need a carry-on or a checked bag, buy it right when you book your flight to save major moola.
You can read more details about their baggage policy and fees on their site.
WOULD I FLY SPIRIT AIRLINES AGAIN?
Based on 2022 experience: After I flew to Florida in May 2022 I decided that I was done with Spirit Airlines. It wasn't any one specific thing, but the the overall experience.
I flew Spirit A LOT before the world went mad, and it was doable. I mean, getting somewhere on the cheap was worth the sacrifice.
However, after my last flight I'd rather pay a little more for more comfort.
Based on 2015 flight experience: Overall, I enjoyed my Spirit Airlines Bare Fare experience. Yes, the fares are bare, but this is a BUDGET AIRLINE, even after paying for the baggage fees the fare was inexpensive and completely worth it.
For those that want to travel more, but are reluctant due to high airfare I recommend checking out Spirit Airlines and watching for deals. I know I'm going to be watching their fares a lot closer and visiting more destinations this year.
Honestly, with the current Spirit Airlines fee structures I highly recommend getting a credit card to one of the major carriers (Delta, American, United) and watch closely for fares on those flights.
I can only speak about Delta (my airline of choice), but with the Delta AmEx card I never pay for luggage so that reduces my flight cost. I do have to pay for my flight with my credit card to get the free luggage, but I buy the flight and immediately pay it off.
We do not like to carry credit card balances.
If you can be flexible on your flight days you can often find fares that are compatible with Spirit (AFTER fees) fares.
As always, do what works best for you. Spirit may sway me if I need to fly for just an overnight and can pack what I need in my personal item and the flight is next to free.
WHAT ABOUT SPIRIT AIRLINES FREQUENT FLYER MILES?
UPDATE: I had flown Spirit enough to earn around 25k+ miles so I thought I would cash them in for a flight.
Sounds good, right? Wrong! I went to cash in my miles (note, I do not have a Spirit credit card) and it was more expensive to pay the fees to use the miles than to simply buy a ticket.
My lesson learned: the miles are pretty much worthless. Good thing the flights are cheap.
WHAT HAPPENS WHEN A FLIGHT IS CANCELLED?
UPDATE #2: I flew Spirit to New Orleans in December and my return flight was canceled.
You can read that agonizing story and the results of what happens when Spirit cancels a flight due to the weather here.
HOW TO PACK TO AVOID SPIRIT AIRLINES BAGGAGE PRICES
UPDATE #3: Avoid Spirit Airline baggage fees altogether if you have a short trip.
Pack light and place your bag under the seat.
I've done this on numerous trips and it works out well, but I'm very limited on how much I can take.
See my packing light tips here: http://www.justshortofcrazy.com/how-to-pack-a-backpack-for-a-2-week-vacation/
disclaimer: I paid for the above-mentioned flights with my own hard earned money. Spirit did not ask me to share this information nor did they offer to pay me to share this information.
However, if they'd like to send me some travel vouchers post-publication I wouldn't be opposed 😉 All thoughts and opinions, as always, are my own.
More travel tips:
PIN WHAT SPIRIT AIRLINES DONT TELL YOU ABOUT THEIR BARE FARES TO PINTEREST