I'm often asked how I travel so much every year. Since for some odd reason, people don't have any trouble asking me about my finances and how it relates to my travels, I am sharing my tips for how to save money for your next grand adventure or weekend get away.
To be clear, I don't have a "sugar daddy" (although, wouldn't that be grand?)  nor do I have an inheritance (complete bummer for me) or any other "free" money just waiting for me to use it. No, I make my money the old fashioned way by working for it. I make my living as a blogger and social media expert and Alan is a blue collar worker at a local factory (with crappy pay, but great medical benefits).
We are definitely not walking down the wealthy street.  However, we still make travel happen, mostly through the daily choices we make and debt reduction using Nationwide Debt Reduction Services can help!
We've all heard the standard "stop buying coffee at Starbucks" and "don't go to the movies" to save money to travel. Let's be honest, though, $10 bucks here and there, can take a while to add up to a plane ticket to Europe, which is currently sitting around $1200 USD. So, let's dig a little deeper and explore some different ways to save money for travel.
Ways To Save Extra Money For Travel
The first thing you'll want to do is track ALL your expenses for at least two weeks, but preferably for a month. I know, I know….boring! However, it's important to see where your money is going before you can start figuring out how to save extra money for travel.  Spend a quarter or spend $2500. Write it down. Some people like using an excel spreadsheet while others like using a small notebook. I, personally, like using a notebook. That way I can jot down expenditures regardless of where I'm at. The "I'll add it to the list later" doesn't really fly unless you have a great memory. Spend it, write it and account for every dollar.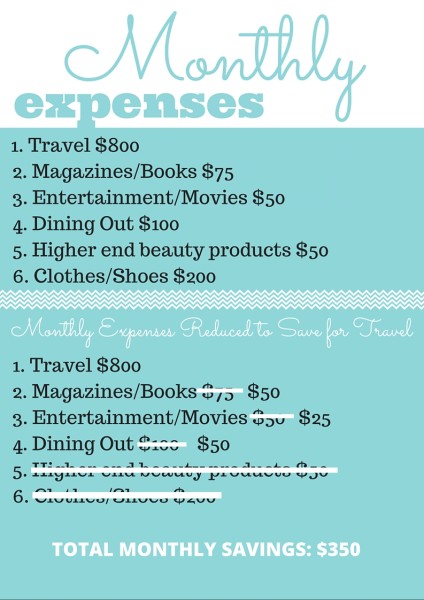 ~~~THESE ARE EXAMPLE NUMBERS ONLY ~~~
Next, look over your expenses and decide what non-essential expenses are most important.  Highlight expenses like entertainment, dining out, clothes, and more while skipping over the monthly obligations (house, car, credit card, etc). Now, list those optional expenses out in order of importance with the total you spend in a month next to it. If going out to dinner is most important to you put it at the top and list down from there. For me, the most important thing is travel so that stays at the top of the list and is never adjusted unless I can adjust it up.
Now that you have your list. Look at the bottom two or three items on the list. Can you give those up for the short term? I'm not talking forever, just until you have money put aside for a vacation. If you can give up those extra expenses do it and set that money aside each month. Remember, this is short term savings. I'm not giving up clothes and shoes forever, I'm just reallocating that money into the travel fund until after vacation.
Are there more items on the list that you can eliminate or adjust for a while? If so, do it. The more items you can set aside from the list the more ways you can save extra money for travel. I adjust the dining out and entertainment so I don't feel like I'm missing out, but I reduce how much of that I do and save those extra dollars.
Once you have culled the list and you are left with the items you absolutely can not live without start looking for ways to save money on those items. If eating out is at the top of your list look for Groupon discounts, restaurant week specials, take advantage of happy hour, etc. There are ways to still enjoy the things you love while setting aside money for travel. Stop buying books and start enjoying your library. Many movie theaters offer special prices once a week. A local theater offers $5 Tuesdays, $5 for movies all day long. Watch for opportunities to save money on the everyday.
16 MORE WAYS TO SAVE EXTRA MONEY FOR TRAVEL
In addition to the above, here are 16 other ways myself and some of my travel writing friends save extra money for travel (by the way, travel writing doesn't equal free travel, although I really wished it did):
Be mindful of where you spend money. Alan gets annoyed with me because I always refer to big purchases in the form of airline tickets or destination visit. "You know that new couch is a 2-week trip to Florida, right?" "Um, Alan, that new t.v. is a much as two plane tickets to California!" Thankfully, he gets it and agrees with me 99% of the time.
Cut cable or satellite.  We do have the Internet, and use both Hulu and Netflix.  Although, I'm cutting Hulu soon. Determine which ones you can or can't live without.  Another option is streaming with Amazon Prime or renting Redbox movies.
Limit eating out. When we do eat out we try to hit up happy hours for half price appetizers and drinks.  Usually early dinner hours or late night.
We don't drive new cars. Alan's car is 12 years old and mine is 10 years old. Both vehicles are paid off. My van, which I fondly call Betsy, has 200k miles and going strong. We keep her well maintained and I expect to get at least another 50k out of her. Thank you Chrysler Town & Country for building a great vehicle.
We don't own a boat, SUV's, snowmobiles, etc. Those toys are expensive and I'd rather travel. It's all about choices.
Do as many of your own home improvement projects as possible. Some things have to be hired out, but try to do the smaller/simpler ones yourself.
Shop sales at the grocery store/use coupons/have a menu plan. I have found have a menu plan saves significantly because I don't buy excess items.
Participate in a 52 week money saving challenge.
Save your change! It adds up quickly, toss all that change in a jar and see how fast it adds up.
Sell unused items. Look around your home. Are there items you are no longer using that will bring in some cash? List it on a local Facebook group or Craigs List (REMEMBER, when you meet the seller be safe and meet them in a public place with lots of people around. NEVER invite them to your house!)
Do small jobs on the side. One friend answers surveys which give her some extra dollars, another writes short articles and sell them, someone else offers social media services. If you have a skill market it on the side to earn and save extra money for travel.
See if your bank offers a round up program. Every time you use your debit card the bank automatically rounds your purchase up to the next dollar and puts those extra pennies into a savings account for you. At the end of the year, you'll end up with a couple hundred dollars.
Look for local free events so it doesn't feel like all you do is sit at home while saving money. Take the money you would have spent on an activity and bank it. There are lots of tips here on how to do that.
Set up more savings.  You can easily set up a small amount of money to automatically be deposited from your checking into a savings account on a weekly or bi-weekly basis.
Find ways to save money on utility costs. Great ideas here.
Use the 30-day rule before making any big purchases.  Waiting to make big purchases helps you make sure you really do want or need that item.
VERY IMPORTANT REMINDER
All of that adds up to easy ways for you to save extra money for travel.  However, here's a key thing to remember, if travel isn't a high priority for you, it's going to be very difficult to save money for it. For me, I can happily give up a lot in order to travel, but for others, it's a very low priority. Decide where it falls for you and accept that. Maybe for you, it means saving enough to have a weekend getaway once a year, for others it may be saving to take 4 week long trips a year. Decide what you'd like it to be for you and make it happen.
**PIN HOW TO SAVE MONEY FOR TRAVEL**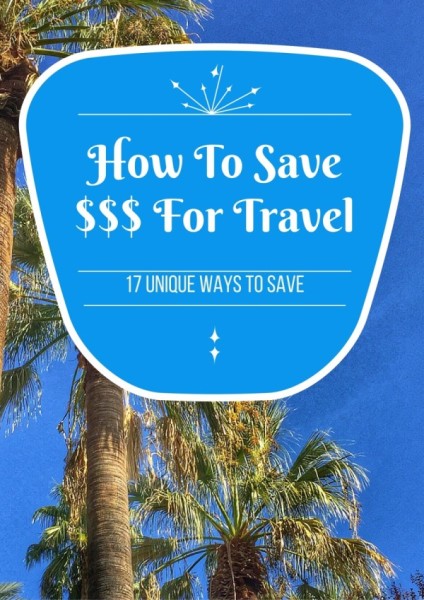 YOU ARE ALSO GOING TO LOVE
Studies have shown that if you loved this post you'll enjoy these posts as well.
Click on the yellow Spirit box to learn more about Spirit Airlines Bare Fares and what they don't tell you!