I've been cooking with Dove dark chocolate recently and it's been so yummy! My friend Sara came over and helped me put these empanadas together. These take a bit of time, but they are well worth the effort.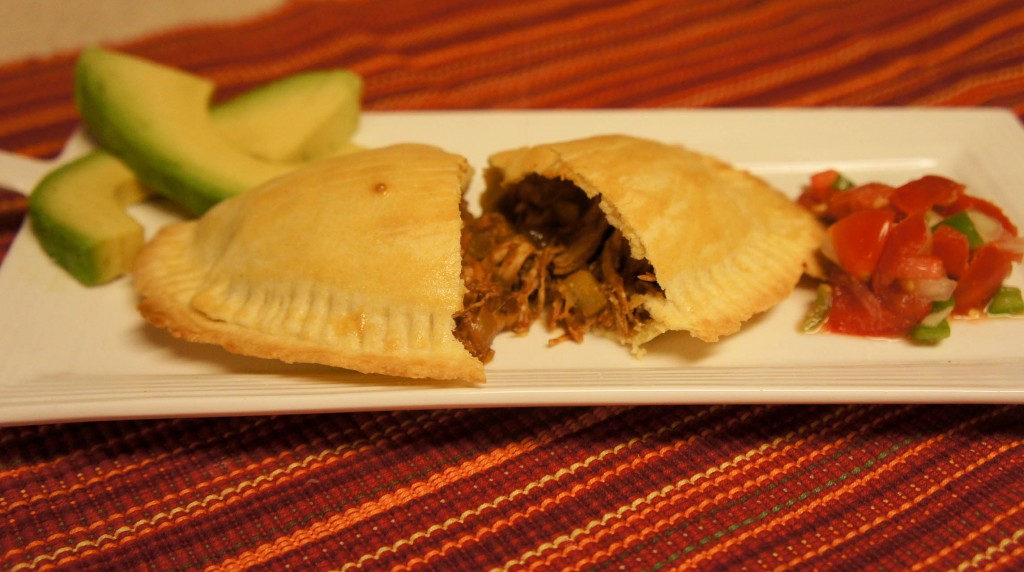 Chicken Mole Empanadas Recipe
Ingredients
Dough
2 1/2 cups all purpose flour
3/4 cup yellow cornmeal
2 T sugar
1 t salt
1/2 cup cold unsalted butter
1 egg
Filling
1 medium onion, finely chopped
1 green pepper, finely chopped
2 cloves garlic, sliced
1 Tbs ancho chili powder
1 small zucchini, chopped
1 lb. shredded cooked chicken
2 Tbsp tomato paste
1 ounce Dove Dark Chocolate, chopped
2 Tbsp sugar
1 t salt
1 Tbsp lime juice
1 egg mixed with 2 Tbsp water
Directions
Dough
Combine flour, cornmeal, sugar, salt in food processor, pulse to blend.
Cut up butter, add. Pulse until incorporated.
Add 1/2 cup water, pulse until dough begins to hold together. This can also be done by hand by mixing dry ingredients and then cutting in the butter with a pastry blender and then slowly adding the 1/2 cup water.
Gather dough into a disk, refrigerate at least one hour.
Filling:
Coat a large non-stick pot with cooking spray or butter. Heat over medium heat; add onion, green pepper, garlic, and chile powder.
Cook 5 minutes or until vegetables are tender.
Toss in the zucchini and cook another 3 minutes, adding a little water if the pan is too dry.
Add the cooked shredded chicken, tomato paste, chocolate, sugar, and salt.
Cook 3 minutes to blend flavors.
Remove from heat and stir in lime juice. Let cool.
Directions For Building Empanadas:
Heat oven to 400.
Divide dough into 12 pieces. On a floured surface roll one piece of dough into a 6 inch circle; continue until all 12 pieces have been rolled out.
Move the dough pieces to nonstick baking sheets, you may need more than 1.
Place 1/3 cup filling on one half of dough round, be sure to keep the filling away from the edges. Then brush the edge with a bit of water and fold over and bring edges together ; press the edge together and crimp with a fork.
Brush empanadas with egg-water mixture which will create a pretty golden color on the empanadas after baking.
Bake at 400 for 18 minutes or until light brown around edges. Serve warm.
Note:
These can be assembled and frozen before baking. When ready to bake, do not thaw; transfer the frozen empanadas to baking sheet and increase the cooking time to 25 minutes.
More Recipes To Try:
Pin Chicken Mole Empanadas To Pinterest: