This parmesan herb-roasted cauliflower steak is a hearty vegetarian dinner idea. Plus, it only comes in at 2 Weight Watchers Freestyle Points making it a great addition for dinner when you're low on points. Serve with other pan-roasted veggies for a complete meal.
Note: Find more Weight Watchers Recipes here
You can add some marinara sauce and a slice of mozzarella cheese for a bit more flavor, but it will increase your WW points. Totally worth it though if you have some extra points to spare.
This is a really simple meal to make. I mentioned the marinara and cheese because that is how my niece loves to eat these cauliflower steaks, she can't get enough of them.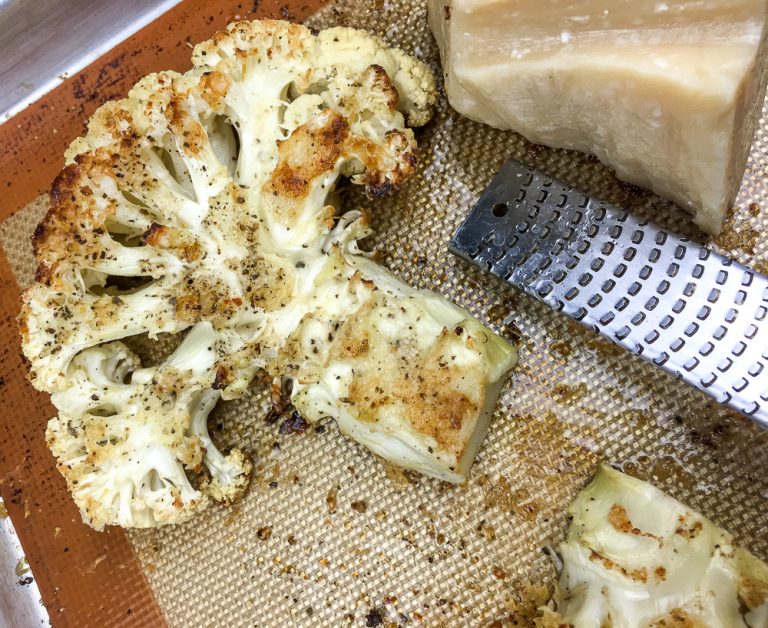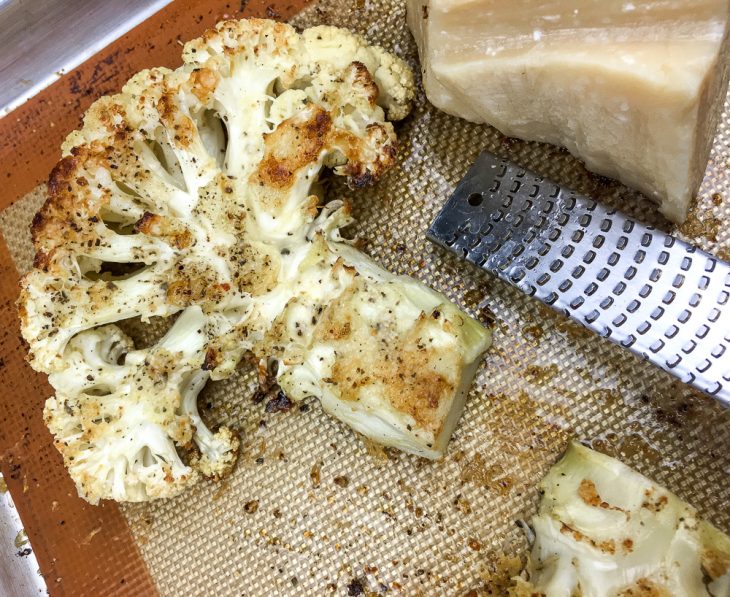 Prep time: 10 minutes
Cook time: 30-35 minutes
Serves: 4
Cauliflower Steak Ingredients
2 large heads cauliflower, cut into 4 1" thick slices
1 T. extra virgin olive oil
1½ T. Italian seasoning
2-3 cloves garlic, finely minced
¼ t. crushed red pepper flakes
¼ c. Parmesan cheese, freshly grated, divided
Sea salt and black pepper, to taste
Tip: Season and roast any remaining cauliflower florets from the edges of each head along with the larger "steaks" or reserve for another recipe.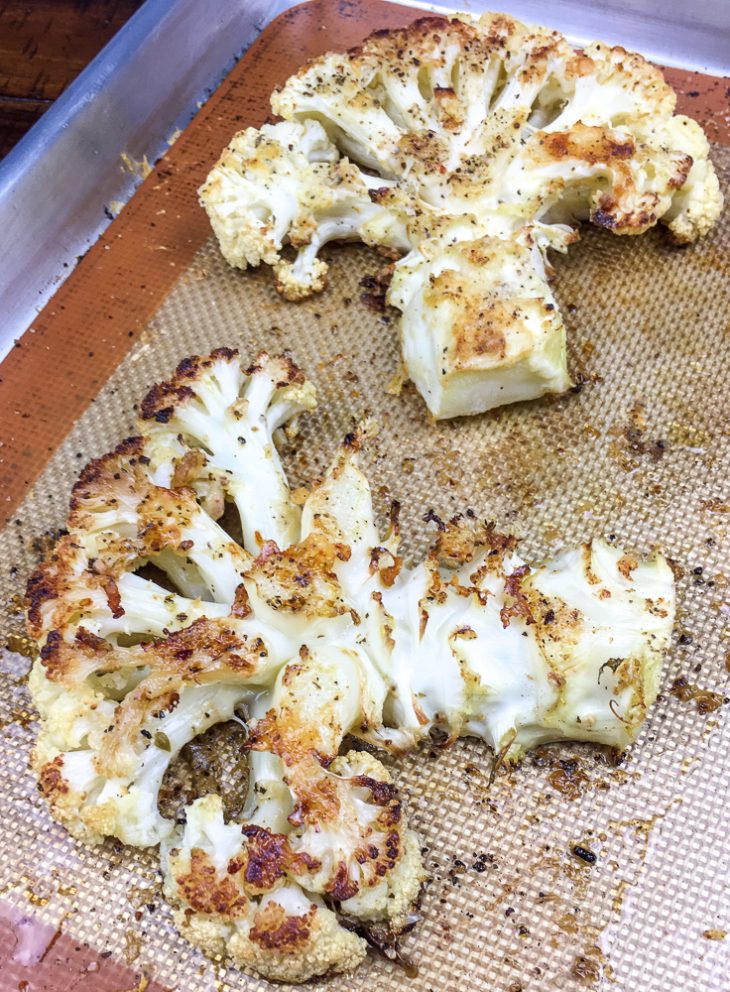 Cauliflower Steak Directions
Place top oven rack in center position and pre-heat oven to 400°F. Line a large, rimmed baking sheet with parchment paper or a Silpat® baking mat and set aside.

In a small bowl, whisk together the olive oil, Italian seasoning, garlic, and crushed red pepper flakes.

Place cauliflower "steaks" on prepared baking sheet and brush with the seasoned olive oil mixture on both sides. Sprinkle half of grated Parmesan cheese on top and season with salt and black pepper, to taste.

Place in the pre-heated oven and roast for 15 minutes. Remove from oven and carefully flip each "steak" and sprinkle with remaining cheese and a bit more salt and black pepper, if desired.


Return to oven and roast for another 15-20 minutes or until the cauliflower is fork-tender and nicely browned. Remove from oven and serve immediately. Enjoy!
Pin Parmesan Herb Roasted Cauliflower Steak to Pinterest