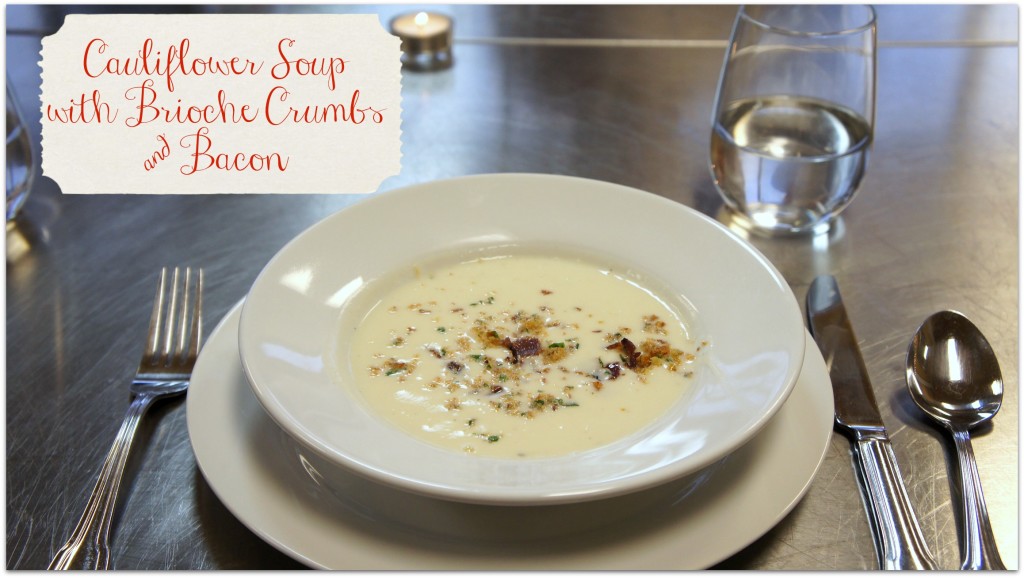 Looking for a way to get more vegetables in your diet? You have to try this cauliflower soup with brioche crumbs and bacon. I didn't think there was anyway that I would enjoy a cauliflower soup, but surprise, surprise it was is so very good! Of course, the bacon and brioche crumbs help a lot 😉
It's not that difficult to make, but does require a bit of time. If you have lactose intolerant family members you can replace the dairy items in the recipe with lactose free milk and vegan butter.
Cauliflower Soup with Brioche Crumbs & Bacon
Serves 6
Cauliflower Soup Ingredients
2 c. milk
2 c. chicken stock
1 head of cauliflower, cored and broken into florets
1/2 onion sliced
small handful of fresh thyme
1/2 c. unsalted butter
1 bay leaf
salt and freshly ground black pepper
4 slices Brioche or Challah, toasted
4 T. unsalted butter, melted
2 T. parsley, chopped
1/4 lb. bacon, finely chopped and cooked crispy
Cauliflower Soup Directions
1. Preheat oven to 350 degrees
2. Put the bread slices onto a sheet pan and toast in the oven until
golden; set aside until cool enough to handle
3. Pour the milk and stock into a large saucepan; add a little salt, and
bring to a simmer over medium heat
4. Add the cauliflower to the milk mixture; add the onion, thyme sprigs,
butter, and bay leaf; bring to a simmer, cover and cook for about 15
minutes, until the cauliflower is tender
5. Remove thyme and bay leaf and puree the soup in a blender;
6. Pour the soup back into a saucepan and check for seasoning;
7. In the meantime, grate the toasted brioche slices on a box grater to
make the crumbs; drizzle with the butter and toss;
8. Spread the mixture on a sheet pan and toast in the oven until lightly
browned and crispy; remove from oven, scrape into a bowl and stir in
parsley;
9. To serve, pour the soup into bowls and sprinkle with the brioche crumbs
and crispy bacon;
*This recipe is compliments of Ann Arbor cooks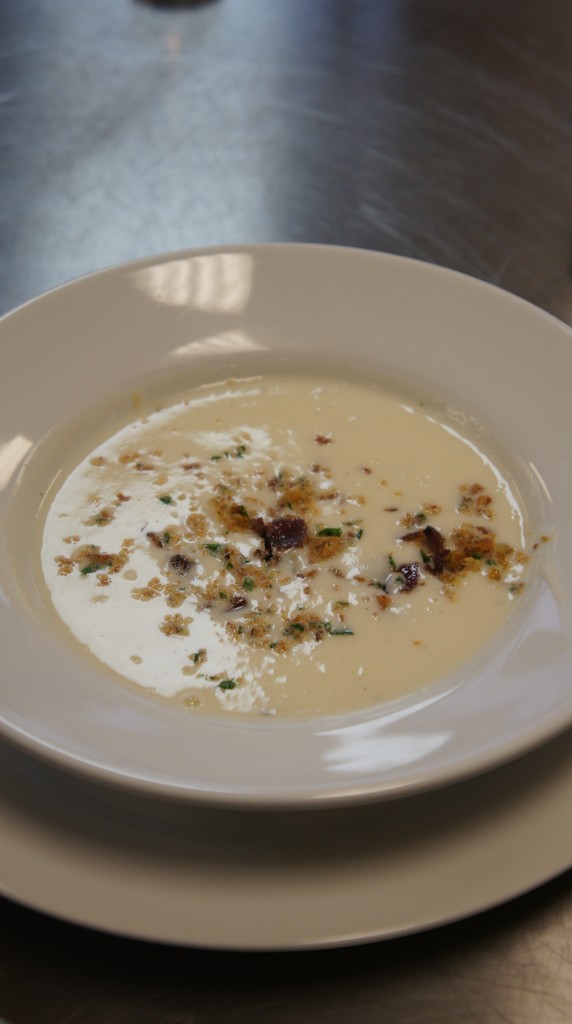 YOU ARE ALSO GOING TO LOVE
Studies have shown that if you loved this post you'll enjoy these posts as well.