I love this tasty and filling 5-ingredient pineapple beef stir-fry recipe that comes in at a mere 5 Weight Watchers Freestyle points per serving. It's filling enough on its own or you can serve with cauliflower rice to keep the points low.
In addition to this being a delicious meal it's perfect for those nights when you need something on the table fast! 10 minutes to prep and 5-10 minutes to cook and dinner is done in less than 20 minutes. Who doesn't love that?
I cook my beef a little longer than the 5 minutes called for in this recipe. I prefer my beef well done while the directions would, in my opinion, be a more towards the medium rare. Whichever way you like your beef cooked dinner is still done in a hot minute.
Seriously! Best dinner time ever when it's done that fast and you can move onto the 100 other things you have to do before tucking in for the night.

5-Ingredient Pineapple Beef Stir-Fry Recipe
Prep time: 10 minutes
Cook time: 5 minutes
Serves: 4
Weight Watchers Freestyle Points: 5
5-Ingredient Pineapple Beef Stir-Fry Ingredients
1 T. coconut oil
1 lb. beef flank steak, thinly sliced against the grain
2½ c. pineapple chunks
3 T. tamari or coconut aminos
3 scallions, sliced thin
Optional:
Sea salt and black pepper, to taste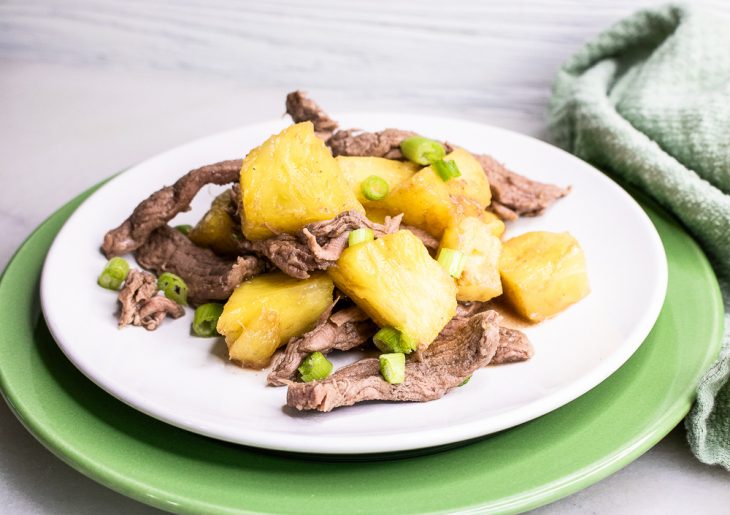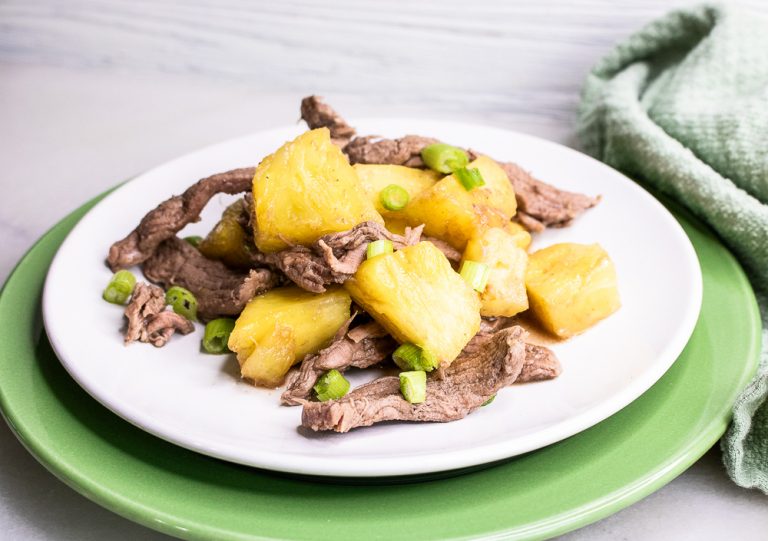 5-Ingredient Pineapple Beef Stir-Fry Directions
Heat the coconut oil in a large high-sided skillet or wok over high heat. Add the beef and pineapple and season with a small pinch of salt and black pepper, if desired.
Stir-fry the beef and pineapple over high heat until the beef is cooked through and the pineapple develops a slight golden color, approximately 2-3 minutes.
Add the tamari or coconut aminos and stir-fry for another 1-2 minutes, or just until the mixture is warm and bubbly. Taste and season with additional salt and black pepper, if desired.
Remove from heat and stir in the scallions. Transfer to individual plates and serve immediately. Enjoy!
More Recipes To Try:
How To Make Sweet Potato Avocado Toast
Cashew Pork Stir-Fry Recipe -WW Freestyle Points Included
15 Weight Watchers Refreshing Desserts You'll Want To Try
Pin To Pinterest