Whether you are looking for a treat for yourself or a new drink to serve at your next dinner party, this Black Cherry 75 Vodka Cocktail Recipe is ideal!
Great flavors and a simple presentation make it a favorite for many.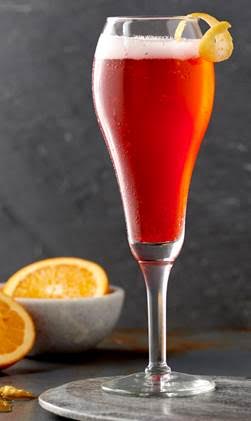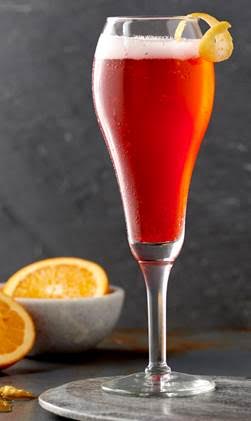 This Black Cherry 75 vodka cocktail recipe is just too pretty not to share. I love the red color of this drink plus it is delicious with the perfect combination of fruity flavors and bubbles.
If you don't have any simple syrup on hand or you aren't sure how to make it I'm including a recipe below. There are lots of simple syrup recipes on the internet, but this is my go to recipe.
You can add different fruits and flavors to create a variety of simple syrups to use in cocktails, but that is a different post for another time.
Easy Simple Syrup Recipe
Ingredients:
Are you ready for how easy it's going to be to make simple syrup?
Directions:
Combine sugar cup of water in a medium sized saucepan.
Bring to a boil and stir until sugar has completely dissolved.
Remove from heat and let cool completely.
Any remaining syrup can be stored in a glass container and kept cool. However, it's so easy to make there really isn't any reason to store. Use it in cocktails, teas, coffees, etc.
Black Cherry 75 Vodka Cocktail Recipe
Ingredients:
1.5 ounces Zodiac Black Cherry Vodka
1 ounce DeKuyper Raspberry Liqueur
1/2 ounce Simple Syrup
1 orange wedge (squeeze & discard)
4 ounce Prosecco
Lemon Garnish
Directions:
In a shaker filled with ice, add Zodiac Black Cherry Vodka, DeKuyper Raspberry Liqueur, simple syrup, and orange juice.
Shake until well blended, then strain into a Tulip glass.
Top with prosecco and finish with a lemon twist garnish
The Black Cherry 75 Vodka Cocktail recipe is the perfect drink to serve guests on Valentine's Day, 4th of July and even Christmas. With bright flavors and a simple recipe, it's a great way to impress guests with your bartending skills.
More Cocktail Recipes:
Pin To Pinterest