This Turtle Cheesecake Recipe is inspired by the delicious recipes presented during the 12 Days of Christmas event at St. Francis Inn. I know you will enjoy the decadent chocolate and caramel cheesecake as much as I did.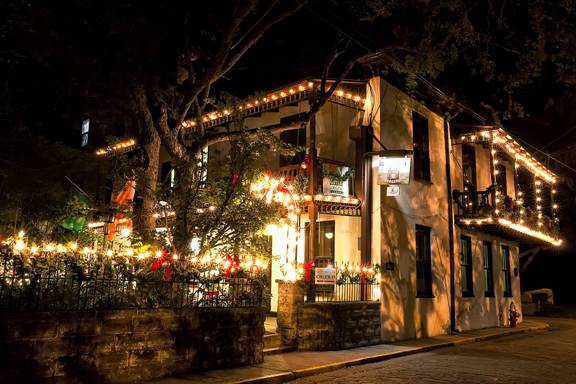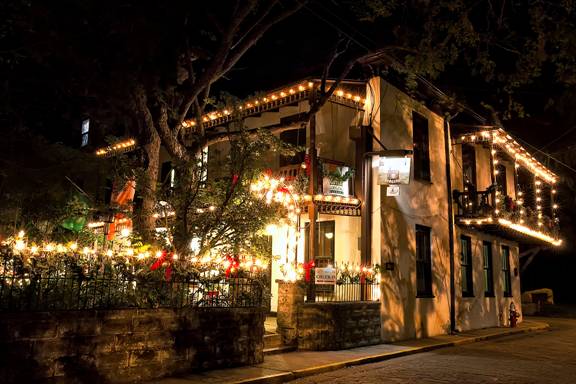 ***Images compliments of St. Francis Inn***
The historic St. Francis Inn (circa 1791) treats their guests 365 days a year to complimentary evening desserts that are homemade and uniquely created for a perfect ending before bedtime. After guests enjoy their dinner or activities throughout St. Augustine, they enjoy returning to the comforting parlor or dining room, sipping a beverage and indulging their sweet tooth on something yummy and surprising from cook Janice Leary's kitchen.
For Christmas 2015, once again the Inn's themed desserts will be paired with one of the '12 Days of Christmas'. St. Francis Inn kindly shared their Turtle Cheesecake recipe with us. This recipe looks so easy to make even for a beginning baker. If you aren't in the mood to bake up the Turtle Dove Cheesecake head over to St. Francis Inn for a night or two and enjoy their version. Happy Holidays!
Easy Turtle Cheesecake Recipe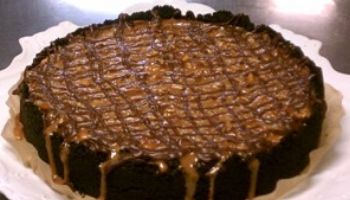 Ingredients:
24 OREO Cookies, finely crushed (about 2 cups)
6 Tbsp. Butter or margarine, melted
1 Pkg. (14 oz.) Caramels
1/2 cup milk
1 cup chopped Pecans
3 Pkg. (8 oz. each)Cream Cheese, softened
3/4 cup sugar
1 Tbsp. Vanilla
3 eggs
2oz. Dove Chocolate
Directions:
HEAT oven to 325°F.
MIX crumbs and butter; press onto bottom and 2 inches up side of 9-inch pan or springform pan.
MICROWAVE caramels and milk in a small microwaveable bowl on HIGH 3 min. or until caramels are completely melted, stirring after each minute. Stir in nuts; pour half into crust. Refrigerate 10 min.
Refrigerate remaining caramel mixture for later use.
BEAT cream cheese, sugar and vanilla in large bowl with mixer until blended. Add eggs, 1 at a time, mixing on low speed after each just until blended. Pour over caramel layer in crust.
BAKE 1 hour 5 min. to 1 hour 10 min. or until center is almost set. Run a knife around rim of pan to loosen cake; cool before removing rim. Refrigerate 4 hours.
MICROWAVE reserved caramel mixture 1 min.; stir. Pour over cheesecake. Melt chocolate as directed on package; drizzle over cheesecake.
This delicious turtle cheesecake recipe is a great choice when entertaining guests. It's rich, delicious, and pretty easy to assemble. People will be impressed with your skill in the kitchen, and you'll be satisfied with the amazing rich flavors.
More Cheesecake Recipe
Enjoy these additional cheesecake recipes!