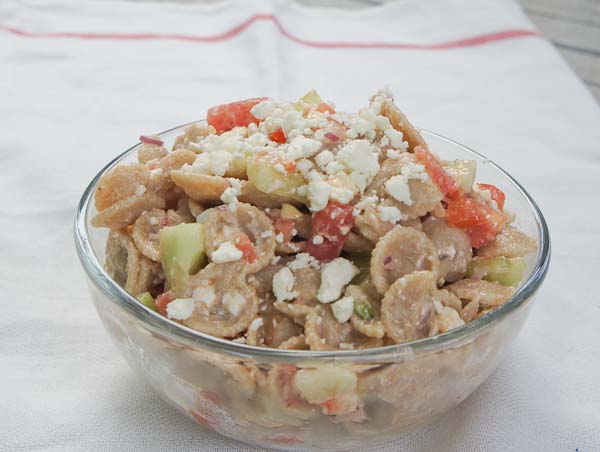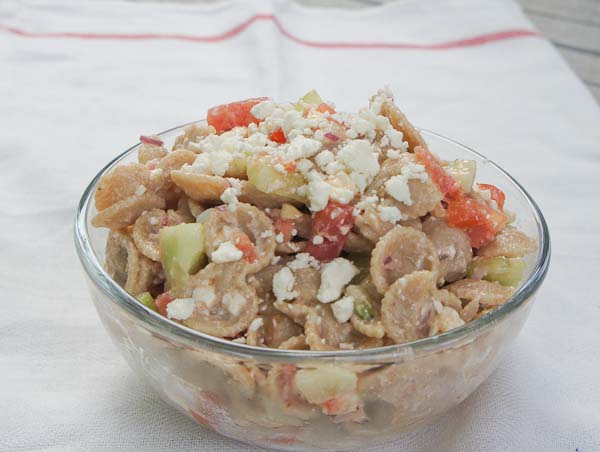 Summer feels like it's coming to a close in northern Michigan. Nights have really been cooling off and I'm waking to brisk air in the mornings. Â I'm not sure what is going on with the weather this summer, but it's been a little weird. Â However, the gardens are doing well and that means lots of delicious summer salads are still waiting to be made.
Hodgson Mill asked me to create a summer recipe using their new Whole Wheat pasta. Of course, I immediately agreed. I love Hodgson Mill products. They are 100% all natural, 100% Made in America and most importantly non-gmo verified! We are trying harder to make sure the majority of our food is non-gmo. It's sometimes I battle, but Hodgson Mill makes it easy by providing an entire line of non-gmo products.
Since the theme is summer pasta and the gardens are full of tomatoes and cucumbers I put together a very easy pasta dish that is perfect for lunch or dinner.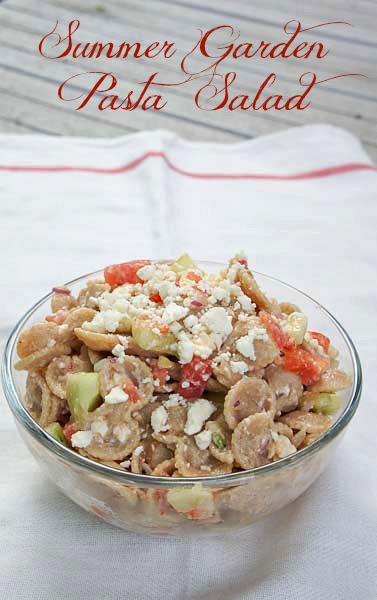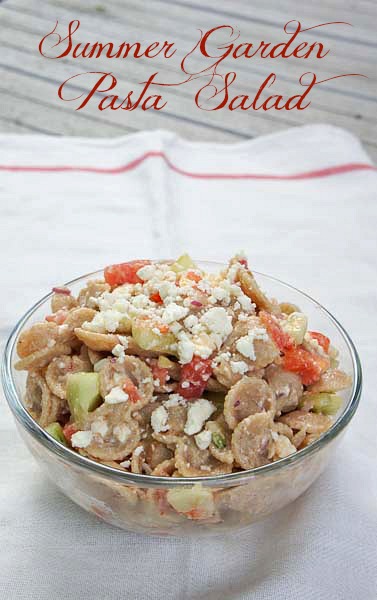 INGREDIENTS
1/2 box Hodgson Mill Whole Wheat Whole Grain Bow Tie pasta, cooked according to package directions
1 small-medium tomato, diced
1/2 cucumber, chopped
1/2 small red onion, finely diced
4 ounces crumbled feta cheese
Olive oil
Salt & pepper
DIRECTIONS
Toss together pasta, tomato, cucumber, onion and feta. Drizzle with a bit of olive oil. Season with salt and pepper. Enjoy!
Yes, it really is that easy. You can make this up in no time at all. I chop and dice the veggies while the pasta is cooking. After draining the pasta I run it under cold water for a minute or two and then toss everything together. This easily made enough for 4 side servings with some left overs.