If you're already visiting Daytona Beach you're going to want to jump in the car and take the A1A about 10 miles south to explore the delightful town of Ponce Inlet.
From a dolphin cruise to visiting the epic lighthouse you don't want to skip a visit here.
Seriously, do not pass up spending part of a day, at minimum, in Ponce Inlet.
4 Absolute Must Things To Do In Ponce Inlet
Ponce Inlet Watersports Dolphin Cruise
Take this opportunity to get out on the water and look for dolphins with the Ponce Inlet Watersports Dolphin Cruise. This fun and educational and fun cruise on the Intracoastal waterway.
You'll board a 32-passenger flat bottom boat and enjoy a leisurely float while learning about the ecology of the area and looking for dolphins.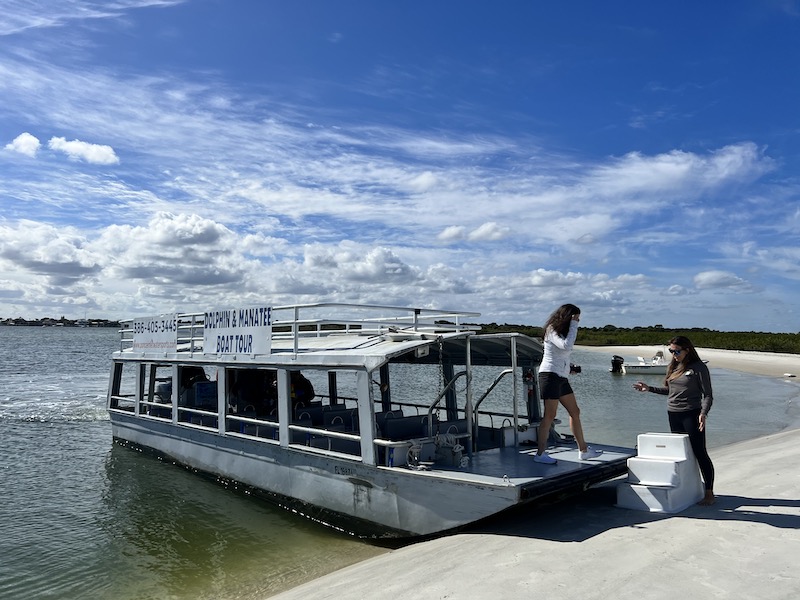 There is a really good chance you'll spot many of these playful creatures, and with a bit of luck, they'll play in the surf along the boat.
The cruise also makes a stop at an island where you can take a dip in the water, build a sandcastle or search for beach treasures.
Be sure to pack a bucket and a beach towel for the adventure.
Ponce de Leon Inlet Lighthouse and Museum
See why gorgeous historic lighthouse makes our list of "must visit" places in Ponce Inlet.
It is the tallest lighthouse in Florida and one of the tallest in the United States.
203 steps take you to the top of this 175-foot structure for incredible views of the surrounding area.
There are a number of historic buildings open to the public including a lens exhibit building, keeper/assistant keeper buildings, and more.
The lens exhibit showcases the history of lighthouse illumination and has a beautiful collection of lenses and lanterns.
Ponce Inlet Historical Museum
The Ponce Inlet Historical Museum contains two historic Florida Cracker-style cottages, both listed on the National Register of Historic Places.
The museum is dedicated to sharing the history and cultural heritage of the Town of Ponce Inlet.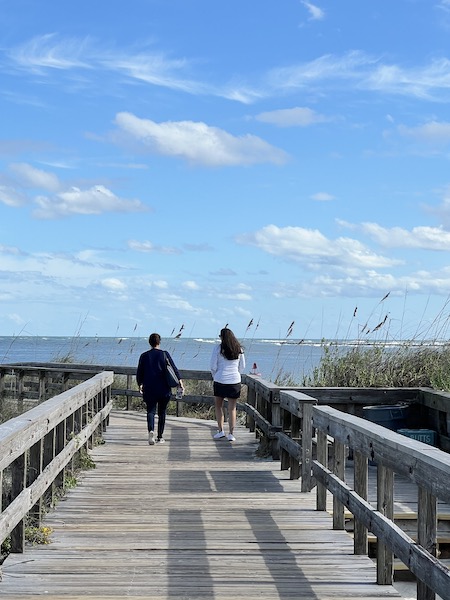 Lighthouse Point Park
At Lighthouse Point Park stroll the boardwalk to the breakwaters and see where the ocean meets the intracoastal waterway.
Be sure to watch for gopher turtles along the boardwalk.
We were fortunate to spot one enjoying her afternoon meal.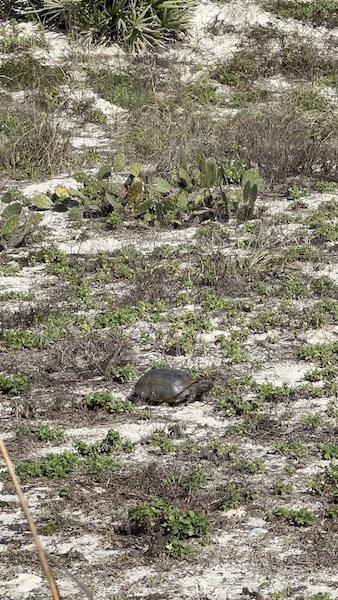 The wooden boardwalk makes it a very each walk to the breakwater.
There are also a number of nature trails at the park to hike.
It's also a great area to stop for a picnic lunch or if you find yourself here in the evening the sunsets are amazing!
More about visiting Daytona Beach can be found here:
The Ultimate Guide to The Best Things To Do At Daytona Beach
Visiting Daytona Beach? You'll Want To Stay At One of These Unique Hotels
13 Fun Things To Do Around Daytona Beach On A Rainy Day
The Perfect Getaway At The Shores Resort and Spa in Daytona Beach