Daytona Beach is a popular destination known for its 23 miles of hard packed, drivable, white sand beach and for being home to the Daytona International Speedway.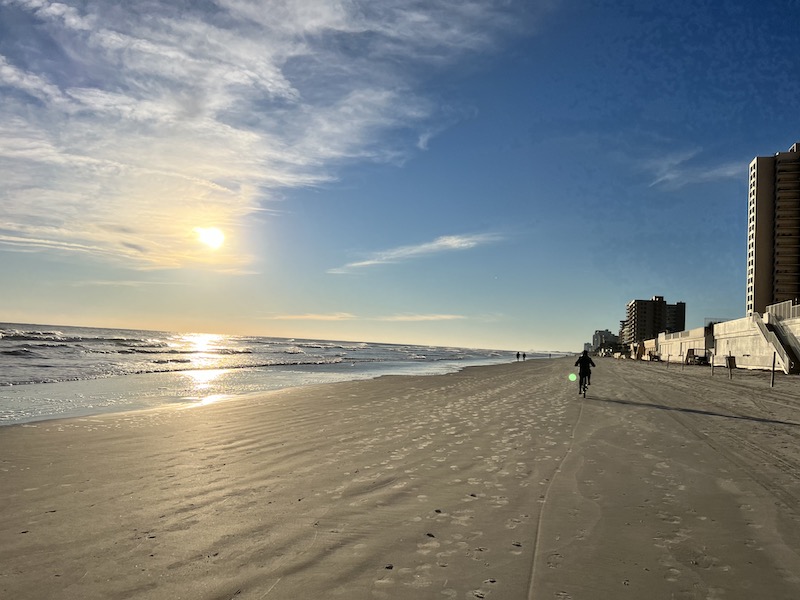 Now, I know the famous beach and the NASCAR races might be what brings you to Daytona Beach, with good reason, but there is so much more to do here.
At minimum, you'll want a long weekend, but if you can swing it a week would be best.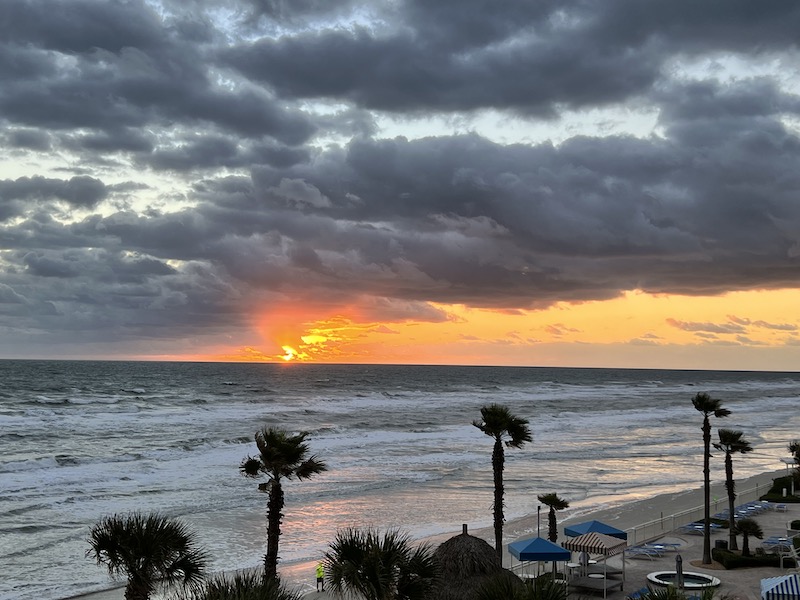 Use this post as a guide to help you craft the perfect weekend or week-long getaway.
Be sure to scroll to the end for some common questions about visiting, parking, transportation, safety and more.
Big THANKS to Daytona Beach for hosting my visit!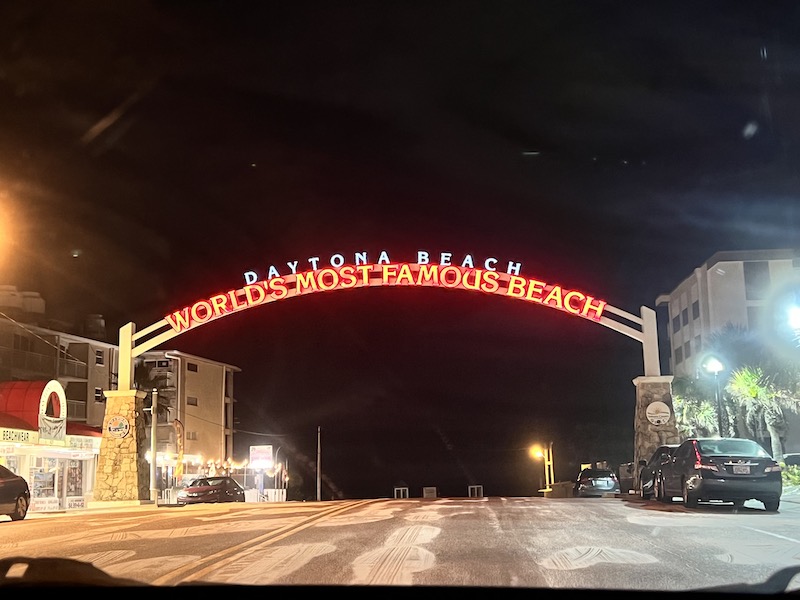 The Ultimate Guide to The Best Things To Do in Daytona Beach
Daytona Beach is broken into two main areas, beach side and mainland.
The beach side is exactly what it sounds like. It's the strip of land between the Atlantic Ocean and the Halifax River.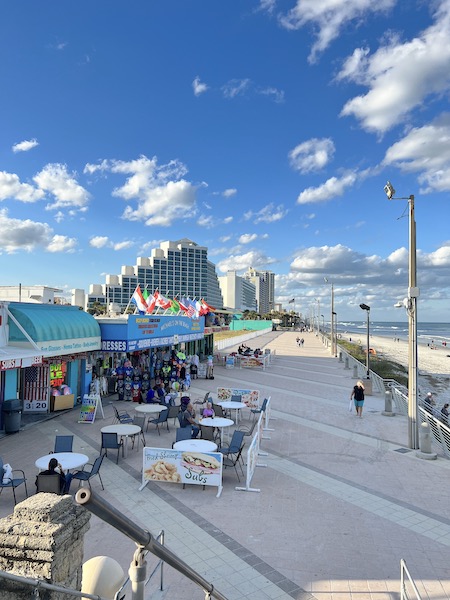 The mainland is the area west of the Halifax River.
Additionally, the Daytona Beach area includes the communities of Ormond-By-The-Sea, Ormond Beach, Daytona Beach, Daytona Beach Shores, Wilbur-By-The-Sea, Ponce Inlet, Holly Hill and South Daytona.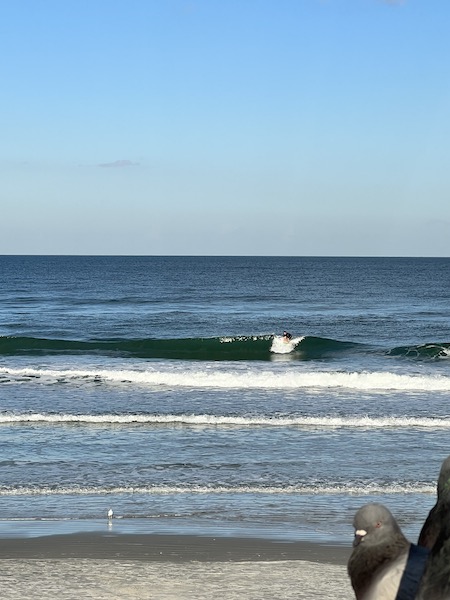 I'm including some things to do in a few of those communities but no worries, they are all so close together you often don't notice when you leave one community and enter another one.
THINGS TO DO BEACH SIDE DAYTONA BEACH
View this post on Instagram
DAYTONA BEACH BOARDWALK AND PIER
You absolutely must check out the boardwalk and pier at the beach. From adrenaline pumping rides to salt water taffy to the clock tower and band shell.
This is iconic Daytona Beach and a must-see.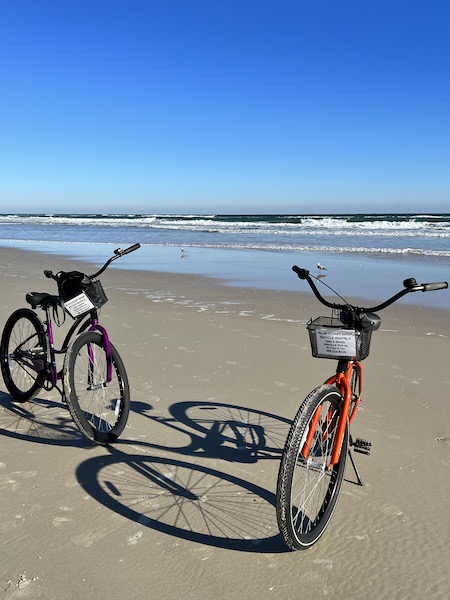 BIKE OR DRIVE THE BEACH Bike
You can rent pedal bikes from Blue Coast Shop Bicycle Rentals, but if you have a car you'll want to drive the beach as well.
The hard packed sand makes it easy to do either.
Biking is very popular activity on the beach and it's easy to see why so many people enjoy it.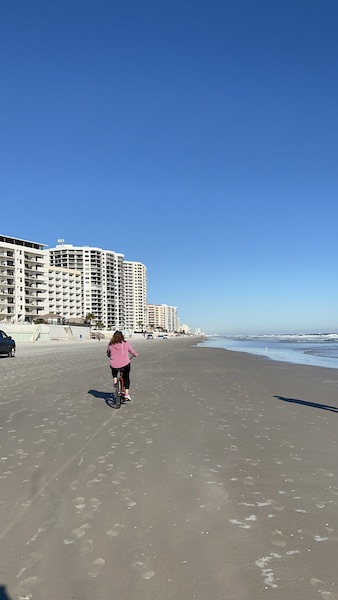 The only downside, the wind can be strong and make the ride a bit more of a struggle than you might like.
Be sure to check weather conditions before renting.
Plus, there is just something really memorable about biking along the Atlantic Ocean on one of the best beaches on the East Coast.
View this post on Instagram
To drive along the beach, there are a number of entrances where you'll pay a small fee.
Be sure to follow the signs and obey traffic laws the same as if you were on the road.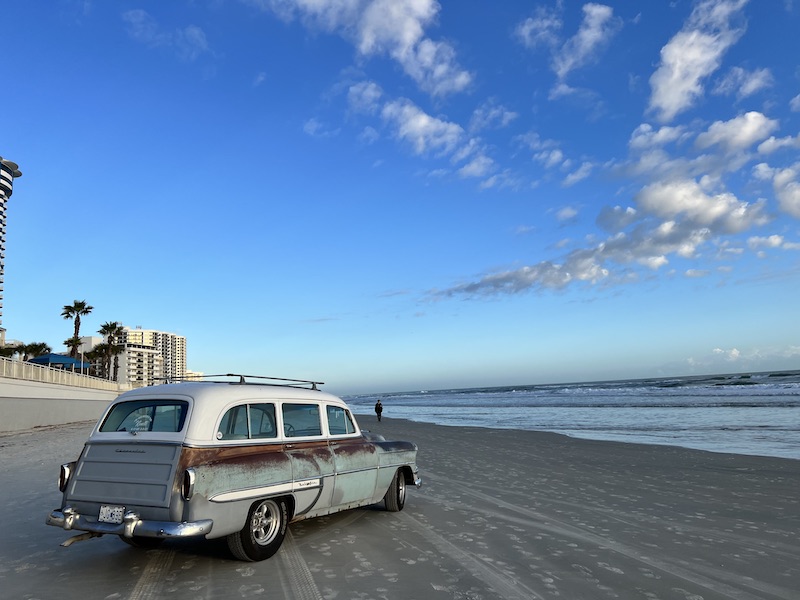 BEACH DAYS
One of the best things to do in Daytona Beach is to enjoy the beach.
Grab a good book, cooler packed with your favorite drinks, a beach umbrella and your beach chairs and plan an afternoon of pure rest and relaxation.
If it's warm enough you could play in the surf, take a swim in the ocean, or even enjoy a paddle board adventure for a bit.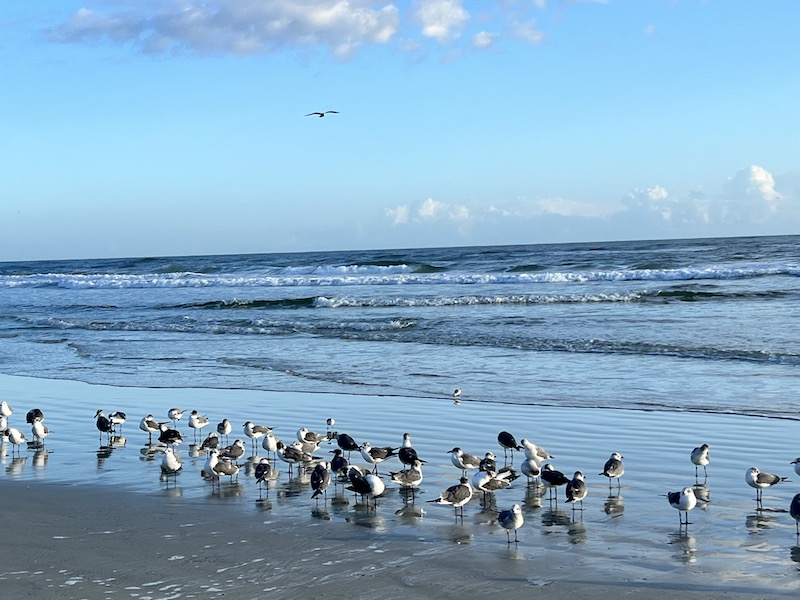 Personally, we spent a lot of time walking for long stretches along the beach. It was so relaxing and we'd walked miles without even realizing it.
SEE SEA TURTLES
From May – October is sea turtles season when these amazing animals head to the beach at night to lay their eggs in nests dug in the dry sand, then return to the sea.
Usually the nests are located up in the dune area of the beach and, most likely, have been roped off to save the nests.
There is still plenty of beach to enjoy even during turtle season and the chance of seeing a sea turtle is the perfect reason to visit during the season.
ENJOY THE SPA AT THE SHORES RESORT AND SPA
Because you always deserve to pamper yourself when you're on vacation. Order some chocolate covered strawberries to enjoy during your spa experience.
We really liked the boutique spa at The Shores Resort and Spa. The entire staff was so friendly and accommodating. I would book another appointment here without hesitation.
If time allows plan an entire spa day with massage, facial and mani/pedi.
SIP AT SUNSET
Honestly, one of our favorite things to do is enjoy a cocktail while watching the sun kiss the horizon and say goodnight.
There are a couple great places to make this happen, Top of Daytona with 360 degree views from the 29th floor (the tallest buildings on the strip), Sky Rooftop Bar with incredible views and NASCAR history, The Roof above Joe's Crab Shack on the Daytona Beach Pier.
Additionally, any place along the Halifax River on the beach side or in the Ponce Inlet area along the water.
THINGS TO DO MAINLAND DAYTONA BEACH
MUSEUM OF ART AND SCIENCE
The Smithsonian-affiliated Museum of Arts & Sciences includes a planetarium, restored train cars, and an incredible permanent collections that included decorative arts, Cuban art, African art and the only hands-on science center between Jacksonville and Orlando.
CICI AND HYATT BROWN MUSEUM OF ART
This is what happens when your personal collection of art gets to be too big. You build your own art museum to store and showcase it all and then open to the public.
I definitely appreciate that their art collections has been made available for all to enjoy.
The works of art all gorgeously displayed in this magnificent museum. There are six galleries that you'll want to explore that showcase changing exhibitions.
If you love art do not miss this exceptional museum during your time in Daytona Beach.
JACKIE ROBINSON BALLPARK AND STATUE
Baseball fans won't want to miss the iconic park where Jackie Robinson played in the first integrated Major League Baseball spring training game way back in 1946.
In front of the ballpark is a statue of the man himself as well as historical markers and a museum.
If you are in town while the Daytona Tortugas, a Cincinnati Red affiliated minor league team, is playing you might was to catch a game.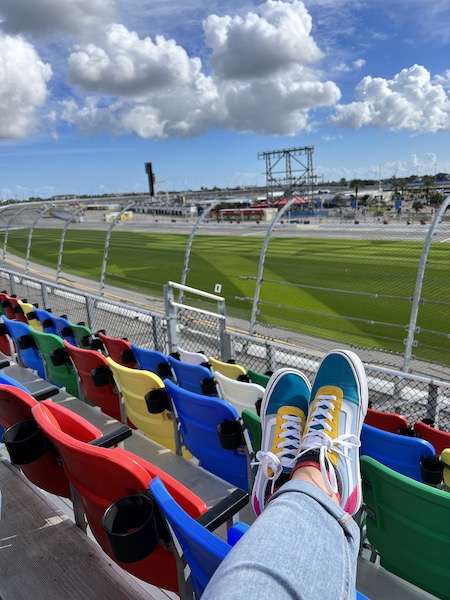 DAYTONA INTERNATIONAL SPEEDWAY TOUR AND NASCAR RACING EXPERIENCE
NASCAR fans and non-fans are going to love this tour of the Daytona International Speedway.
Take a truck-pulled tram ride on the track and sign your name at the finish line.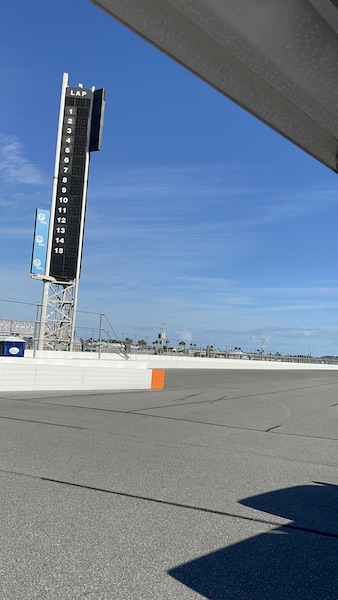 Be amazed at the size of the track and grounds and learn about all there is to do on race days and beyond.
It's a fun and informative tour even for non NASCAR fans.
Although, after the tour, it does have me wanting to go watch a race which I've never wanted to do before.
After the track tour you'll end at the museum that has the winning Daytona 500 car (held together with duct tape) as well as memorabilia from all types of racing.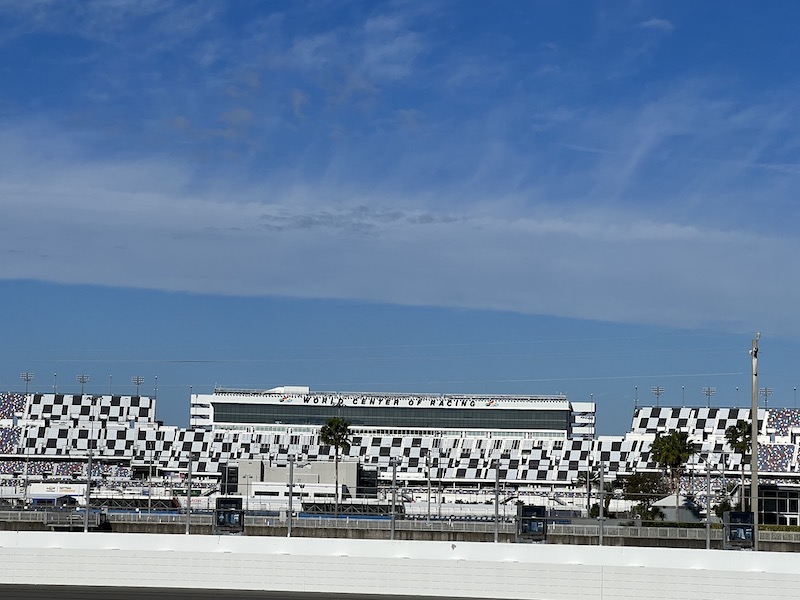 Tours run daily and leave every thirty minutes beginning at 9:30 AM with the last tour of the day running at 3:00 PM.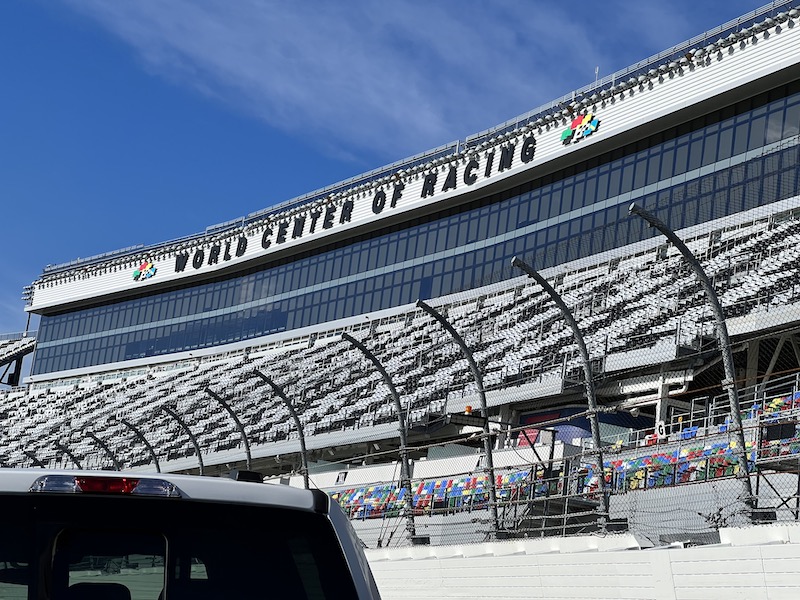 If time allows sign up for a NASCAR racing experience where you can drive a race car by yourself or take a ride along.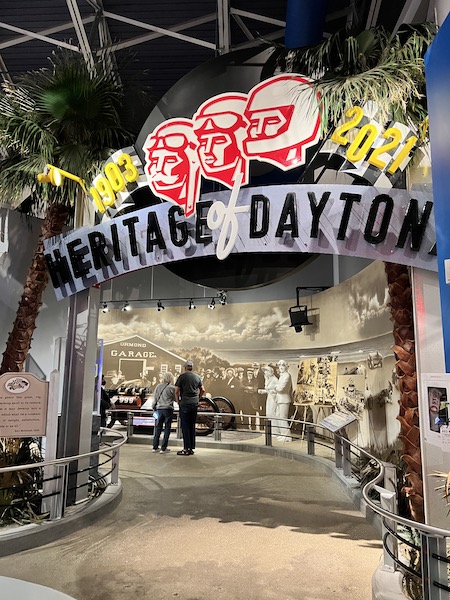 I took a ride along at the Atlanta Motor Speedway and it. was. incredible!!!
I would love to drive a car at some point, but riding along with a pro allows you to go high on the wall and as fast as possible. It's one of my favorite memories!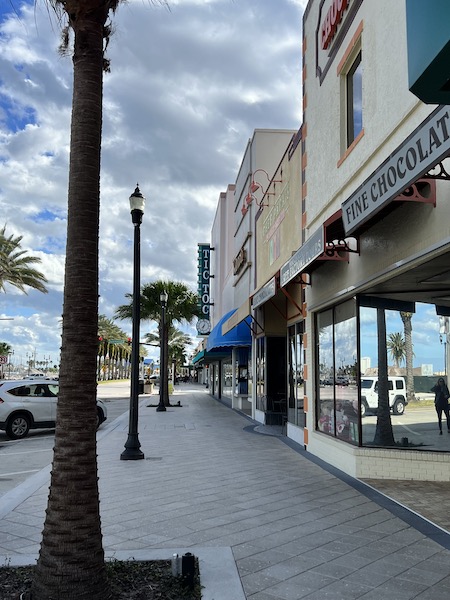 SHOP BEACH STREET
Be sure to spend an hour or two browsing the fun shops along Beach Street.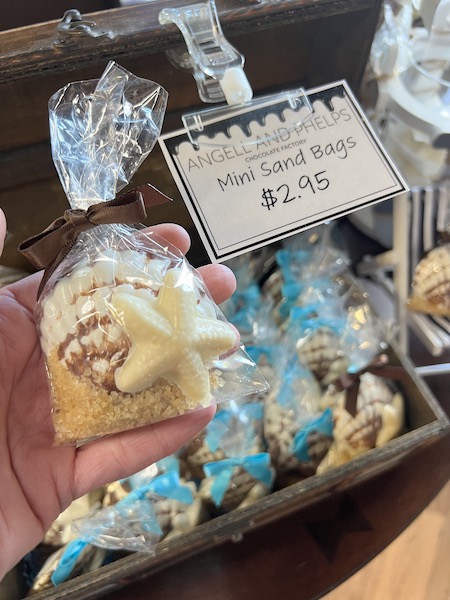 Some of our favorite places include:
Angell & Phelps chocolate factory tour – This is a self guided tour, once you are in the store walk to the very back and read the placards on the wall while watching the employee craft delicious chocolate through the windows. Once you finish the tour, be sure to enjoy a sample of chocolate before browsing the store and buying some tasty souvenirs to take home. I also LOVE that Angell & Phelps were from Michigan and learned to make fudge from the iconic fudge sellers of Mackinaw Island, MI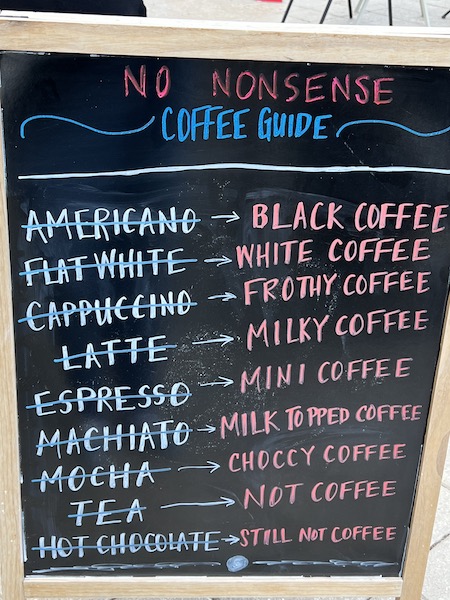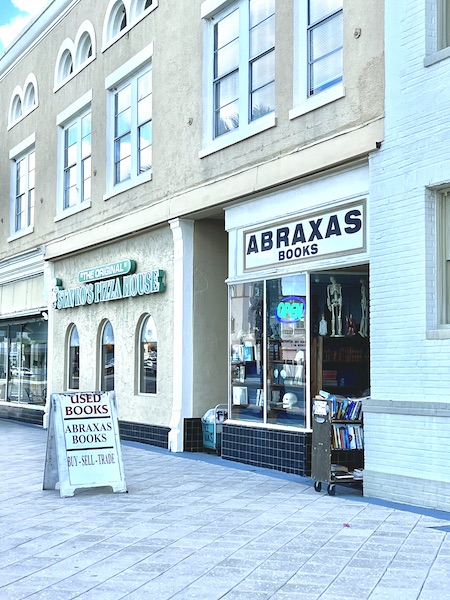 Abraxas Used Bookstore – PILES of books everywhere. This is a book lovers dream. It's a small area, but you just know there are treasures in here to be found.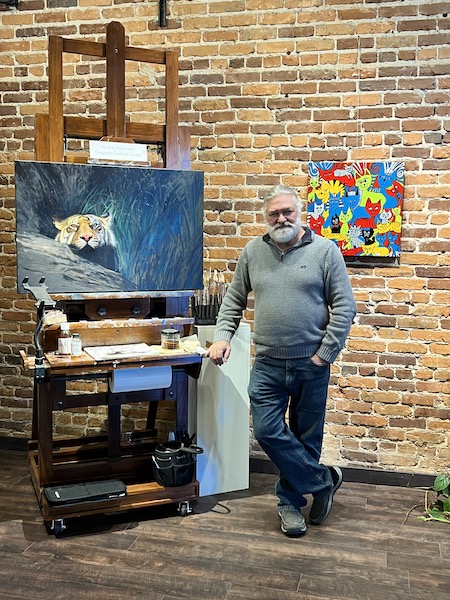 Galerie Elan – This recently opened art gallery features a number of local artist and is set to open the Cafe Vincent Coffee & Wine Bar and offer live music. It's a pretty great addition to Beach Street.
Daytona Magic Shop – How often do you see a magic shop when you travel. I think this is the first one I've ever come across and what a delight.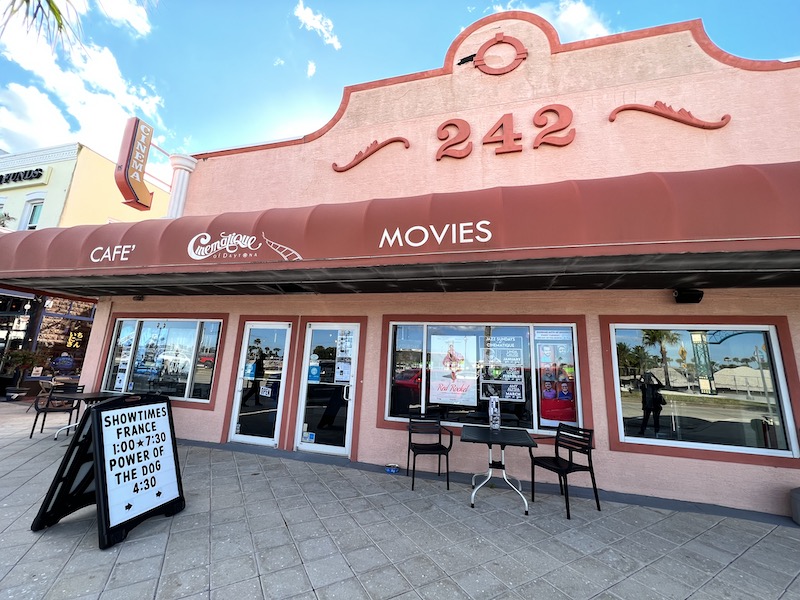 Cinematique Theater – Not just any movie theater, but an art house movie theater with couch and table seating as well as food and drinks.
LILIAN PLACE HERITAGE CENTER
Lilian Place, one of the oldest homes on the beachside in Daytona Beach, is a Italianate High Victorian and is open for guided tours Wednesday through Mondays.
Additionally, they offer Victorian Tea twice a month and Winedown Wednesdays once a month.
The best part of the house, in my opinion, is it is said to be haunted by the ghost of Lucille.
Lucille has been causing mischief for over 100 years. Strange incidents have been rumored through the years including a woman dressed in white, laughing children, and a man resembling Stephen Crane, the famed author of the Open Boat.
Crane was aboard his boat "Commodore" when it sank off the shoreline of Daytona Beach on December 31, 1896. Crane made it to shore and was taken to Lilian Place to recuperate.
Check their site to see if they are offering any ghost hunts while you are in town.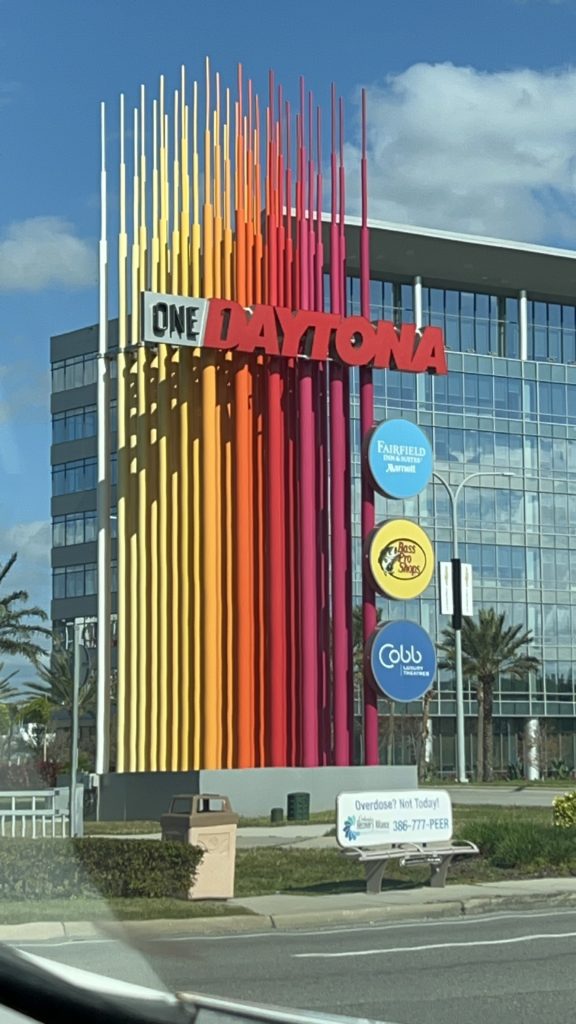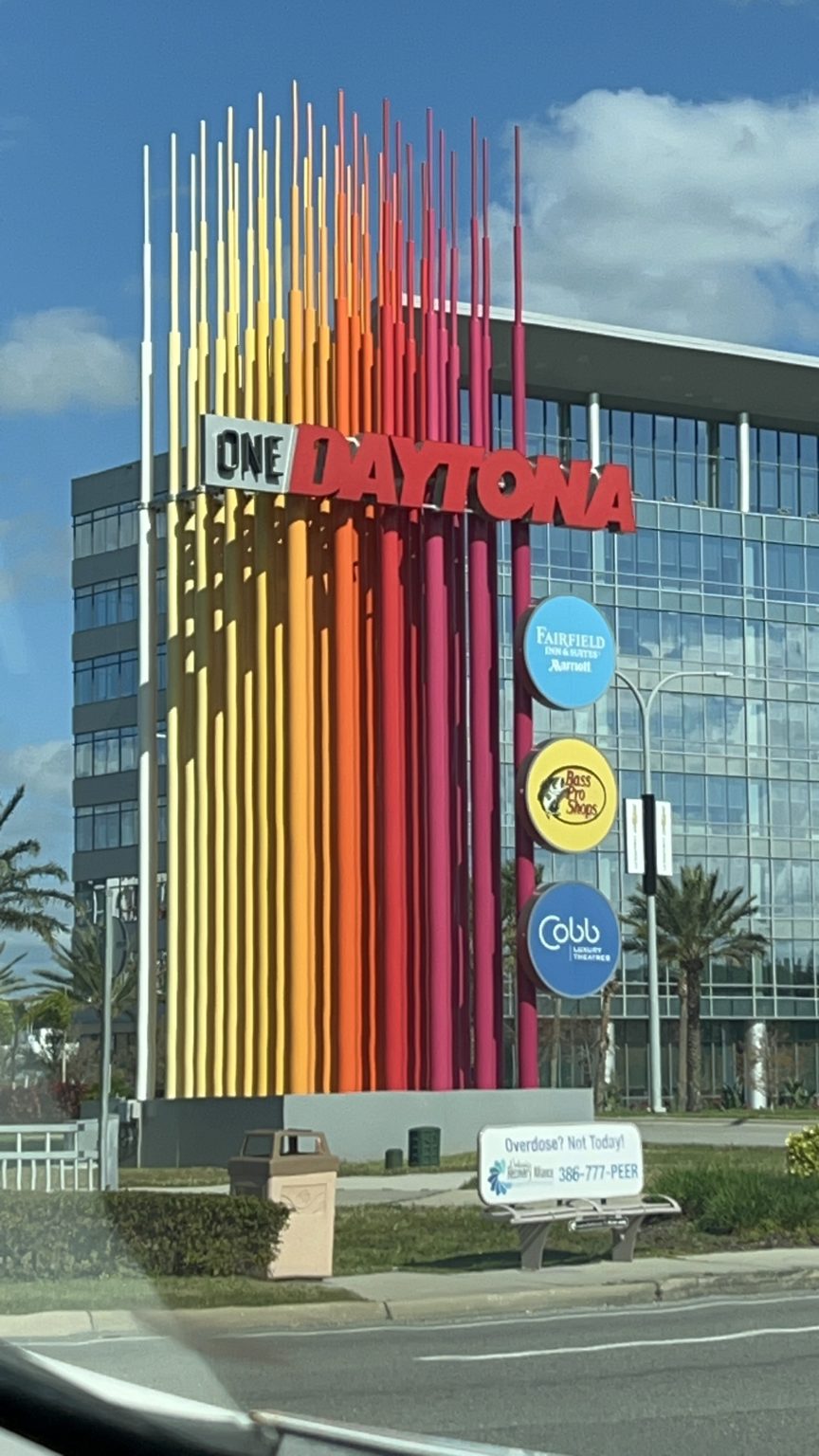 ONE DAYTONA for shopping and dining
ONE DAYTONA is an entertainment center located directly across from the iconic Daytona International Speedway.
There is a mix of dining, shopping, entertainment and lodging.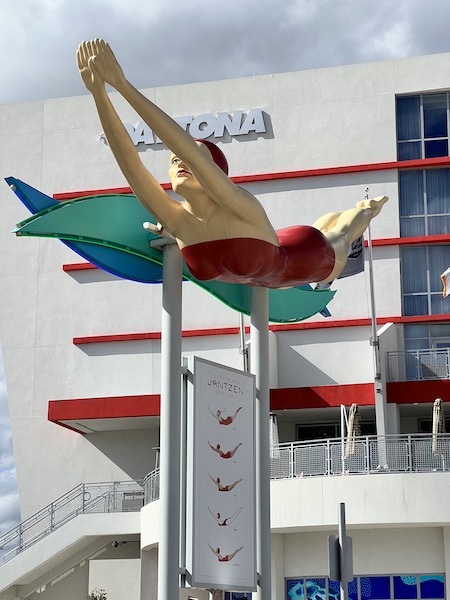 A couple must-see/do while here:
Grab lunch at 4 Rivers BBQ
Take photos of the iconic Jantzen diving girl located in front of The Daytona hotel.
Visit the hotel lobby/bar area of The Daytona for racing cars and memorabilia
Check out Donnie's Donuts
THINGS TO DO IN ORMOND BEACH
View this post on Instagram
Dunn's Attic
One of the best places, maybe the only place, to sip and shop in the Daytona Beach Area. Grab a $1 mimosa or $2 sangria before shopping the 12,000+ square foot showroom at Dunn's Attic.
There is furniture, jewelry, gifts, collectibles, art, books and so much more. It would be so easy to spend an afternoon browsing and Dunn's Attic is set to open a second location nearby for even more shopping opportunities.
Tomoka State Park
The Tomoka State Park, located a few miles north of Ormond Beach, offers camping, water sports, a camp store and, most importantly, a 45-foot art deco statue to honor Chief Tomokie who lived on this land.
THINGS TO DO PONCE INLET
Ponce Inlet Watersports Dolphin Cruise
Don't miss this opportunity to get out on the water and look for dolphins with this educational and fun cruise on the Intracoastal waterway.
You'll board a 32-passenger flat bottom boat and enjoy a leisurely float while learning about the ecology of the area and looking for dolphins.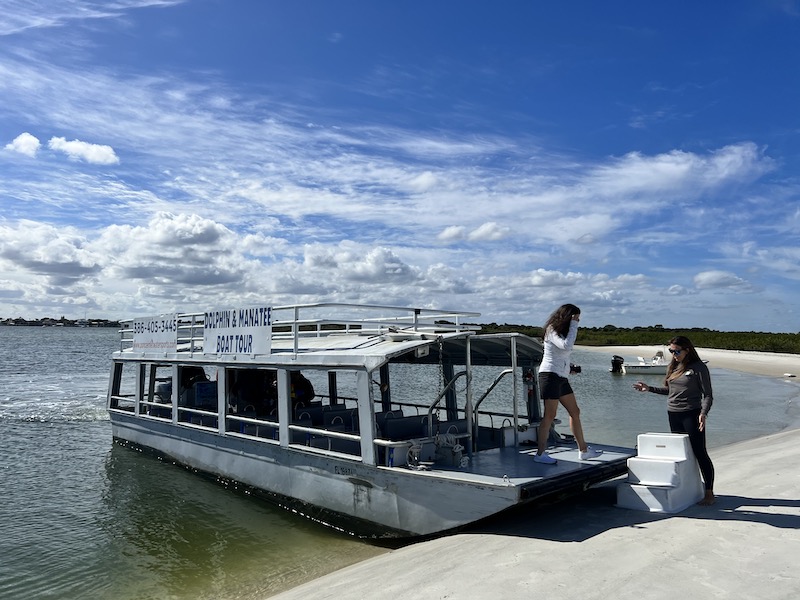 There is a really good chance you'll spot many of these playful creatures, and with a bit of luck, they'll play in the surf along the boat.
The cruise also makes a stop at an island where you can take a dip in the water, build a sandcastle or search for beach treasures. Be sure to pack a bucket and a beach towel for the adventure.
Ponce de Leon Inlet Lighthouse and Museum
You would be remiss to not visit this gorgeous historic lighthouse.
It is the tallest lighthouse in Florida and one of the tallest in the United States. 203 steps take you to the top of this 175-foot structure for incredible views of the surrounding area.
There are a number of historic buildings open to the public including a lens exhibit building, keeper/assistant keeper buildings, and more.
The lens exhibit showcases the history of lighthouse illumination and has a beautiful collection of lenses and lanterns.
Ponce Inlet Historical Museum
The Ponce Inlet Historical Museum contains two historic Florida Cracker-style cottages, both listed on the National Register of Historic Places.
The museum is dedicated to sharing the history and cultural heritage of the Town of Ponce Inlet.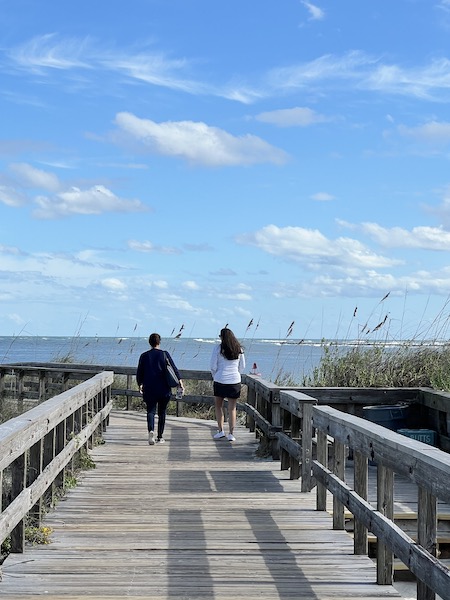 Lighthouse Point Park
Stroll the boardwalk to the breakwaters and see where the ocean meets the intracoastal waterway at Lighthouse Point Park.
Be sure to watch for gopher turtles along the boardwalk. We were fortunate to spot one enjoying her afternoon meal.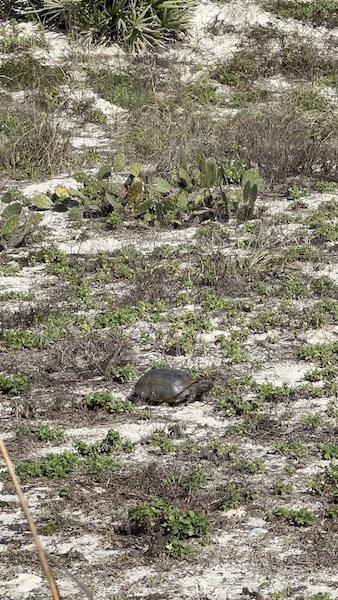 The wooden boardwalk makes it a very each walk to the breakwater.
There are also a number of nature trails at the park to hike.
SIDE TRIP: BLUE SPRING STATE PARK (best in winter months)
View this post on Instagram
If you are visiting during December to February I highly recommend taking a slight detour over to Blue Spring State Park to kayak with the manatees.
You won't be able to kayak into the spring, but this is the perfect place to kayak the river that the spring feeds into and see the manatees as the enter and exit the spring area.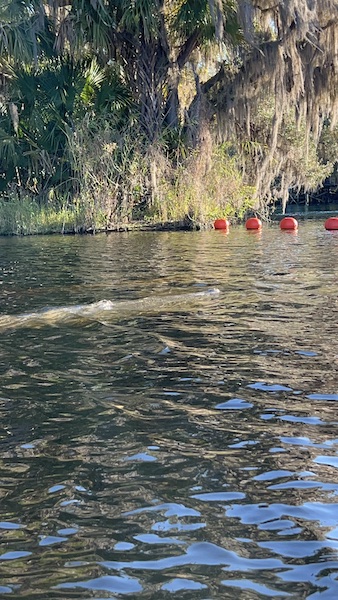 There is also a lovely spring trail that you can walk to see the manatees from shore.
Walk or kayak, either way is a great opportunity to see numerous manatees!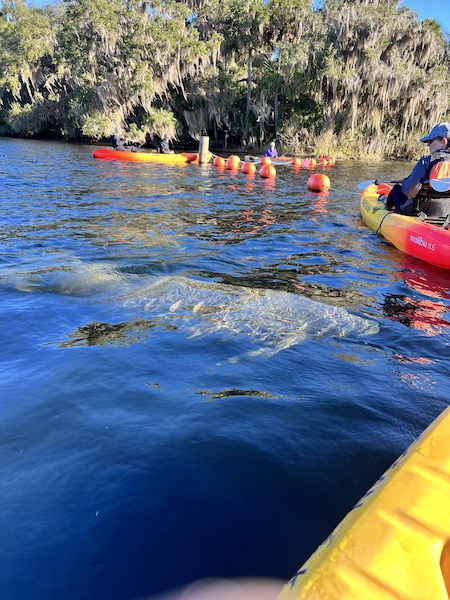 Note that the colder the river water the more manatees there will be in the spring and the more people there will be visiting Blue Spring.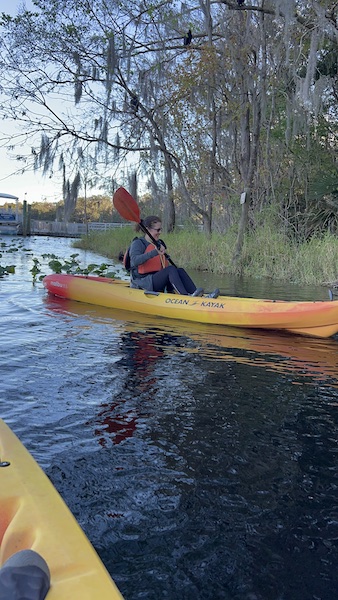 Be sure to make a kayak reservation well in advance and plan to arrive well before the park opens. The line of cars waiting to get in the park can get quite long and the park does fill up quickly.
Arrive early to avoid disappointment.
WHERE TO STAY IN DAYTONA BEACH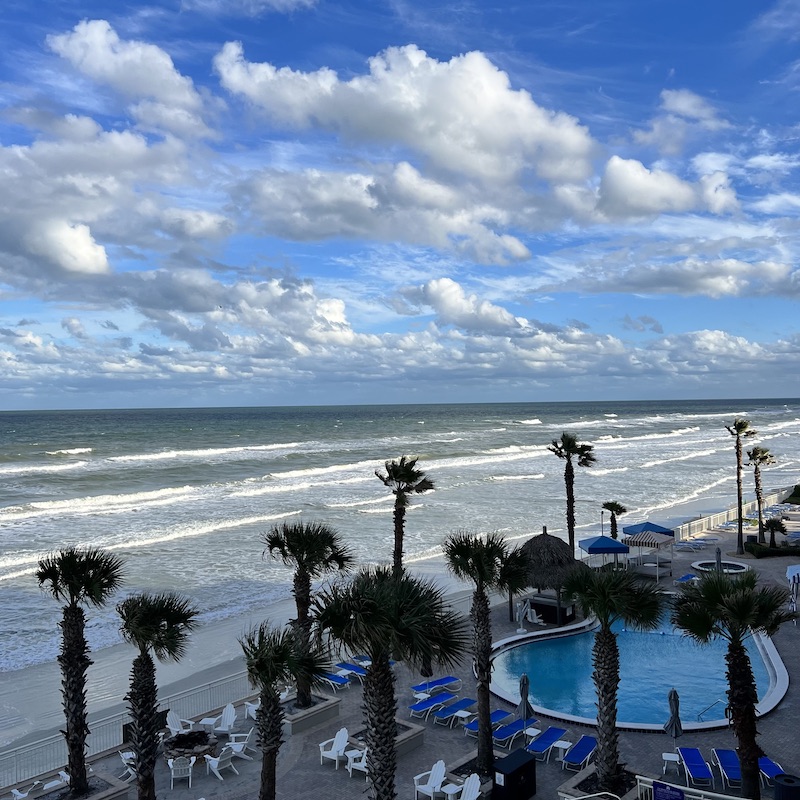 I'll be sharing a longer post shortly, but we loved our stay at The Shores Resort & Spa. It is towards the Ponce Inlet end of the beach and was a bit quieter which I loved.
The beach is gorgeous here and the pool deck at the resort is simply perfect with pools, swim up bar, fire pits and more.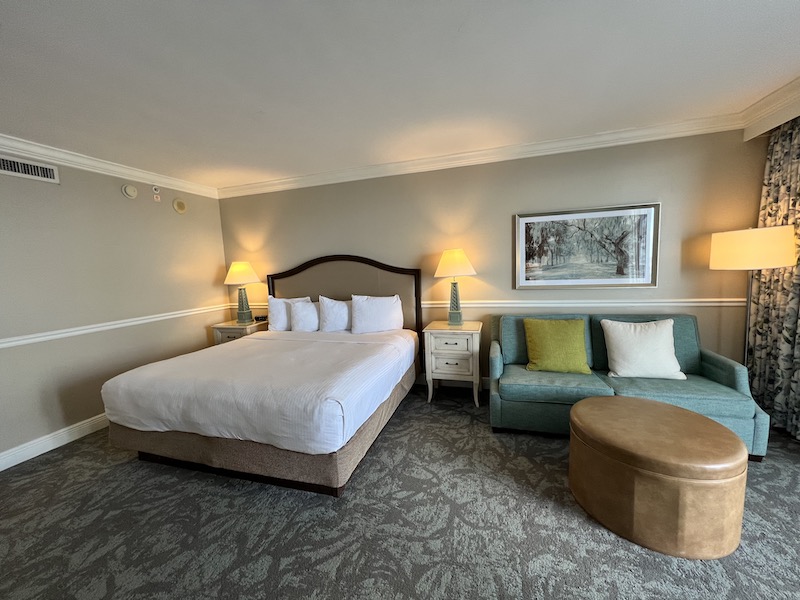 At the resort they have everything you need. A full service restaurant, boutique spa, Starbucks coffee, great location, oceanfront rooms and weekly evening entertainment.
FREQUENTLY ASKED QUESTIONS (FAQ's)
WHERE IS DAYTONA BEACH LOCATED?
Located in central Florida, it is a short drive south of St. Augustine, a not bad drive from Miami and a really long drive north of the Florida Keys or Key West.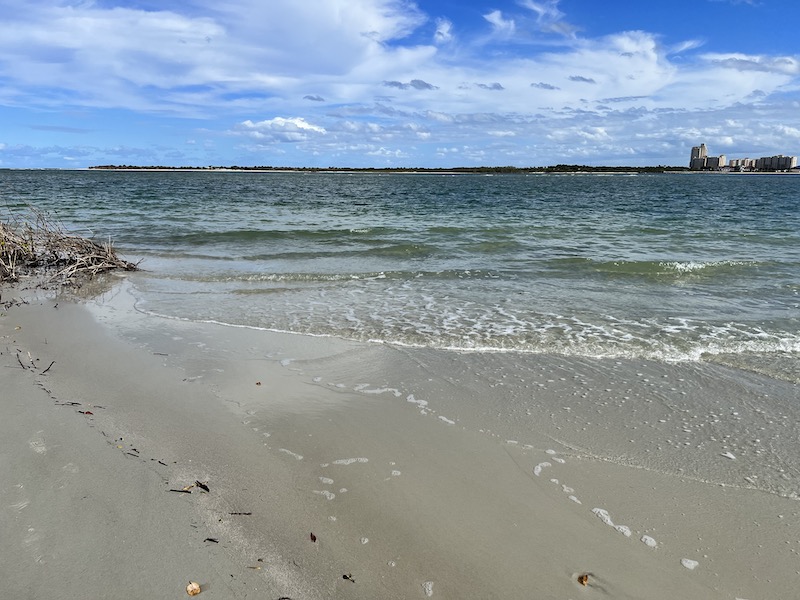 HOW FAR IS DAYTONA BEACH FROM DISNEY WORLD AND UNIVERSAL STUDIOS?
It's not quite 90 minutes from the parks to the beach. An easy addition to your Orlando vacation.
WHO SHOULD VISIT DAYTONA BEACH?
Everyone from the entire family to girlfriend getaways to romantic escapes. There is something here for everyone.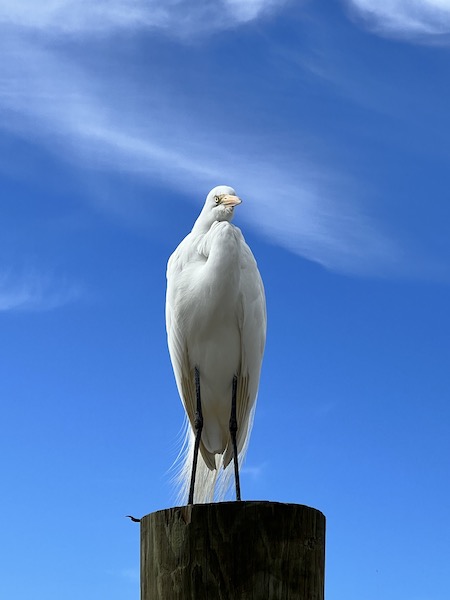 WHEN SHOULD I VISIT DAYTONA BEACH?
That really depends on what you'd like to do. There really isn't a bad month to visit, but there are some events you'll want to be aware of so you can either join or avoid.
Busy time: Spring Break, Summers (Mid-May through Mid-September),Bike Week, Biketoberfest, and the Daytona 500 NASCAR event
Slower time: December – February, but expect cooler temps and it's probably not "swim in the ocean" weather, but still quite enjoyable.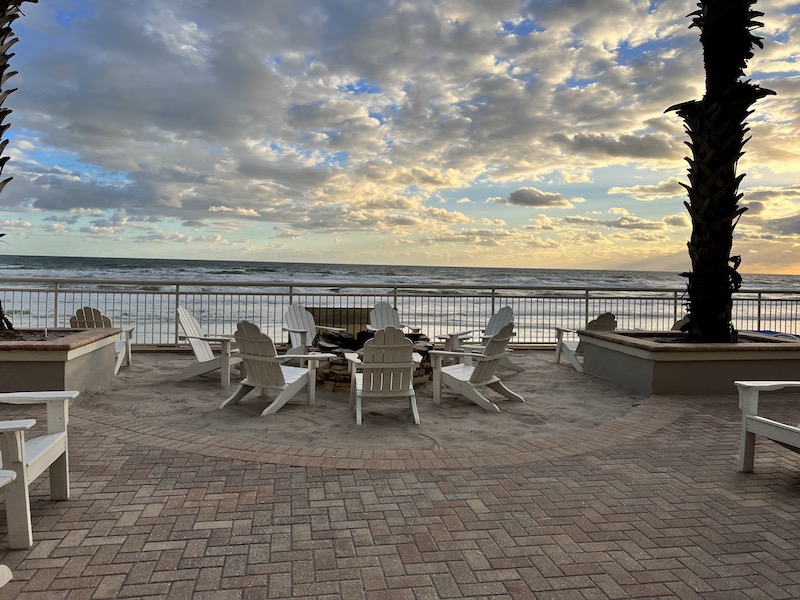 HOW TO GET TO THE BEACH AT DAYTONA BEACH?
Follow your map over to Highway A1A and simply head north or south watching for parks, beach parking or beach entrances along the way. A1A hugs the coastline and there is plenty of places to access the beach once there.
IS THERE FREE PARKING AT DAYTONA BEACH?
Yes!!! There are a number of parks and parking areas along the beach. The parks have free parking and restrooms, picnic areas and beach access. It is awesome.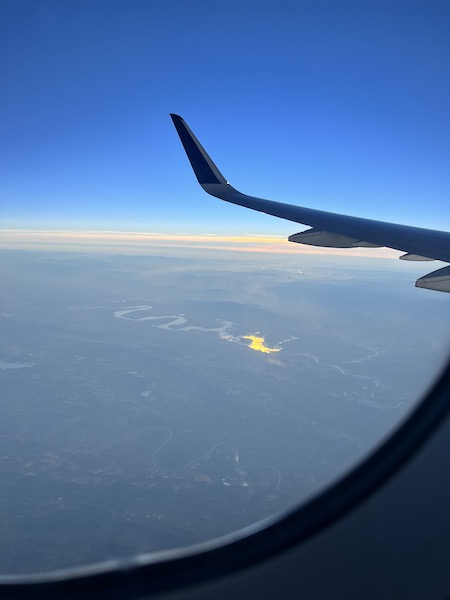 HOW TO GET TO DAYTONA BEACH?
If you live close enough I would make the drive so that you have a car at your disposable without added expense. However, the Daytona Beach International Airport has a number of flights every day and car rental options so flying in is a really great option.
Plus, the airport is a short drive to the beach.
WHICH AIRPORT IS CLOSET TO DAYTONA BEACH?
Daytona Beach International Airport puts you right at the heart of everything there is to do. However, you might find a cheaper rate in/out of Orlando airport which is about 70 miles from Daytona Beach. Easy drive and could be worth it.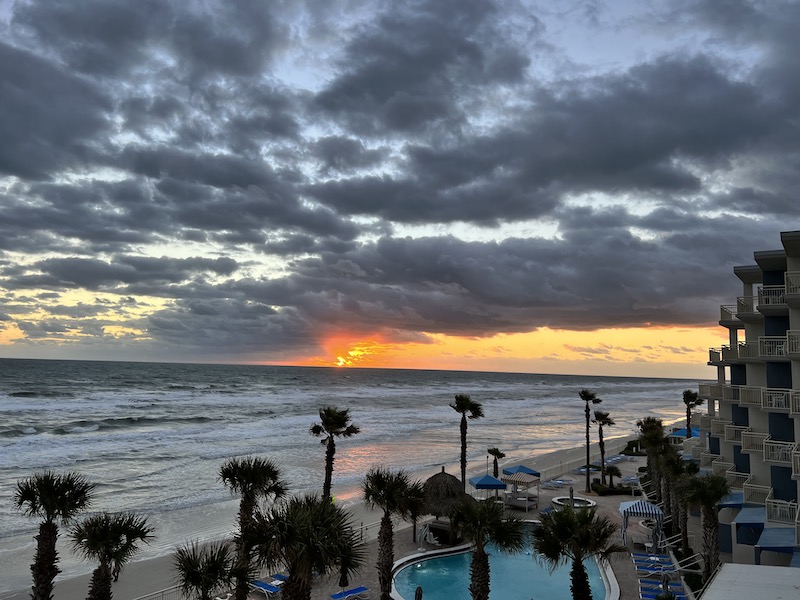 DO I NEED A CAR IN DAYTONA BEACH?
Yes, Daytona Beach beach is 23-miles long with memorable attractions, accommodations, and restaurants along that stretch. Having a car will make it so much easier.
IS DAYTONA BEACH SAFE?
I get this question about every place I visit and my reply is always the same. Every town (yes, even your own) has good parts and, let's say, not so good parts, the same holds true everywhere.
And, just like at home always take these precautions:
Be aware of your surroundings <<–most important. Head up, be aware of what's happening in your immediate circle and don't go where things don't look safe. Use common sense and stay safe.
Don't swim/hike/kayak alone, always have a buddy or someone that you check in with upon return that will know what to do if you don't check in.
Need more information to plan your visit to Daytona Beach? DaytonaBeach.com has everything you need to know beyond what I've shared here.
Happy Travels!