If you've been here very long you know I love finding quirky and unique lodging. I kind of consider it a challenge when visiting new towns. Daytona Beach was no exception.
Yes, I can and do stay at typical, boring, run of the mill places, BUT if a fun and different style of lodging is available I'm going to take it and there are many choices for unique hotels in Daytona Beach.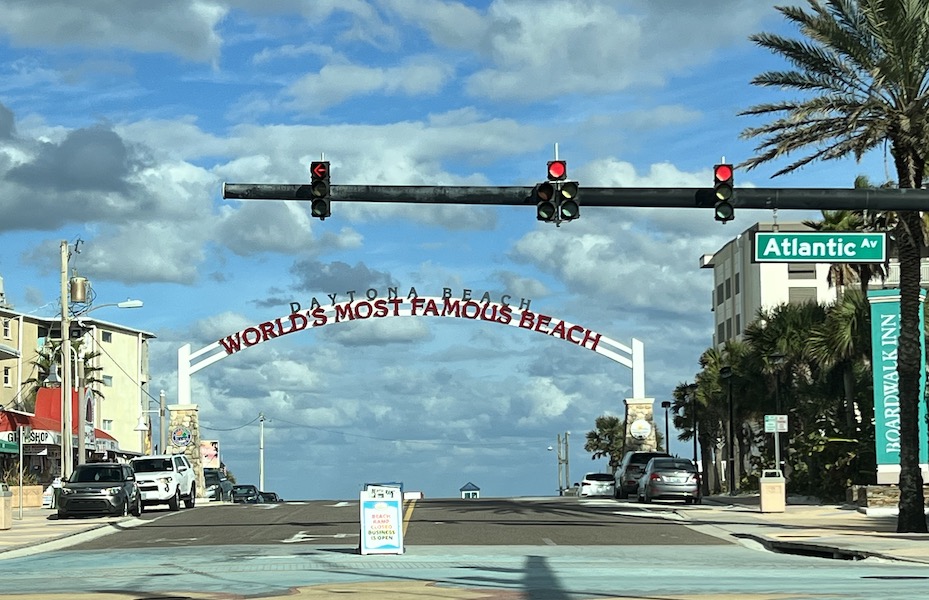 However, searching out the different can be a challenge, especially in Daytona Beach where there are so many great options.
To make things easier I've put together a list of my top 5 unique Daytona Beach Hotels, these are definitely NOT boring.
While you're in town be sure to stroll along the popular and instagrammable Daytona Beach Boardwalk, walk along the sandy beaches and dip your toes in the Atlantic Ocean and so much more. The Ultimate Guide to the Best Things To Do In Daytona Beach can help.
Skip the Boring and Book the Quirky For Your Next Overnight Daytona Beach Stay
TROPICAL MANOR on the OCEAN
Tropical Manor on the Ocean is a picturesque, tropically themed oceanfront oasis in family friendly Daytona Beach Shores.
This property's story began in 1956, when Audrey and Alfred Kelleman, who fell in love with Daytona Beach on their honeymoon, purchased a six-room motel and named it the Tropical Manor. It is still family-owned-and-operated today.
It is a collection of cottages and one-, two- and three-bedroom suites, some with full kitchens, filled with colorful decorative touches.
The lawn is dotted with colorful umbrellas and tables.
Some amenities include, be sure to view the entire list on their site:
Private balconies and/or patios
Bingo on Tuesday and Thursday at the pool
Heated oceanfront pool
Kiddie pool
Free WiFi
Shuffleboard
Prime location
PERRY'S OCEAN EDGE RESORT
Perry's Ocean Edge Resort has a history that began in the 1940s with 17 guestrooms.
More than 75 years later, Perry's has been redesigned and infused with modern style and amenities and is still welcoming guests.
The resort now features 213 efficiencies and suites, a landscaped oceanfront lawn, two outdoor pools, one indoor pool and a whole lot more.
Complimentary homemade donuts are served daily.
Some amenities include, be sure to view the entire list on their site:
Free Wi-Fi
Two outdoor pools
Indoor heated pool
Hot Tub
Putting Green
Tiki Bar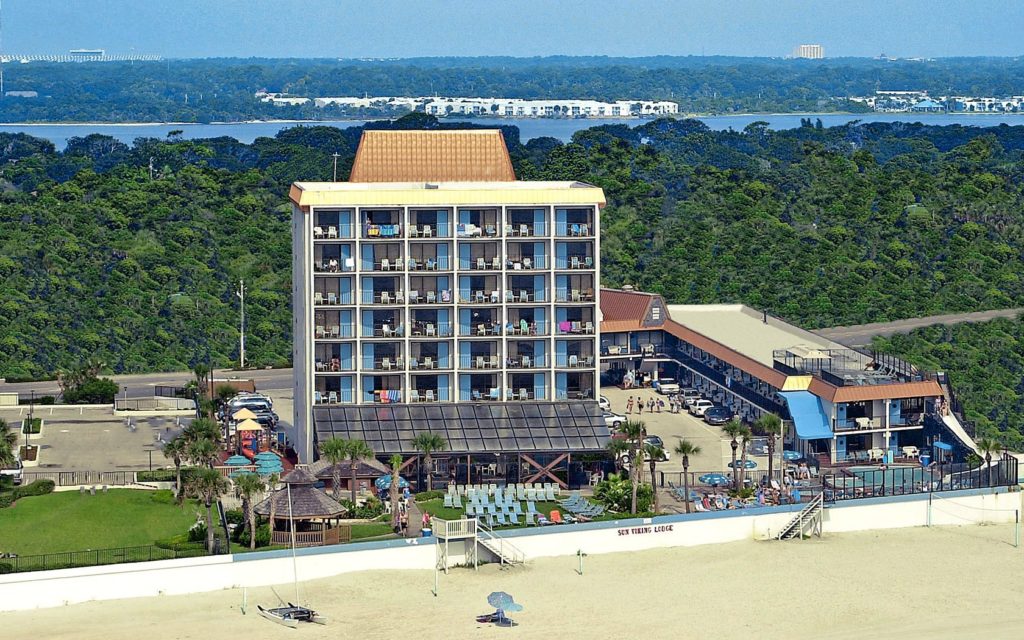 SUN VIKING LODGE
Sun Viking Lodge has been welcoming families for more than 50 years.
It boasts a tropical beachfront ambiance and an informal barefoot setting.
Amenities include a popular 60-foot water slide and outdoor and indoor heated pools, along with a full schedule of free on-property activities.
Accommodations include standard rooms and suites, many with a full kitchen.
Some amenities include, be sure to view the entire list on their site:
Indoor Pool
Outdoor Pool
Waterslide
Fitness Center
Outdoor Sun Deck
Game Room
BAHAMA HOUSE
Bahama House is another family-owned-and-operated Daytona Beach classic.
The oceanfront Caribbean-themed boutique resort offers an impressive list of amenities and is described as a bright, airy alternative for those who seek unique and authentic places to stay.
Accommodations include guest rooms and suites with spacious 400-plus-square-foot living areas and private balconies with ocean views.
Some amenities include, be sure to view the entire list on their site:
Complimentary Wi-Fi
Ocean Front Outdoor heated pool (heated seasonally)
Ocean Front Sun Deck
Hot Tub
Laundry
Daily Complimentary Cocktail Hour
Daily Complimentary Breakfast
Complimentary Chaise Lounges
THE STREAMLINE HOTEL
The Streamline Hotel is famous for being the Birthplace of NASCAR. This 1940s Art Deco boutique hotel is located in the heart of Daytona Beach.
Lore is that this was a haven for celebrities, race car drivers and moonshiners back in the day, and that in 1947 a meeting at the rooftop bar, where you can enjoy panoramic ocean views, resulted in the formation of NASCAR.
Newly restored, the art deco hotel features 44 guestrooms, and two restaurant and bar venues.
On its walls, one-of-a-kind photos and mementos from the history of NASCAR are displayed.
Some amenities include, be sure to view the entire list on their site:
Outdoor Pool
Fitness Center
Unlimited high speed wifi
Free parking
Roof top bar
A full list of Daytona Beach accommodation options, from quirky and classic to contemporary and plush is available online on the DaytonaBeach.com website.
ICONIC THINGS TO DO WHEN YOU GO TO DAYTONA BEACH
For a crash course in all things Daytona Beach, visitors can check out the sites on the Iconic Trail.
The trail is the definitive Daytona Beach tour. It comprises an eclectic mix of historical sites, landmarks and local tributes.
Stories of oak trees, ballparks, classic statues and an iconic lighthouse combine to display the tapestry that makes Daytona Beach unique.
NASCAR FANS EXPERIENCES
Known for both its collection of memorabilia as well as being named a Top 10 Best Florida Beach Bar, Racing's North Turn Beach Bar & Grill sits at the spot where beach races were held each year until 1958, when NASCAR relocated to its brand-new venue, Daytona International Speedway.
Now, race fans who want to have their own elite NASCAR Racing Experience can take to the track, choosing to drive themselves or take a ride along as a passenger.
How To Get Here
It's a short drive from Daytona Beach International Airport to the Daytona Beach area
Pin Unique Hotels in Daytona Beach