Wondering where to eat in Onslow County, NC? I have some suggestions for you that won't disappoint and takes the guesswork out of where to eat when you're on vacation.
Figuring out meals should be the least of your worries. This list of must-try restaurants has something for everyone in your group.
Once you've had your fill, be sure to work it off with one of the awesome outdoor adventures in Onslow County.
Places to Eat Breakfast in Onslow County, NC
Casual 50s-themed joint dishing up daytime diner classics, including pancakes, burgers, and more all day long.
Don't forget to try their famous homemade fruit fritters. Seriously…dessert for breakfast isn't a bad way to start a vacation day.
Be sure to say hi to Elvis as he greets you at the front door.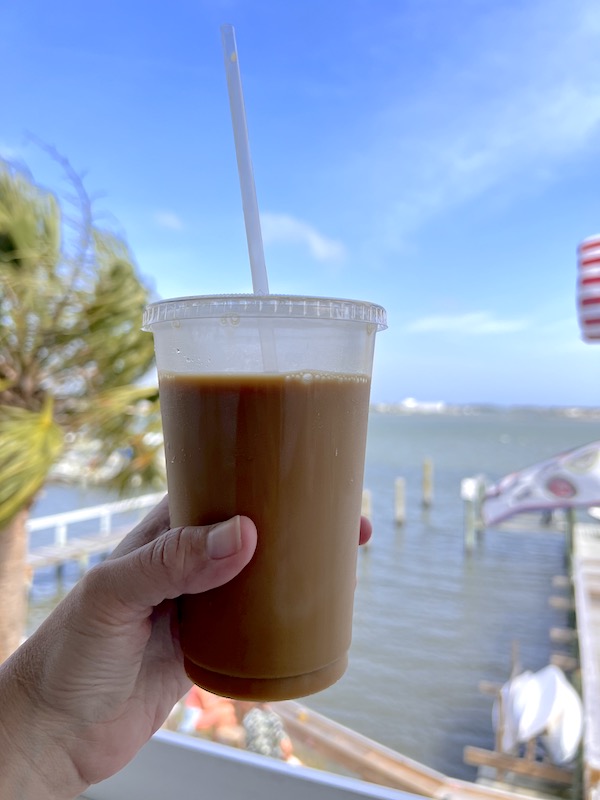 Located on the upper level of a quaint waterside house in the heart of downtown Swansboro. Bake Bottle and Brew is your resource for great coffee, wine, and beer served up with incredible waterfront views.
This is a great place to grab your morning coffee (the cold brew was excellent) while relaxing on the deck with friends. In the afternoon and evening grab a drink with friends.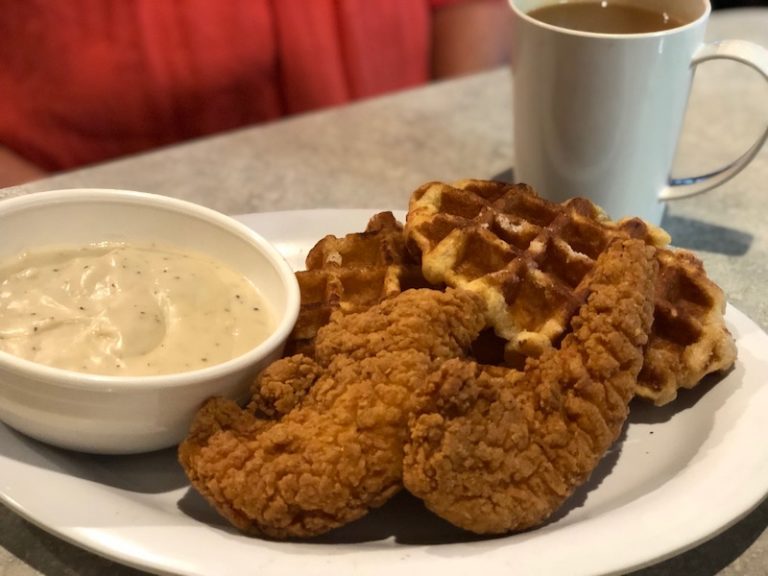 Serving up a vast array of tasty food in a casual and friendly setting. Perfect for gatherings with family and friends or grabbing a bite after a long night out. Breakfast is served all day long with daily specials.
This is a visitor and local favorite for nearly a decade!
Coffee lovers, I have found your place. Located in Snead's Ferry, Napoli's serves Italy's favorite coffee LAVAZZA in the form of straight up drip coffee, espresso, latte, and iced drinks.
Pair that with a breakfast sandwich (they also have lunch options) and you have the start to a great day!
Where To Brunch in Onslow County, NC
Located in historic downtown Swansboro, overlooking the Intracoastal Waterway and the White Oak River, BORO serves Tapas style plates, large plates, steak burgers, salads and PLENTY more.
Offering a full bar with 12 Craft Brews on tap year around along with over 130+ wines.
Live music every Wednesday 7-10 pm, Friday 8-11 pm, and Saturday 8-11 pm.
Where To Eat Lunch in Onslow County, NC
View this post on Instagram
What a delight to find an exceptional Mediterranean restaurant in Jacksonville, NC. We ordered a variety of dishes to get a little taste of everything and, of course, I had to try the falafel.
The food is bursting with flavors and so delicious. Their spice blend is their own special recipe and includes spices brought in from Jerusalem on a regular basis. The chef may have gifted me with a sampling of a couple different spice blends and I can't wait to try them at home.
This is the place you want to go for a leisurely lunch or dinner. It just gives offs vibe of "come and stay a while, relax and enjoy a great meal with family and friends" and I love that!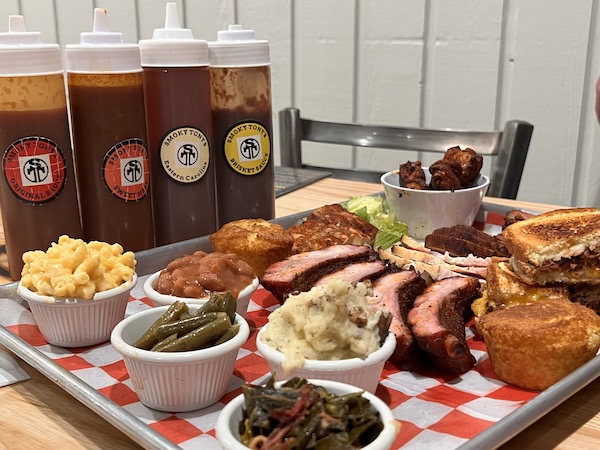 Seriously, if you're in the Holly Ridge area and start craving BBQ go directly to Smoky Tony's. Serving up some of the best smoked meats and cheesecake in the state.
Order a sampler platter if you're with a friend or two for sharing so you can get a taste of everything. Otherwise go for the bbq pork grilled cheese or the brisket platter or the mac and cheese. I can't help you decide, it's all so very good. Whatever you do save room for dessert!
Their house made cheesecake is so memorable and is available in quite a few varieties. You may want to have a slice there and grab a slice to go for later. If cheesecake isn't really your thing they got you covered. There is also banana pudding and a baked chocolate chip cookie with a scoop of ice cream on top.
Oh, did I mention there is also made in house sodas?
Y'all, they are doing it up right at Smoky Tony's.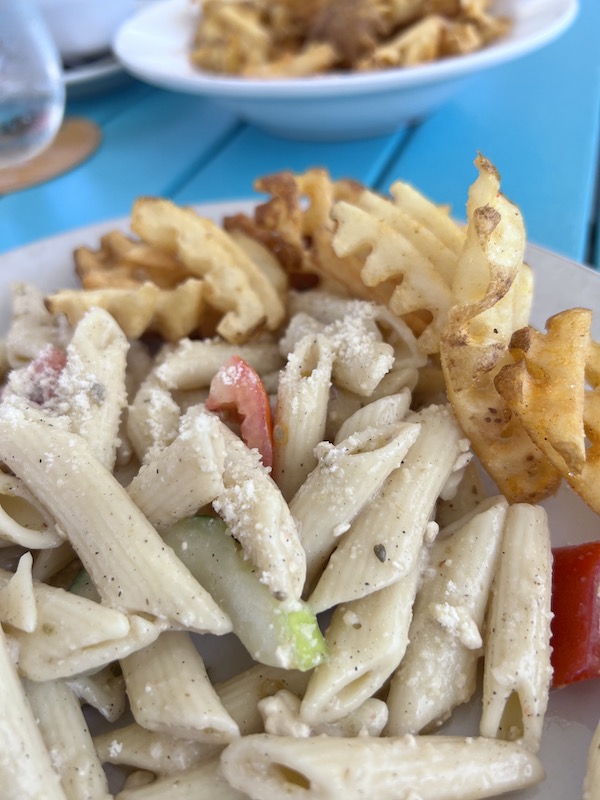 If you happen to be staying on North Topsail Island for your beach vacation head over to Splash by the Sea for oceanfront outdoor dining.
The day we went it was so windy, but we still sat outside and enjoyed every minute of it. I ordered a cold pasta salad which was perfect for a hot beach day and may have snagged a few fries to try.
They do not take reservations so plan accordingly as I can imagine the summer months find them incredibly busy (but so worth it).
Savor pit-smoked BBQ/Chicken/Ribs topped with a little bit of "Swine Wine" a tangy sauce embraced by the Eastern NC BBQ enthusiasts.
Located in Sneads Ferry at a waterfront location you're guaranteed fresh caught NC seafood on a daily basis. In addition there is hand-cut steaks, fresh veggies and more! Be sure to order some fritters for the table to share.
Most seafood can be prepared fried broiled or grilled.
They offer a wide array of lunch specials Monday through Friday for under Ten dollars! A local favorite serving beachgoers and locals alike since 1946! (Now in its third generation of ownership.)
Church Street Inn, Deli, and Irish Pub is located in Swansboro's historic waterfront district.
It's a fun, homey venue offering "pubby" comfort food, beer & wine, plus an espresso bar.
Where To Eat Dinner in Onslow County, NC
Located on the top floor of the St. Regis Condominium Resort Ocean's Edge offers up breathtaking panoramic ocean views.
Known for their seafood and hearty portions you'll enjoy great foods and a show if you go near sunset as you can watch the sky turn from brilliant blues to indigo to night.
Binoculars are available for guests to use to get closer views of the water below.
This is a great location for a romantic night out or dinner with friends.
Located in downtown Swansboro, NC, Saltwater Grill is in the heart of the "Friendly City by the Sea" overlooking the Intracoastal waterway and Bogue Sound.
Saltwater Grill features the finest in waterfront dining with a view from every table either inside in a spacious dining area or on their second-story deck overlooking the waterfront and docks.
They also offer dock dining in season and outside dining along the waterfront for special occasions. Fresh local seafood, steaks, and cuisine with an international flair prepared by Chef Martin Berndt will tempt your palate.
Saltwater Grill also offers catering for all types of events and live music outside on a downstairs patio.
One of the largest and most memorable attractions in Onslow County, Mike's Farm offers a rural farming, shopping, dining and family-friendly experience.
Guests enjoy events and educational programs throughout the year along with with a petting zoo, hayrides, strawberry fields, and seasonal produce as well as the pumpkin patch every fall.
A festival of lights hayride debuts around the holiday season and a beautifully decorated gift shop showcases candles, unique country gifts and Christmas décor year-round.
Their new NC Products Barn is a must-see…much of the wood used for construction was milled right off the property.
Innovative American cuisine specializing in local North Carolina-caught seafood and hand-cut aged beef served in a casual atmosphere that's perfect for families, couples and friends to gather.
Built in 1915 by the Russell family and situated on top of the hill overlooking Swansboro, the restaurant property was purchased in 1998 and completely renovated into a restaurant.
Quickly developing a reputation for providing the freshest seafood, homemade sauces, perfectly cooked beef, and nightly specials, Riverside gained a loyal following and the restaurant soon became a landmark in its own right.
Where To Enjoy Some Whiskey or A Nightcap in Onslow County, NC
The family run distillery manufactures corn whiskey, moonshine in small batches and bourbon. Many of the distillery's products are named after Don's ancestors and relatives.
They host Open Houses (aka Distillery Sessions) seasonally that feature live bluegrass music, food and tastings.
Offering a full martini & coffee menu all in an upscale atmosphere you won't want to leave. I had an incredible latte while others enjoyed their signature chocolate martini
They also serve desserts from cakes & pies to shakes and sundaes.
Pin Where To Eat in Onslow County NC to Pinterest