Attention foodies and food lovers! Have you heard that there is a plethora of places to eat in Norfolk, VA?
Seriously, I don't know if it's true or not, but Norfolk has to be in the top 5 of foodie destinations in the state. Beyond the foodie scene, there is an abundance of things to see and do beyond the military influence that is prevalent here.
The food, culture and attraction makes Norkfolk an incredible destination for a girlfriend or couples getaway.
Keep reading as I spill the tea on all the great places to eat, drink and be merry. I'm also sharing all the fun things you absolutely MUST DO in Norfolk here.
Shhh, I know I'm supposed to remain impartial and not have favorites, but if you forced me to pick my favorite bite it I had in Norfolk it would be the sandwich at The Grilled Cheese Bistro. Absolute perfection!
The Best Places To Eat in Norfolk, VA
The Grilled Cheese Bistro – 345 Granby St.
Located downtown Norfolk the Grilled Cheese Bistro is a small, table service restaurant that also offers outdoor/sidewalk dining in good weather.
They offer up daily specials as well as well as incredible parmesan and chimichurri with chipotle aioli fries.
I ordered up the Sunday Morning with bacon, egg, fried apples, brie and havarti on sourdough. This makes me want to hop the next flight to Norfolk just to have this again.
Cure Coffeehouse – 503 Botetourt St
Located in the Freemason District, along a cobblestone street, the Cure Coffeehouse is bright and airy with a nice selection of coffee options. I opted to get mine to go, but there is limited seating available.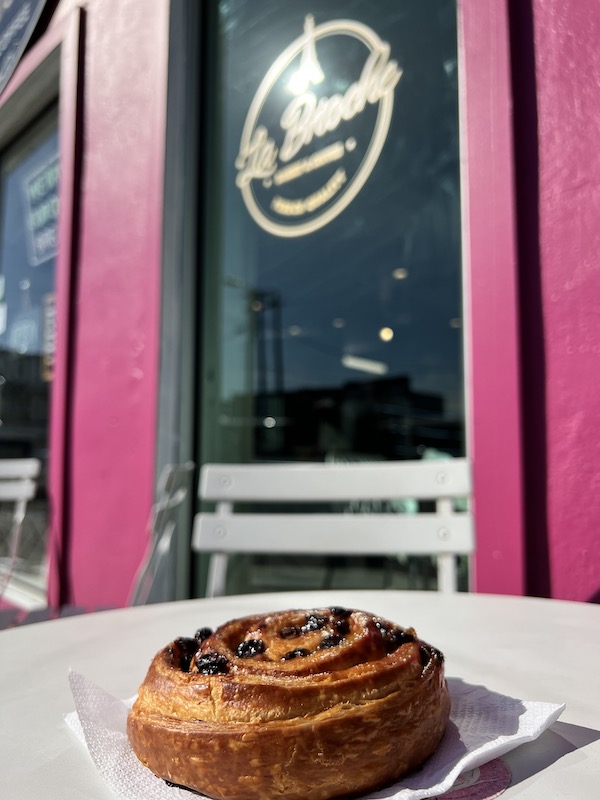 La Brioche – 765 Granby St
Oh..it's been so long since I've been to Europe that La Brioche was exactly what I needed to fill my desire for a French pastry. I was thrilled to discover a legitimate french pastry shop in Norfolk. The bright pink store front draws you in and the artfully displayed, handmade pastries will make you come back again and again.
S'mores Amore – 208 E Main St
Be sure to walk through Selden Market (located next to Granby Waffles), for an eclectic selection of boutiques and treats. A stop at S'mores Amore is in order. At the walk-up counter you'll order a handcrafted, customized s'more and then watch them create a perfectly toasted s'more.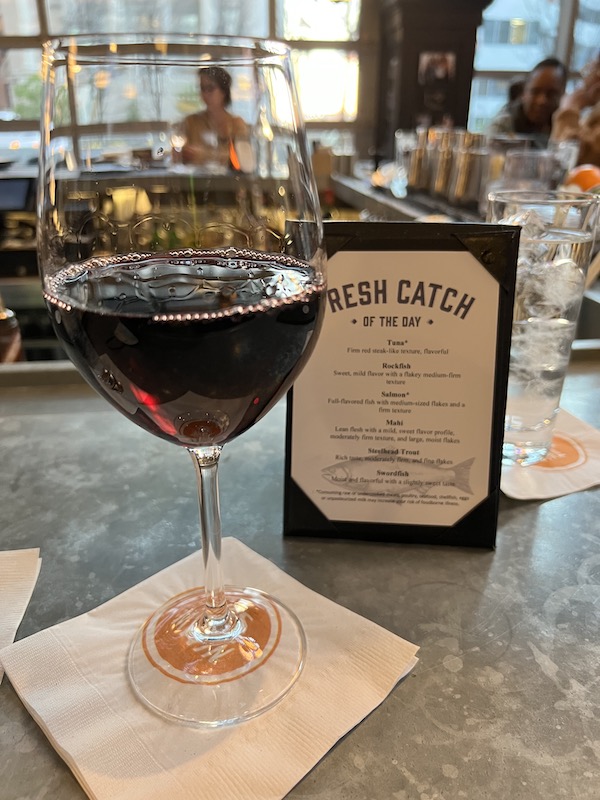 Saltine – 100 E. Main St
Saltine is my #1 pick for happy hour. Located in the lobby of the Hilton Hotel this spacious, brick-clad bar is known for it's seafood and oysters, but my favorite thing was the ambiance and cocktails. Grab a seat at the bar and soak up the ambiance while enjoying a glass of wine.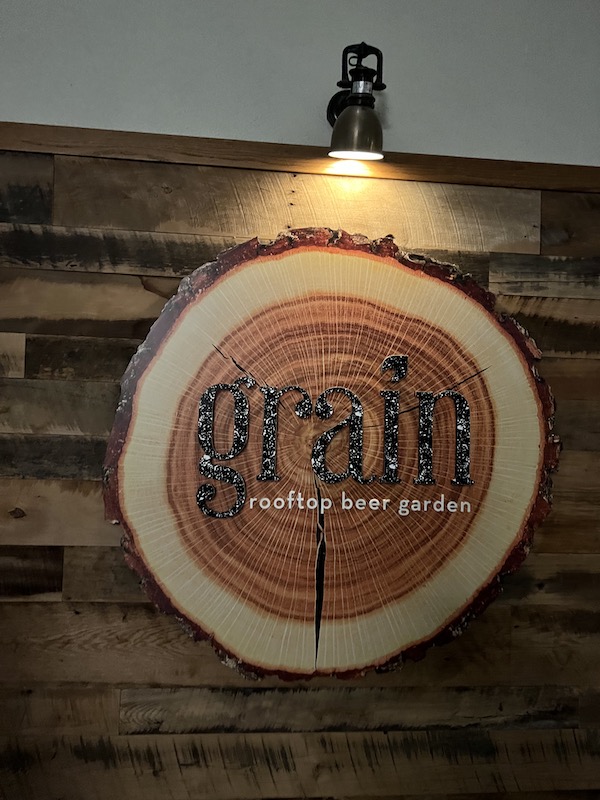 The Grain – 100 E Main St
Be sure to have a nightcap at The Grain. This rooftop bar offers up great views of downtown Norfolk as well as an interior ambiance that is everything. Plentiful patio seating is available when the weather is agreeable.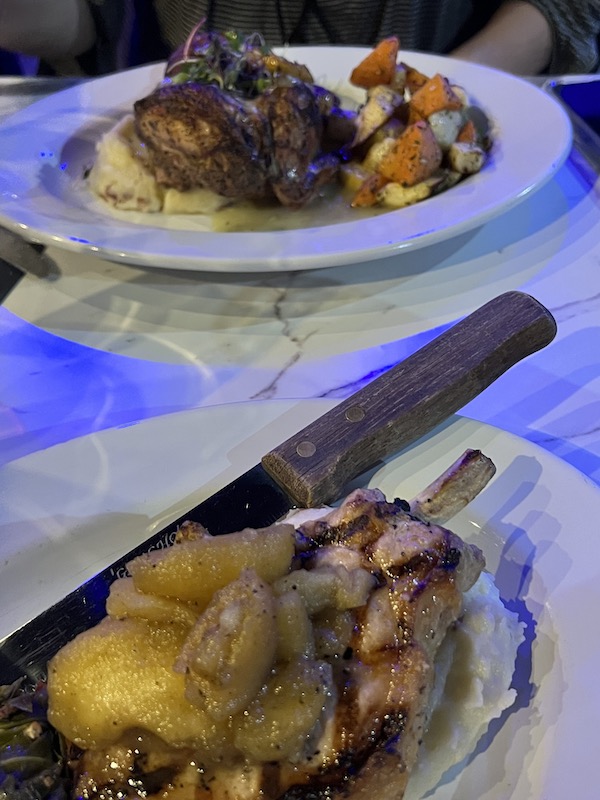 Brothers – 200 E Plume St
Brothers restaurant is a great place for dinner located in the heart of downtown and an easy, short walk from the Glass Light Hotel (my hotel of choice in Norfolk).
Handsome Biscuit – 2511 Colonial Ave
Handsome Biscuit – the perfect breakfast joint with handmade biscuits and a variety of toppings. Walk up and order at the counter or use the handy kiosk. To-go orders only but there is outdoor seating on the side of the building.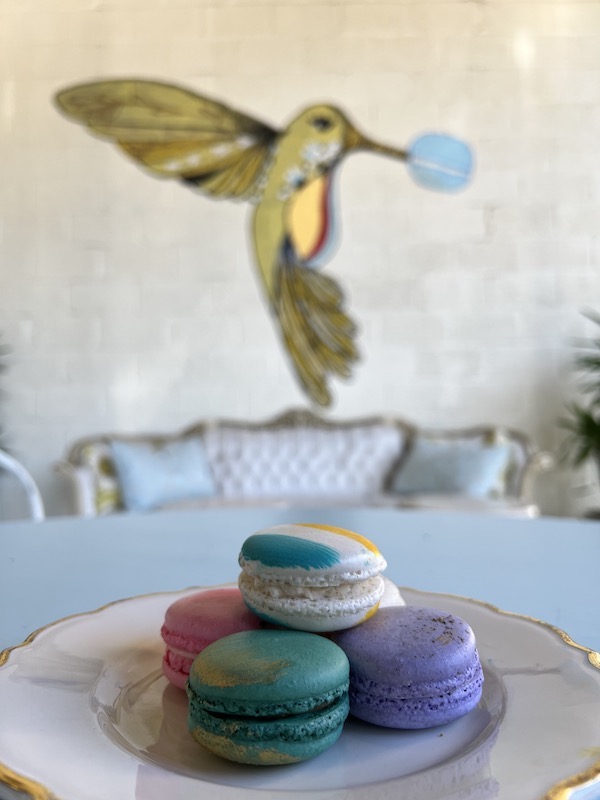 Hummingbird Bakery – 809 Granby St
In the mood for a macaron? Make your way to Hummingbird Bakery for an incredible selection of seasonal as well as standard flavors are available daily. The artwork, decor and seating makes this a perfect place to meet friends for a sweet treat.
The Torch – 601 Orapax St
The Torch is a great stop for a burger or a sandwich and a pint. Table service for both indoor and outdoor seating. Outdoor seating is available at picnic tables which is fabulous. There is also great murals which adds another reason to stop here.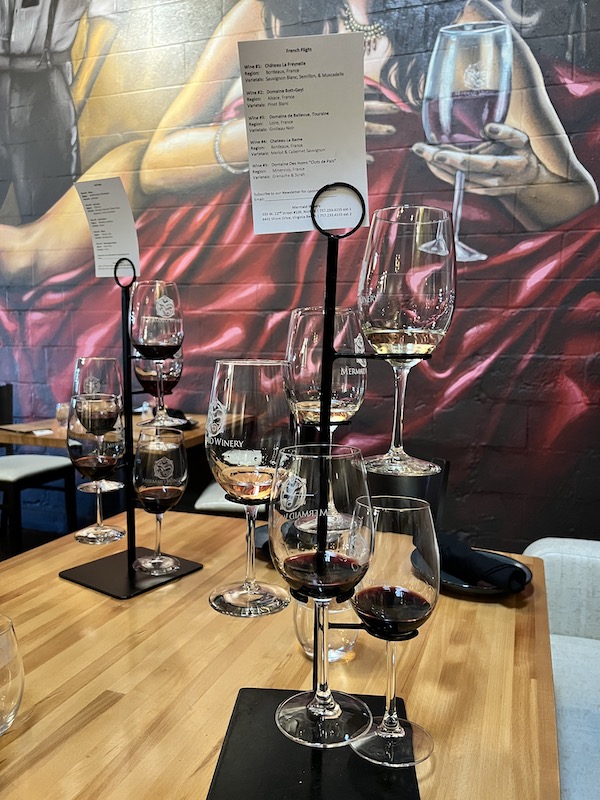 Mermaid Winery – 330 W. 22nd St
Mermaid Winery is the first urban winery in Virginia. Order a flight for a great wine presentation. Sit back and relax while enjoying the wine. This is another location with great outdoor seating which I always recommend.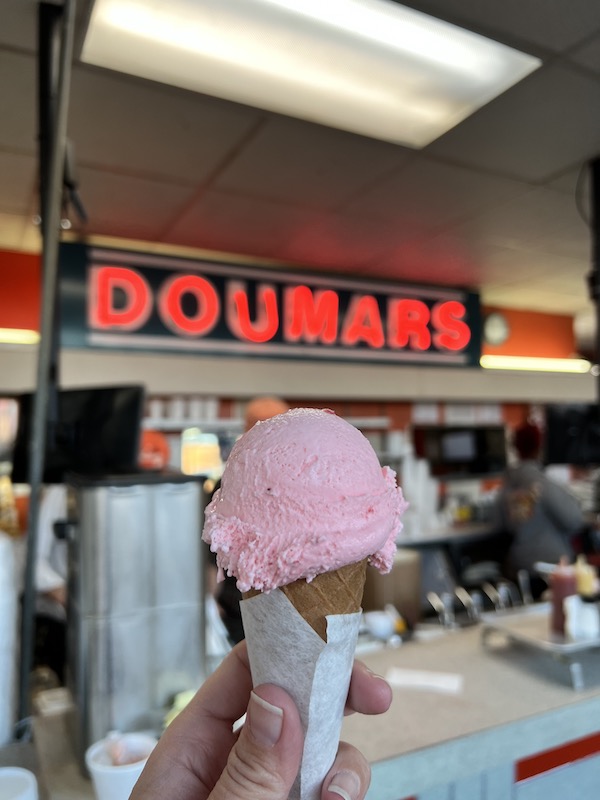 Doumar's – 1919 Monticello Ave
Doumar's is home of the World's First Ice Cream Cone Maker. I mean, if you're there you may as well have a cone.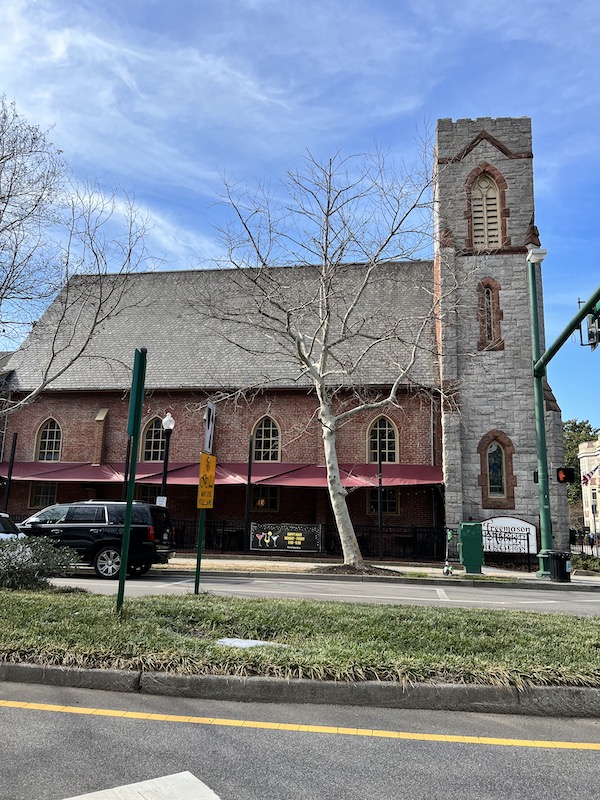 Freemason Abbey – 209 W. Freemason St
An old church converted to a full-service restaurant. Unique interior with balcony seating. Delicious food with a full bar. Reservations are recommended.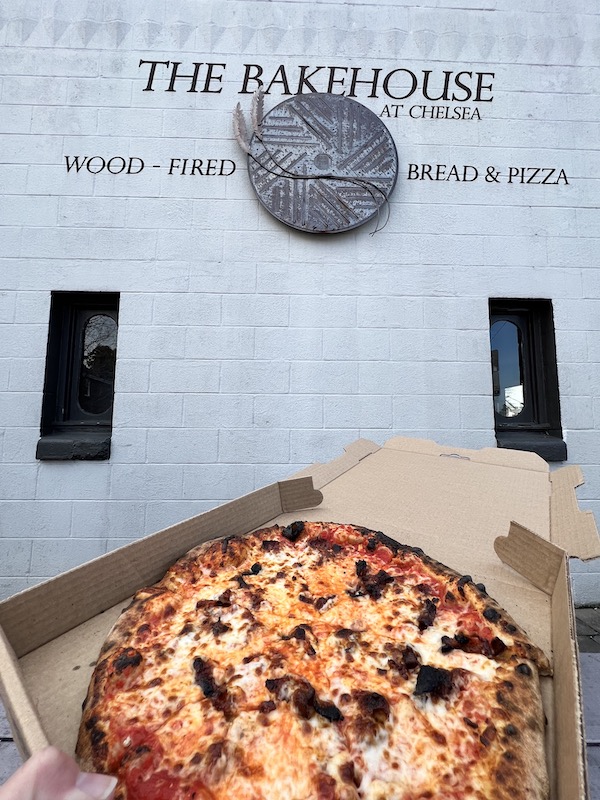 The Bakehouse at Chelsea – 1233 W Olney Rd
If you rent a Pedego e-bike from downtown this is a great stop while out exploring. If you are at the Bakehouse early in the morning you can grab a pastry, but if you show up for lunch be sure to order a wood fired pizza.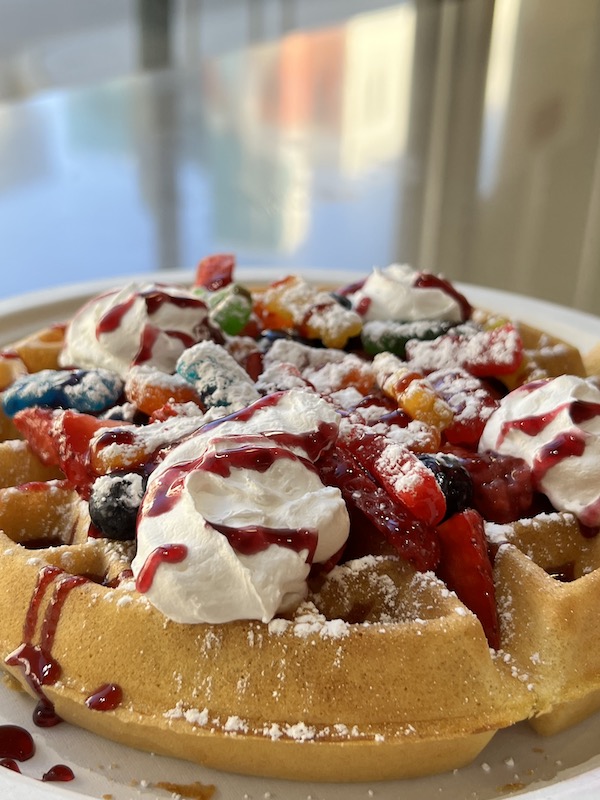 Granby Waffles – 235 E Plume St
Gourmet sweet or savory waffles at Granby Waffles in the heart of downtown Norfolk. I mean, what's not to love about waffles that are loaded with goodness. There is a walk up counter to place your order and both indoor and outdoor seating.