Norfolk, Virginia may be famous for its military affiliation, but there is so much more to this city. Some things I knew about and planned in advance and others were a surprise addition to my itinerary.
I love finding the unexpected and Norfolk did not disappoint.
At the bottom of this post is the itinerary I loosely followed for my visit. I thought it might be helpful to see how a travel writer organizes a visit to a new destination. Simply adjust the itinerary to your preferences, save to phone and go.
Be sure to save room for all the delicious food you'll find along the way. More on that here (link coming soon!).
5 Cool Things To Do In Norfolk
Catnip Cat Cafe
I can't remember what we were looking for or if we were just turning around but we spotted a sign for the Catnip Cat Cafe. I just happened to be on this cool, crazy adventure through Norfolk with a good friend and she LOVES cats. I'm more a dog person, but I was totally willing to go hang out with some cats for a bit.
I'd never been to a cat cafe so thought it would be worth checking out. It's important to note that you'll want to jump online and make a reservation for your visit if you want to secure a spot.
We took a chance and just showed up and they were able to let us in.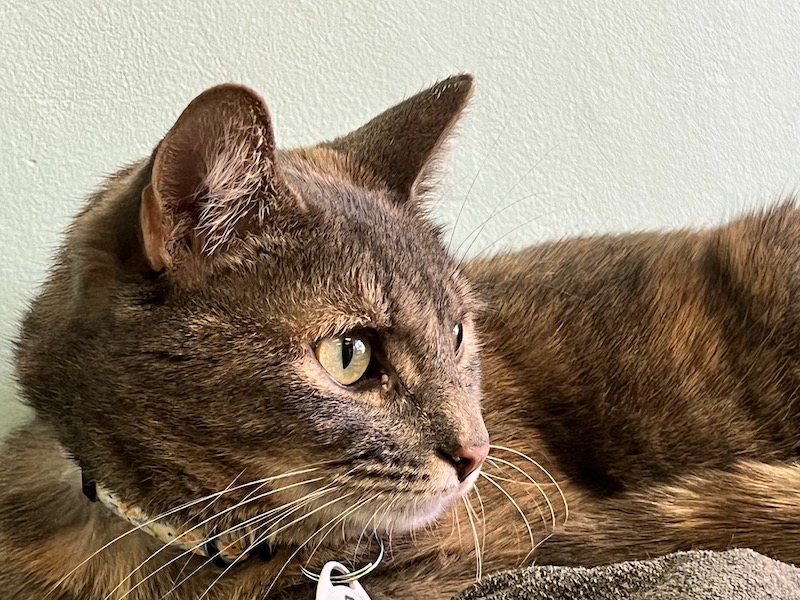 I think we paid around $7 for an hour visit. Worth every penny.
There are numerous chairs and couches around the cafe as well as numerous cat toys and cat trees and cat boxes. The cats freely roam. Many are interested in being around people and, as is the way of cats, some of them could care less and stayed away.
This ended up being a lot more fun than I anticipated and by the end of the visit I was pretty sure I needed to adopt and bring home a couple cats. Alan will forever be thankful that logistically that wouldn't really work.
That being said, if you are looking to adopt a cat or just want some downtime while playing with cats this is the place for you!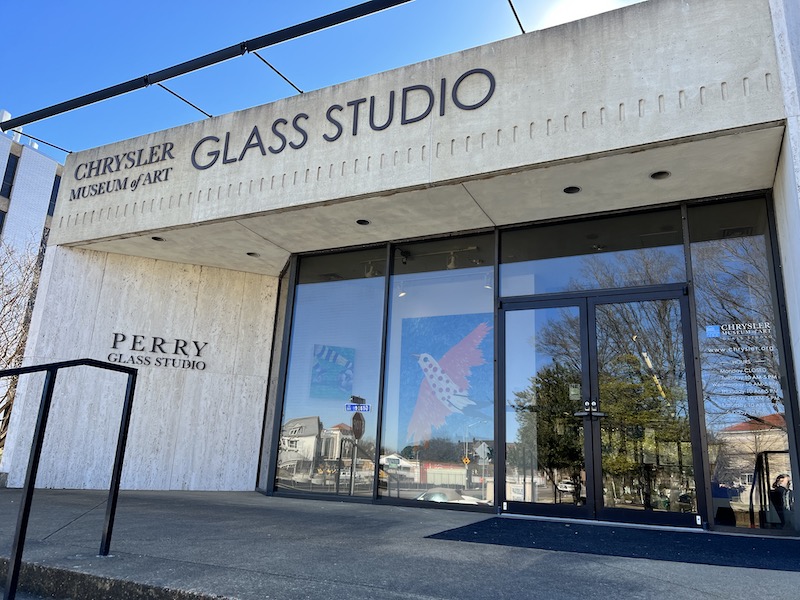 Chrysler Museum of Art Perry Studio Glass Blowing Demonstration or Workshop
Norfolk is a glass artists dream destination. I had no idea the tie in with glass art work and Norfolk, but there is a strong community of artists and museums here.
At the Chrysler Museum of Art Perry Studio you can watch a glass blowing demonstration. These demonstrations happen daily and are more indepth than any ofther I've attended.
Easily plan on 45 minutes to an hour as you watch an artists take a blob of molten glass and form it into a beautiful piece of art. The transformation is simply stunning.
If you plan far enough in advance and know when you'll be visiting there may be an opportunity to participate in a workshop and create your own glasswork. Be sure to check their website for upcoming events.
Before or after the demonstration head over to the Chrysler Museum of Art, directly across the street, and browse the art and glass exhibits.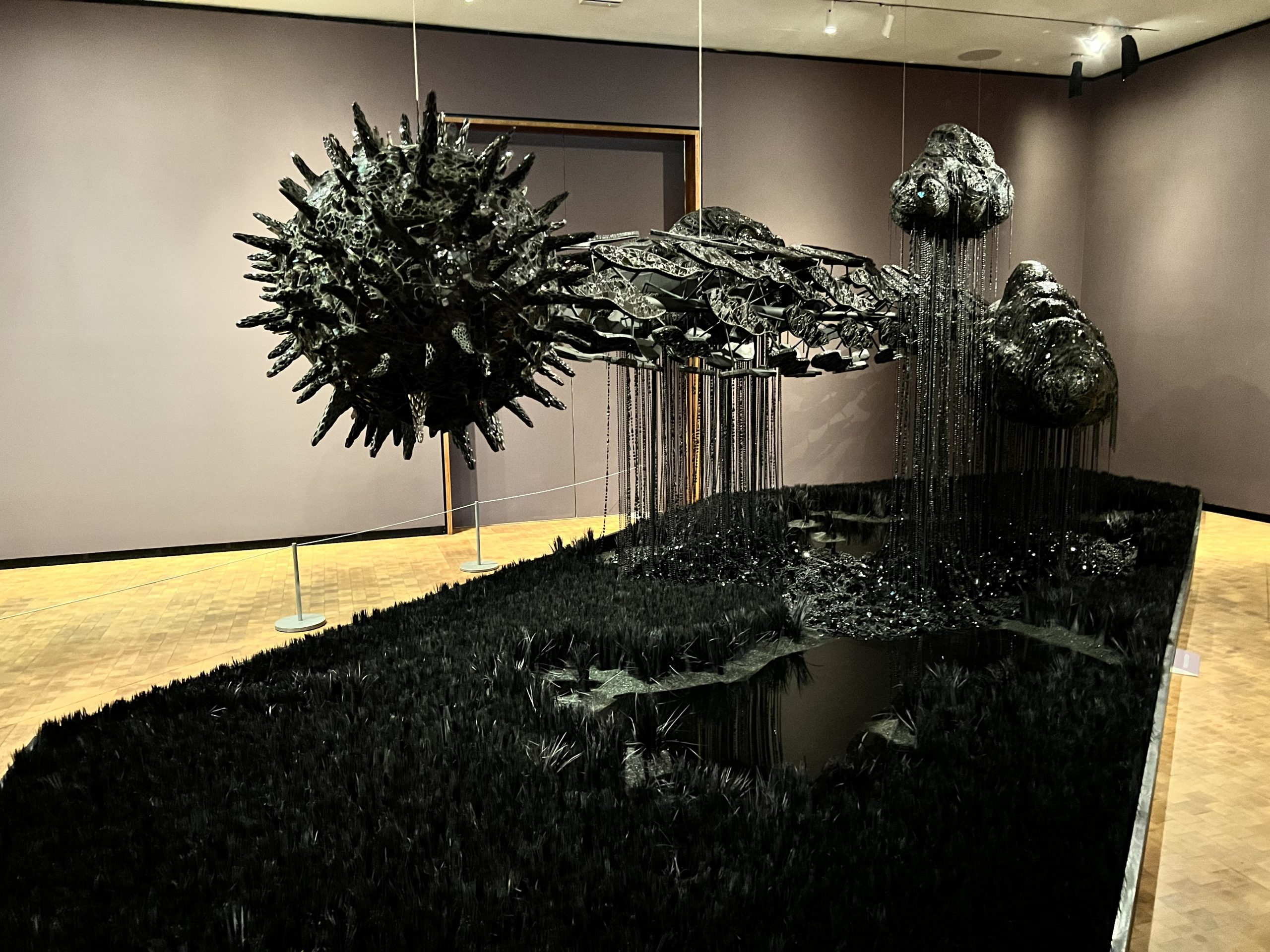 We only had time to visit the glass exhibit gallery and were not disappointed. For some reason this piece reminds me of Star Wars and makes me think it wouldn't look out of place in the movies. Made completely of glass it was stunning.
The best part, both the glass studio and the art museum are free as is the plentiful on-site parking.

Pedego Bike Rental
100%, yes!! You do want to rent a Pedego e-bike while you're in Norfolk. I will never want to ride any other type of bike ever again. This was my first time on an e-bike and it was awesome.
The Pedego bike rental store is right downtown and after a brief training you'll be on your way to explore and discover more of the city. Make sure you lock the bikes up with the provided lock if you decide to explore on foot for a bit.
Peddling with the assist let us explore further than I would have typically tried on a traditional bike. We spent at least three hours exploring and I could have spent another three without any problems.
Oh, and the provided bike helmets have a communication system built in them so you can talk to your friends while you're out and about. Perfect!
Call Pedego Norfolk Bike Rentals and rent your bike today and leave the car parked at the hotel. You'll save so much time by not having to figure out parking everywhere you go. Pedego e-bikes makes it so easy.
Psss, they also just opened a location in Williamsburg so if you find yourself over there look them up.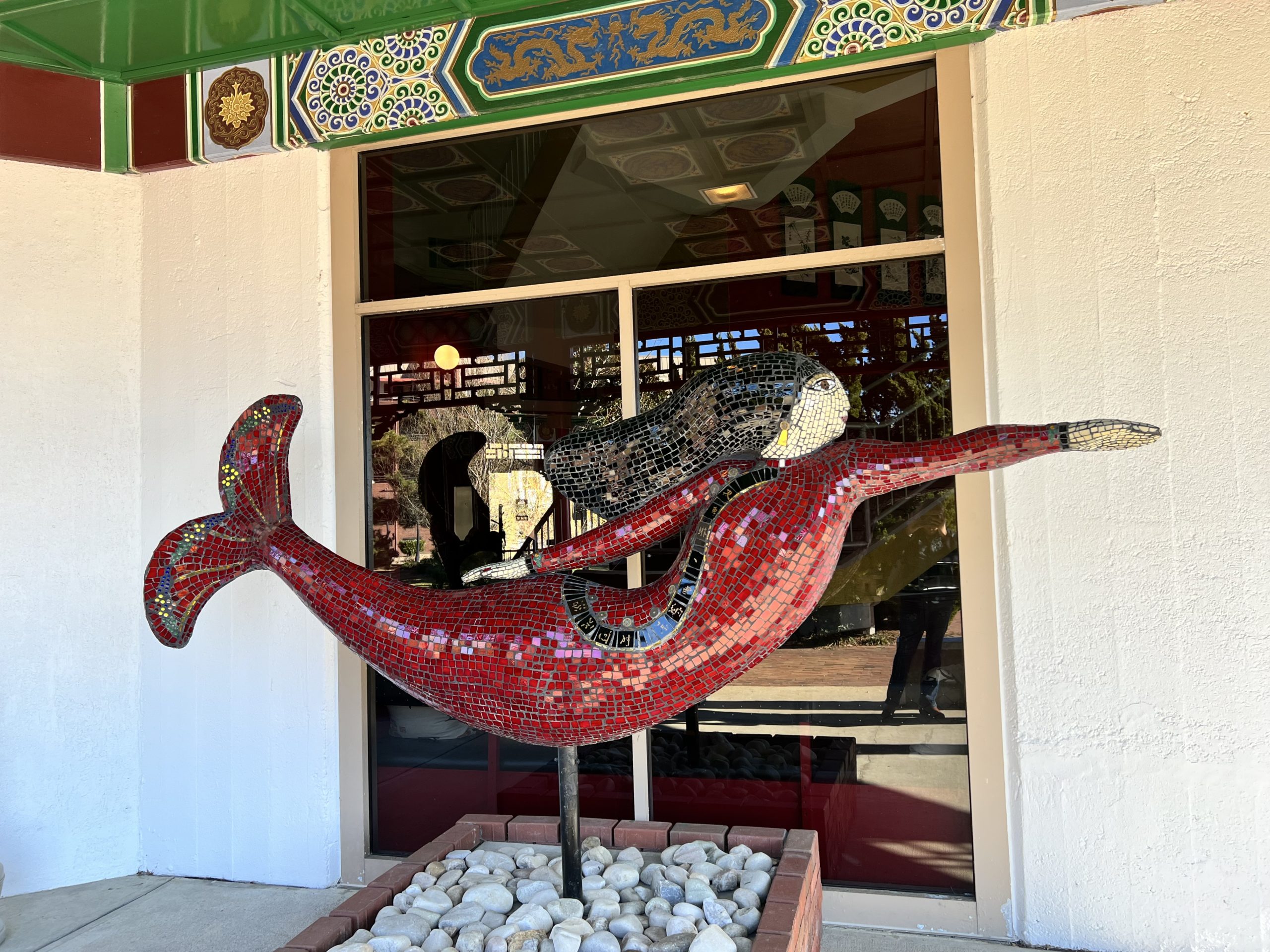 Public Art, Murals and Mermaids
I have a love affair for public art and Norfolk has way more than I could see in the 2 1/2 days I was there. I felt like every block, street corner, or alley was decorated with some form of art.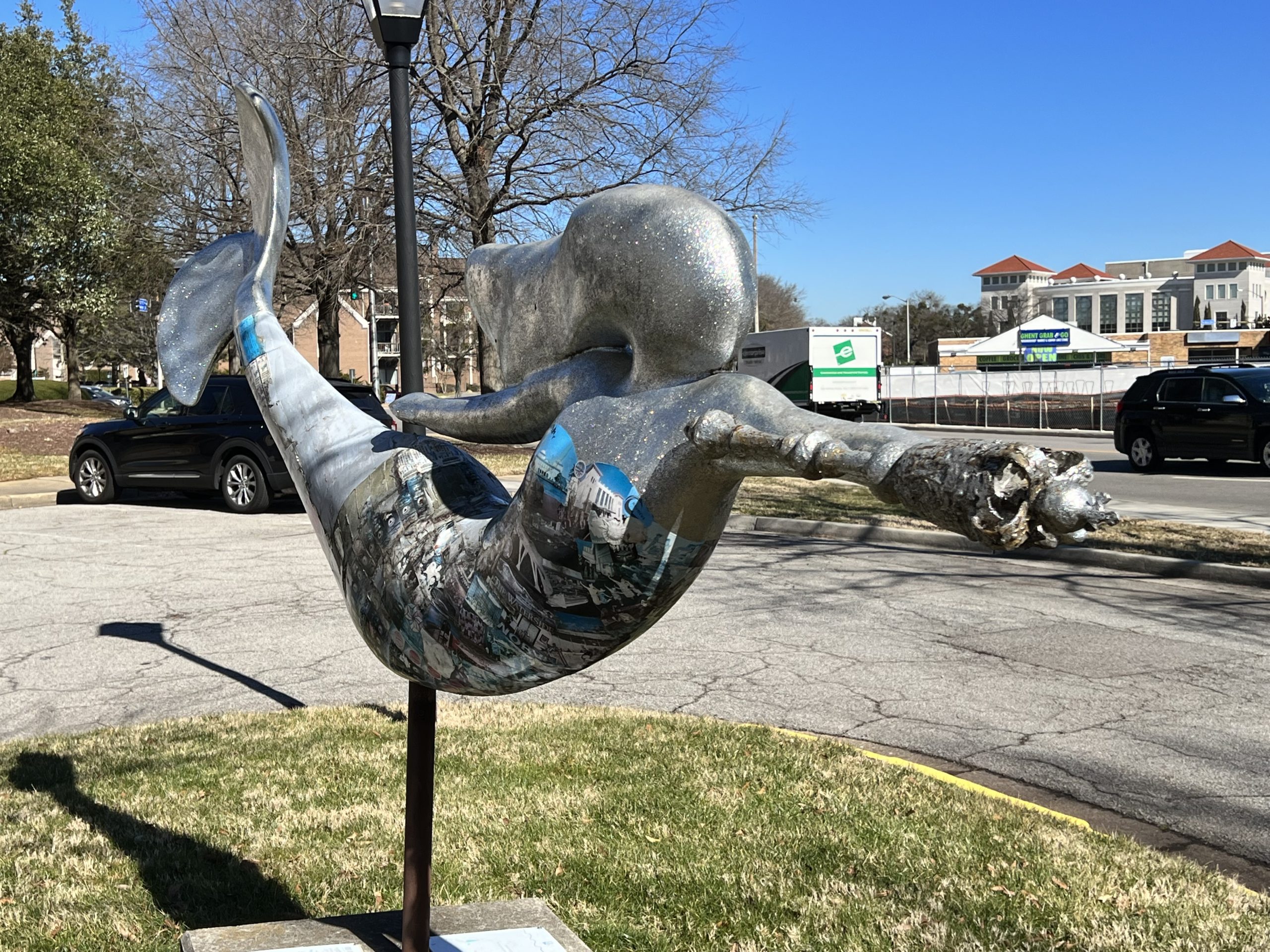 Throughout downtown and the neighborhoods you'll find mermaids decorated in all kinds of manner. It was fun to spot them all around the city.
Public art sculptures aren't as prevalent but we found a number of them including this one (right next to the Pedego bike rental) that lights up in different colors at night.
Love murals? The NEON district is an absolute must. It is packed with so many murals that we didn't even come close to seeing them all, but we gave it a really good try.
The best way to see as many murals as possible is to find free public parking and walk around the district. Remember to go down the alleyways as that is where we found some really fun pieces.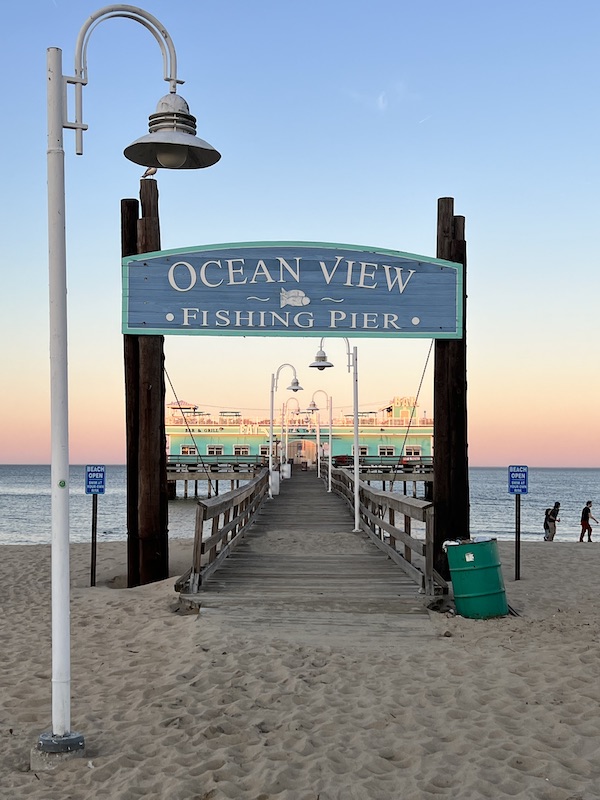 Ocean View Fishing Pier
A short drive from downtown Norfolk you'll find the Ocean View Fishing Pier. It was off season during our visit so we weren't able to walk all the way out on the pier, but it was still worth a visit.
I mean, I can't be that close to the ocean and not stop over to say hello. If the weather was warmer and the pier was open I would plan for at least a half of day here.
We arrived right around sunset and the sky was gorgeous.
BONUS
Yellow Fever Epidemic Park
For those of you that enjoy odd roadside attractions be sure to visit Yellow Fever Park in West Ghent. It's located on a pretty busy intersection (Hampton Blvd and Princess Anne Road) so parking can be challenging.
The monument is located on a slight knoll under a tree and is placed in memory of the victims of the 1855 pandemic. When yellow fever hit Norfolk hundreds of people were dying daily and before it was under control it's estimated that a third of the population has perished.
This story is all but forgotten to history except for this memorial and a little park in Norfolk.

NORFOLK ITINERARY
As promised, here is my itinerary for a 3 day, 2-night visit to Norfolk! Adjust according to your personal preferences. The only thing that is time sensitive is the glass blowing demonstration at Perry Glass Studio.
We stayed at the Glass Light Hotel and it is lush. The room are so comfortable and the downtown location is perfect!
Day 1–Afternoon Arrival
Lunch at The Grilled Cheese Bistro (345 Granby)
Check out art sculptures, mermaids, murals, etc on the walk over to Selden Market (208 E Main St). You might want dessert at Granby Waffles or S'mores Amore, both part of Selden Market. Selden market is home to boutiques and locally owned stores.
Walk to Battleship Wisconsin (1 Waterside Dr) and the Pagoda and Oriental Garden (265 W. Tazewell St.), don't miss the Lone Sailor Statue (235 Brooke Ave)
Check into Glass Light Hotel (201 Granby St). – Be sure to explore the Glass Light Gallery.
Happy Hour at Saltine (100 E. Main St.)
Dinner at Brothers Restaurant (200 E Plume St)
If you still have energy, head to Grain (same building as Saltine) for epic rooftop views of downtown and a nightcap. (100 E. Main St)
Day 2
Start day at Cure Coffeehouse (503 Botetourt St) in the Freemason District. Check out the cobblestone streets, but careful how you step because cobblestone is known for twisting ankles. There are gorgeous houses in this district as well
Get the coffee to go and drive over to Handsome Biscuit (2511 Colonial Ave.) for coffee and a breakfast biscuit. Outdoor seating only.
After breakfast, Neon District — explore all the murals and public art; stop by Plot Park which has the Cementiscope (cement mixer turned kaleidoscope), another great roadside attraction. (776 Granby St) Most of the murals are on Granby St and Magazine Ln.
If you feel the need for a snack while in the Neon District stop at the Hummingbird Bakery or La Brioche, authentic french pastries.
Chrysler Museum of Art (1 Memorial Place) – Free admission with plenty of free parking
12p–Perry Glass Studio Glass Blowing Demonstration (745 Duke St). Demonstrations only happen at noon, arrive 15-minute early for best seat.
Head to The Torch Bistro for lunch (601 Orapax St)
Ghent District for the Catnip Cat Cafe (1611 Colley Ave) and Naro Cinema (1507 Colley Ave.)
Yellow Fever Park (900 W. Princess Anne Rd) – Triangular park is also a mass grave for victims of a yellow fever epidemic.
St Paul's Episcopal Church (201 St. Paul's)– Supposedly haunted which is my draw to it. Also, there is a cannonball lodge in the wall. You can see the cannonball above a plaque that reads "Fired by Lord Dunmore, Jan 1, 1776
Mermaid Winery (330 W 22nd St) – First urban winery in Virginia
Doumar's Drive-In (1919 Monticello Ave)– roadside attraction with the World's first cone machine. They also have a full menu and ice cream.
Ocean View Fishing Pier (400 W. Ocean View Ave) – the longest free-standing fishing pier in North America. Seasonal hours apply.
Dinner at Freemason Abbey (209 W. Freemason St. ) – A converted church that now offers up a unique dining experience.
DAY 3 – Afternoon Departure
Morning – Pedego Bike Tour or Rental (223 E City Hall Ave Suite 101) – Plan to spend 2-3+ hours exploring the city via Pedego bike.
Lunch at The Bakehouse at Chelsea for wood-fired pizza (1233 W Olney Rd)
Return bikes, depart Norfolk