Landing at Dallas Fort Worth (DFW) airport I was excited about exploring the city of Irving during a 3-day girlfriend getaway. Little did I know that the Texican Court would be a highlight of our visit.
I stay in a lot of hotels and most of them look like any other hotel. However, the Texican Court is a standout and this is one of the many reasons I'll be making a return trip to Irving.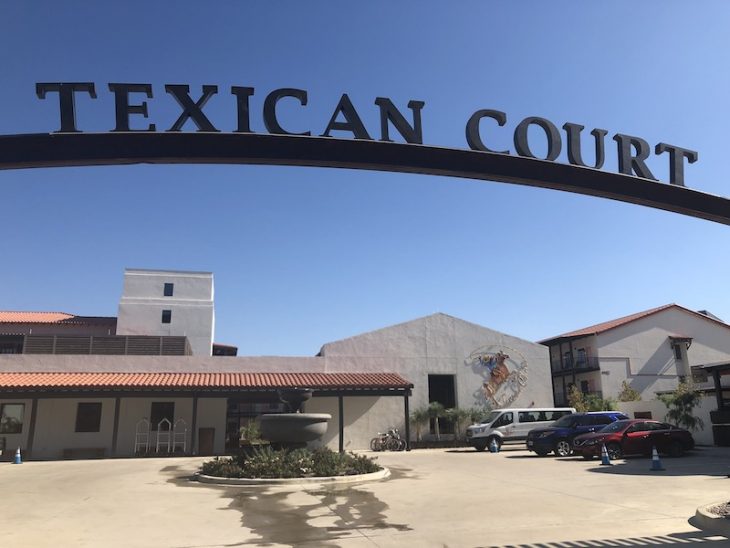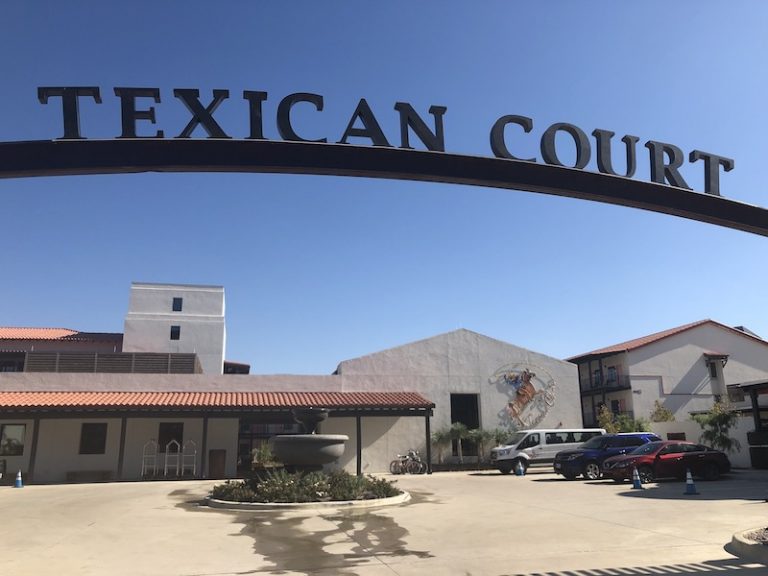 Why A Stay At The Texican Court is A Must
Texican Court Location
Directly across the street is the convention center and about a block away is the Toyota Music Factor.
Honestly, you don't need a car when you stay at the Texican because everything is walkable and if you don't want to walk Uber/Lyft is plentiful.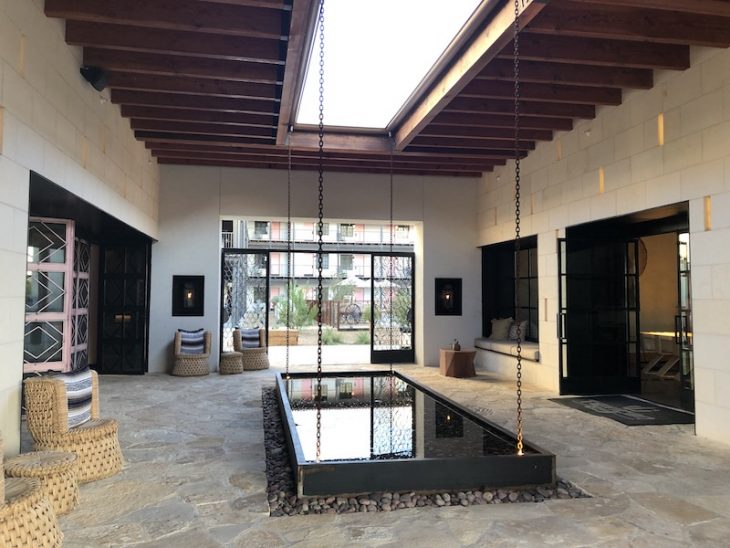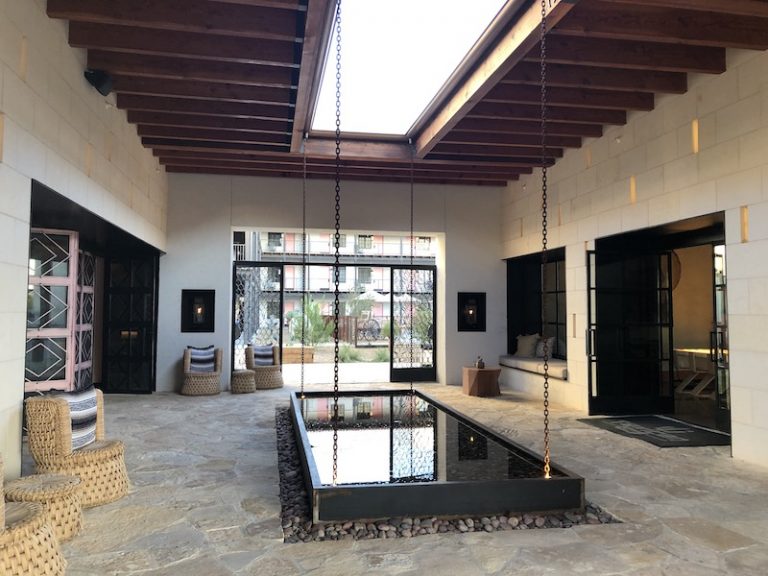 Texican Court Check-In | Lobby | Courtyard
When I arrived at the Texican Court I felt like I was stepping into a Western movie film set. It had all the ingredients for a movie and I was waiting for Clint Eastwood to walk around the corner or pull up a chair next to mine at any minute.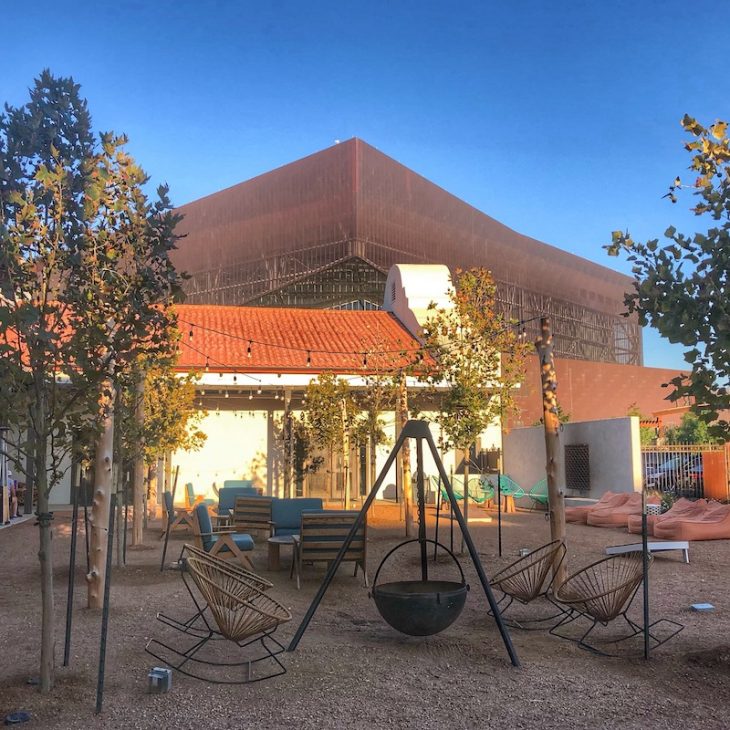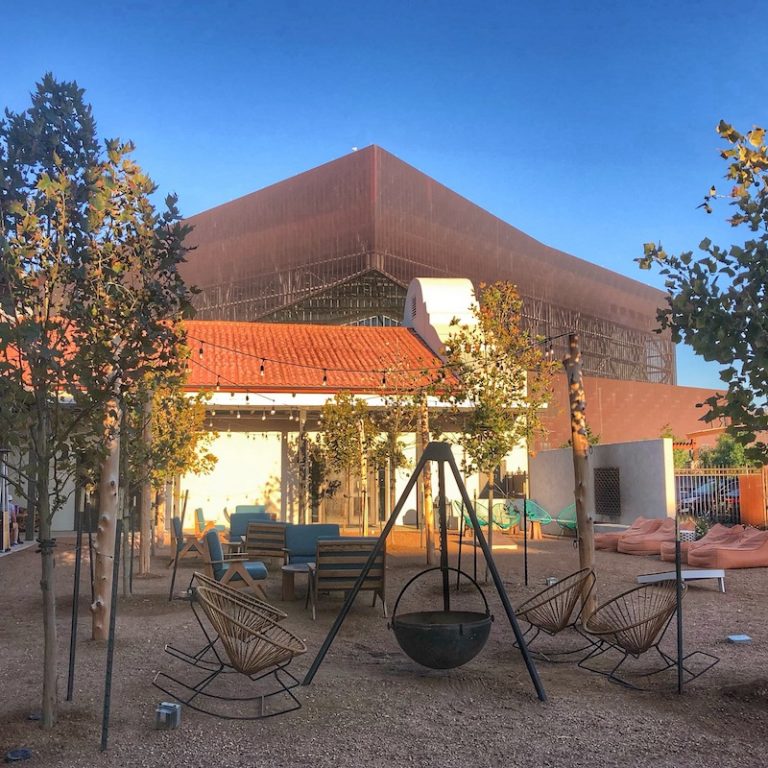 Sadly, Mr. Eastwood never showed up nor was there any movie filming going on, but I had a great time at this resort. The landscaped courtyard and sitting areas are so well done and incredibly comfy complete with fire pits.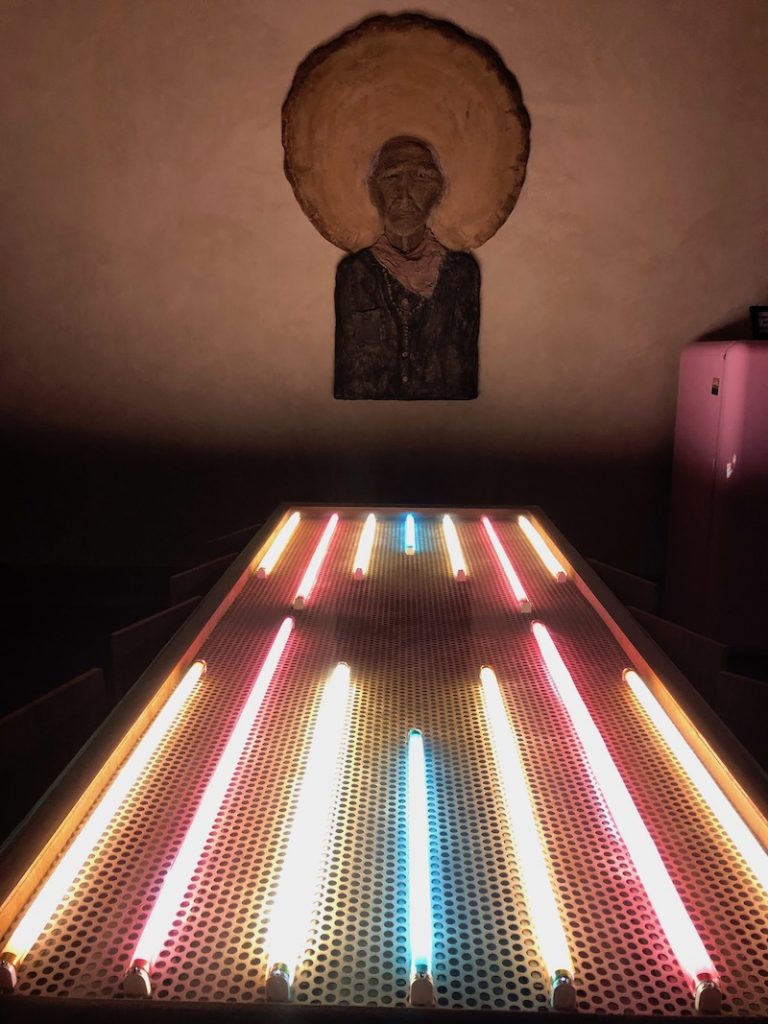 The entrance feels like you're arriving at a home away from home. Walk into the and you'll find the check in to the right and the tequila bar to the left. Yep, definitely my kind of place.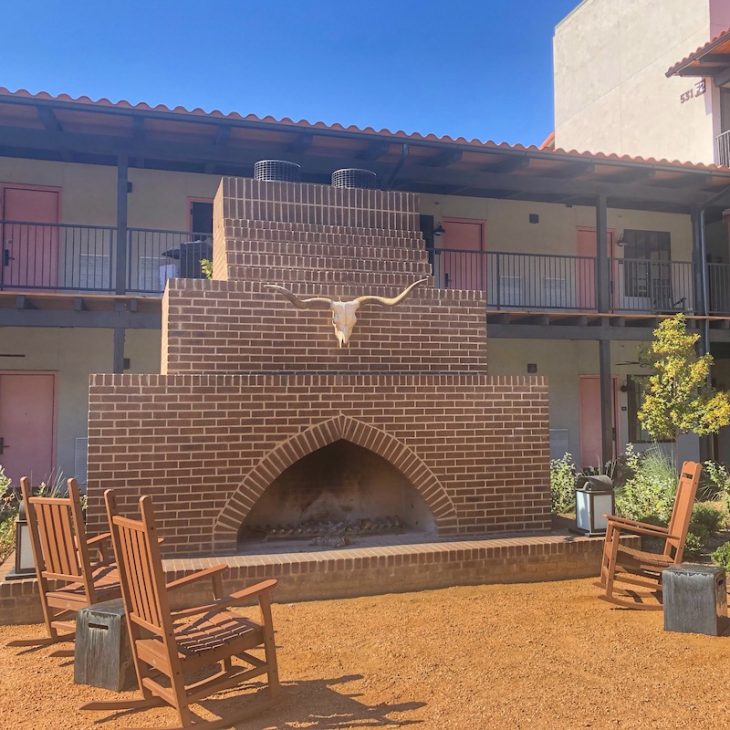 Continuing on you'll find yourself in the courtyard with the rooms forming a large enclosed area. I ADORE that there are honest to goodness, uses real wood, fire pits here PLUS you can purchase s'more kits at the front desk.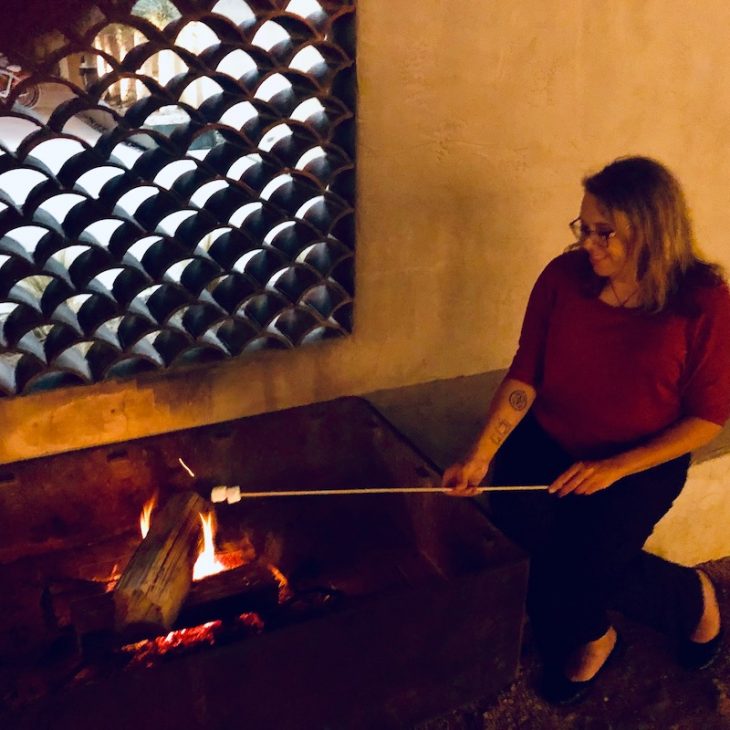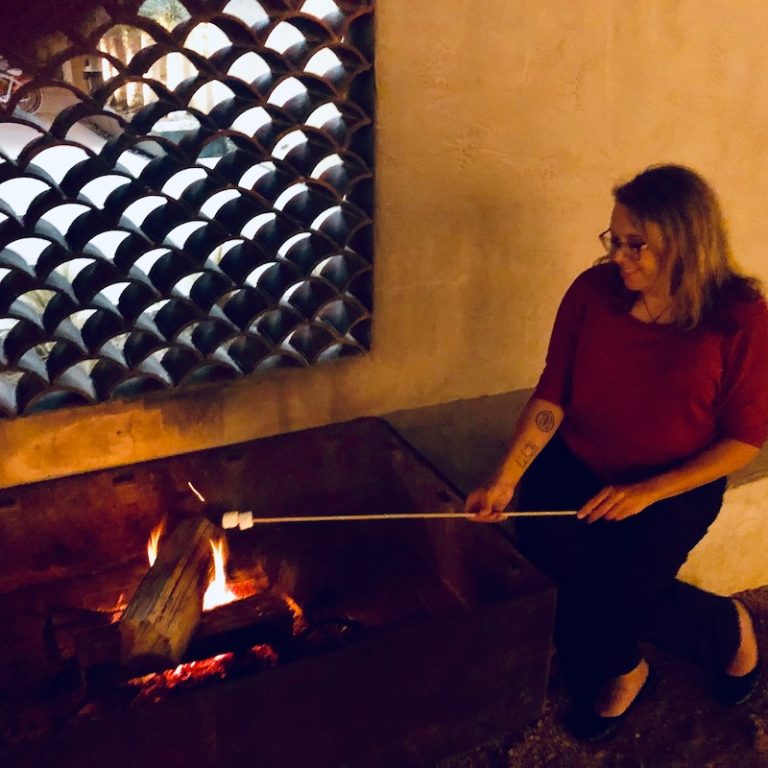 This makes my outdoor soul very happy!
I didn't use the pool. It was a bit cool during my visit, but it looked very inviting. We did, however, make use of the outdoor sitting areas near the fire pits. That was incredible and when I return that's where you'll find me.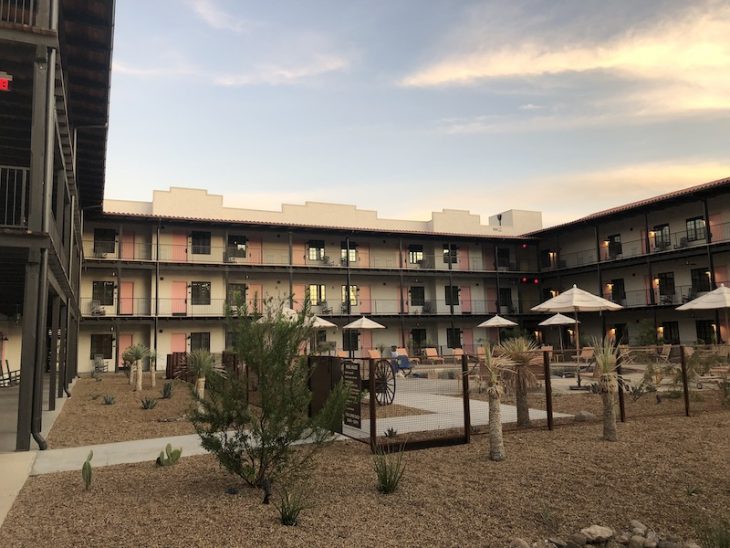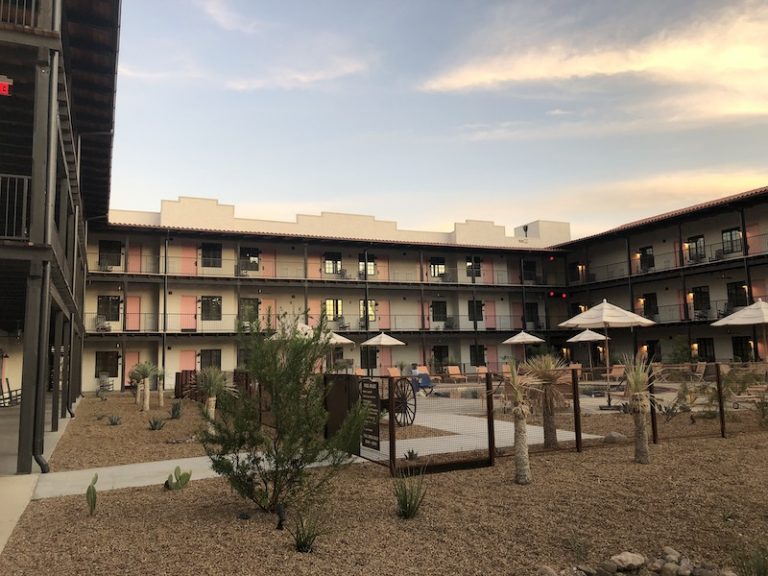 Texican Court Rooms
Stepping into my room I'm delighted to find fun decor, a PACKED fridge with liquor, mixers, and soda, and an incredible bathroom. I always say its the little details that will win me over every time and the Texican does not disappoint.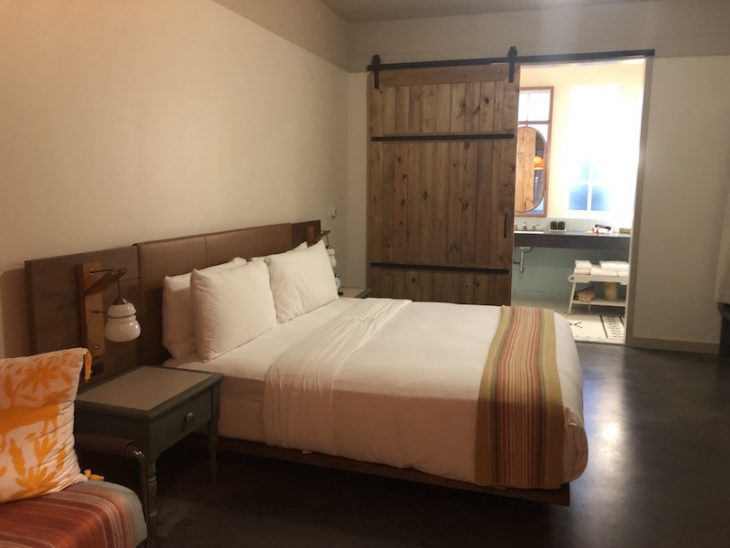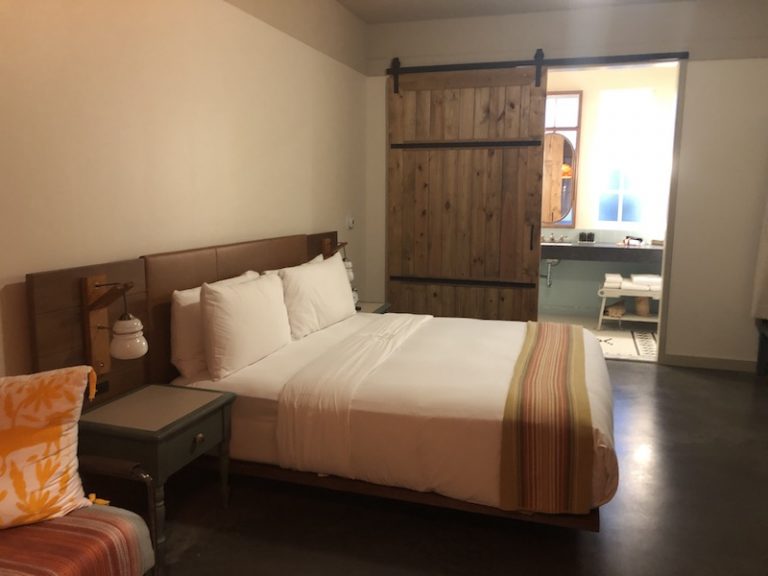 From the run to the throw pillows to the lamps everything in my room reminds me of a being in the west and I am in love.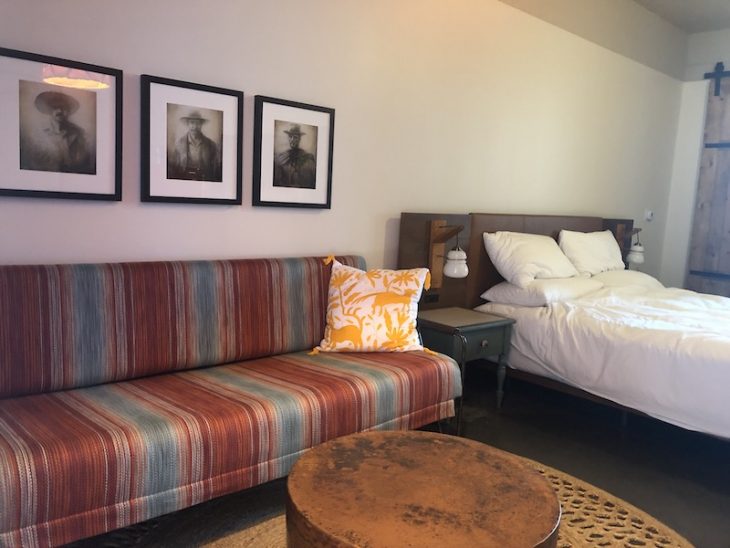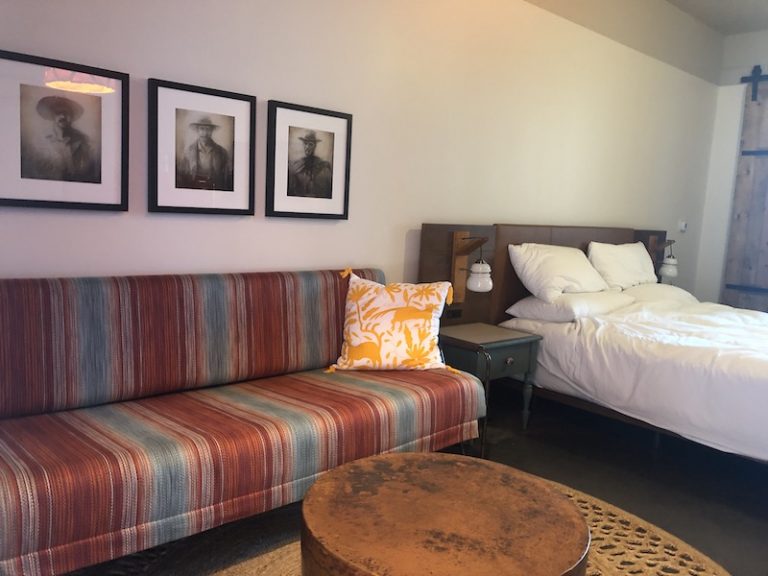 The bed is incredibly comfy and I just want to spend my day lazing about, snuggled deep, and enjoying a really good book and a glass of wine.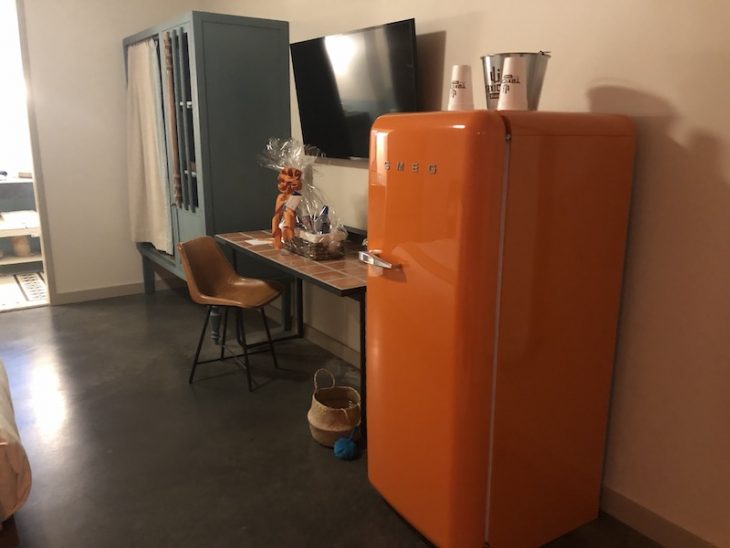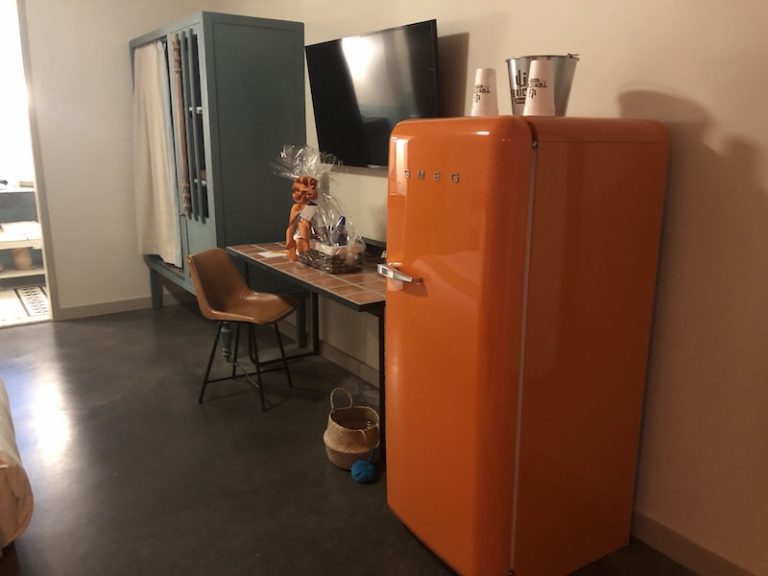 Speaking of wine. Check out this SMEG fridge!! Anything you could possibly want is available to you. There is, of course, a fee for everything, but I didn't think some of the prices were too bad.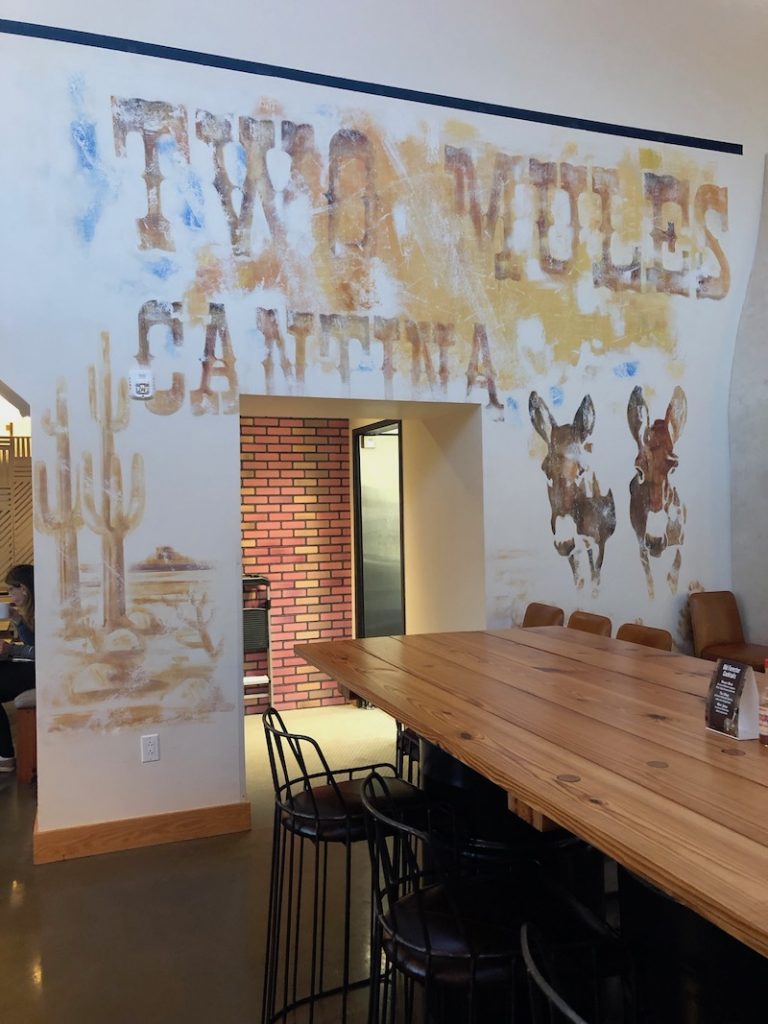 Texican Court Dining
Beside the tequila bar in the lobby, there is the Two Mules Cantina on-site that offers up a complimentary continental breakfast or a paid hot breakfast, plus a full menu for lunch and dinner. The breakfast choices looked delicious and the coffee was great.
We didn't dine there, but I will tell you the cocktails were perfect. I'll give the restaurant a try when I go back.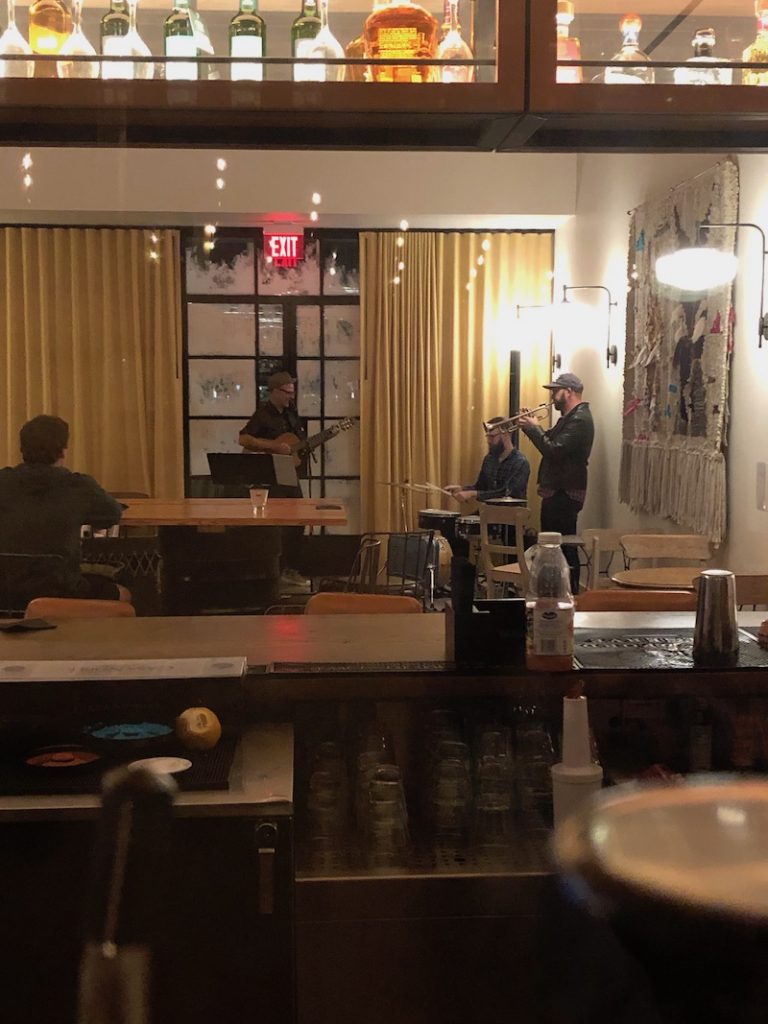 Live Music
On the weekends the Texican Court has live music that you can enjoy with your cocktails.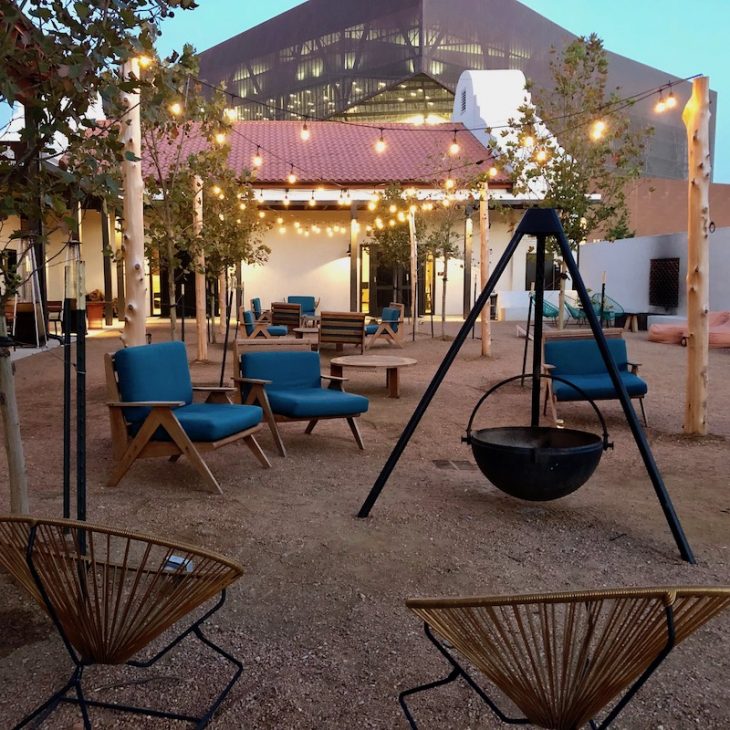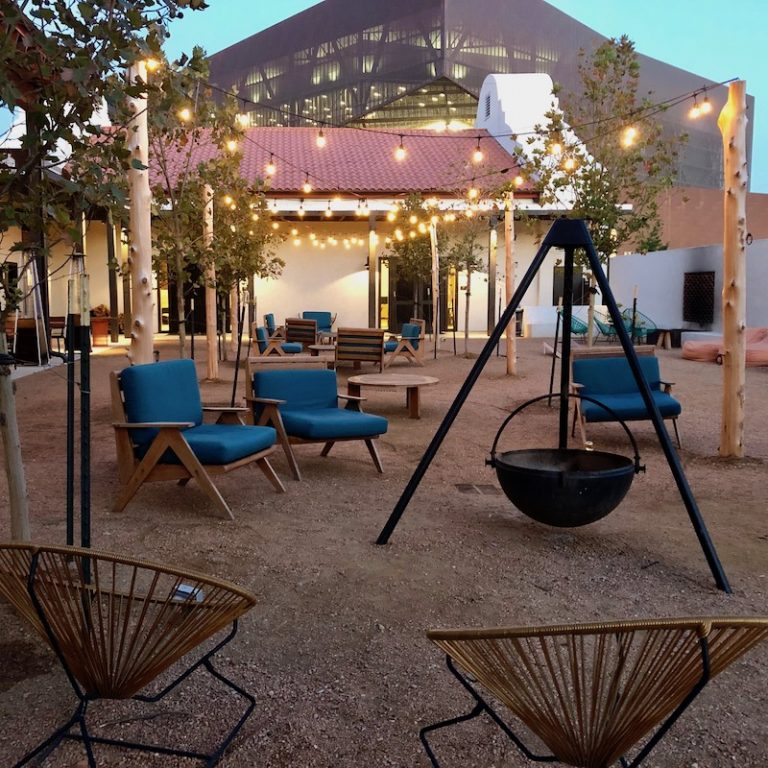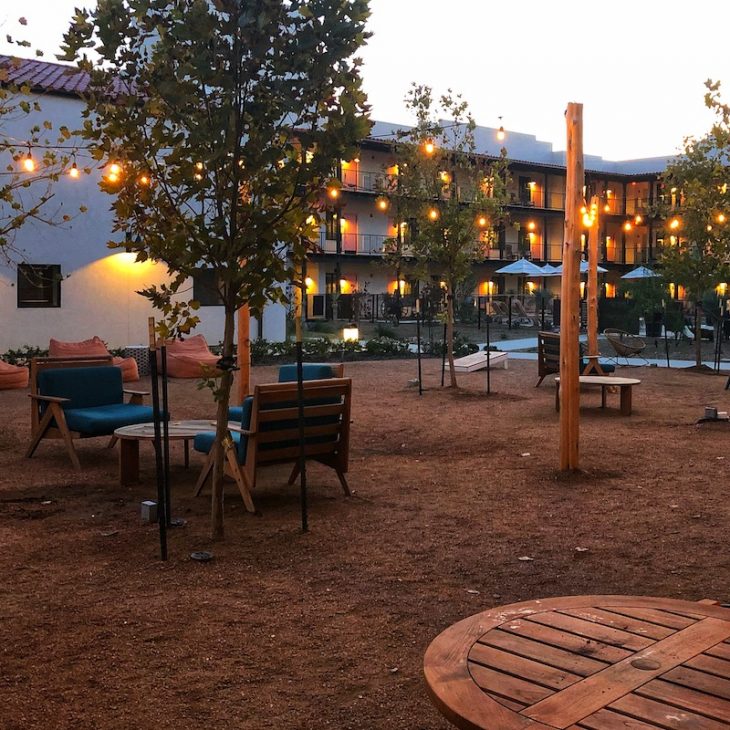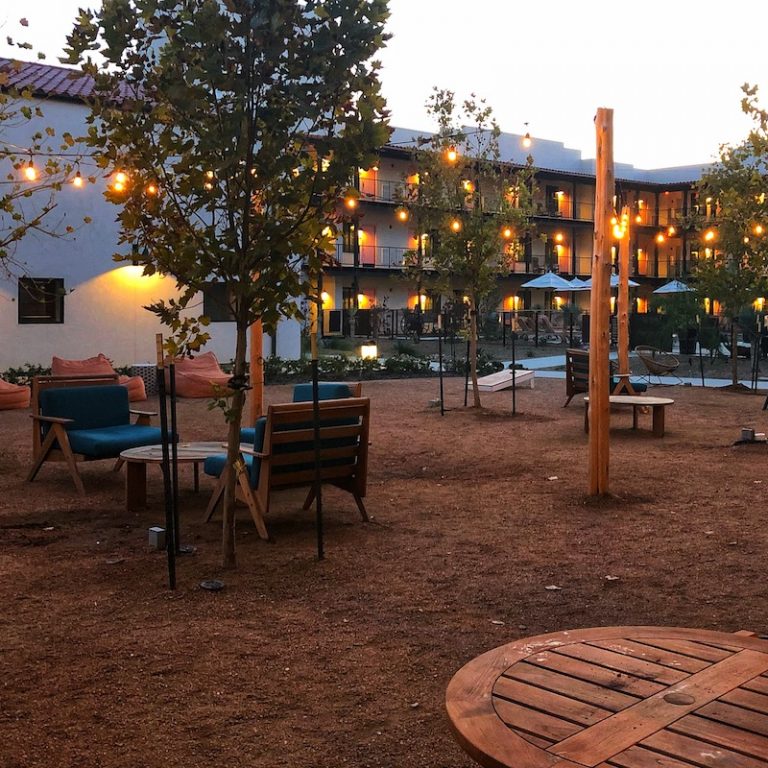 4 Reasons Why You Should Stay at the Texican Court
Ambiance – Honestly, I think the outdoor sitting areas that invite guests to sit around and chat are just about the best thing ever.
Location – Easy to get to, no car required and walkable to all the things to do in Irving.
Unique – Let's just admit that the Texican Court is just a really cool and unique property. If you like stay at NOT run of the mill hotels than this is the place for you.
Rooms – Um, have you ever been in a hotel room that looks like this AND has a packed fridge?
Pin the Texican Court to Pinterest