I had no idea the fun that awaited me in Onslow County, NC. Apparently, I was the only one that had never heard of Jacksonville, NC, my destination airport and part of the county.
Stepping off the plane I was greeted with blue skies and sunshine and I couldn't wait to explore.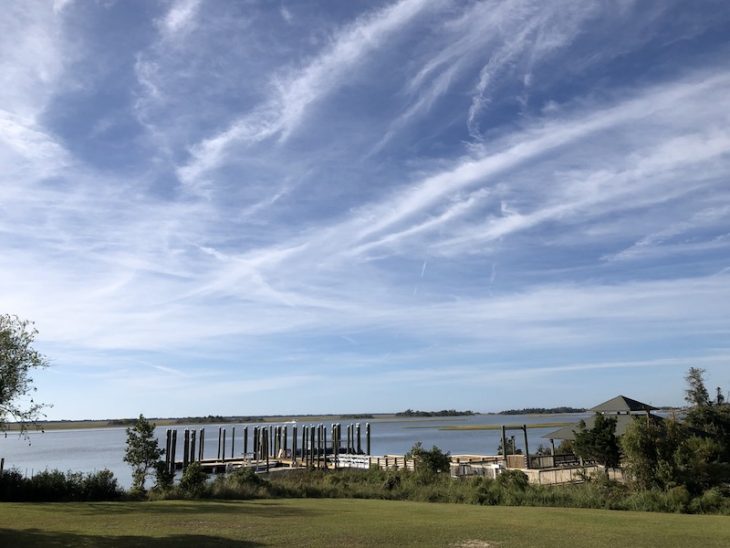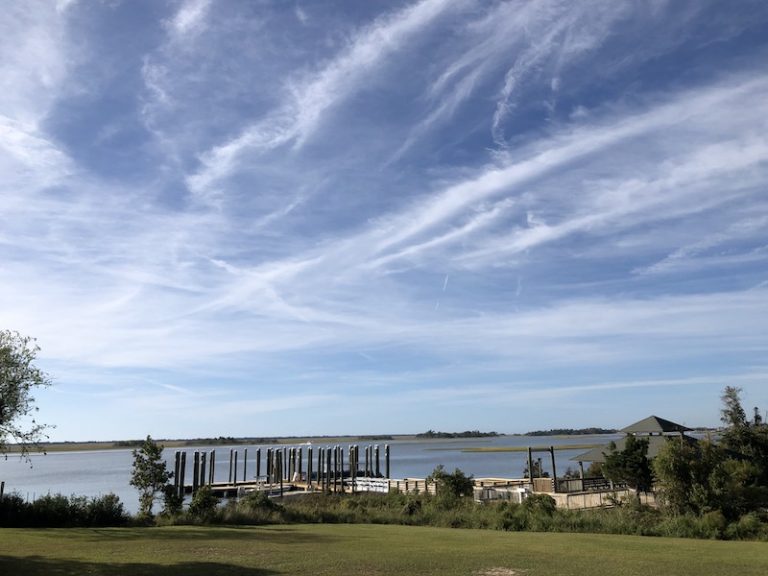 This coastal region of North Carolina is completely unlike the Outer Banks where I've spent so much time.
Here I found beaches, forests, and farmlands. Its diversity, in my opinion, is what makes it such an incredible destination to visit.
The intercoastal waterway, the busiest water "highway" along the Atlantic coast, also runs through the county.
It's on and near this waterway where I found so many fun outdoor adventures.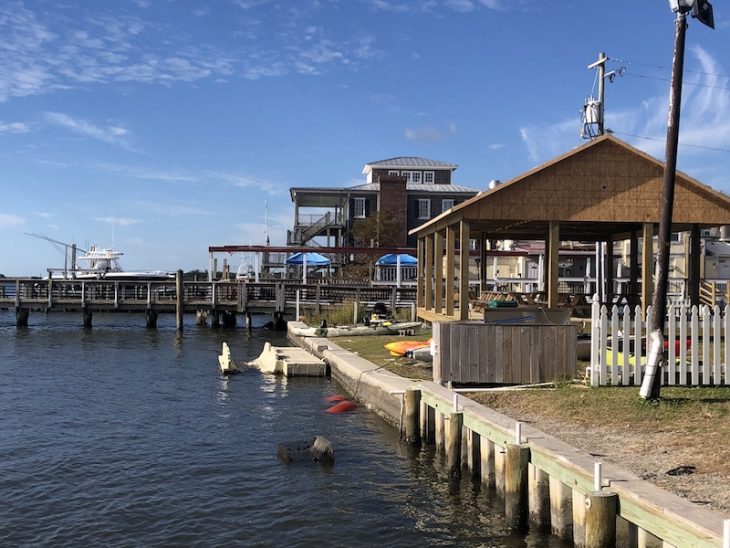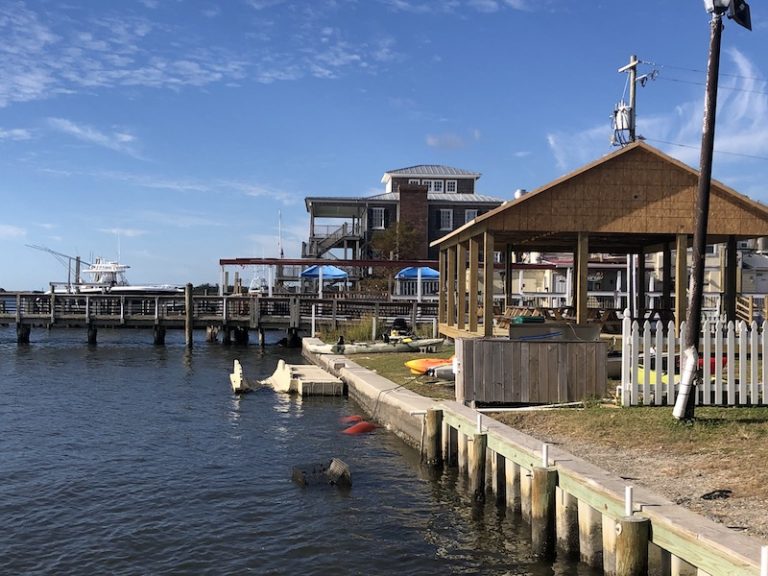 Once I had feet on the ground in Onslow County I made my way to the tiny intercoastal waterway community of Swansboro, NC which served as my home base during my visit.
My rental house was a short block to the downtown area which allowed for easy walking to adventure, food, and nightlife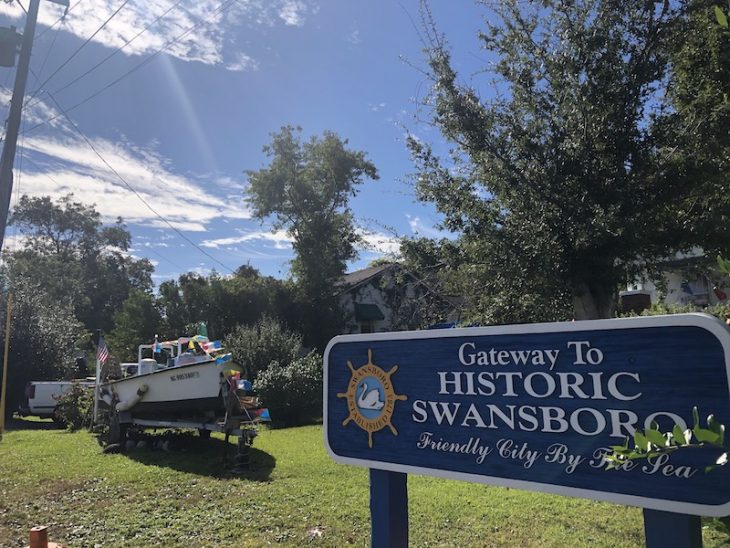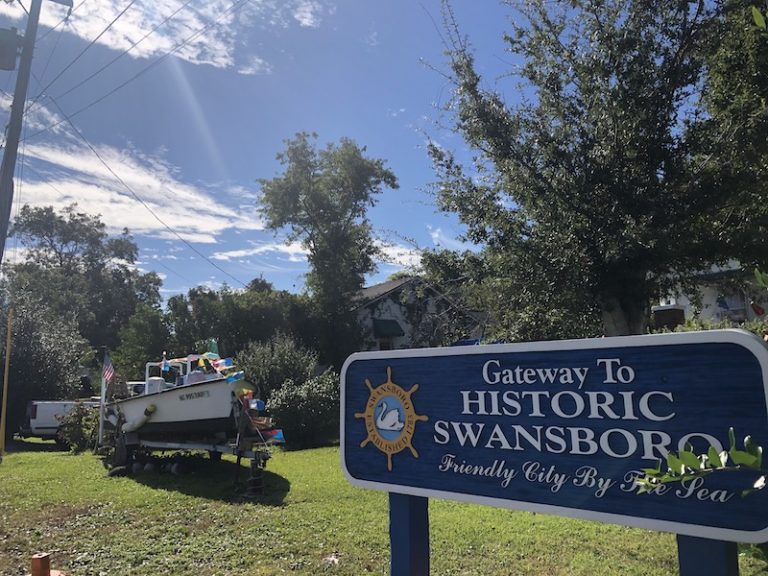 Things To Do Outside In Onslow County, NC

Take a cruise to an oyster farm and learn how the North Carolina intercostal waterways are farming some of the most delicious oysters in the region.
You'll take a boat out to the farm where you'll learn how the oysters are "planted", grown and harvested. You'll even get to practice your oyster opening skills.
Did you know that oysters have flavor profiles that change depending on which areas they are grown in? Some areas create saltier oysters while others have a more mild flavor.
They type of farming can also change the shape and size of the oysters.
As someone who has only farmed on land, I was fascinated by the ocean farming concept and loved learning about oyster farming.
Ghost Fleet Oyster Co will customize a tour to suit your group and can include an oyster tasting if requested in advance.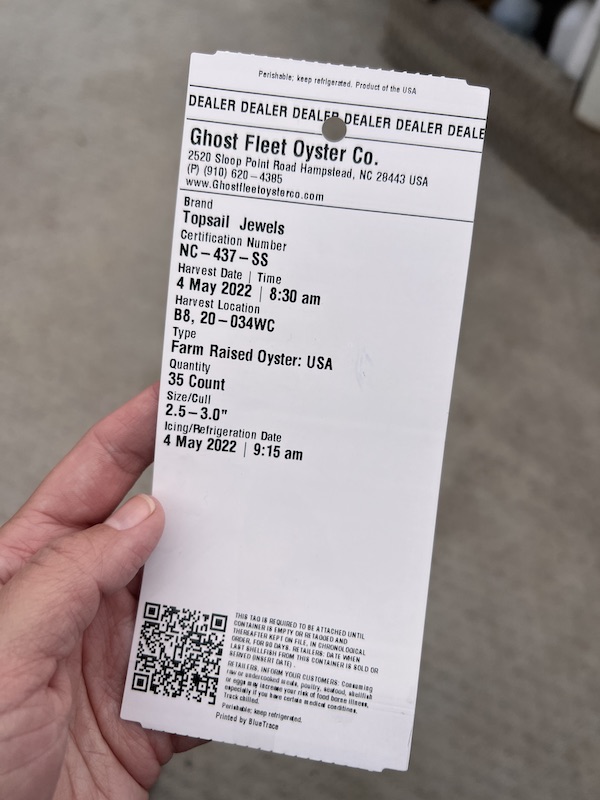 Side Note, when you order oysters in a restaurant or at a store you can ask to see the oyster tag which will indicate harvest date and location.

Shrimping With Captain Tommie at Reel Living Fishing Charters
If you've never been on a shrimp boat before it's your lucky day. Hop aboard Captain Tommie's shrimping vessel and troll the waters of the intercoastal waterways.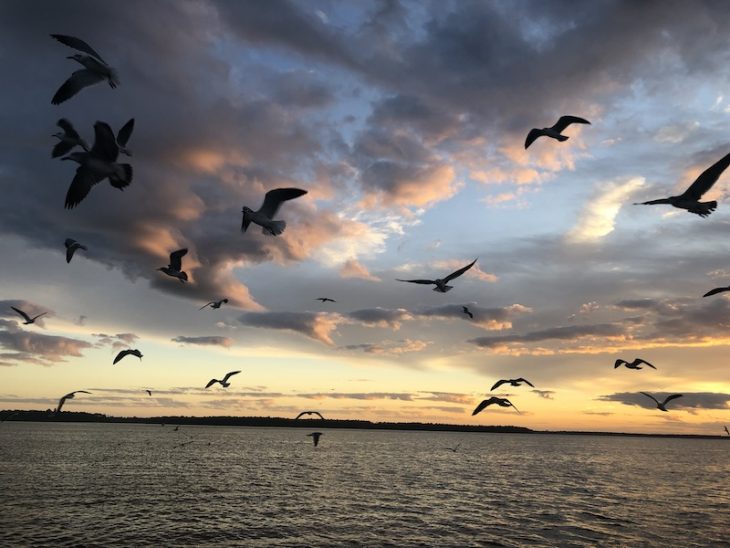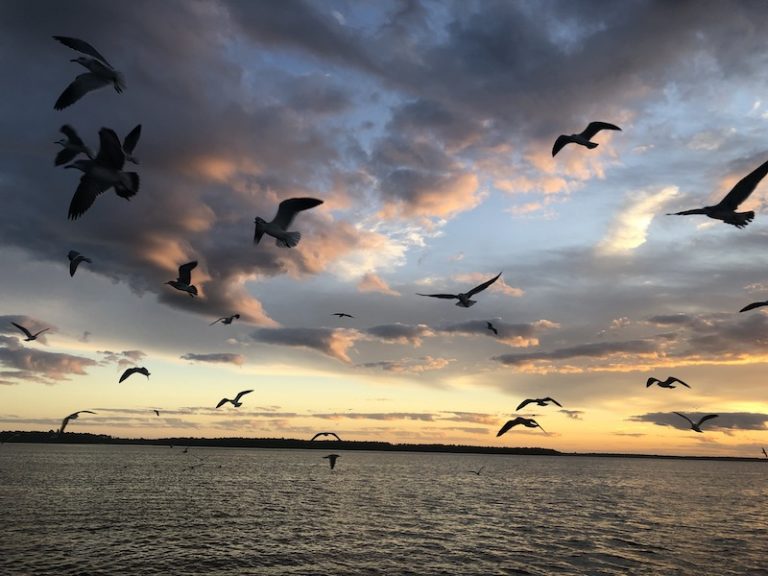 It's a gentle ride to the shrimping location, but once you arrive the fun begins. Nets are dropped and the boat slowly makes its way through the waters catching an abundance of marine life in the nets.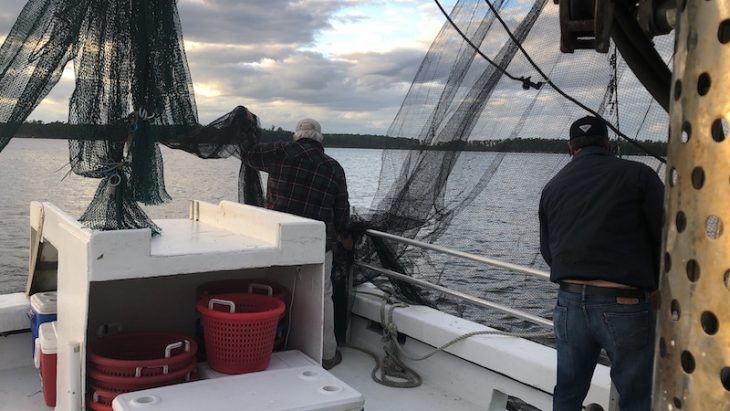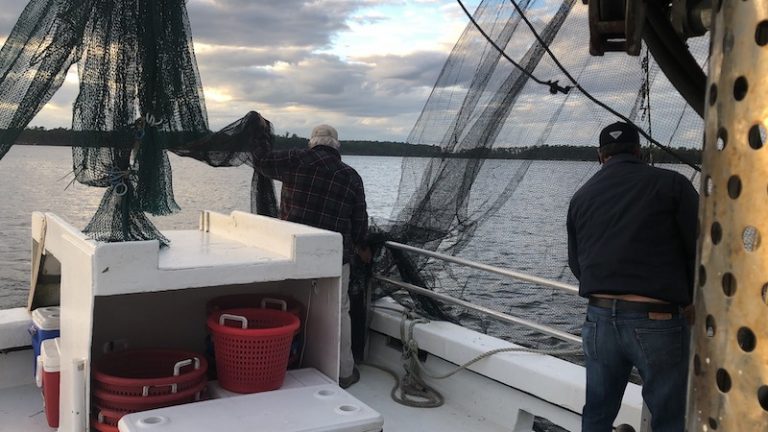 Once the nets are pulled the catch is dumped onto a massive table.
You'll want to grab a pair of provided gloves before getting to work because shrimping is a messy business.
As seagulls circle above and just behind the boat you'll quickly sort the catch. Shrimp is tossed in a basket while everything else (crabs, stingrays, and lots of little fish ) are shoved to the back of the table.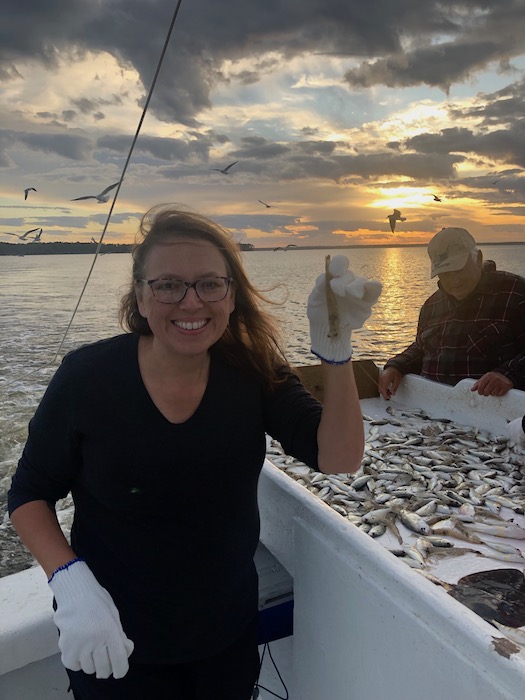 After all the shrimp have been sorted the back lip of the table is lifted away and everything else that was captured in the nets gets pushed back to the sea.
That's when things get really interesting as that is the exact moment all the seagulls have been waiting for. As soon as things start to fall back to the water the seagulls dive down and snatch it up in a hot second.
This has to be an epic smorgasbord for them.
We repeated this process a couple of times as the sun crept closer and closer to the horizon. Once night had fallen we called it a day and made our way back to the marina.
Those that make their living from the sea are impressive with their navigation skills. With no "headlights", so to speak, Captain Tommie navigated us back with no issues at all.
Hmmm, it's like he's done this a time or 100. 🙂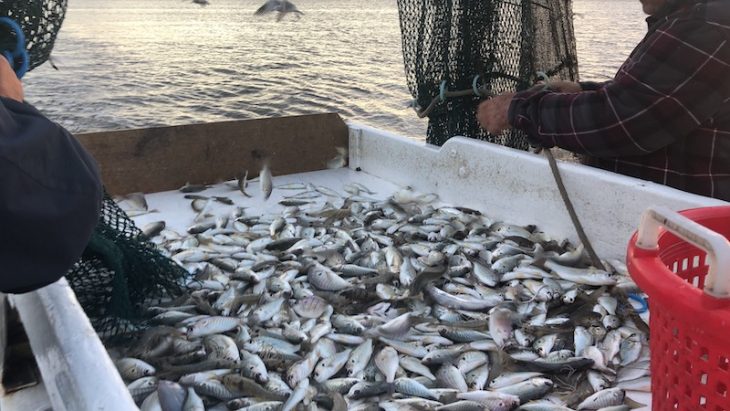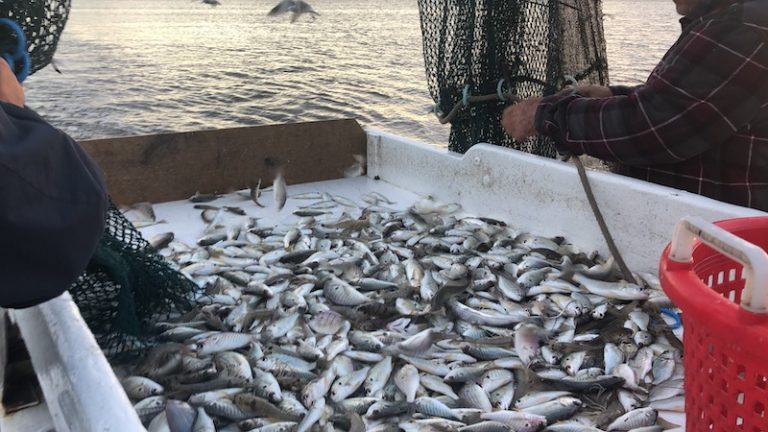 After spending time learning how the shrimping process works it definitely gives a new appreciation of the work involved to enjoy a dish of shrimp scampi.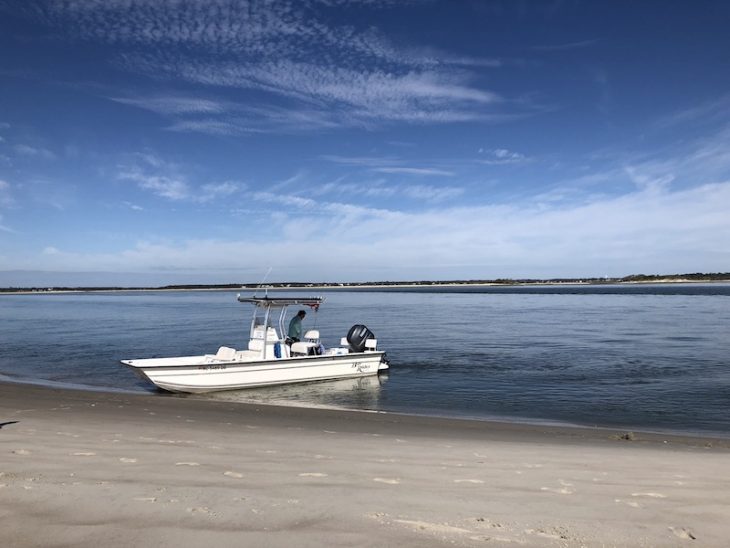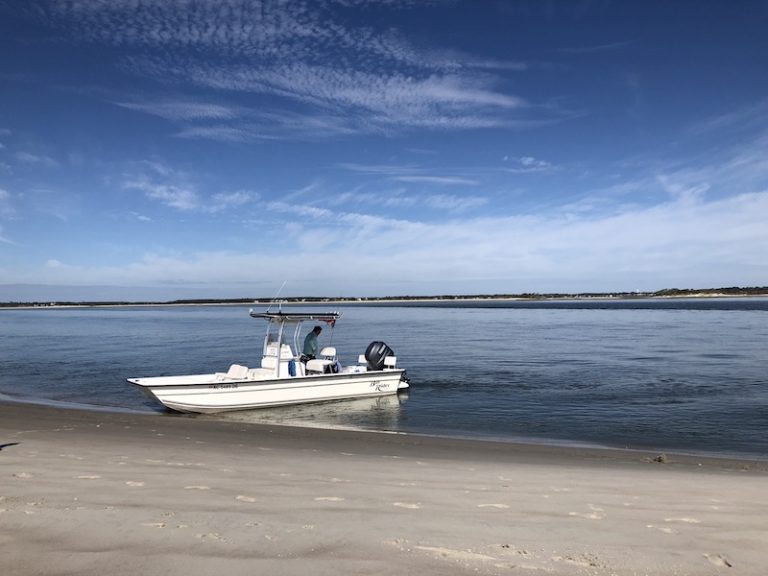 Searching for Seashells, Sand Dollars and Sharks Teeth in Onslow County, NC
This was the adventure I was most looking forward to. I love all the things about being outside on and or near the water, but beachcombing ranks up there as one of my favorite things to do.
I'm always excited to see what gifts the sea has left on the sandy shores and my time in Onslow did not disappoint.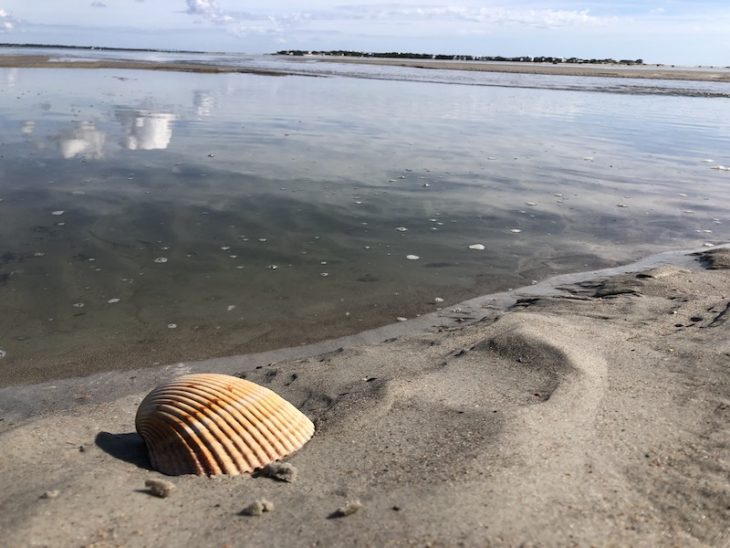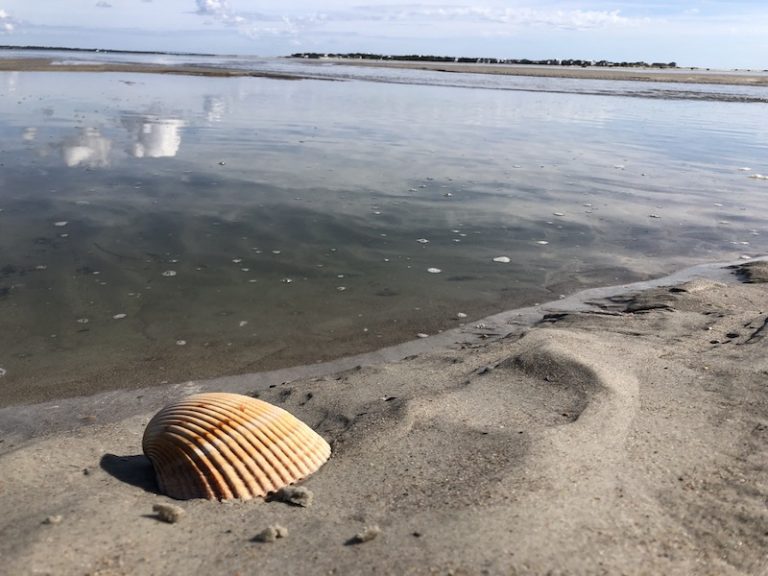 Captain Darryl with Marsh Cruises knows all the hot spots to take visitors and you'll spend the 3 to 4 hour cruise visiting at least 3 very different spots to look for seashells, sand dollars and sharks teeth.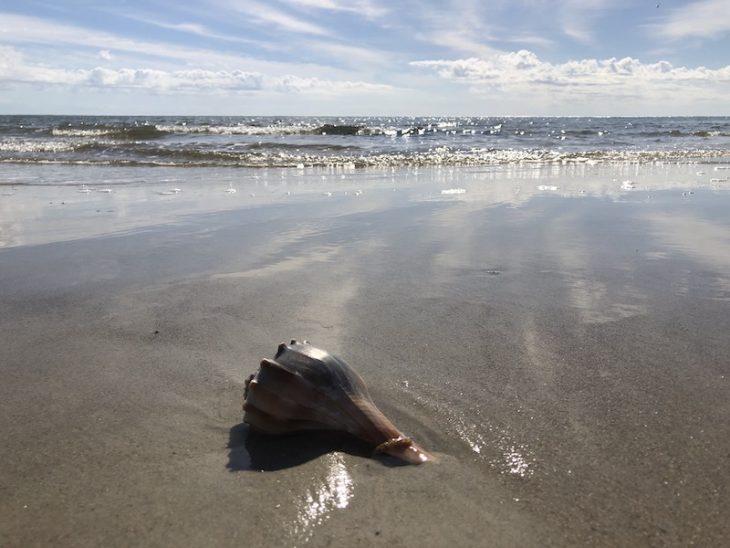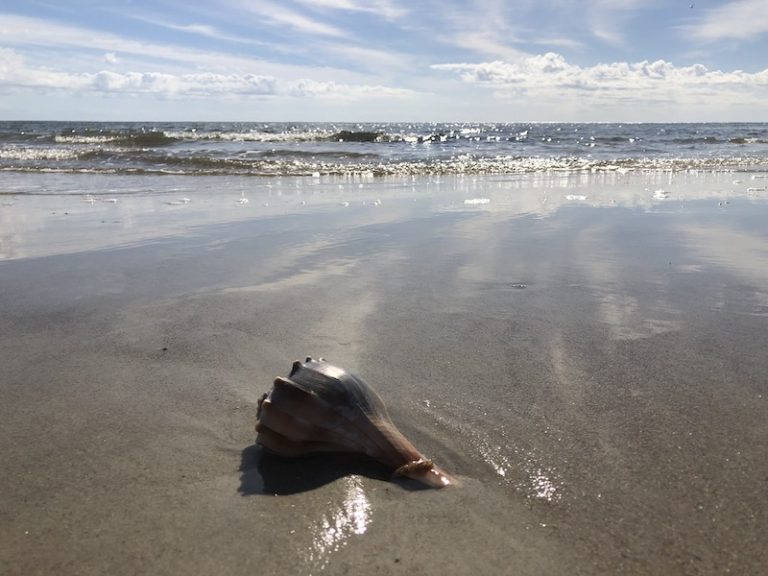 Finding Seashells
Of course, everything is weather and tide dependant, but on our trip we motored out through the Bear Inlet to Bear Island. Standing on this small barrier island you have the majestic Atlantic Ocean on one side and the inlet on the other.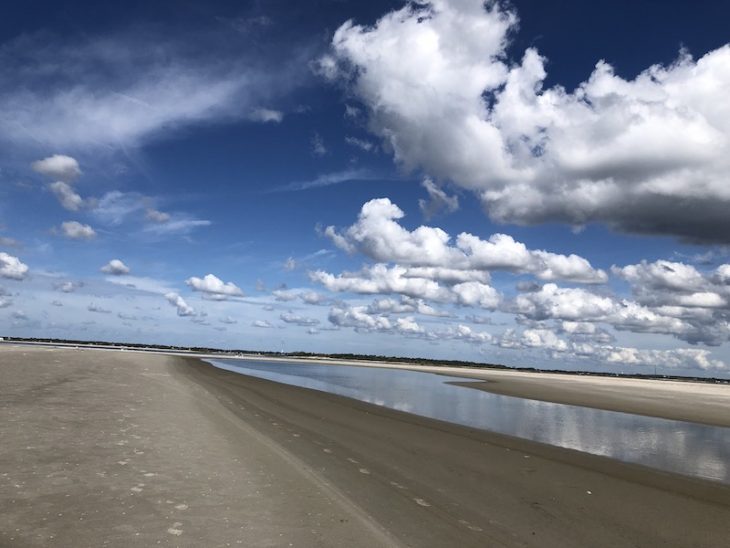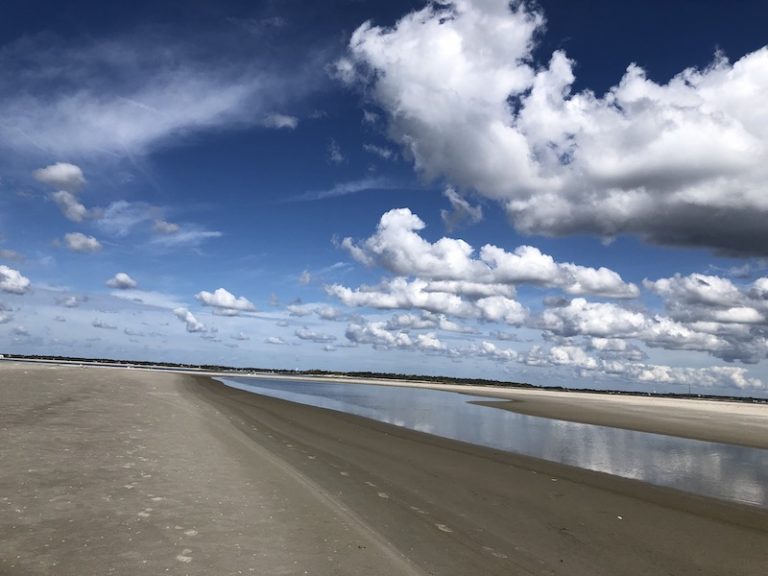 Darryl will drop you off on the inlet side, hand you a bag to collect your treasures from the sea and wait while you walk the shores. The waters are warm and shallow and I loved wading through the waters towards the Atlantic.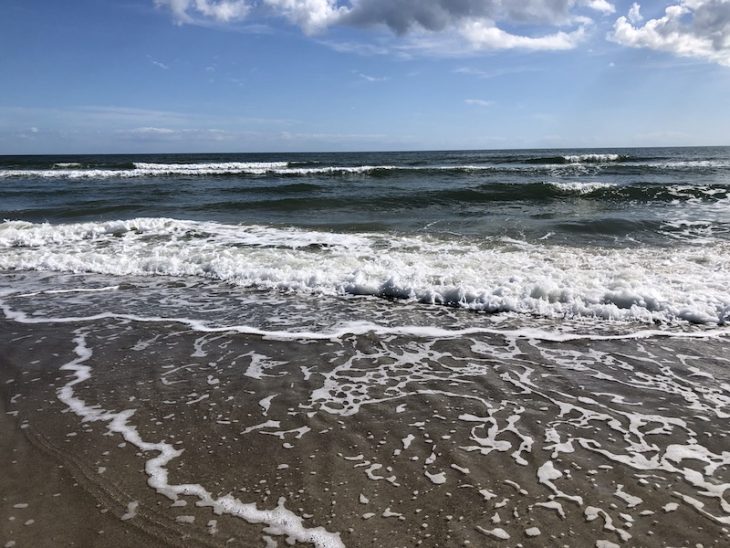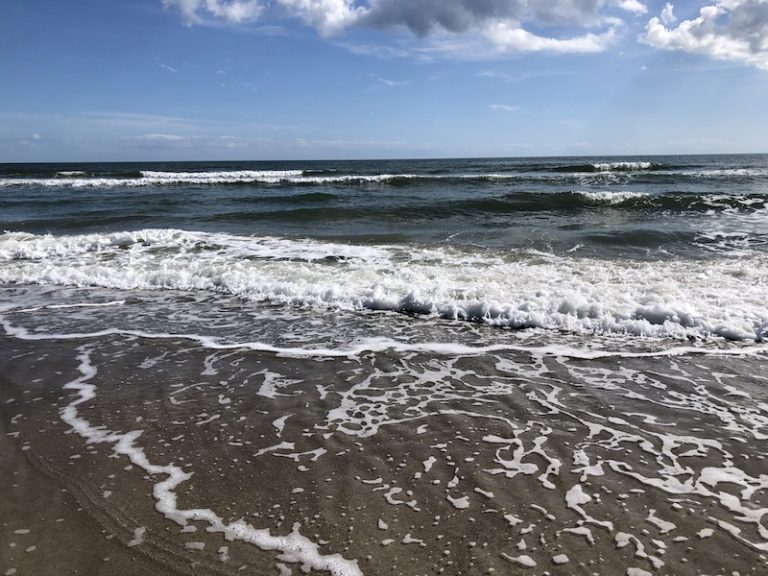 A short stroll later and you're greeting the Atlantic as its waters wash over your feet and, in my case, music plays in my mind. In this instance, Lee Ann Womack's I Hope You Dance with "I hope you still feel small when you stand beside the ocean."
And, yes, I always feel small when I stand next to the ocean, but I'm also filled with such a sense of wonder. The ocean just makes my scorpio soul happy.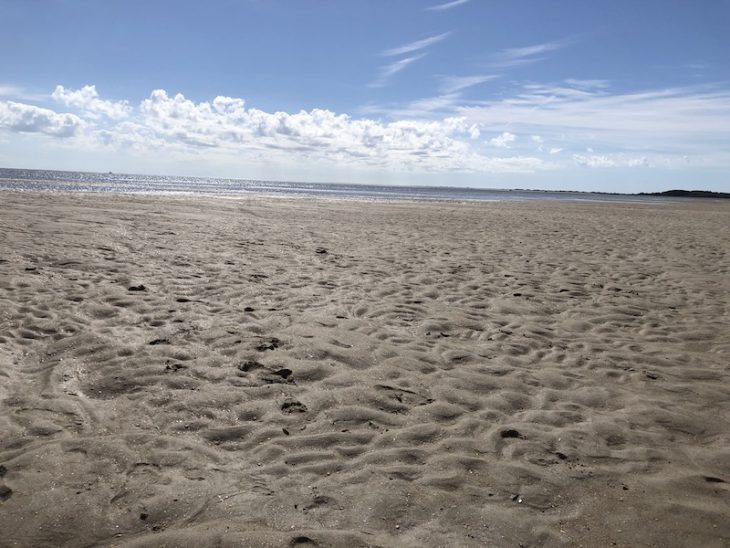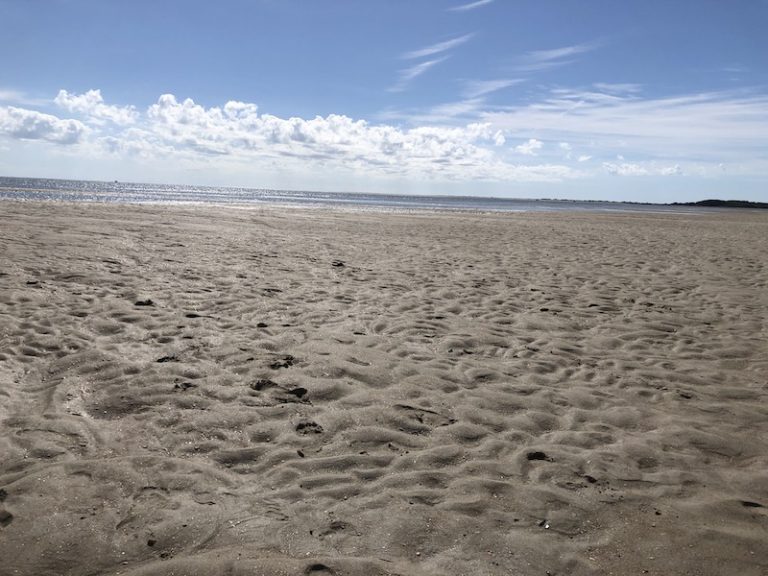 Finding Sand Dollars
After we found treasures on Bear Island, Captain Darryl took us back through Bear Inlet. The inlet is constantly shoaling, but he knows the shallow spots to stop and search for sand dollars.
This is why it's so important to go with a guide. They always know the hot spots and hidden gems.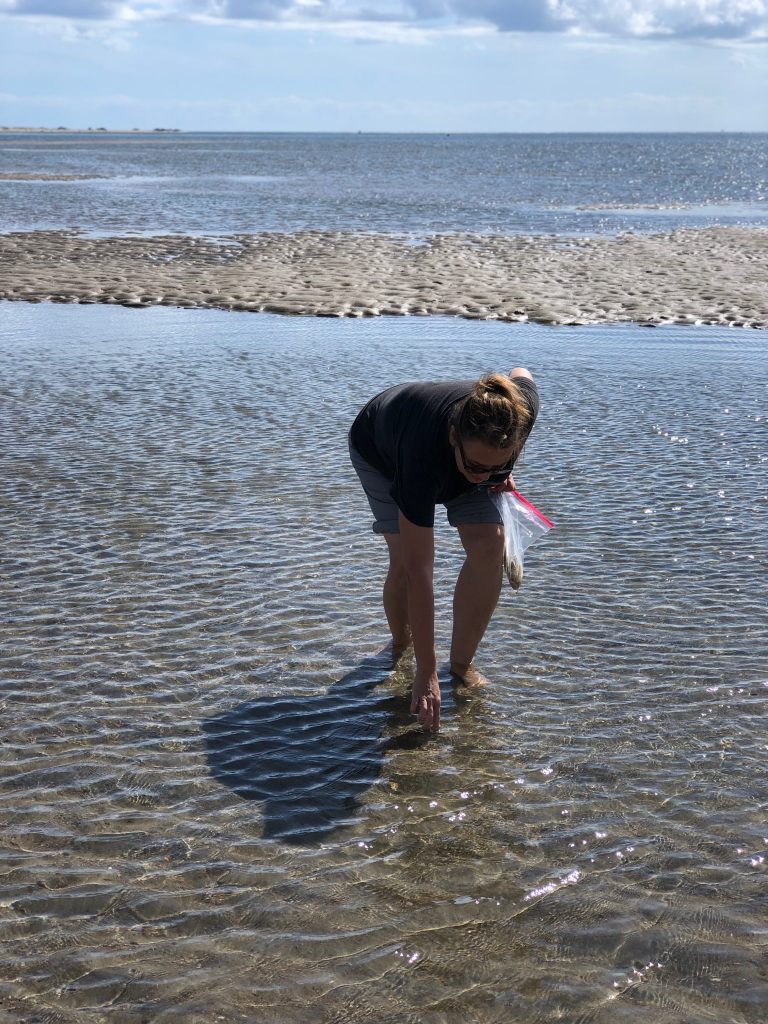 Once anchored at a shoal we were given instruction on how to find sand dollars and then set out on the hunt. The water was warm on my feet as I waded through ankle-high water.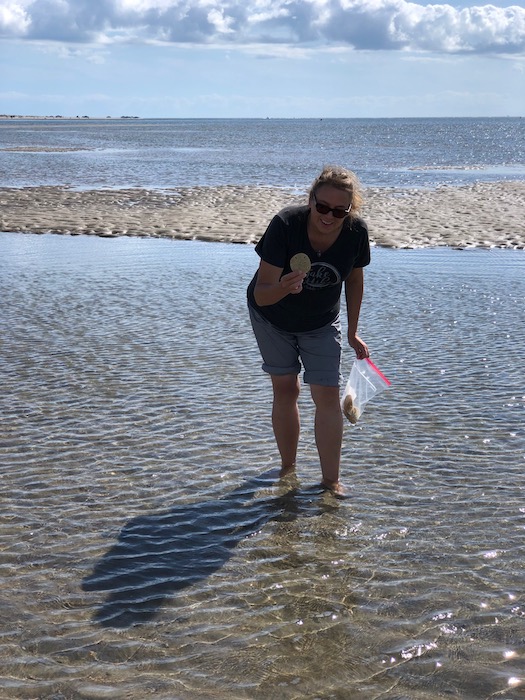 At first, I wasn't having a lot of luck finding any sand dollars, but things got a little easier after I found the first one and by the time I was done I had 5 or 6 to bring home as a reminder of my time in Onslow.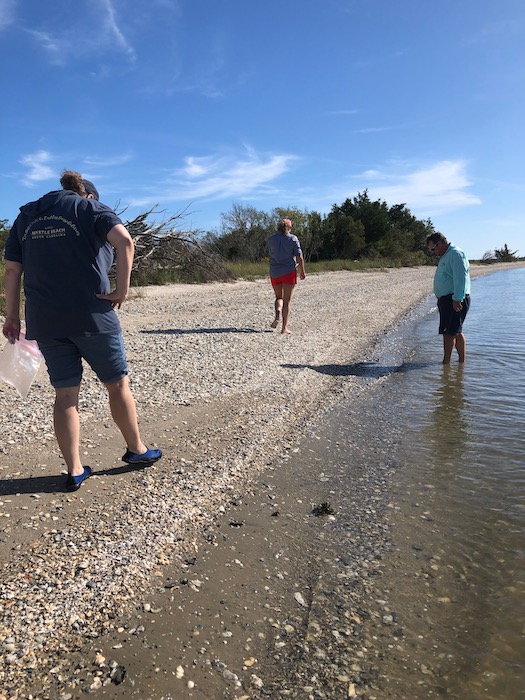 Finding Sharks Teeth
Just when we thought our time with Marsh Cruises couldn't get any better Captain Darryl took us to a tiny stretch of land that is known for sharks teeth.
These would prove to be a lot more difficult to find. The area is littered with small pebbles and stones and the teeth play an epic game of hide and seek.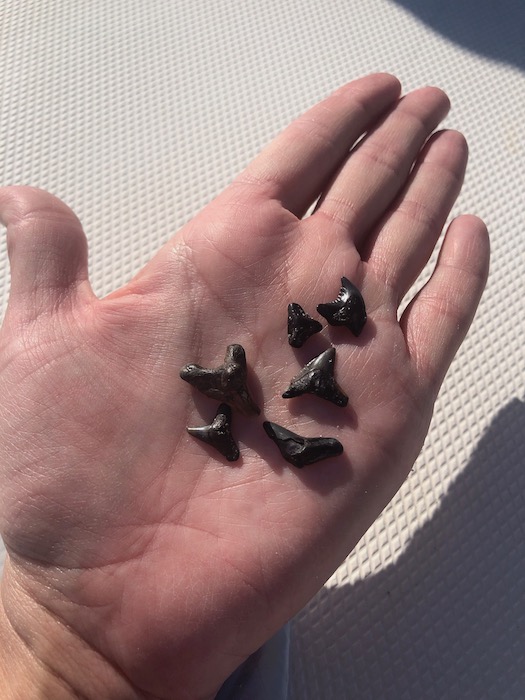 I didn't have as much luck here as I did with the seashells and sand dollars, but I eventually found one to bring home.
That's the thing, you never know what, if anything, you'll find, but the time spent on and near the water beachcombing is always time well spent.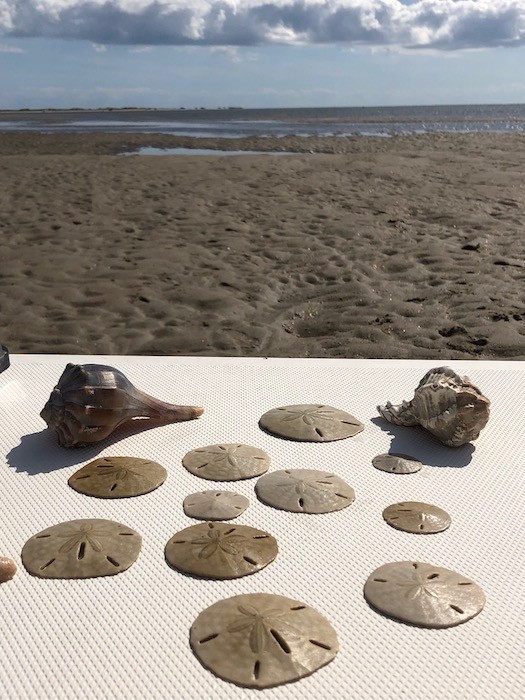 What Does Marsh Cruise Cost?
I loved every minute with Marsh Cruises and definitely want to go again.
Now, these rates are subject to change but I have to share how affordable this adventure is. Currently, it's $200 for up to 6 people for a 3-4 hour cruise.
The cruises can be customized to what your family wants to do making every cruise unique. In my opinion, $200 is an epic deal for a private cruise. Definitely give Captain Darryl a call when you're in the area.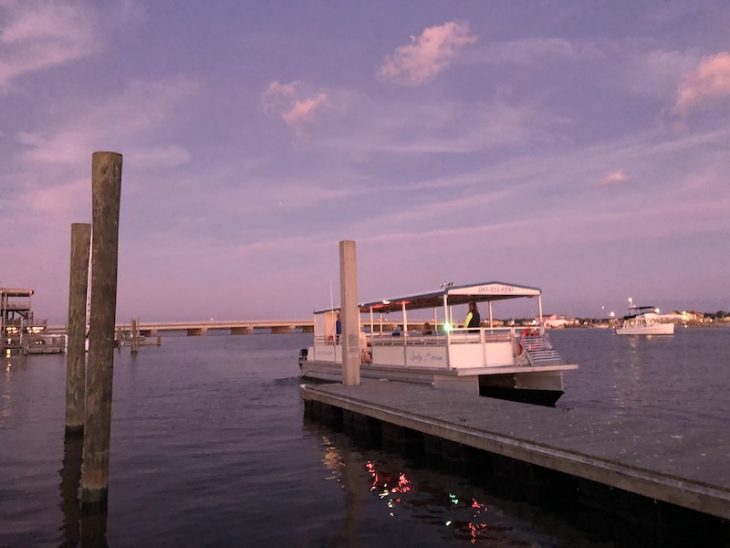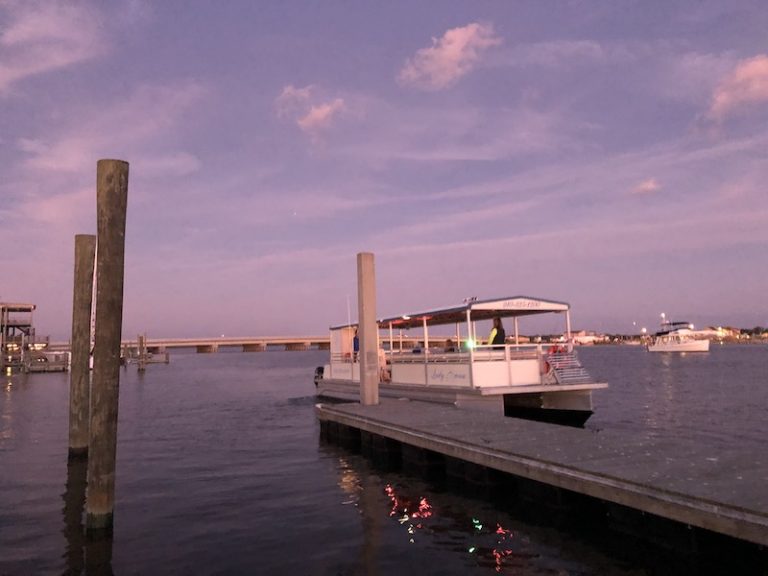 Ever thought about sailing off into the sunset? That's exactly what you get to do about the Lady Swan when you take a sunset cruise.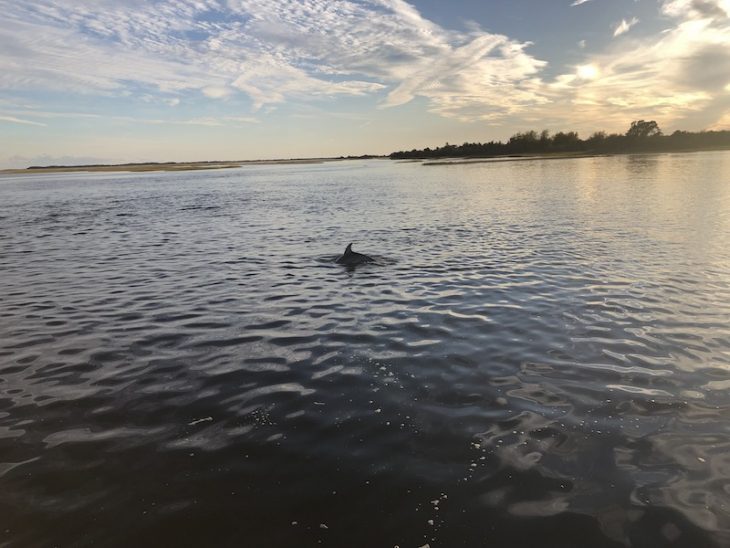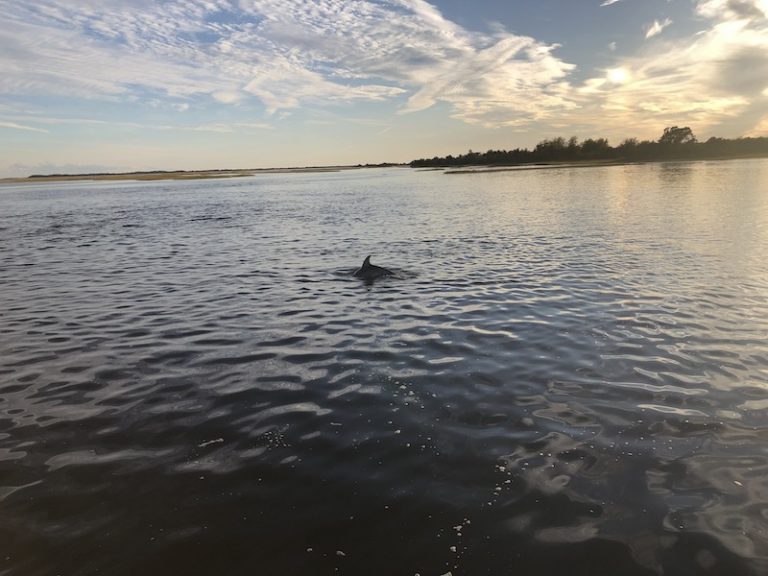 Set aboard this pontoon boat and traverse the waters of the intercoastal waterways while watching for dolphins, birds, and other marine life.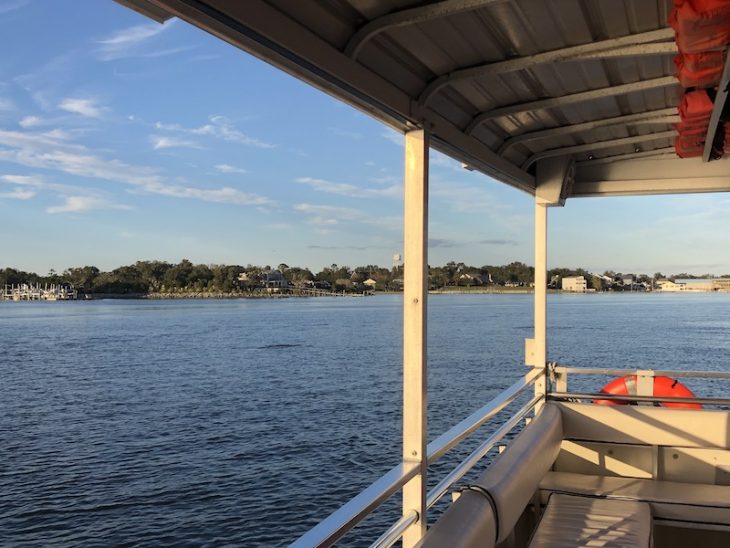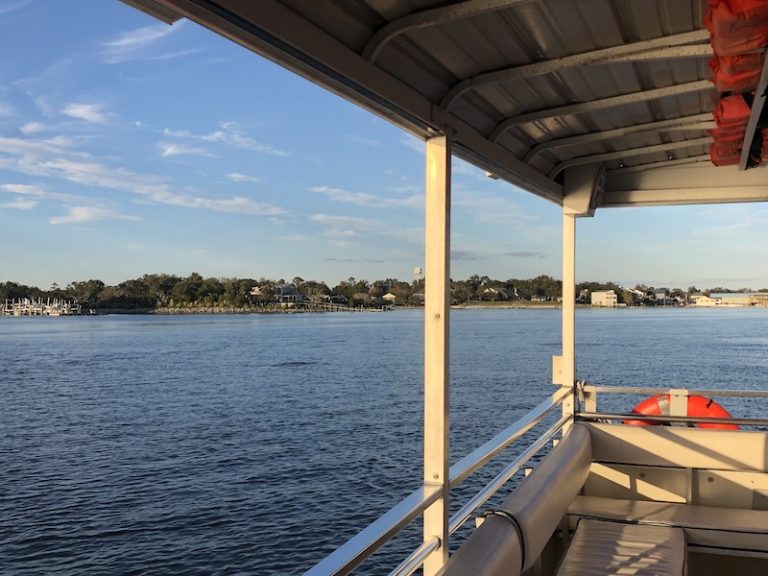 The Lady Swan allows you to bring your own food and drink to make your trip more enjoyable. Plus, alcoholic beverages are allowed on board. You can bring a small cooler and a large one is available onboard to use.
Needless to say, we had wine with a cheese board and it was a perfect complement to our adventure.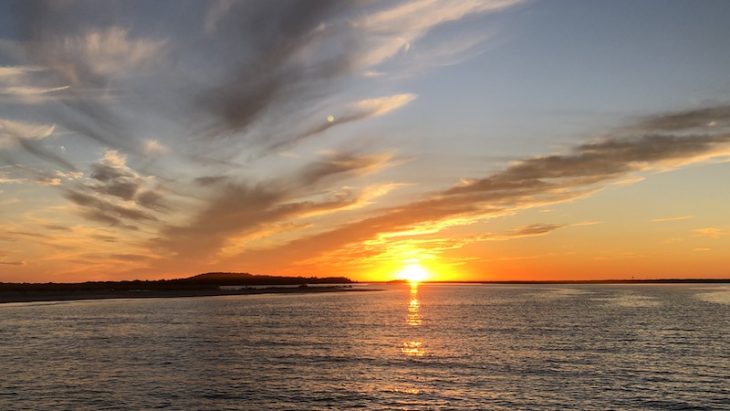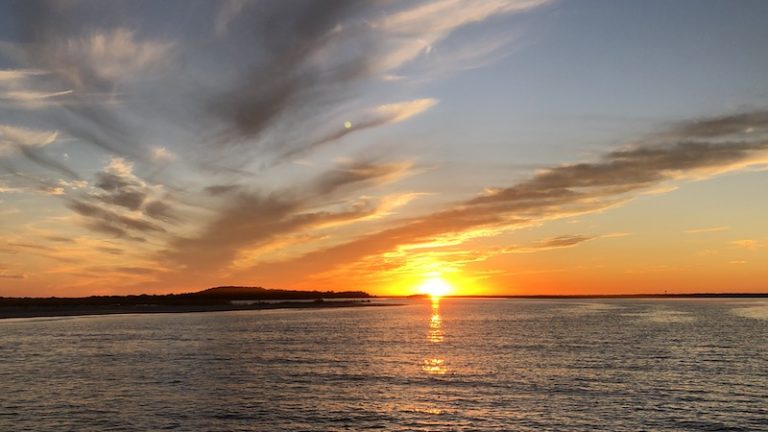 We watched a small dolphin pod for a bit but they were on a mission and didn't really want to play in our surf or investigate us much.
As always, there were plenty of birds spotted both on the shores and flying overhead.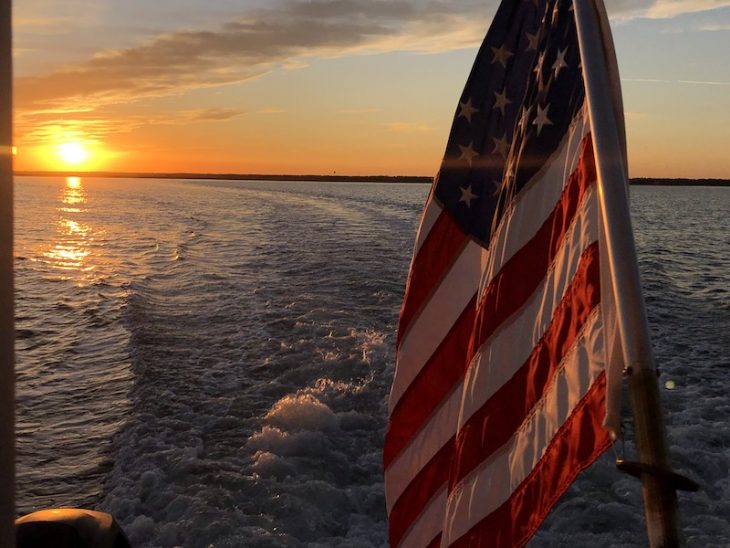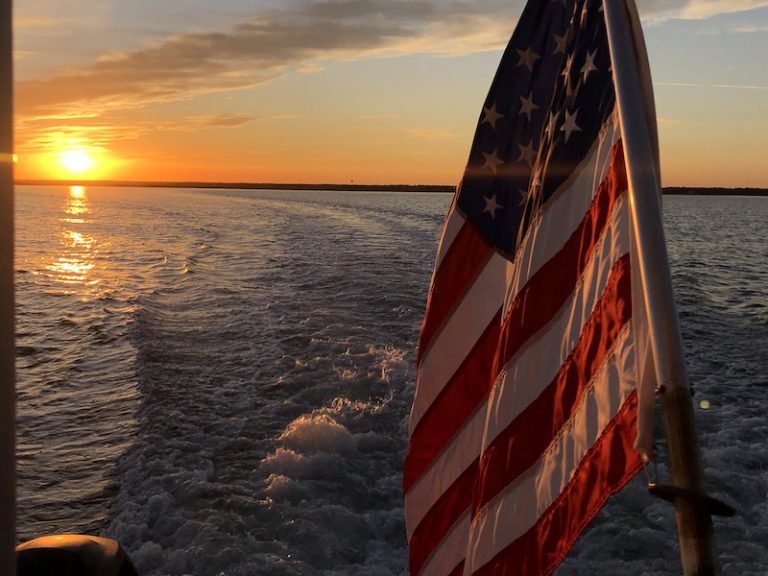 As the Captain set course to position the boat for the best view and location for sunset you'll have plenty of time to relax and enjoy nature around you.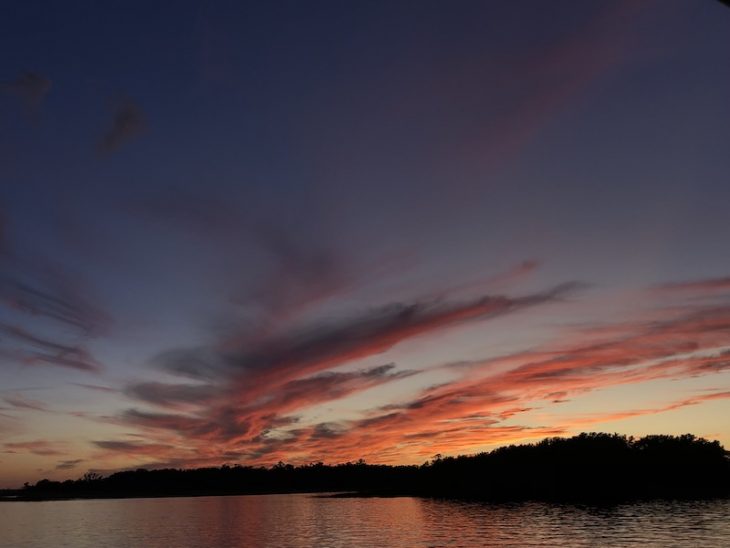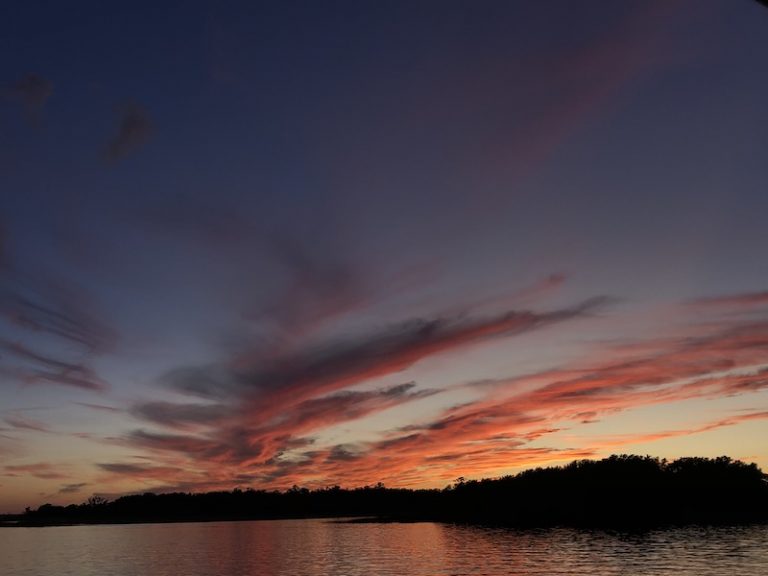 Of course, the highlight of the cruise is watching the sun as it sinks into the horizon and the sky turns from blue to pink to orange and sometimes purple before darkness descends.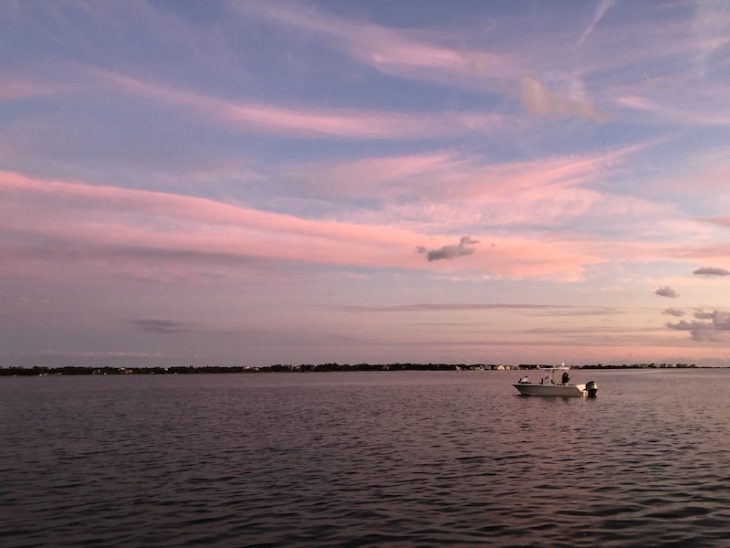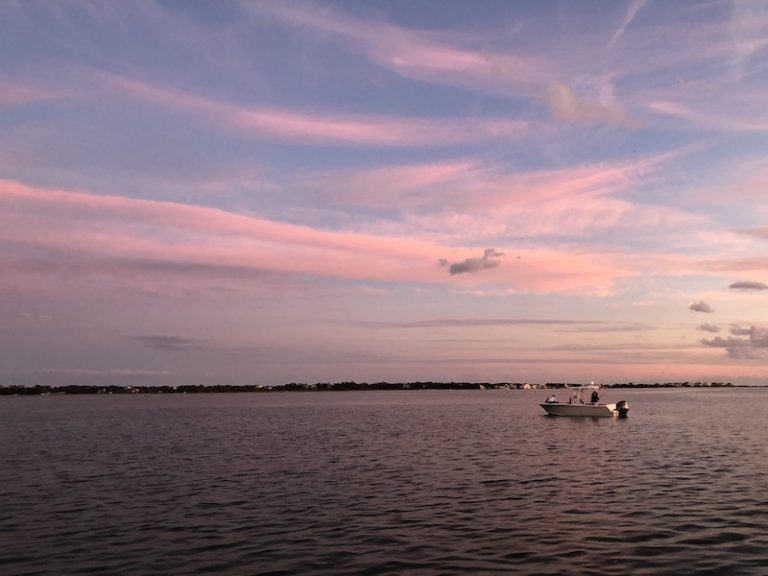 It's incredible being on the water and watching the sun reflect across the water as it sets. These will always be some of my favorite moments.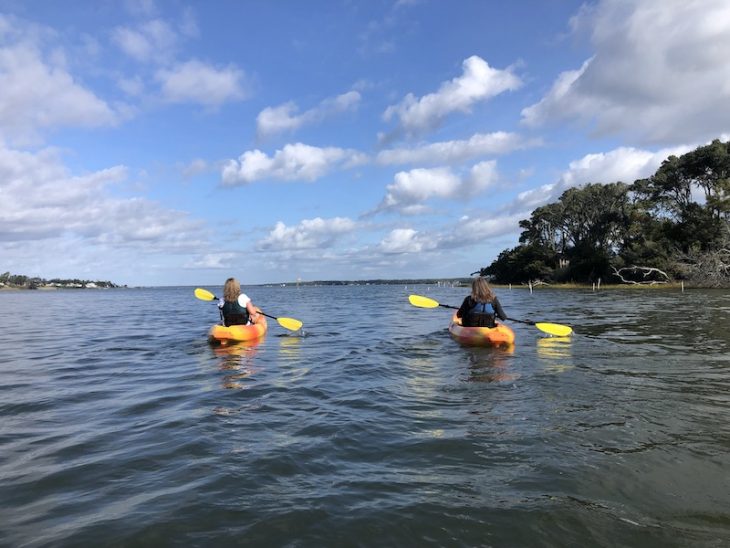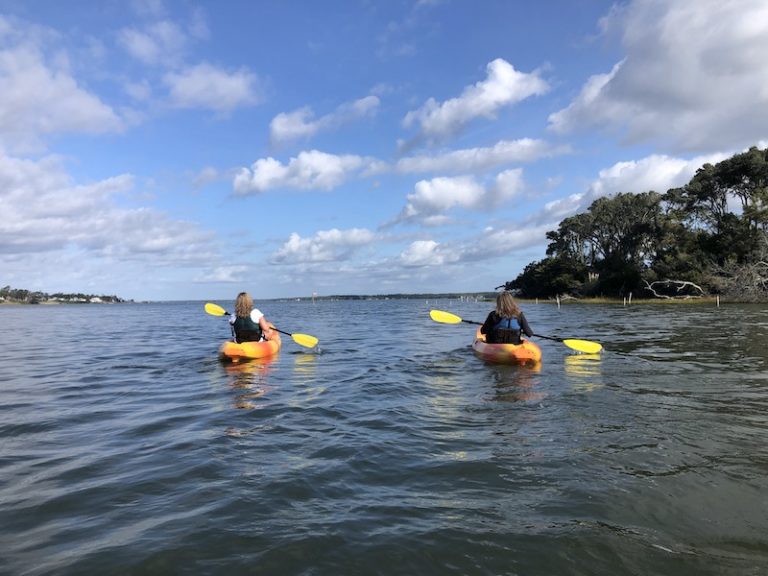 Want to spend some time kayaking the intercoastal waterway? The good people at Pogies Fishing can help make that happen.
You can choose to either go with a guide (I highly recommend Ethan) or adventure out on your own (maps are provided).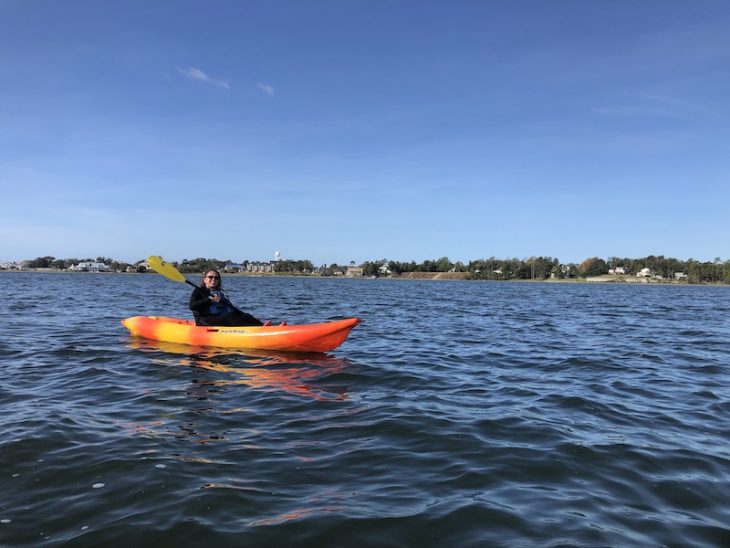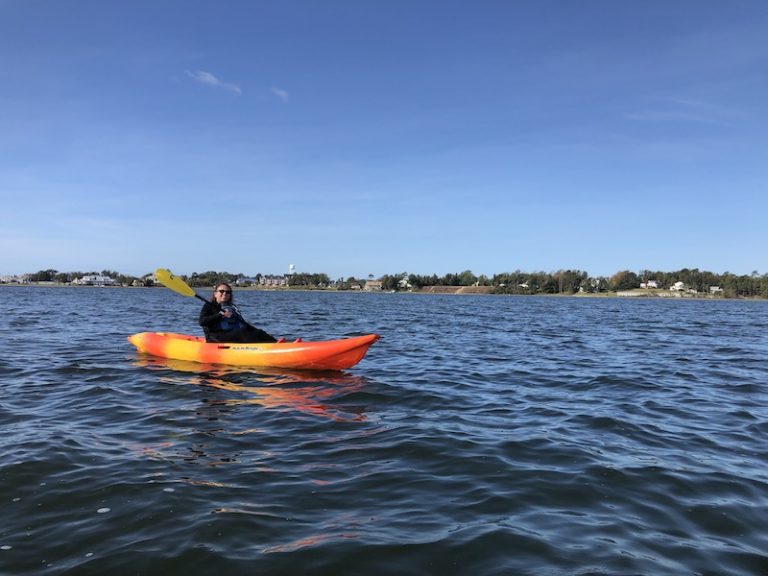 We opted, of course, to go with a guide and Ethan set us on a course to Jones Island, about a 20-30 minute paddle from the base.
The island sits a the mouth of the White Oak River and is part of the Hammocks Beach State Park system.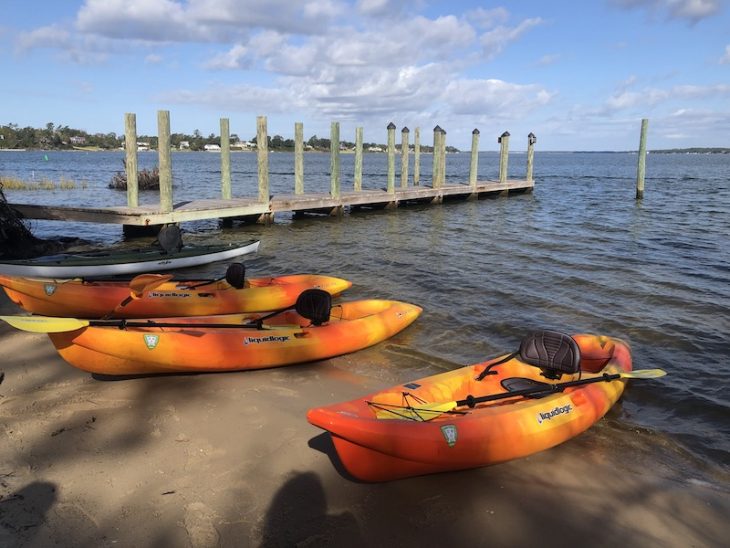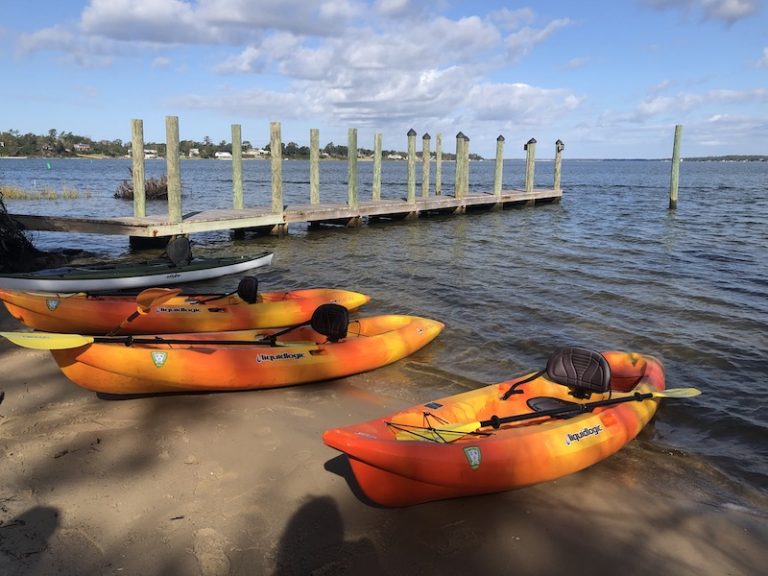 We landed our kayaks at the dock and briefly explored the island for a bit. There is an old cabin and some picnic tables, but, during our visit no restroom facilities were available.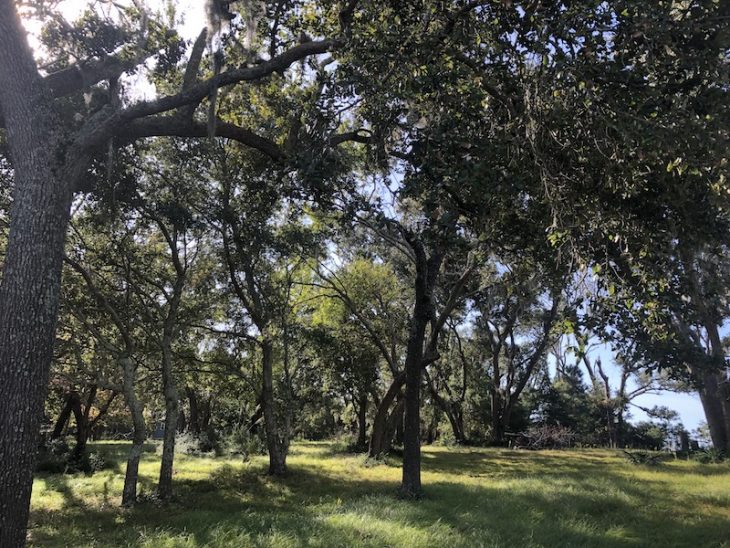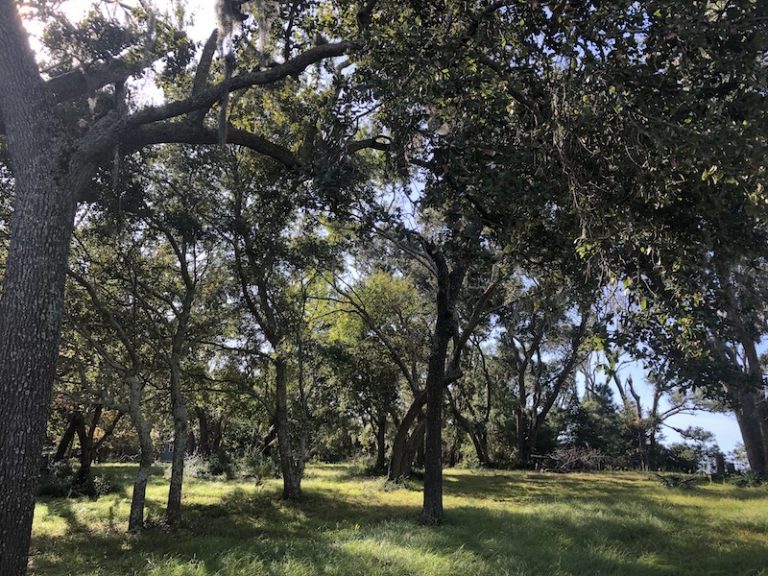 You'll definitely want to make sure you use the bathroom before heading out on your paddle adventure.
As you kayak around the island be aware of the protected oyster bed that is near the shore. The paddle around the island is nice and doesn't take long at all.
Before I knew it we were heading back to Pogies.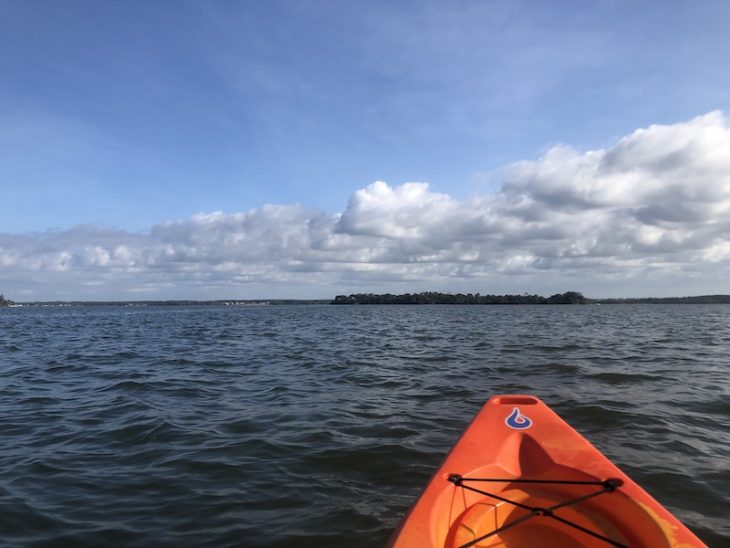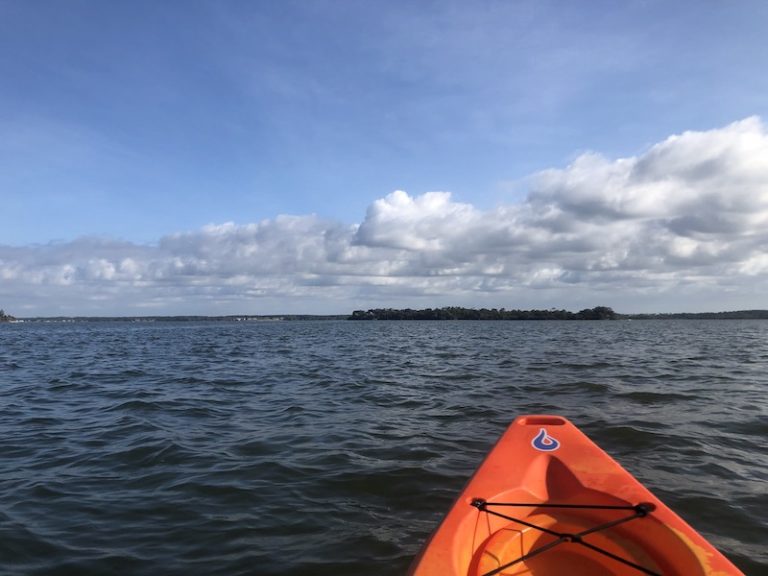 With our short island exploration, the kayak adventure from start to finish was about 90 minutes. Not a bad way to spend some time.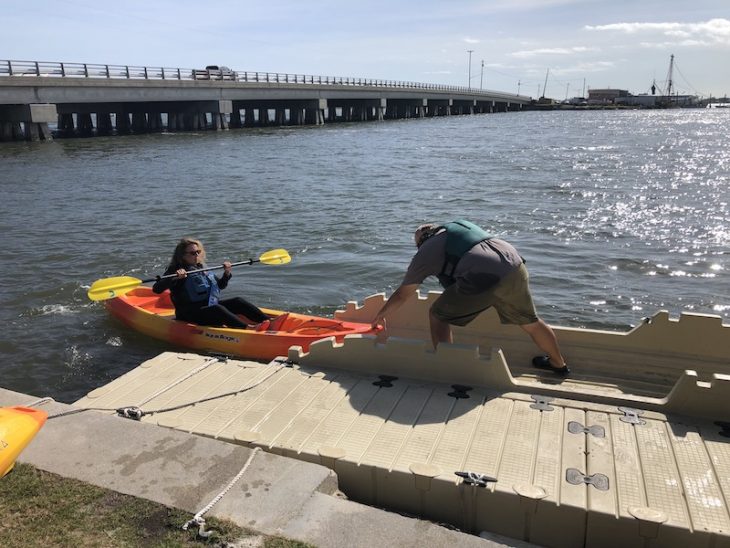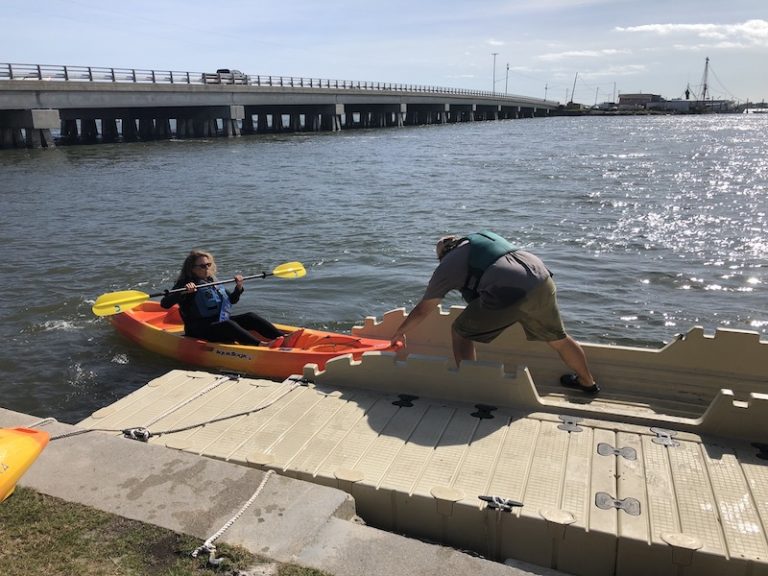 Kayaking will always be one of my favorite things and the waters here did not disappoint.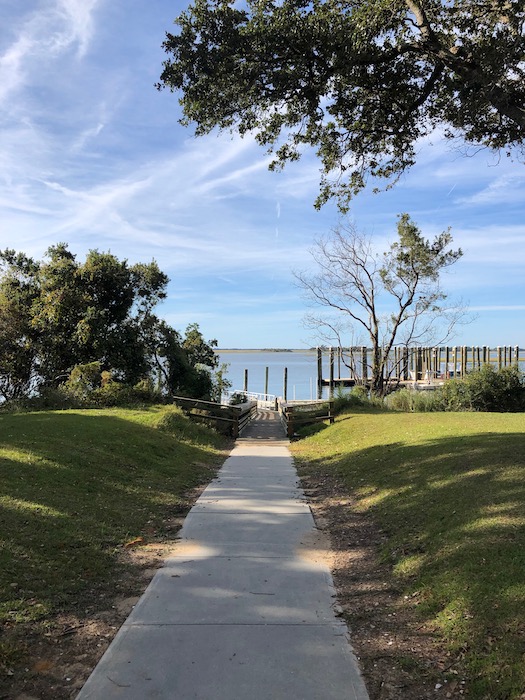 Hammocks Beach State Park
Not all outdoor activities in Onslow County take place on the water. Hammocks Beach State Park has a nice hiking trail at the visitors center.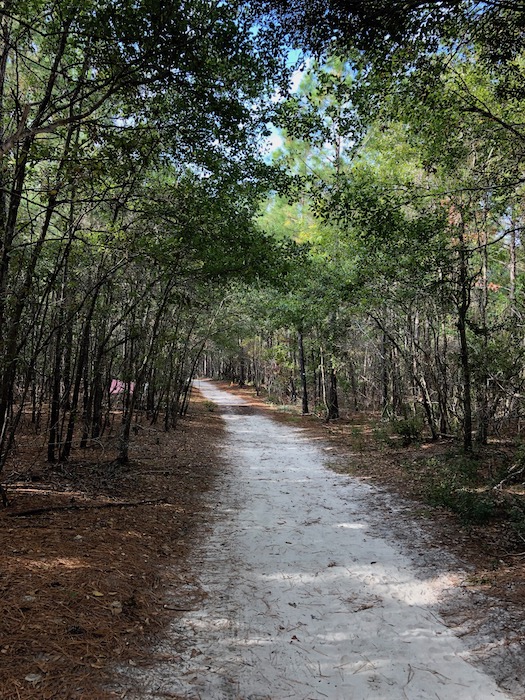 It's just over a mile on a well-groomed trail and makes for a nice stretch while you're out exploring the area.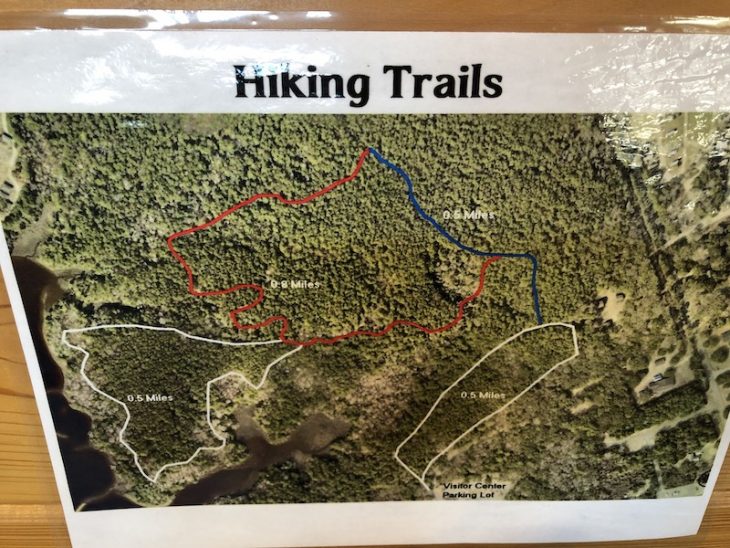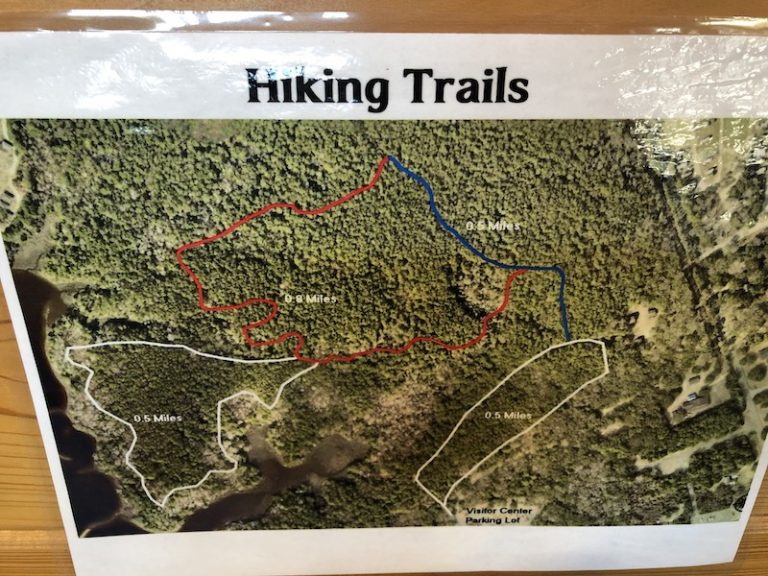 In addition to the hiking trail, Hammock Beach State Park offers a number of other activities.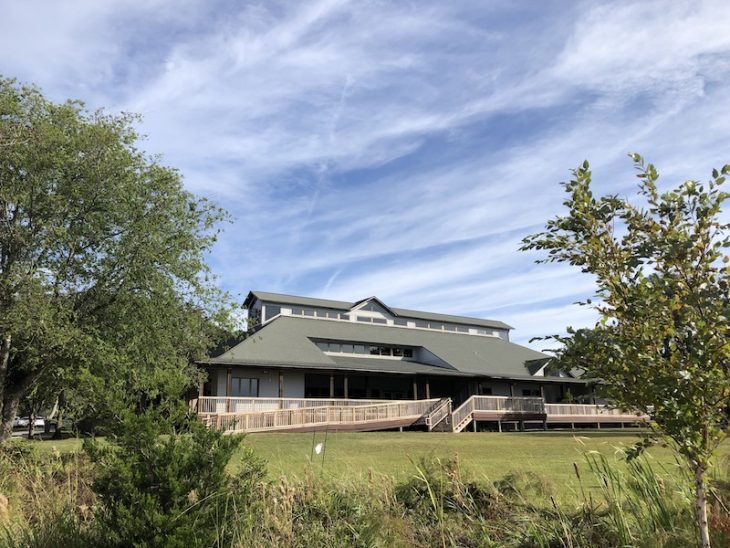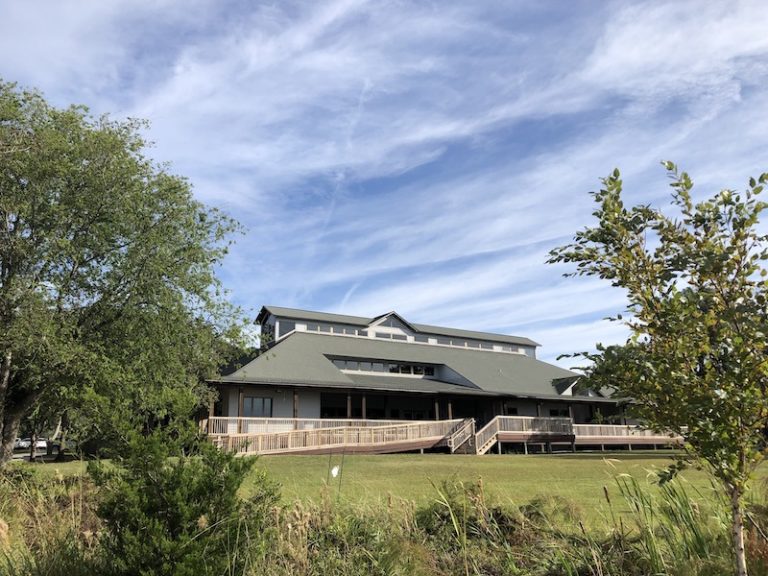 Take a ferry over to Bear Island to enjoy 4-mile long undeveloped, barrier island with beautiful beaches, massive sand dunes, maritime forest, primitive camping, and limited concessions.
The ferry ride is a nice way to start your Bear Island adventure. A beautiful beach awaits you on the island. It's a short jaunt from the ferry to the ocean front sandy beach.
You can spend your time in Onslow County jam-packed with all the outdoor fun that you could squeeze in. It really is a perfect escape and is an excellent destination if you are looking for fun in the sun and on the water.
Now that you know where to work up an appetite here is where to eat in Onslow County.
Honestly, I can't wait to go back and explore more of the area.
Regardless of what you love to do outside, you'll find it in Onslow County, NC!
Pin Things To Do Outside in Onslow County, NC