There is a special place in Indiana that is the perfect destination for animal lovers. It's a bit of a trek to get there and located in a very rural part of the state, but I'm telling you right now, the journey is worth it. Located in the tiny town of Paoli, Wilstem Ranch is home to elephants, giraffes, kangaroos, and many other animals.
Wilstem Ranch is an Animal Lover's Dream
It's the elephants and giraffes that drew us here to the Ranch. Honestly, I adore giraffes. Absolutely love them and elephants aren't far behind. So when I stumbled across Wilstem Ranch and all they had to offer I knew I would be checking the bucket list item of "interact with an elephant" off my list. Yes, I could fly to India or another country that has elephant rescues and volunteer there for a while, but the likelihood of that actually happening is slim to none. Who knew I'd be taking care of that bucket list item right here in Indiana.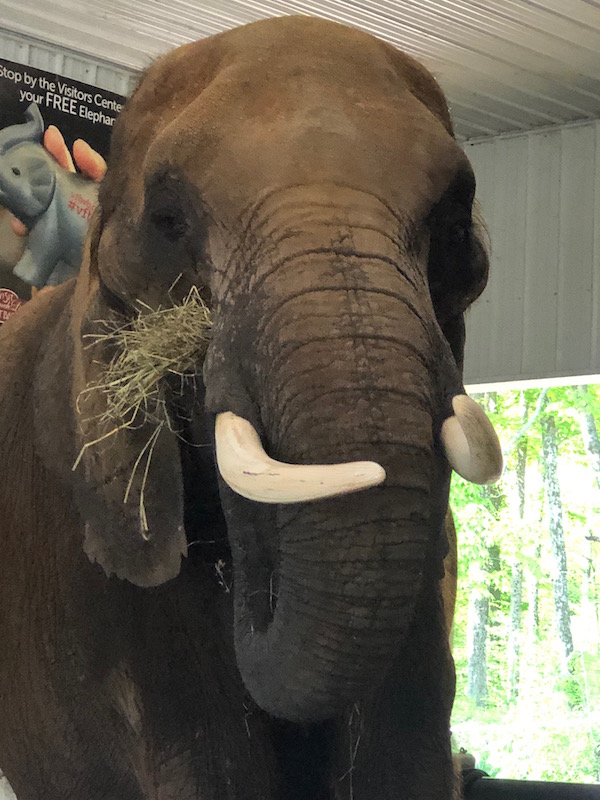 More Adventures near Wilstem Ranch Can Be Found Here:
For the love of elephants!
Be a part of giving one of these beauties the spa treatment, followed by an educational experience that will leave you head over heels in love with the elephants. We started our adventure by giving the elephants a tubby. This happens once a day and the elephants appear to be comfortable, relaxed and enjoy their bath.
Did you know elephants PURR? I was scrubbing one of these gentle giants and I heard him purring. Oh my gosh…ALL the feels.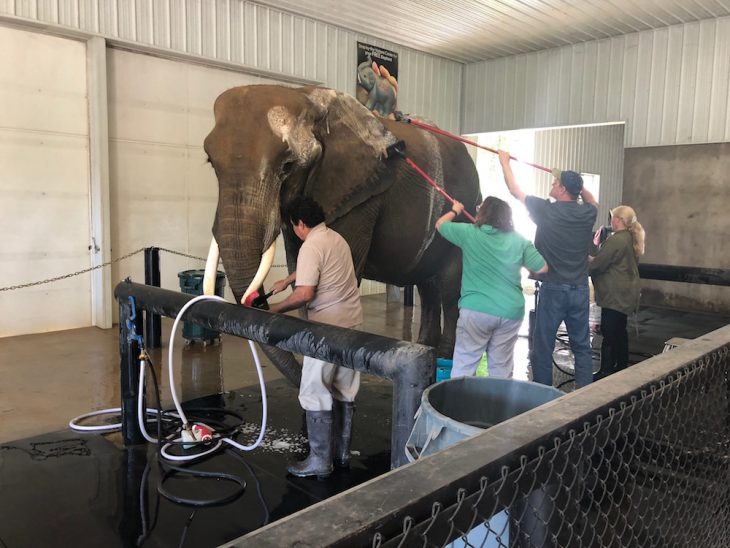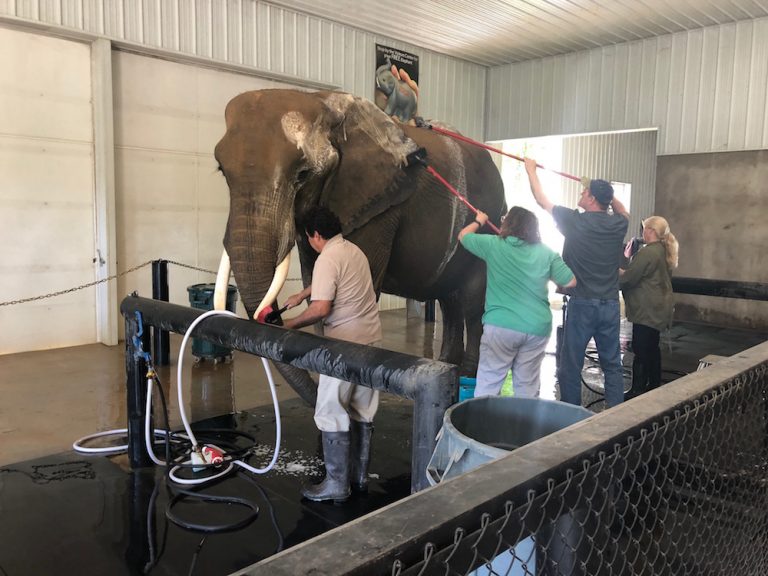 There were a number of other participants there for the spa day. We each took turns caring for the elephants and spending time with them. The time was spread equally among everyone giving me plenty of interaction time with the elephants.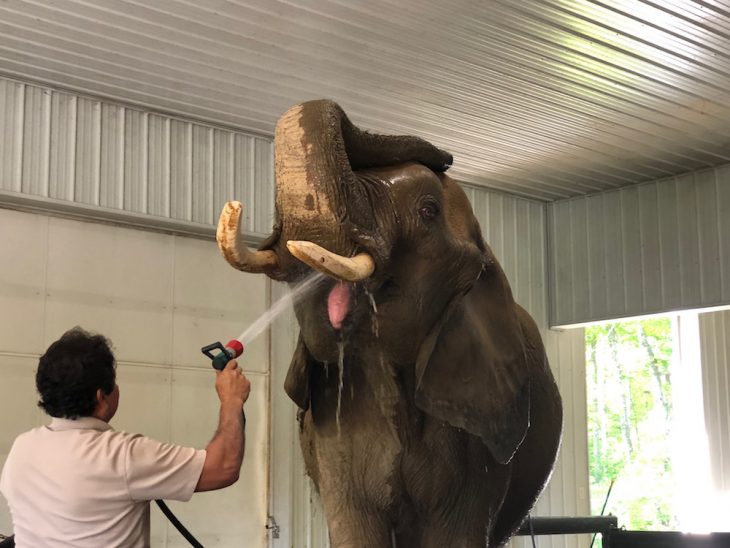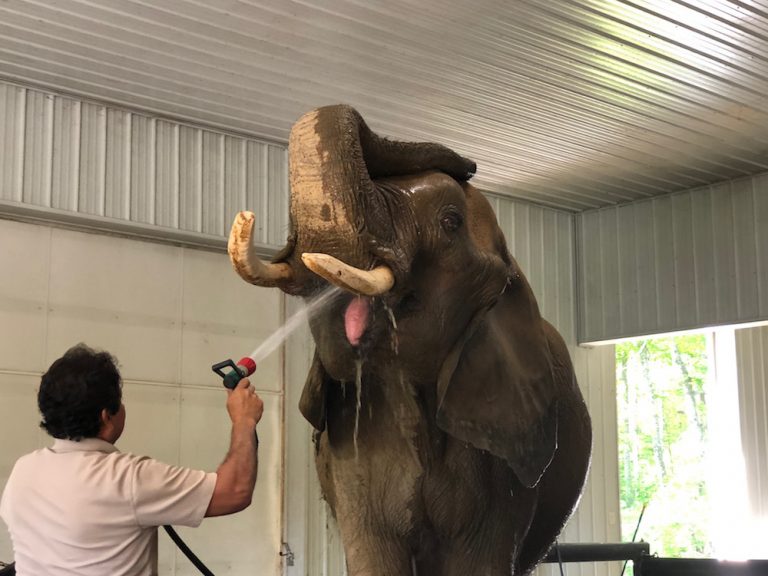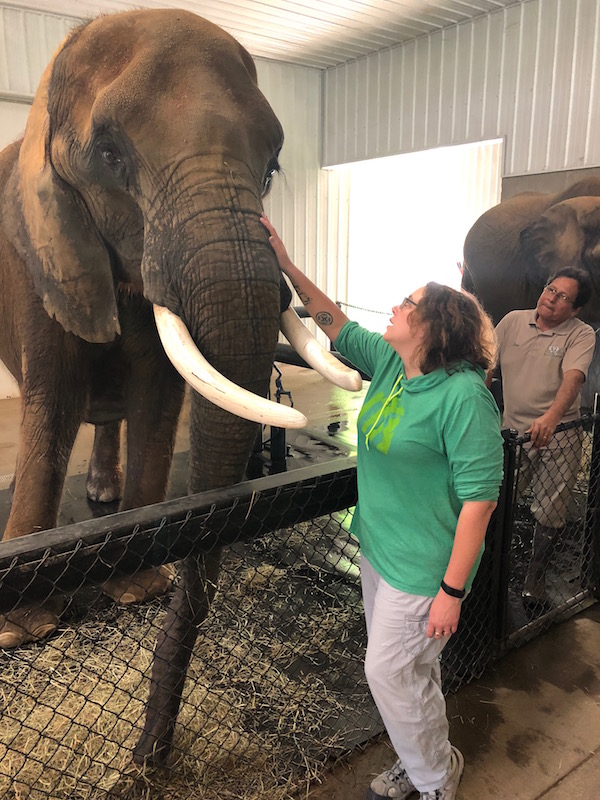 Get Up Close and Personal with Animals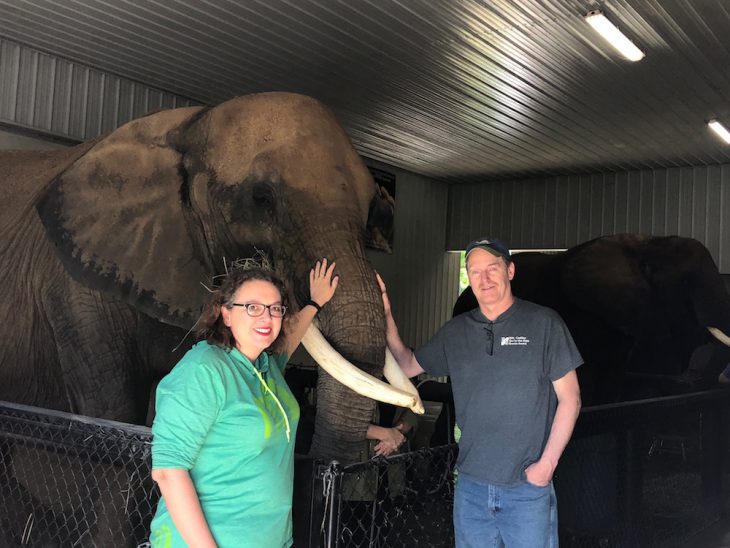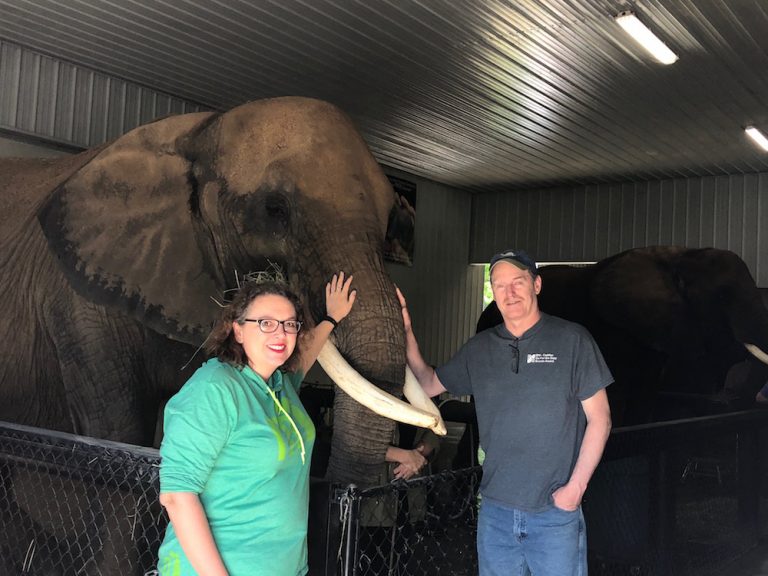 After the spa, there is a Q&A session where we learn more about the elephants and their lives at Wilstem Ranch. There is also a photo opp for us to cozy up next to the elephants for photos.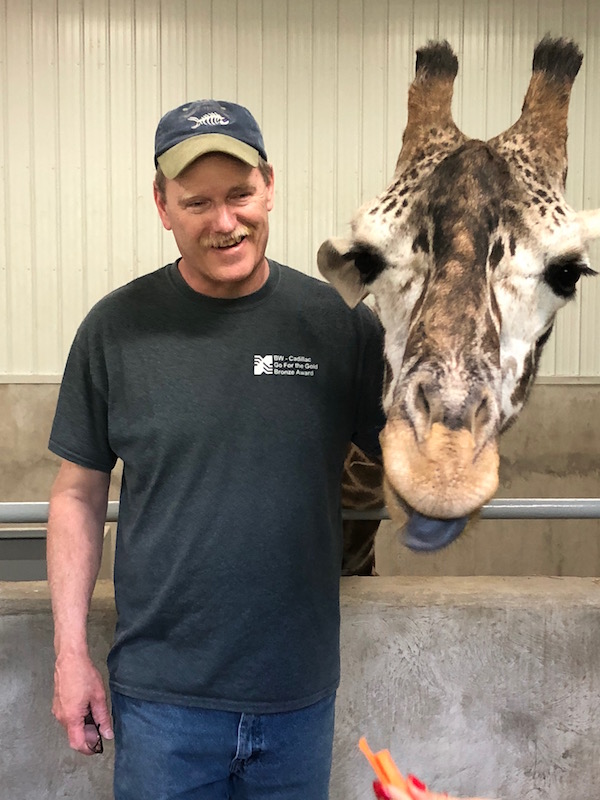 After spending time with the elephants we walked over to the giraffe building. The giraffes are usually outside during the summer but they came inside to greet us and have a treat. We fed both Bert and Jabari and took plenty of photos.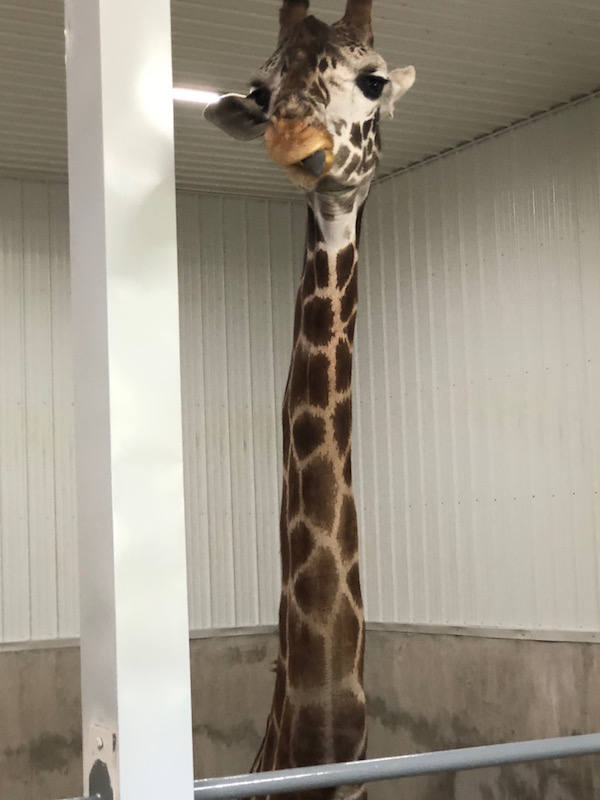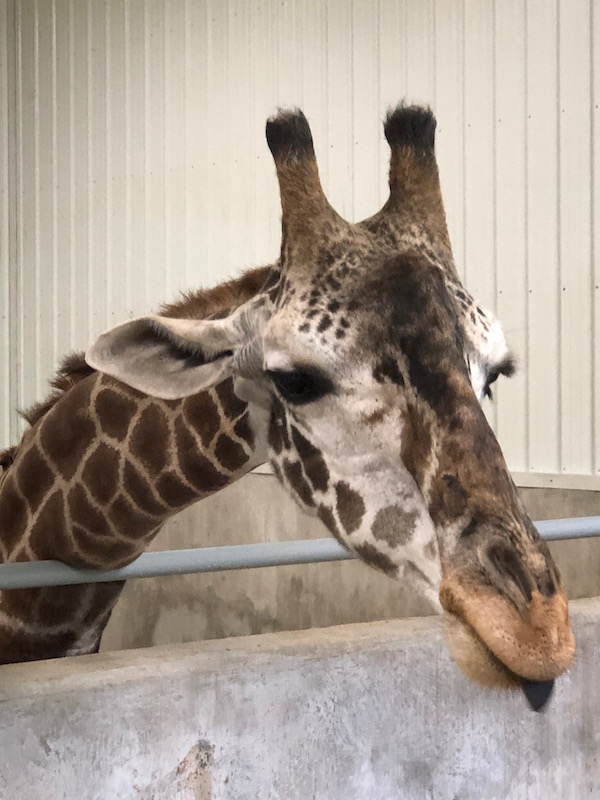 They are so adorable. Just look at him. Love. Love. Love. The giraffee keeper also told us the story of the giraffes, why they are at Wilstem and answered all our questions.
Kangaroos? Tropical birds? An iguana? Yep, Wilstem has them all and even more. These lovable creatures adore all the attention their human friends lavish on them.
At Wilstem, you have the exclusive opportunity to commune with all of them, observing their personalities and quirks, snapping one-of-a-kind photos, and creating lasting memories.
What's better than making friends with an elephant named Lovie and a kanga named Karl? And, guys, coming in the Fall of 2018 is Jeff "the bear man" Watson and his two famous grizzlies! Encounters with Bob and Screech, made famous by their appearances on Animal Planet and Discovery Channel, will be an experience you will not soon forget.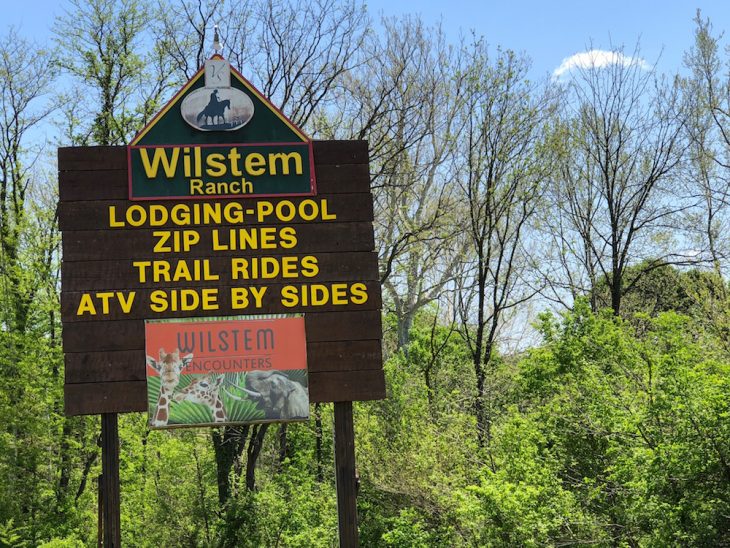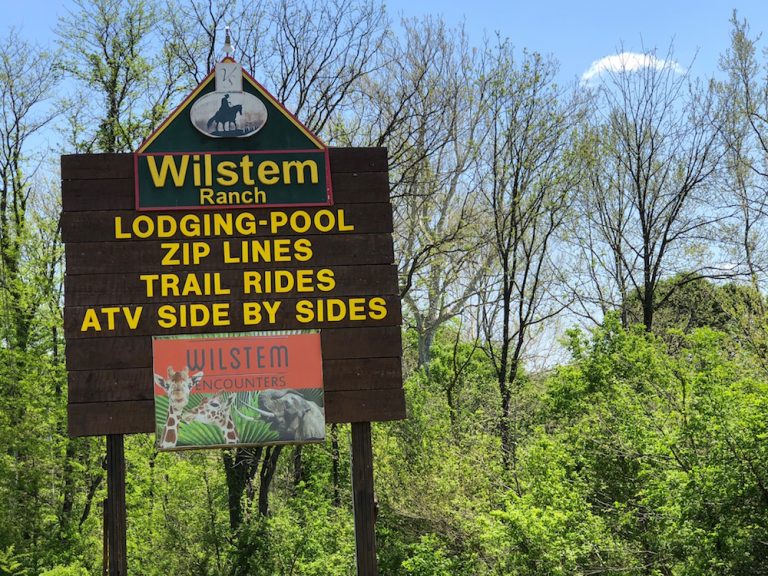 The Activities At Wilstem Ranch
Since all this animal lovin' has only left you wanting more, Wilstem also offers horseback riding. Spend an entire hour on the back of a beautiful steed, with a guide leading the way through a walking trail. Or enjoy a shorter ride around the arena, especially good for the littles in your life.
Speaking of trails, take a ride on a machine animal: a side-by-side ATV. You and three of your friends can traverse through the woods for a full hour guided tour. You'll feel like wildlife while you drive up and around and through the terrain.
You can also fly like a bird on the 9-line Zipline Tour. 5,000 feet of zipline will have you soaring through the trees for a couple of hours. No wings necessary. Enjoy the views of the rolling hills, the covered bridge, and the pleasantly content, wandering animals.
You can also cool off in the public pool, or play volleyball or basketball, the kind of games that make humans act a little like wild animals.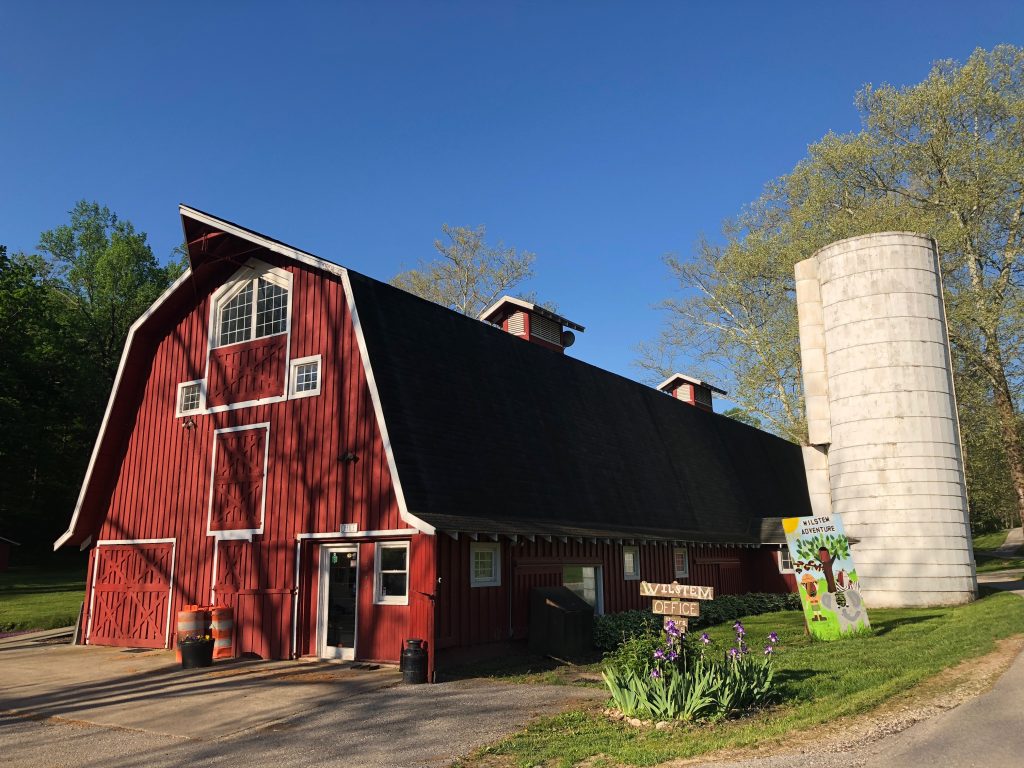 The Lodging At Wilstem Ranch
Wilstem makes for an excellent weekend getaway for up to 23 people! They offer carriage houses, cabins, a house, and a lodge to choose from. You're bound to find the right fit for you. Each option for lodging includes everything you need to never have to leave the Wilstem property while you're there.
You'll have a fully equipped kitchen, a fireplace, and a TV, and some have a hot tub or whirlpool. You spent the day pampering an elephant, why not enjoy a little pampering yourself?
Wilstem Ranch has what every animal lover dreams of plus so much more. So go ahead, stop dreaming and start living at Wilstem Ranch.
Pin Wilstem Ranch to Pinterest