Every once in a while I stumble across a boutique hotel during my travels that seriously impresses me. After traveling extensively I start to get a little jaded and a hotel is a hotel is a hotel and there isn't much to differentiate them from one another.
However, every so often, I'm reminded why I love staying at so many different types of accommodations.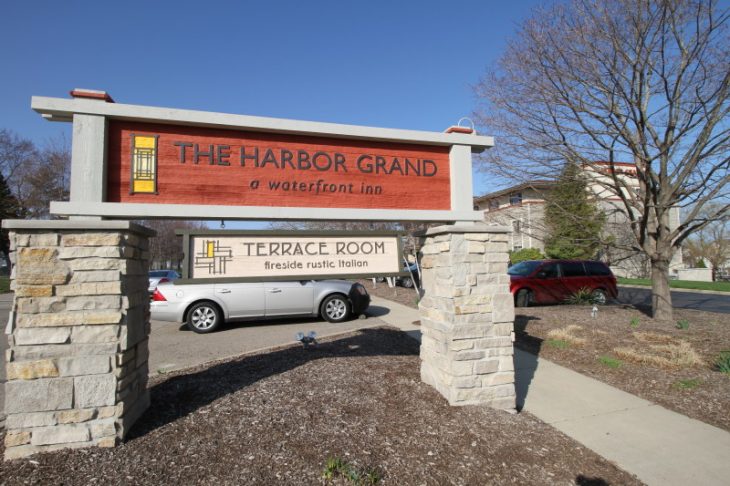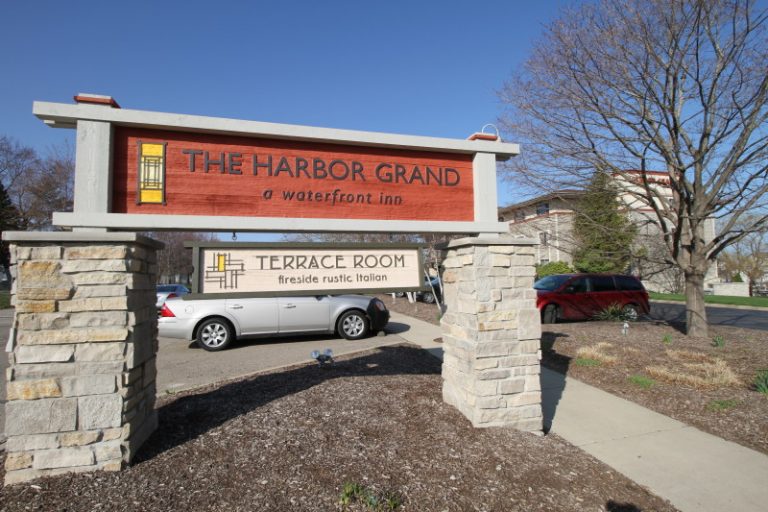 I never know what I'm going to find when I walk through a hotel door and sometimes I'm completely surprised by what I find.
Staying at the Harbor Grand in New Buffalo, MI was like opening a beautifully wrapped gift with my favorite type of present inside; a luxurious hotel stay.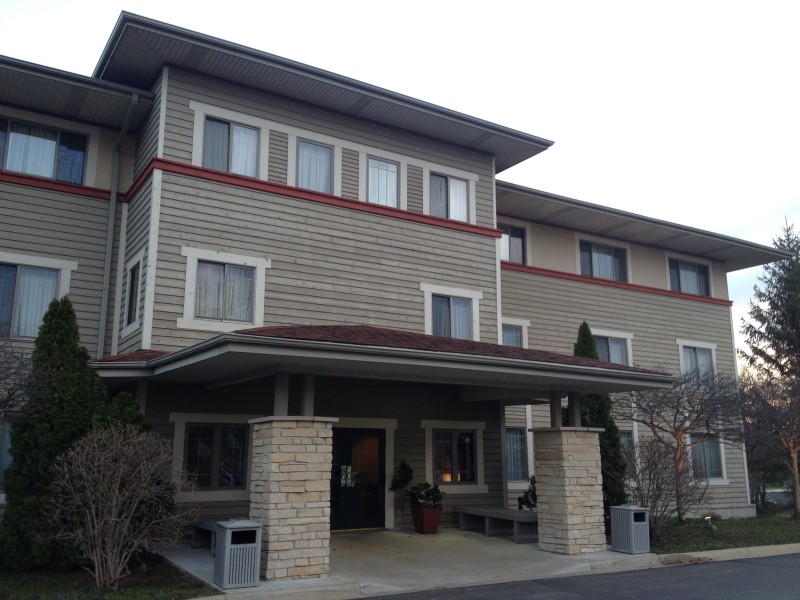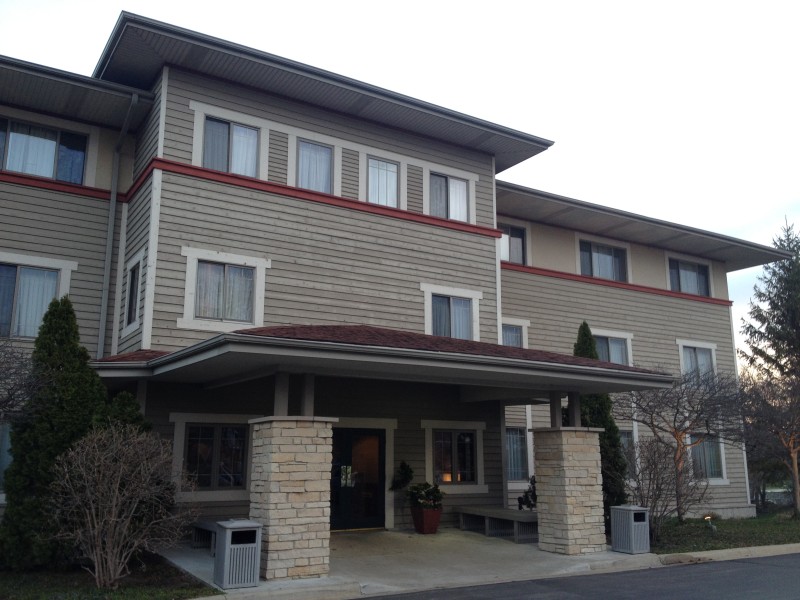 Located right next to the New Buffalo Harbor the Harbor Grand is a small, boutique hotel that ensures each and every stay is comfortable and enjoyable.
Walking into the hotel I'm warmly greeted by the front desk staff and quickly check into my room.
The clerk reviews all the perks of staying at the hotel and makes sure I have everything I need for my stay.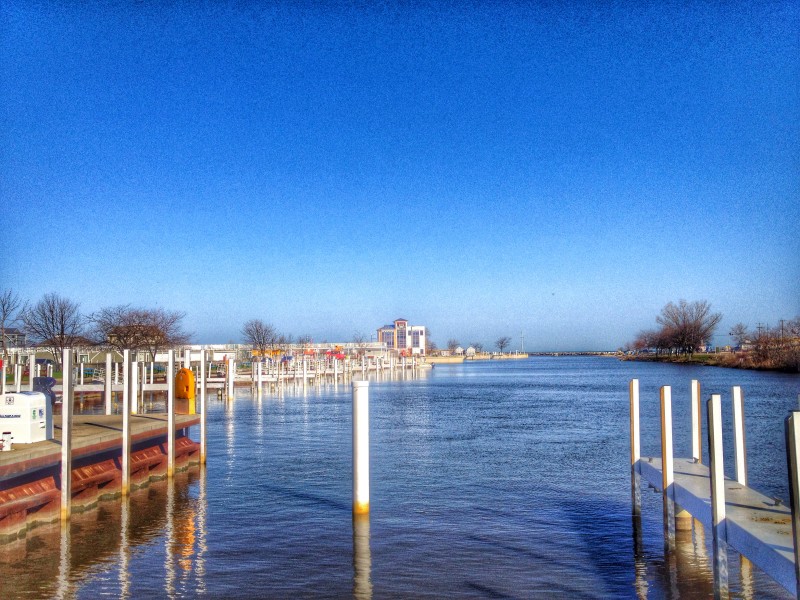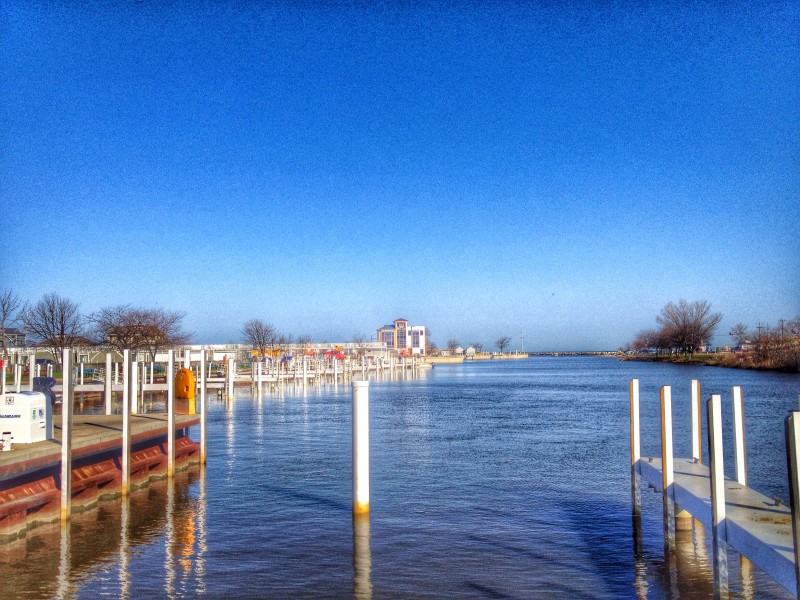 My room is a 2-room suite with a very comfortable sitting area and a king sized bed in the bedroom. The bed looks very inviting and I debate if there is time to take a quick nap before meeting with a group of friends for a wine tour.
Sadly, I had to wait, but by the time I returned to my room and crawled into bed I had no trouble falling quickly asleep.
Everything about the bed was meant to ensure my comfort from the mattress to the soft and cozy bedding.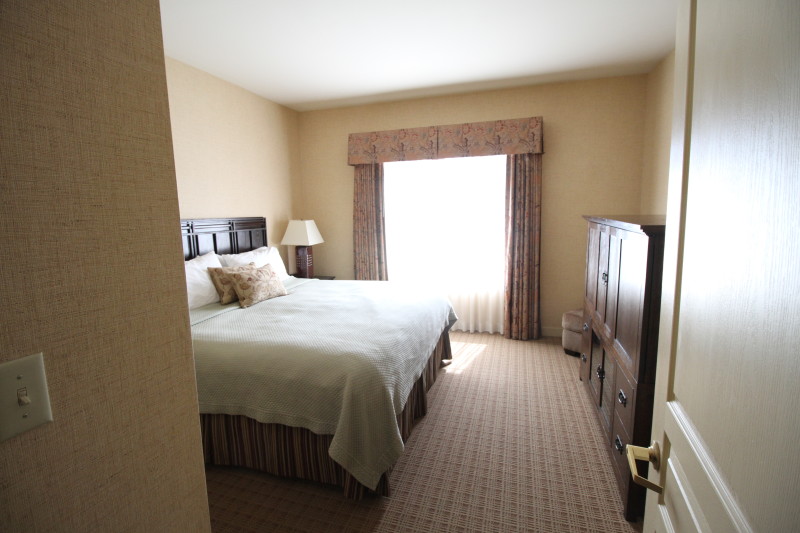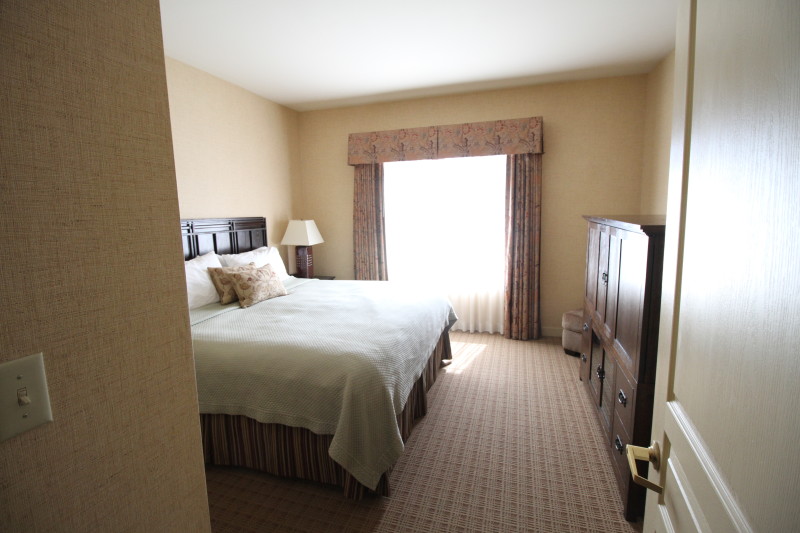 The sitting area is complete with couch, comfy chair, table and chairs, full size TV, and a little sink/fridge/coffee maker area. The color tones throughout the suite are neutral and relaxing.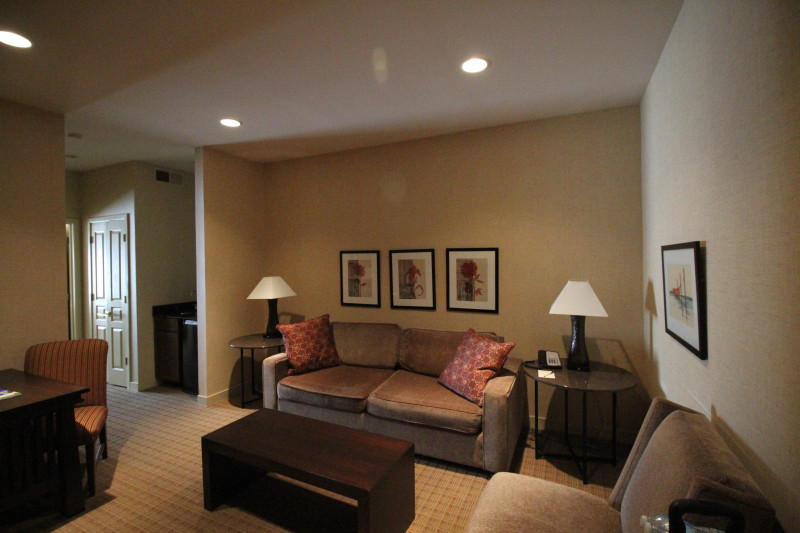 I spent a fair amount of time kicked back on the couch working and can attest to it's comfort.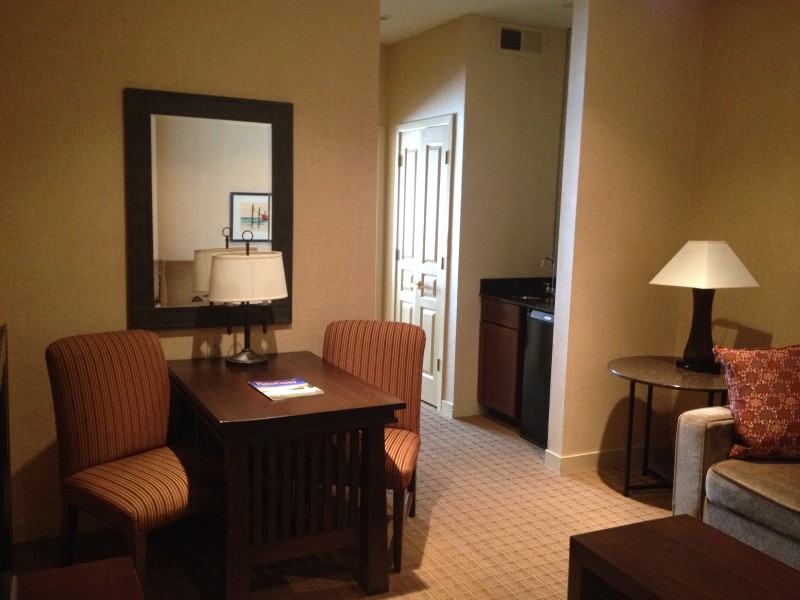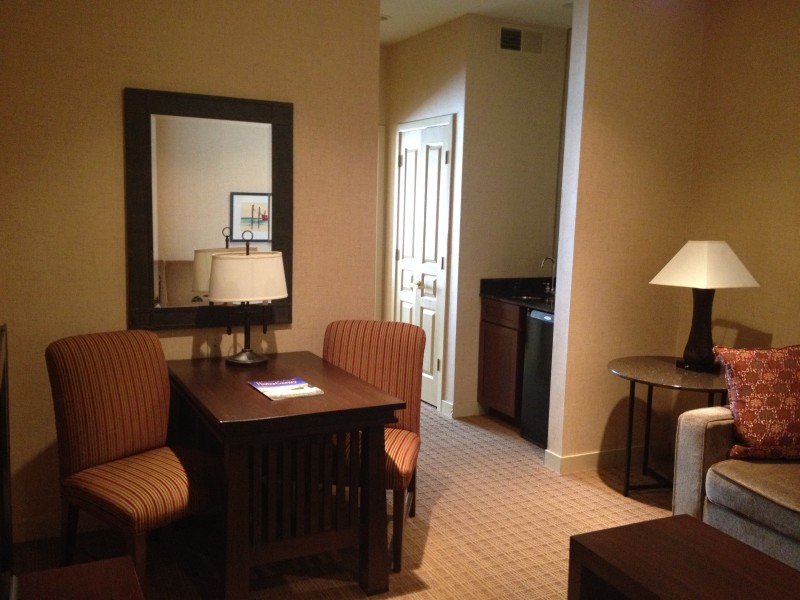 The bathroom shower was one of my favorite features in the room. It is a tiled shower, glass doors, and has TWO shower heads, each at opposite ends of the shower.
Turn on both shower heads, adjust accordingly, step in the shower and it's like being wrapped in warm water. After my shower I called Alan and told him we needed to remodel the bathroom so we could have a shower like this.
He thinks he isn't up for the project, but I'm still advocating for it to be done.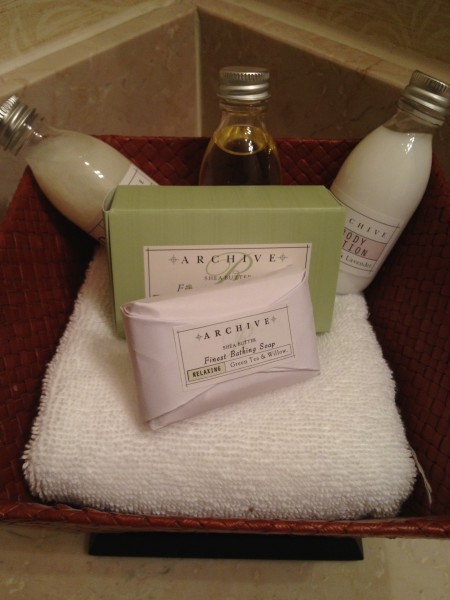 In the lower level of the hotel you'll find the Terrace Room, a fireside rustic Italian restaurant. My group was fortunate enough to be guests of the restaurant for appetizers and wine.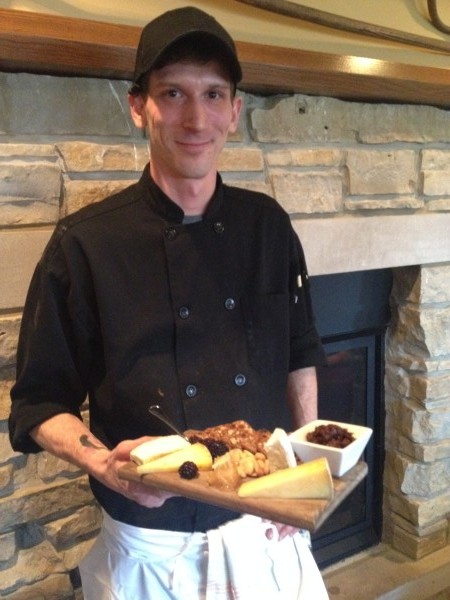 Chef Don Dotson brought out a couple dishes for us to try including a cheese plate that has cheeses sourced from Michigan.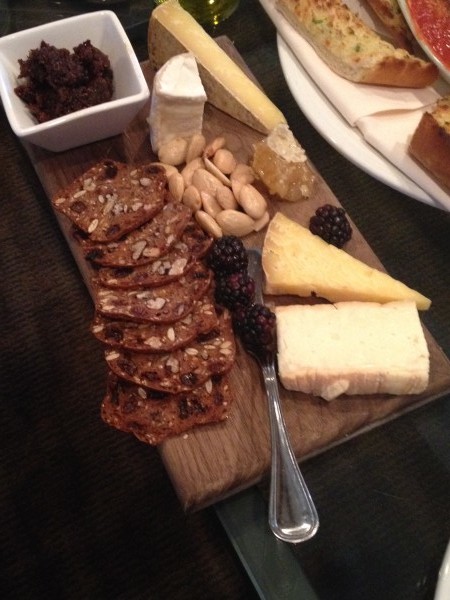 It was all very delicious.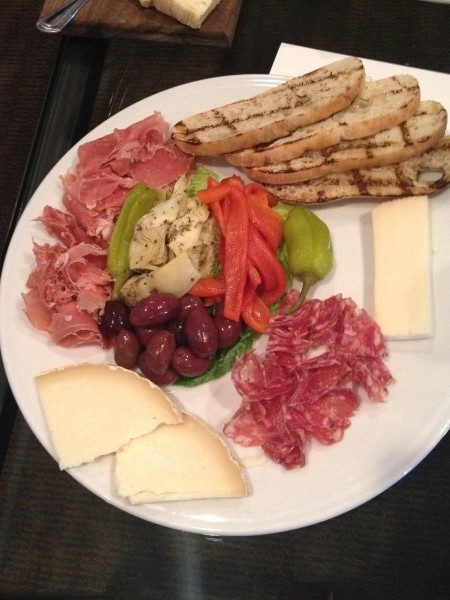 Of course, Italian wine was a must during our visit and the restaurant manager,Wayne, is very knowledgeable about Italian wines. He recommended some great wines and I fully endorse ordering a bottle of Vignamato Verdicchio when you visit.
The wine list at the Terrace Room is extensive and Wayne will be able to recommend a wine that will please your palate.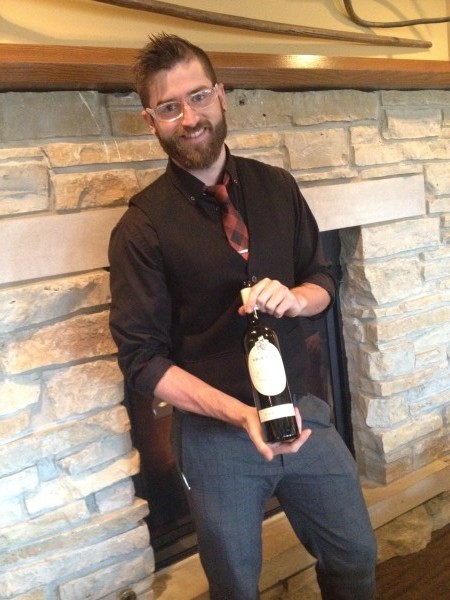 The best was yet to come the next morning when I received a knock at my door and breakfast in bed was delivered.
The night before I had filled out a breakfast card and hung it on my door. I indicated what I would like to receive and the time and it arrived just as anticipated.
Breakfast in bed is included in your room rate and is another way the Harbor Grand goes above and beyond to make your stay exceptional.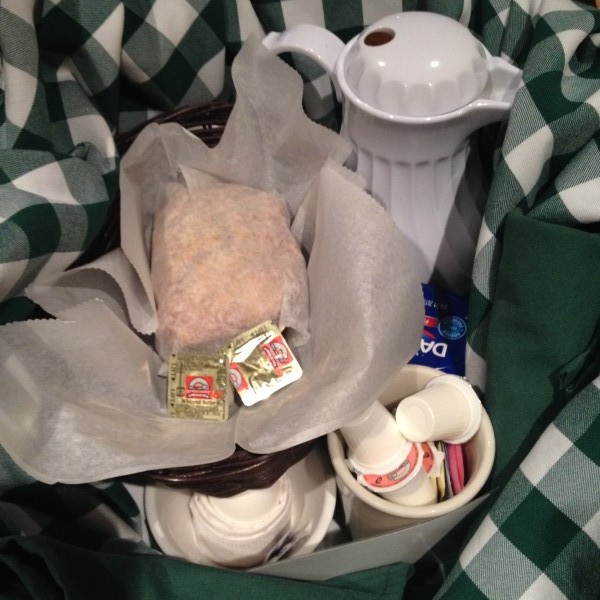 The coffee arrived hot, the blueberry bread warm (it's freshly baked on site), and the house made granola fresh and crisp.
I have to say there is nothing better than snuggling back into bed and enjoying breakfast before starting my day.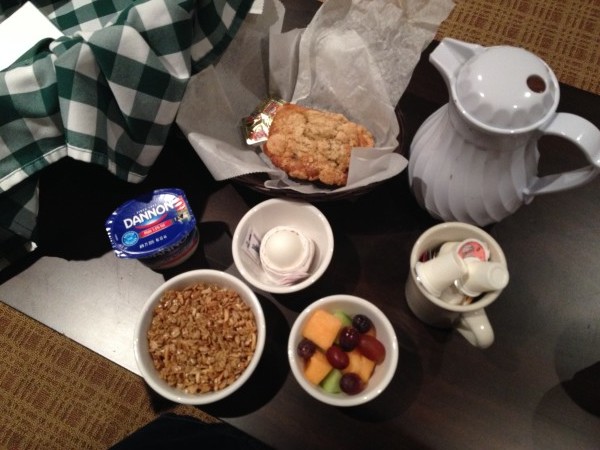 If you think it can't get any better check out these other great reasons to book a stay at the Harbor Grand:
Ben & Jerry's ice cream available 24/7 at the front desk
S'mores at the fireside patio in the evening
Extensive list of dvd's available. Perfect for rainy days
Beach towels and chairs to use at the beach
Free wifi
Fitness room and indoor pool
Next to the harbor
Across street from Amtrak stop–perfect for a trip into Chicago
2 blocks from the beach–22 miles of Lake Michigan shoreline just waiting for you to explore
Bikes available–free of charge, ride to the beach, town, etc
Vintage shopping nearby
Located in Michigan's fruit basket and close to many area wineries & Journeyman Distillery
The Harbor Grand books up quickly for the summer so you'll want to book your stay soon.
During the off-season (middle of winter) there are almost always rooms available. If you can travel spur of the moment call the hotel and, if there is availability, ask if they have any last minute specials available.
Come to New Buffalo, Michigan and discover why the Harbor Grand is at the top of my "must stay" Michigan hotels list.
Pin To Pinterest: