Looking for a fun activity this summer? You need to check out The Friends Experience NEAR Detroit. By "near" they mean Auburn Hills, about 35 minutes north of the city on a good day, so make sure to double check the directions before you head out.
The Friends Experience is the perfect activity for Friends fans as well as those that just enjoy the show on occasion. It's really set up for everyone to enjoy.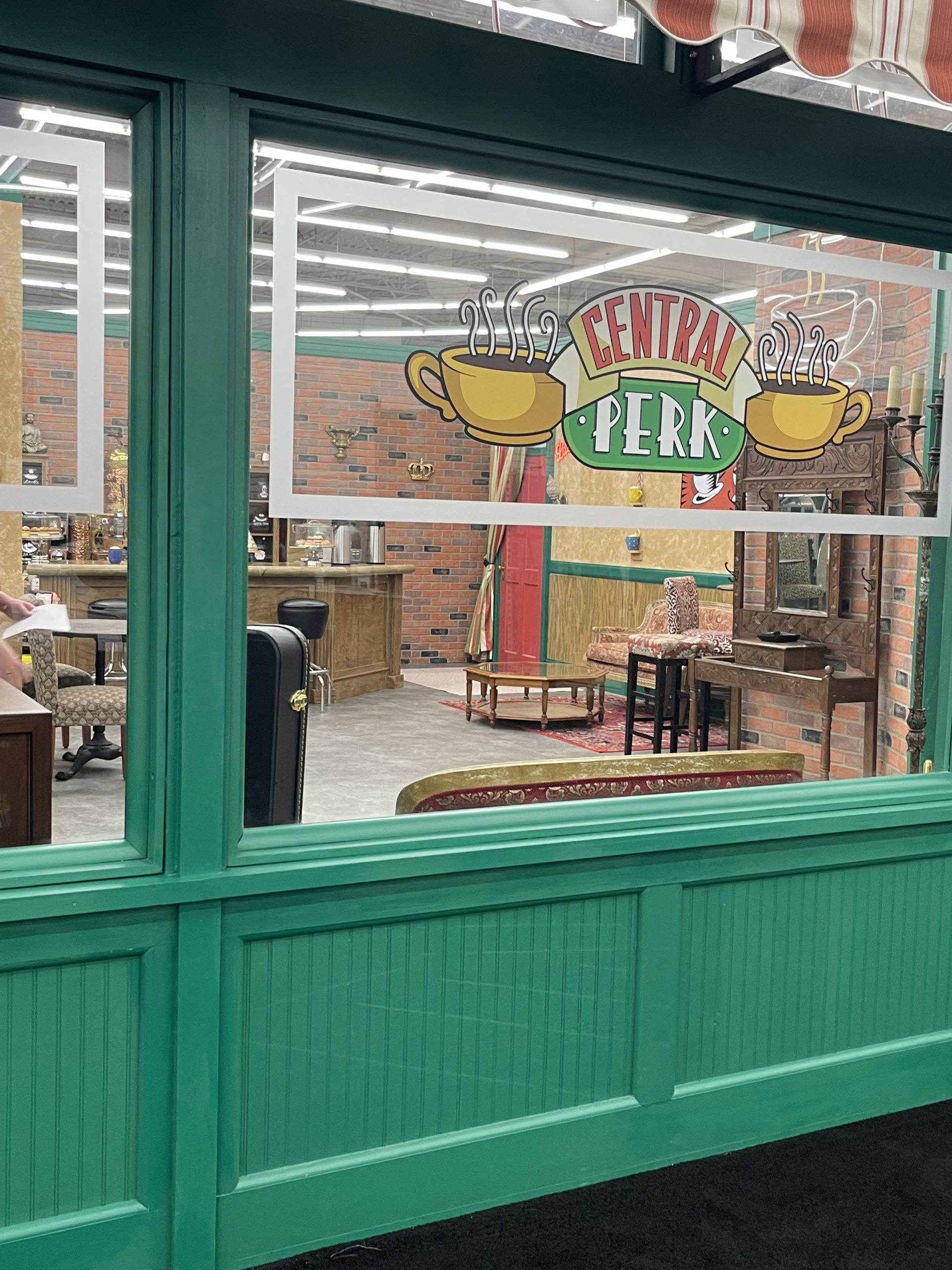 What To Expect When You Arrive At The Friends Experience
There is plenty of parking its located at the Great Lakes Crossing Outlet. Park in lot 1D or 1E and enter through Entry 1.
You'll find The Friends Experience right down the hall on the left hand side.
And since the experience is all indoors it's the perfect activity to get out of the heat and/or rain.
We recommend purchasing tickets online, but they are also available at the door. Depending on how busy they are you may have to wait until a time slot is open.
Tour groups shouldn't be any larger than 10 people unless it's private.
Speaking of a private group, this would be a fantastic event to share with your group of friends. Invite all your besties to join you and make some epic memories while capturing some great photos.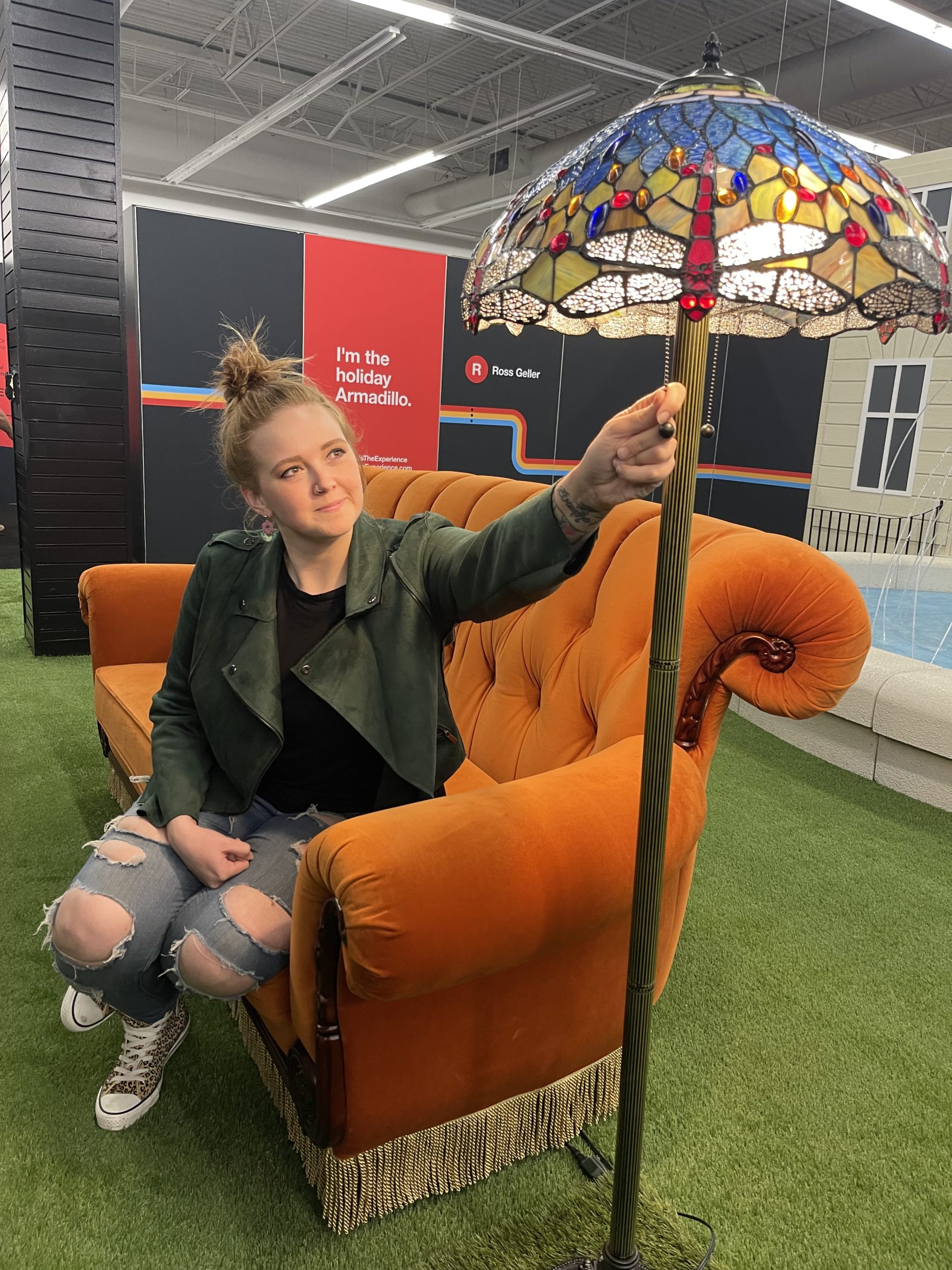 Photo Opps At The Friends Experience
Once you have your ticket(s) purchased, hop in line and wait to see the magic behind the doors.
There are so many photo ops that you can do which is awesome!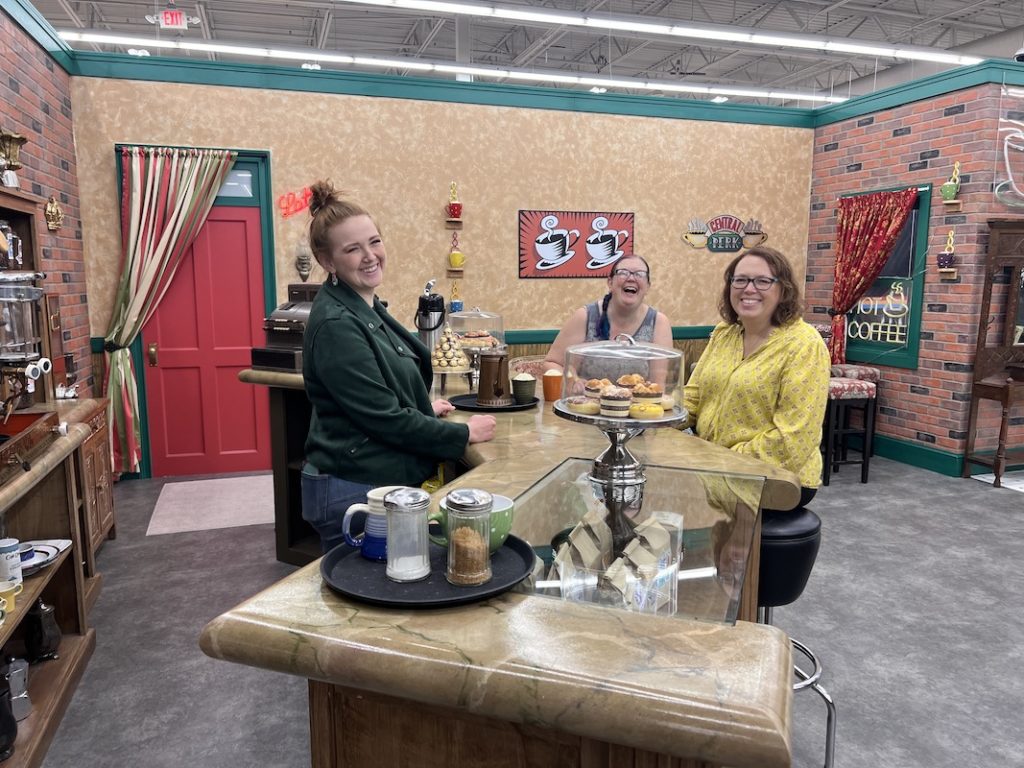 Some of our favorites spots include:
Orange couch/fountain
Pivot!
Joey & Chandler's recliners
Pat the Dog
Monica's Kitchen
Phoebe's stand and guitar
Central Perk <<—our absolute fave!!
There are so many more….
Throughout the experience there are staff members willing to take photos for you as well as photo opp stands. At the stands, simply scan your ticket, strike a pose, and pick up your photos at guest services before you leave.
What To See Beyond The Photo Opps
There are props and costumes from the show that you'll have a chance to see up close which is so cool!
You'll find a number of story boards including some of the people behind the scenes, bios about each character, and the who dated whom timeline was pretty epic.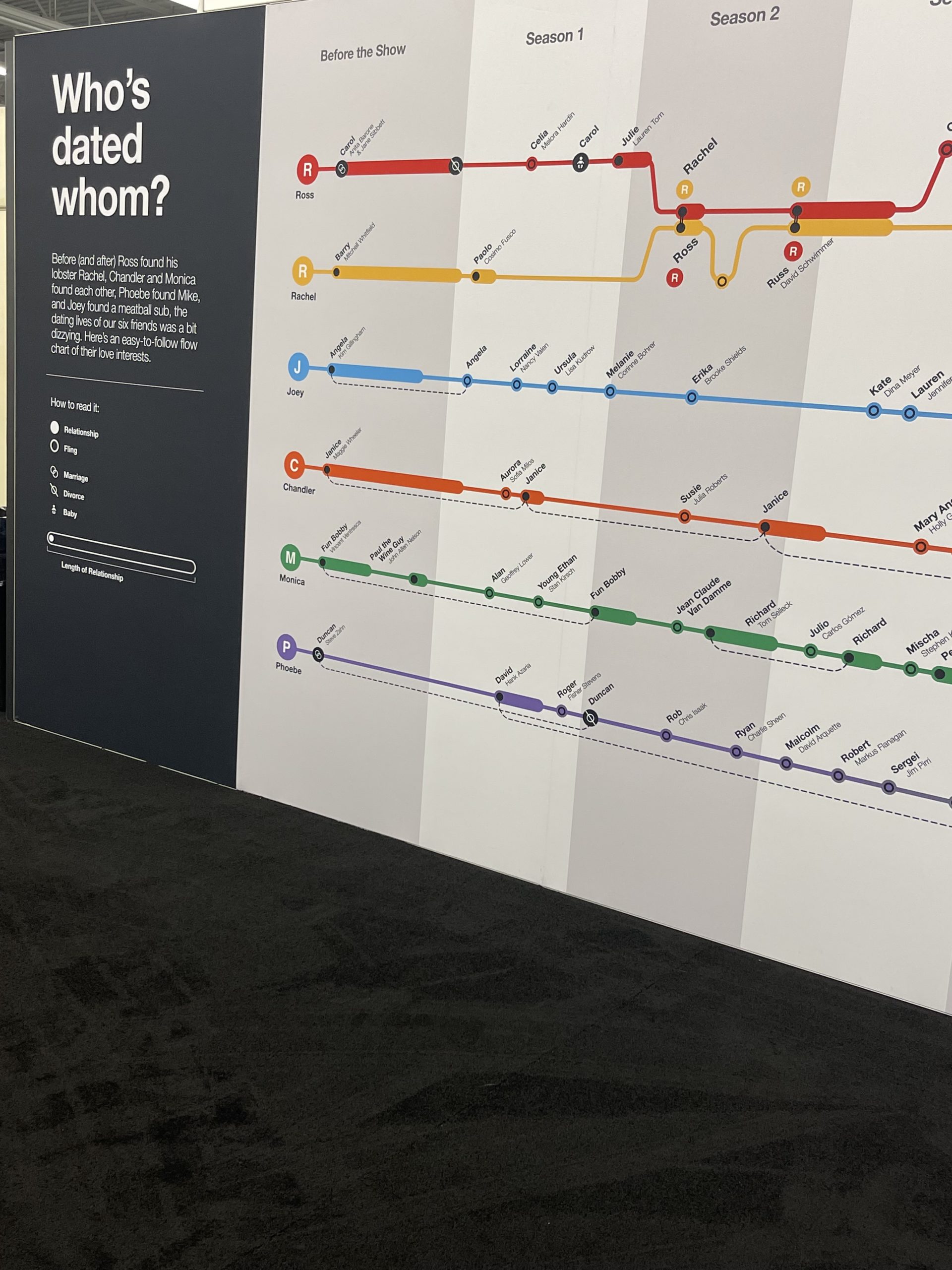 The Friends Experience is so well done and there are hidden gems and fun facts all throughout.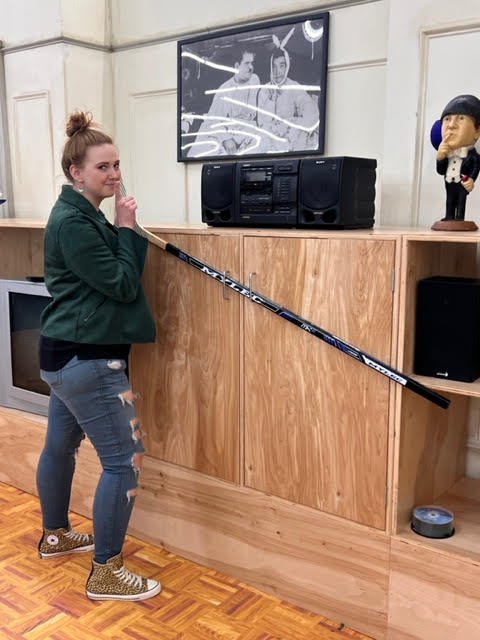 You'll really want to take your time and explore each area as you move through.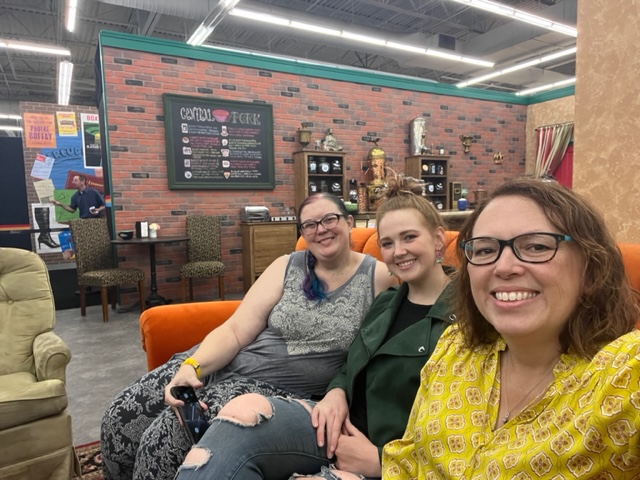 Check Out The Gift Shop
Before or after the tour you'll want to check out the gift shop.
They have exclusive merchandise just for this experience.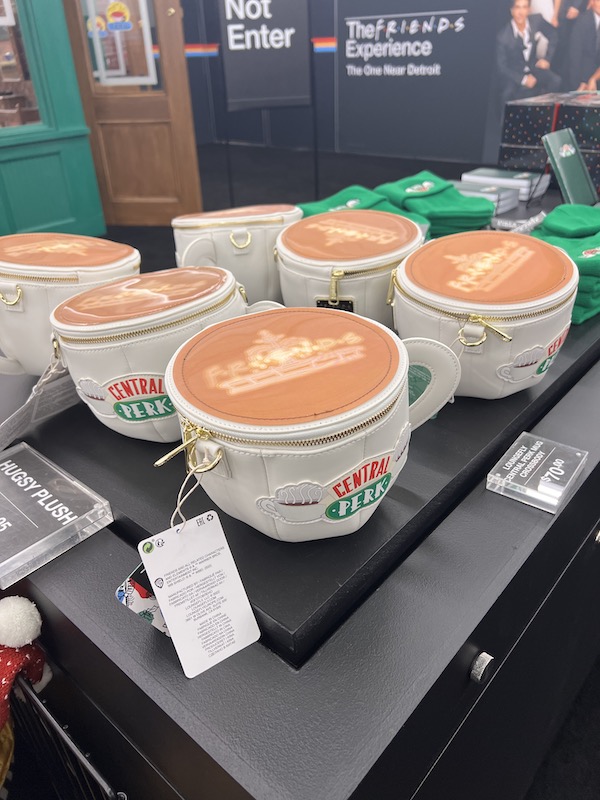 You may or may not be able to by your own Hugsy plush or Central Perk handbag. Um, if anyone wants to gift one of those treasures to me I wouldn't say no 🙂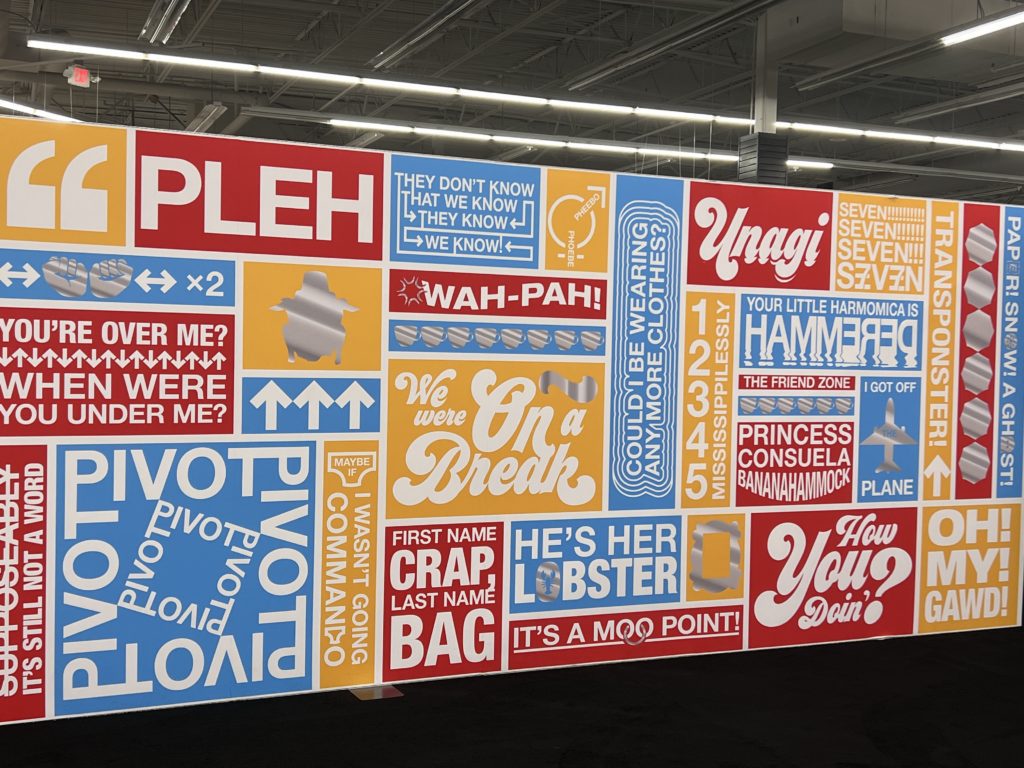 Know Before You Go To The Friends Experience
Date: June 30 – September 24, 2023
Location: Great Lakes Crossing Outlets, 4780 Baldwin Rd, Auburn Hills, MI 48326 (Entry 1, across from Nordstrom Rack)
Operating Hours (time slots available every 30 minutes):
Wednesdays: 5 p.m. – 7:30 p.m. (last entry)
Thursdays and Fridays: 12 p.m. – 7:30 p.m. (last entry)
Saturdays: 10 a.m. – 8:30 p.m. (last entry)
Sundays: 10 a.m. – 5:30 p.m. (last entry)
Guided Group tickets start at 9:30am on Saturdays and Sundays.
Age Requirement: All ages are welcome. Guests 12 and under must be accompanied by an adult who is at least 18 years old. Children 3 and younger don't need a ticket when accompanied by a parent or guardian.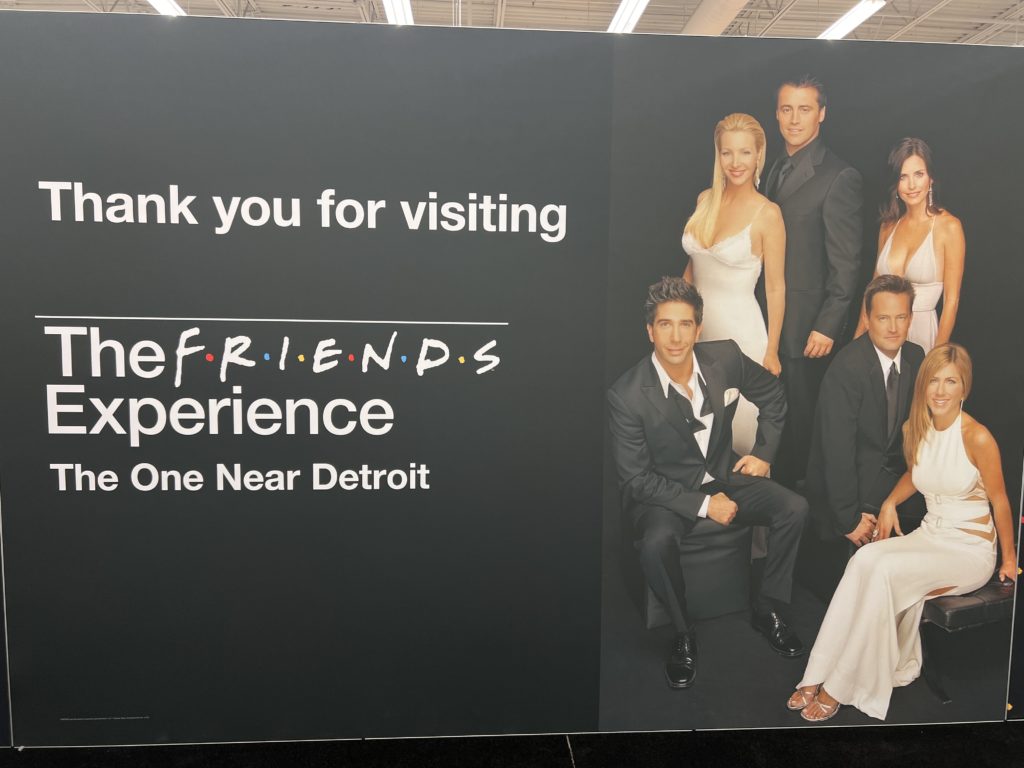 Pin The Friends Experience To Pinterest